It's that time of year again. Caps are flying in the air, diplomas are being handed over, and proud smiles are lighting up across the globe. Graduation season is here! And who doesn't love the excitement that these joy-filled events bring?
But what about that empty graduation card sitting on your table? What inspiring words can you scribble down to capture this monumental moment and match the bubbling enthusiasm of the occasion?
We all know the struggle – trying to summon the right words to inspire, uplift, and congratulate the achiever. But isn't it thrilling to think that the right words can make a graduate's day even brighter? Imagine their face lighting up as they read your heartfelt message, brimming with positivity and encouragement for their new journey.
Are you ready to make that happen? If so, let's dive into this treasure trove of inspirational graduation wishes, designed to make writing in that graduation card as fun and celebratory as the day itself!
Table of Contents
Concise Yet Powerful: Short Inspiring Graduation Wishes for Your Card
Unsure what to write in a graduation card? Keep it concise yet powerful with these short, impactful wishes. They capture the pride and joy of graduation, making them perfect for that well-deserved congratulations. Dive in and discover the perfect words to celebrate their fantastic accomplishment!
Bravo on your graduation! The world is your stage now.
So proud of your achievements. Shine on, graduate!
Your ambition is contagious. Congrats, Graduate!
You're off to conquer new mountains. Best of luck!
Graduate today, leader tomorrow. Congratulations!
The sky is not the limit, it's your launchpad. Congrats!
Your journey has just begun. Sail high, graduate!
Destined for greatness, congratulations on your graduation!
Today is just the beginning of your success story.
Eyes forward, mind focused. Heart ready. Go conquer, graduate!
Amazing accomplishment, graduate! The future is yours!
Friend's graduation – a day of pride and joy.
Your effort is the spark to future successes. Congrats!
Bravo Graduate! The future, filled with success, awaits!
Congrats on being the smartest in the family!
Graduation marks the start of a new adventure, tomorrow is yours!
Challenges overcome. Future endeavors await.
From tough journey to proud day. Well done!
From college days to brighter tomorrows. Congrats!
Graduation: The gate to new victories.
Fancy diploma, fantastic accomplishment. Cheers!
An amazing accomplishment.
Impressive achievement today, success for all your tomorrows!
Happy Graduation Day, a fantastic accomplishment indeed!
Words of wisdom for a grad: The best is yet to come.
Life brings surprises, graduation brings success.
A dream requires passion. Congrats, graduate!
Funny Graduation Wishes to Brighten Up Your Card
Crank up the laughter and let loose the giggles! Dive into our collection of hilarious one-liners perfect for adding that punch of humor to any graduation card!
Cheers to your graduation! When does the student loan repayment party start?
They say your diploma is your ticket to the real world; too bad it's one-way.
All that effort, all those challenges, and all I got you was this card.
Happy Graduation! If only your job prospects were as good as your meme game.
Congrats! Only a few achieve the high status of being broke and educated!
College life's over, adulting begins. But hey, who's counting?
Happy Graduation! Your 4 years of poor sleep and caffeine addiction has finally paid off!
Happy Graduation! Now you're one degree hotter!
Best wishes on your next adventure! May it involve fewer exams.
Now you can finally start getting paid for all your hard work. Just kidding!
Why did the graduate bring a ladder to the ceremony? To get on top of the job market!
Persistence: check! Degree: check! Time to start 'adulting': check please!
The tassel was worth the multiple existential crises! Way to go!
Congrats on getting through the easiest part of life!
Graduation – the sweetest way to say, 'I'm smarter than you thought!
Your parents are so proud. They even updated their Facebook status!
Congrats! Here's to paying off your student loans before your future kids graduate!
They say hard work never killed anyone, but why take the risk? Enjoy post-grad life!
Deep and Thoughtful Graduation Card Messages for Their New Chapter
Launching into a new chapter deserves words that linger, filled with depth, reflection, and boundless optimism. Dive into these deep and thoughtful graduation messages, designed to inspire, encourage, and celebrate the exciting journey that beckons the remarkable graduate in your life. A new chapter is unfolding, and these wishes are here to add a sprinkle of profound joy and wisdom to their momentous leap forward!
Trust the journey, even when you do not understand it.
In silence, we find answers. In actions, we find purpose. Never rush, but never delay.
You have within you right now, everything you need to deal with whatever the world can throw at you.
Patience is the companion of wisdom. With patience and persistence, every castle can be built.
Adventure awaits you. With every step, may you make magic happen. Warmest congratulations on your graduation.
Dare to dream big, dare to challenge yourself, and dare to do what scares you.
Your life is your story, and the adventure ahead of you is the journey to fulfill your own purpose and potential.
Welcome to adult life, where the lessons are real and the rewards are meaningful. May you have a wonderful career and huge success. Best wishes!
Graduation is not the end; it's the beginning of the journey to lifelong learning.
From a kid to a graduate, we've watched you grow. This is only the beginning. Embrace the challenges that lie ahead and let your spirit shine.
Celebrate your achievements and prepare for the adventure that awaits. The world needs your unique light.
Don't rush into the future, live in the present, and relish your achievements before setting your sights on new horizons.
This is a thrilling period in your life, one filled with both challenges and triumphs. Remember, every end is just the start of a new adventure.
May your life post-college be a great adventure. Best wishes on this well-deserved success.
You've closed the chapter of college life, and now a grand new adventure awaits you. Success and happiness are yours for the taking. Warmest congratulations on your graduation!
Famous Inspirational Quotes: Perfect for Your Graduation Card Messages
Struggling with what to write in a graduation card? No worries! We've got your back with a dose of wisdom straight from the minds of renowned figures. These timeless quotes pack a punch of inspiration perfect for that graduation day high. Let's dive in!
"The future belongs to those who believe in the beauty of their dreams." – Eleanor Roosevelt
"Your time is limited, don't waste it living someone else's life." – Steve Jobs
"The only impossible journey is the one you never begin." – Tony Robbins
"Success is not final, failure is not fatal: It is the courage to continue that counts." – Winston Churchill
"Don't watch the clock; do what it does. Keep going." – Sam Levenson
"Education is the passport to the future, for tomorrow belongs to those who prepare for it today." – Malcolm X
"The only limit to the height of your achievements is the reach of your dreams and your willingness to work for them." – Michelle Obama
"Believe you can and you're halfway there." – Theodore Roosevelt
"Start where you are. Use what you have. Do what you can." – Arthur Ashe
"The future depends on what you do today." – Mahatma Gandhi
"Success usually comes to those who are too busy to be looking for it." – Henry David Thoreau
"The best way to predict your future is to create it." – Abraham Lincoln
"The only thing standing between you and your goal is the story you keep telling yourself as to why you can't achieve it." – Jordan Belfort
"The road to success and the road to failure are almost exactly the same." – Colin R. Davis
"There are no secrets to success. It is the result of preparation, hard work, and learning from failure." – Colin Powell
Bonus Section: Heartfelt and Emotional Graduation Wishes for the Sentimental Soul
Ready for a grand finale of feelings? We're about to serve up some graduation wishes that pack a real emotional punch! These aren't just words; they're echoes of joy, pride, and exhilaration, celebrating a milestone that's both an end and a beginning. So, let's lift the curtain on these heartfelt messages, all perfectly primed to add a dash of deep sentiment to your graduation card. Prepare to be moved!
Remember today, for it is the beginning of always. You have worked hard, faced all the challenges, and achieved so much. We're so proud of you. Congratulations on your graduation!
Here's to the graduate who faced all the challenges with courage and all the effort with determination. We wish you all the best in your next adventure. Congratulations!
Today, as you hold your diploma, remember all the wonderful things you have learned, and all the awesome memories you've made. Life flies by, but these memories will always stay. Congratulations!
You've done it! All your dreams are coming true. This is a proud moment, a testament to all your efforts. Our deepest congratulations on this outstanding achievement.
Your outstanding achievement speaks volumes about your hard work. Our well wishes are with you in all your future endeavors. Feel proud, the future holds bright things for you.
Congratulations graduate! The future holds a bright canvas for you to paint your dreams on. Your journey is only beginning, and we are excited to see where it takes you.
Congratulations, graduate! This outstanding achievement is just the beginning. The future holds many wonderful things for you, and we can't wait to see where your journey takes you next.
As we celebrate your graduation today, we also celebrate all the wonderful memories you've created along the way. Life flies by, but these memories will remain. Congratulations, graduate!
You've faced all the challenges with courage, put in all the effort with determination. Now, a diploma in your hand and the next adventure awaits. Congratulations, graduate!
And there you have it! A plethora of suggestions on what to write in a graduation card, ensuring you're never at a loss for words on such an important occasion. Whether it's a message that inspires, tickles the funny bone, or tugs at the heartstrings, we're confident you'll find the perfect words to convey your heartfelt congratulations and best wishes on graduation day.
Remember, a graduation card is more than just a card; it's a keepsake, a reminder of a major milestone in someone's life journey. So don't hold back – let your words reflect the magnitude of this special day.
Pin This Image to Save this Post for Later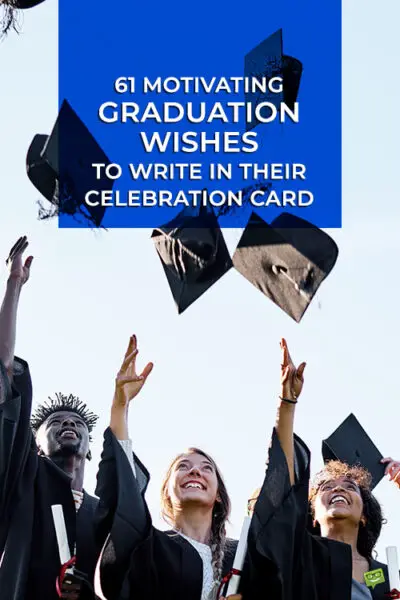 You May Also Like:
60 Graduation Wishes and Messages for Your Son to Inspire Success
The Best 100 Graduation Wishes