Birthdays are the perfect occasion to shower our loved ones with joy and affection, and what could be more delightful than surprising your husband with a heartfelt poem? A beautifully crafted birthday poem not only adds a creative twist to your celebrations but also serves as a cherished keepsake that will bring a twinkle to his eye for years to come.
In this vibrant blog post, we've handpicked a delightful assortment of birthday poems that capture the magic and sparkle of love shared between partners. These poems weave a tapestry of romance, gratitude, and playfulness, ensuring you'll find the perfect words to make your husband's day truly memorable. Whether you want to inspire laughter, evoke cherished memories, or simply envelop him in a warm embrace of words, our collection of poems offers a little something for every heart and occasion.
Let these charming verses transport you on a journey through the wonderful world of poetry, as you reflect on the one-of-a-kind connection you share with your husband. Allow these words to inspire you to create your own lyrical masterpiece or feel free to use them as they are, filling your husband's birthday with love, laughter, and cheer. Ultimately, it's the sincerity and happiness that radiate from your words that will truly make his day unforgettable. So, put on your most dazzling smile and let's dive into this exuberant collection of birthday poems for your extraordinary husband!
Birthday Poems For Husband That Focus on Communication and Affection
Discover the magic of communication and affection in our curated selection of birthday poems for husband. Each verse captures the essence of a loving bond, making them an unforgettable way to celebrate his special day.
In the Language of Love
In the language of love, you speak with tender grace,
My wonderful husband, your words brighten every place.
With open hearts, we share our thoughts, our feelings intertwined,
Amazing hubby, life partner, a connection so divine.
In your gentle, loving arms, I find solace and reprieve,
Through the art of conversation, we learn, we grow, believe.
You listen with your heart and soul, our dreams and fears conveyed,
Together, we create a bond, in trust and love displayed.
As we journey hand in hand, through life's ever-changing maze,
Our open communication lights our path, sets hearts ablaze.
Wonderful husband, amazing hubby, in you I've found my guide,
With every word and tender touch, our love will never hide.
Related: The Best Birthday Messages for Your Husband
Your Voice To Me, a Song To Hear
In whispers, laughs, and gentle sighs,
Our love, through words, forever flies.
Happy birthday, husband dear,
Your voice to me, a song to hear.
Across the whole wide world, so vast,
Our bond transcends, a love to last.
Your tender touch, the warmth you lend,
Best husband, lover, and my friend.
Through every word, our love takes flight,
Embraced in affection, day and night.
So here's to you, my love, my guide,
Forevermore, right by my side.
Don't forget to check out these Funny Birthday Wishes for you Husband to bring a smile on his face!
Unbreakable Connection: Birthday Poems Celebrating Your Bond with Your Husband
Our Love is Like a Beacon
In our life's romance novel, we've written every page,
Together, my lovely husband, we've grown with love and age.
Today, we celebrate the chapters where laughter intertwines,
An awesome birthday filled with love, as your heart beats with mine.
Our bond is like a beacon, shining through the darkest night,
In every adventure, hand in hand, we've always shared our light.
So much joy you've brought to me, with every smile and glance,
Our love story unfolds each day, in this everlasting dance."
On this special day, my love, I'll hold you close and tight,
A testament to the love we share, an eternal, burning light.
Together, we'll write the pages of our future, hand in hand,
For you, my lovely husband, are my heart's one true command.
On this Lovely Occasion
On this lovely occasion, I pen these words with grace,
For you, my dearest husband, bring a smile to my face.
In the world's vast expanse, it's only you I see,
Your love and gentle touch make my life complete, so free.
Through every season's change, our love remains steadfast and true,
With every breath I take, I'm grateful for loving you.
So, on this special day, I wish to say anew,
To my dearest husband, forever I'll cherish you.
If you enjoy this article you may also like our collection of  Deep Love Quotes for Him
Love's Embrace: Romantic Birthday Poems for Your Husband
Immerse yourself in our collection of romantic birthday poems for husband, where love and passion take center stage. These heartfelt verses will sweep your beloved off his feet, making his special day truly unforgettable.
A Love So Pure and Bright
Dear hubby, on this day, I whisper soft and true,
So happy birthday, love, for only you will do.
Our hearts forever bound, a love so pure and bright,
Two souls entwined, embraced in passion's tender light.
In every stolen glance, and every tender touch,
Our love speaks volumes, a connection deep and such.
With every heartbeat shared, our bond forever grew,
So happy birthday, love, for in my heart, it's only you.
Our Love Shines Like The Stars
Dear husband, as we celebrate, a very happy birthday,
Our love shines like the stars, in an everlasting display.
With every tender touch, and whispered word so sweet,
We paint a love story, where two souls do meet.
May all your wishes flourish, in the warmth of our embrace,
Our passion, undying, as we navigate life's race.
So here's to you, my love, the keeper of my heart,
In this dance of romance, forever we'll take part.
A Bond So Deep
In our special moments, we create a world of love,
A bond so deep, it soars like the skies above.
Candles flicker, casting shadows on the wall,
My heart beats faster, as I listen to its call.
Happy birthday, my love, my partner and my friend,
Our passion and devotion, a love that knows no end.
With every tender touch and each whispered word,
Our souls are intertwined, our hearts forever stirred.
As we celebrate your day, with laughter, joy, and cheer,
I am reminded of how lucky I am to have you near.
May our love continue to grow, with each passing day,
Happy birthday, my dearest, in my heart you'll always stay.
Related: Best 50 Happy Anniversary Quotes for Husbands
Swoon-Worthy Birthday Poems for Your Handsome Husband
In Your Handsome Presence
In the world of love and beauty, you stand apart,
My hottest husband, you've captured my very heart.
With one cheeky smile, you make my heart take flight,
Together, we'll dance in moonbeams, beneath the starry night.
On this day, we celebrate the best birthday of them all,
Hand in hand, we'll venture forth, love will be our call.
For in your handsome presence, I find life's greatest prize,
A love that knows no bounds, reflected in your eyes.
Your Smile Makes The Sun Rise
Your smile makes the sun rise, brighter than the dawn,
In your loving gaze, my prince charming, I'm forever drawn.
A loving husband, gentle soul, your kindness knows no end,
In life's vast tapestry, you're my lover and best friend.
So, on this special day, my love, I wish to convey,
My deepest admiration, as we celebrate your day.
Loving husband, kind and true, forever you shall be,
The shining light that guides me through life's vast, enchanted sea.
Happy Birthday, Handsome Husband
To my amazing man, whose looks make my heart race,
On this birthday celebration, I'm thrilled to see your face.
With every glance, I feel warm, as if I've struck gold,
Your dashing good looks, a treasure I'll forever hold.
With love and admiration, your beauty we extol,
Happy birthday, handsome husband, forever in my soul.
Fatherhood in Verse: Birthday Poems for Your Husband, the Wonderful Dad
Honor your dear husband's role as a father with our touching collection of birthday poems. These heartfelt verses celebrate his love, dedication, and nurturing spirit, making his birthday all the more memorable.
A Father Wise and Dear
Dear husband, on this day, with birthday wishes true,
I celebrate the love we share, and all the things you do.
As life partner and best friend, you've filled our home with cheer,
Your loving presence, strong and kind, brings happiness so near.
With every step, you guide our hearts, a father wise and dear,
Your tender care and warm embrace chase away each fear.
All your dreams, both big and small, I promise to support,
Together, we'll achieve them all, with love our strongest fort.
On this special day, my love, I wish for joy and laughter,
For in your roles as husband, father, you've filled our ever after.
With birthday wishes from the heart, I'm grateful every day,
For the life we share, the love that's ours, in every single way.
You Nurture and Respect our Children
To my darling husband, on this day we celebrate,
The love and care you give, as a father truly great.
Life partners in this journey, hand in hand, we stride,
An amazing human by my side, love and joy we provide.
You nurture and respect our children, helping them to soar,
With every special moment, your guidance they adore.
In your loving arms, they grow, their dreams we help pursue,
Our family's rock, our constant light, forever shining through.
So, on this day, we honor you, with love and heartfelt praise,
For being the amazing father, who brightens up our days.
If you enjoyed this post, you might also like our collection with Good Morning Messages for Husband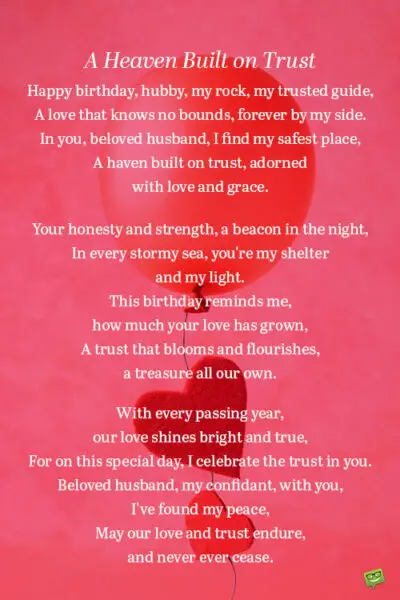 The Many Facets of Love: Birthday Poems Honoring Your Husband's Remarkable Qualities
Celebrate your husband's birthday with a heartwarming birthday poem that highlights his most beautiful qualities. These verses eloquently express your love and admiration, capturing the essence of what makes him the perfect partner on his special day.
A Heaven Built on Trust
Happy birthday, hubby, my rock, my trusted guide,
A love that knows no bounds, forever by my side.
In you, beloved husband, I find my safest place,
A haven built on trust, adorned with love and grace.
Your honesty and strength, a beacon in the night,
In every stormy sea, you're my shelter and my light.
This birthday reminds me, how much your love has grown,
A trust that blooms and flourishes, a treasure all our own.
With every passing year, our love shines bright and true,
For on this special day, I celebrate the trust in you.
Beloved husband, my confidant, with you, I've found my peace,
May our love and trust endure, and never ever cease.
The Funniest Guy I Know
On this special birthday, my partner and my chum,
We celebrate your humor, which makes us laugh till numb.
As life partners, we giggle, in this wide world we dance,
Your jokes and playful banter put us in a happy trance.
You're the life of every party, our laughter's never dim,
Fondly we remember, every pun and every whim.
In a world that's often serious, you bring a light so bright,
Your wit and charm so contagious, our laughter takes flight.
So here's to you, my darling, the funniest guy I know,
May your birthday be filled with laughter, as our love continues to grow.
The many ways you've touched my heart
Dear husband, today I celebrate the qualities you share,
A smiling life we've built, with love, laughter, and care.
Communication, trust, and respect, you've shown in every way,
On this joyous occasion, a surprise party to brighten your day.
A loving father, life partner, always by my side,
Your humor lights my world, an endless source of pride.
With patience and commitment, our bond forever thrives,
Together, hand in hand, we navigate our lives.
So, on this special day, I honor and extol,
The many ways you've touched my heart, and made my life whole.
Dear husband, today I raise a toast to your endless grace,
For every cherished quality, you hold in your embrace.
I Count My Blessings True
In this whole wide world, I count my blessings true,
For every day, I cherish the love I found in you.
Happy birthday, husband, my rock, my endless cheer,
Together we conquer life, with laughter and no fear.
Through every twist and turn, our love forever thrives,
Hand in hand, we journey, the best partners in our lives.
With gratitude, I celebrate the gift you are to me,
Forever blessed, entwined, in love and harmony.
Conclusion
In conclusion, this collection of heartfelt and romantic birthday poems for husband offers a beautiful way to express your love and admiration on his special day. Whether you choose to use these poems as they are or adjust them to fit your unique relationship, let them serve as an inspiration for conveying your deepest emotions. Birthday poems for husband can help you celebrate his special day with warmth and affection, making it a truly unforgettable occasion.
You May Also Like:
15 Heartwarming Birthday Poems for Grandma
I Carry You Within Me: Birthday Poems for My Boyfriend