Birthdays are moments when we express our affection and appreciation for the people we care about, and when it comes to writers, the choice of words becomes all the more important. Writers, by nature, possess a unique ability to craft language and convey emotions, making the birthday wishes they receive a canvas for creativity and thoughtfulness. Here we'll delve into the art of birthday wishes for writers, exploring why they are so special and how they can reflect the essence of a writer's soul.
Whether you're celebrating the birthday of a dear writer friend or seeking to understand the poetic power behind these wishes, you're about to embark on a journey through 20 heartfelt and humorous birthday wishes for writers that are sure to inspire and amuse.
Table of Contents
What's so special about the birthday wishes that you would send to a writer?
Birthday wishes for a writer can be special and meaningful because they can tap into the writer's creative and imaginative nature, while also acknowledging their unique passion and dedication to their craft. Here are some elements that can make birthday wishes for a writer special:
Creativity: Writers often appreciate creative and unique messages. You can use literary references, wordplay, or metaphors to make your wishes stand out.
Acknowledgment of their Work: Mentioning their writing achievements or expressing admiration for their work can be a meaningful way to show your appreciation.
Encouragement: Encouraging them to keep writing and pursuing their dreams can be particularly motivating, as writing can sometimes be a solitary and challenging endeavor.
Personal Connection: Sharing a personal anecdote or inside joke related to writing can demonstrate a deep understanding of the writer's interests and personality.
Quotes: Including quotes from famous authors or writers that resonate with them can add depth and significance to your wishes.
Wishing for Inspiration: Writers often find inspiration in unexpected places. Wishing them a year filled with inspiration and creativity can be especially touching.
Literary-Themed Gifts: Consider accompanying your wishes with a thoughtful literary-themed gift, such as a book by their favorite author, a beautiful journal, or a stylish pen.
Supportive Language: Use words that convey support and belief in their writing journey, such as "I can't wait to see where your words take you this year" or "Your stories inspire so many; keep writing and sharing."
Humor: If the writer has a good sense of humor, you can incorporate some playful or witty language into your wishes, perhaps making light of the writer's quirks or writing habits.
Personal Touch: Ultimately, what makes birthday wishes special is the personal touch you add. Tailor your message to the individual writer, considering their personality, style, and the nature of your relationship.
Remember that the best birthday wishes come from the heart and reflect your genuine feelings for the writer. Whether you choose to be poetic, humorous, or heartfelt, the key is to let them know that you appreciate their talent and are celebrating their special day with them.
10 Heartwarming Birthday Wishes for Writers
Writers thrive on words, and when it comes to sending them birthday wishes, a touch of literary flair can make the day even more extraordinary. In the first part of this post, we'll explore heartwarming birthday wishes designed to resonate with the deep passions and creative spirits of writers.
From acknowledging their dedication to encouraging their imaginative endeavors, these birthday wishes aim to evoke a sense of sophistication and literary flair, celebrating the writer's passion and creativity.
On this day, may your words flow like a fine aged wine, and your characters dance like ghosts in the moonlight. Happy Birthday, Writer. Write bravely.
To the author of their own destiny, may this year's chapter be filled with bold plot twists and unexpected joys. A happy birthday to you, the master of your own narrative.
As you pen another chapter of your life, may each line resonate with the profound beauty of your soul. Happy Birthday, Wordsmith. Your ink shall forever be your legacy.
In the grand library of life, your birthday is but a whispered tale, yet its pages hold the promise of countless unwritten stories. Write them with grace, Writer, for the world awaits.
With each candle on your cake, may your imagination burn brighter, casting the shadows of your thoughts upon the page. Happy Birthday, Poet of the Soul.
As the pages of your life continue to turn, may they be filled with the vivid colors of your dreams and the steady cadence of your pen. Here's to another year of literary brilliance. Happy Birthday.
On this day, may inspiration rain upon you like a gentle drizzle, and may your writing be the thunder that follows. Happy Birthday, Keeper of the Storm.
In the quiet spaces between the lines, where the unsaid finds its refuge, there lies your true genius. Happy Birthday, Silent Conductor of Prose."
To the maestro of metaphors and the virtuoso of verbiage, may your birthday be an ode to the artistry of words. Keep weaving your literary tapestry, dear Writer.
In the realm of birthdays, yours is a chapter that leaves an indelible mark, much like your prose on the canvas of literature. Wishing you a birthday as timeless as your tales.
10 Funny Birthday Wishes for Writers
These witty and sophisticated birthday wishes for writers playfully acknowledge the quirks and idiosyncrasies of the writing life, all while delivering a dose of humor and charm.
Another year older, but your characters are still forever young and adventurous. May your plots thicken, and your wrinkles remain purely fictional. Happy Birthday, Ageless Scribe!
Happy Birthday to the one who's mastered the art of procrastination, only to churn out a masterpiece at the last possible moment. May your deadlines be distant, and your coffee always strong.
Happy Birthday to the wordsmith who can turn a grocery list into a gripping tale. May your day be filled with 'plot twists' like forgotten birthdays and surprise parties!
Age is merely a subplot in the grand epic of life, and yours is just reaching the climax. May your pen always be mightier than the wrinkles. Happy Birthday, Age-Defying Author!
They say writers have wild imaginations, but I never imagined you'd be this old already! May your wisdom grow as your word count does. Happy Birthday, Wise Word Wizard!
Related : Fabulosity Has No Age | Happy Birthday, Gorgeous!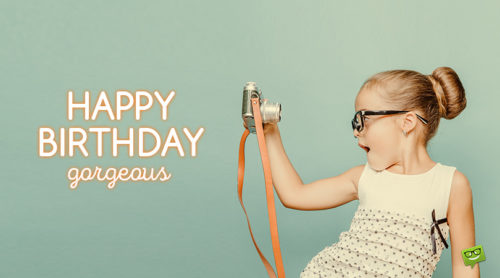 They say writers live in their own worlds. So here's to hoping your world today is filled with cake, confetti, and a dash of writer's block (just to keep things interesting).
As you celebrate another year, remember that age is just a number, but word count is everything. Keep writing and aging gracefully, my friend. Happy Birthday, Word Wrangler!
Another trip around the sun, and you're still chasing that elusive perfect opening sentence. Here's to finding it in the next chapter of your life. Happy Birthday, Perpetual Beginner!
To the writer who's turned caffeine into novels and sleep into a myth, may your birthday be as epic as your latest trilogy and as delightful as a well-crafted punchline. Cheers to you!
To the one who's spent more time with fictional characters than real people, may your birthday be a real page-turner filled with plot twists and unexpected surprises!
Conclusion
In the world of writers, where words are their constant companions and storytelling is a way of life, the art of crafting birthday wishes takes on a unique significance. In this blog post, we've explored the essence of birthday wishes for writers and why they hold a special place in their hearts. We've journeyed through 20 carefully curated wishes, from heartwarming expressions of admiration to witty jests that celebrate the quirks of the writing life.
As we conclude, let us remember that these birthday wishes are more than just words on a page. They are tokens of our appreciation for the writers who bring imagination to life, who weave tales that resonate, and who inspire us with their literary prowess. So, the next time you celebrate the birthday of a writer in your life, let your wishes be as creative, heartfelt, and memorable as the stories they pen. After all, in the world of words, the best birthday wishes are those that linger in the heart and continue to inspire the next chapter of their extraordinary journey.
Like it? Pin it to save it for later!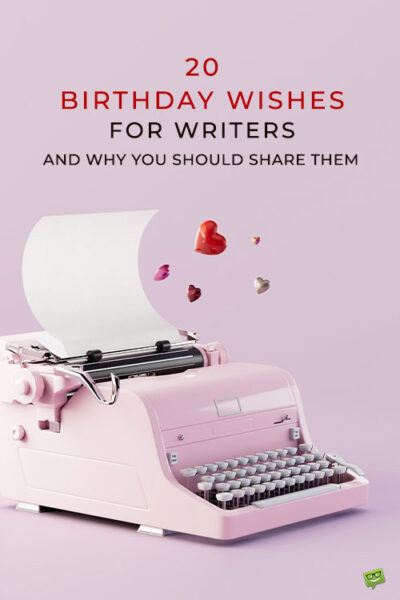 You may also like:
80 Classy Professional Birthday Wishes: Stand Out!
You're a Star! The Brightest Happy Birthday Quotes
Your LOL Message! 130+ Funny Birthday Wishes for a Friend
20 Heartfelt Birthday Paragraphs to Celebrate Your Best Friend