Celebrating the birthday of a beloved grandson is a special occasion. He is someone who you have gotten to see grow up, and who has brought you tremendous joy! A grandson has also looked to you for advice and encouragement and respected what you have had to say to him, taken your words to heart, and applied them to his life!
Because a grandson is such a joy to have in your life and in your family, it is only fitting to send him birthday wishes that express how much he means to you, and how grateful you are to have someone who speaks with, and listens to you! Here's a collection of original birthday wishes for your grandson that you can send with confidence and love.
Happy Birthday, Grandson!
Just because they're boys don't mean you can't send sweet birthday wishes.
Kind, helpful, and selfless: these all describe you, grandson! Never change who you are. Happy Birthday to you!
How did you get so smart, grandson? Keep excelling in school and make your career anything you want. Best wishes on your birthday today!
You're so good at sports that you could go to the professional league one day. Keep on practicing and follow your dreams. Have an awesome birthday!
Your life's goals are the best goals. Do what you love and never give up, grandson. Best wishes on your birthday and another year of prosperity!
We are so proud of you every day, grandson. Your birthday is momentous because it celebrates the wonderful day you came into our lives. Have a joyful birthday!
Your power lies in your infectious smile, can-do attitude, and determined nature. You've taught me so much, grandson. Happy Birthday to you!
You landed right in my heart the moment I heard you were going to be born. You're still that special to me, grandson. Best wishes on your birthday and many more successful years to come!
What do you get when you have a handsome grandson and high expectations for him? You've got awesome birthday wishes hoping you the best for this year.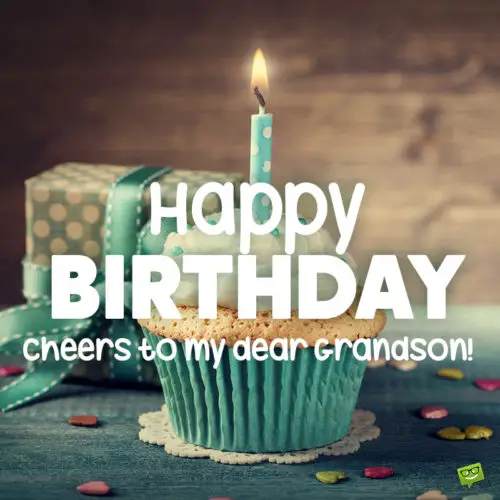 Funny Birthday Wishes for your Grandson
Because grandsons need a laugh sometimes.
You've hit puberty already? I'll add some shaving cream and razors to your present as a manly grandson starter pack. Enjoy your birthday, but don't grow up too fast!
So how many videos games have you beaten lately? Maybe you can teach your old grandpa a thing or two about them things. Best wishes on your birthday!
You're a teenager now, grandson. Don't go breaking any girls' hearts. You'll know when you have found that special girl. Just wait and see. For now, have a great birthday and enjoy another year older.
Every time I try to call you, I get a text back. Call me once in a while, grandson. You know I'm not good at that texting thing. Enjoy your birthday today!
When's the last time you washed that favorite shirt of yours? Don't forget hygiene, grandson or the girls think you'll be too stinky to hang out with you. I'll always love you and have an awesome birthday!
I hear you're the class clown, grandson. You know you got that from your grandma right? Nah, I'm just joking. That was all from me! Have a fun birthday and don't stop putting smiles on people's smiles faces with your funny humor.
Who's hairy, loud, but oh so lovely at heart? All you grandson! Much love and best wishes to you on your birthday.
Related: Birthday Wishes for Grand Daughter
Birthday Wishes for your Grandson's 1st birthday
Toddler boys are so chunky and cute!
The day you were born was the biggest blessing in our lives. Happy 1st Birthday, grandson!
You grew up so fast since they day you were born. Best wishes to our little grandson on his 1st birthday.
You're 1 already? It seems just like yesterday you were born. Enjoy your 1st birthday, grandson.
Can you say "grandma"? Maybe "grandpa"? I bet you'll say both soon. Have an enjoyable 1st birthday, grandson.
A year of wonderful experiences, a year of bliss, a year of watching you grow. Here's to many more on your 1st birthday, grandson. Have a fun day!
You grow every time we see you, grandson. We are so happy to see you turning 1. Here's to your special day!
Watching you transform from swaddled bundle of joy to a curious toddler, we are excited to wish you a happy 1st birthday, little grandson!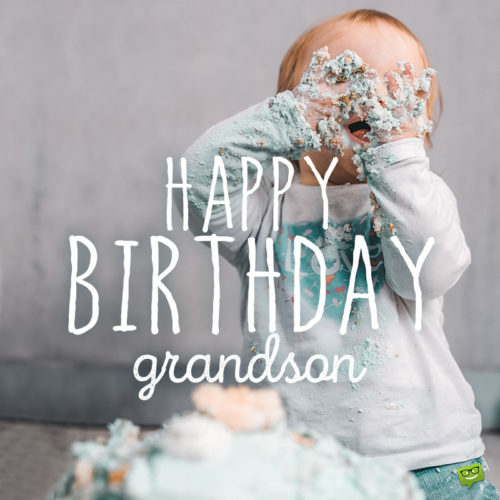 Birthday Wishes for your Grandson's 2nd birthday
And they're even cuter and chunkier at age 2!
We are happy to see how much you've grown, grandson. From crawling to walking, from babbling to forming words, look at how smart you are getting so quick. Happy 2nd Birthday, grandson!
You're so cute that I bet you won't be a terrible 2, grandson. How can such a cute face throw a tantrum? Have an enjoyable 2nd birthday.
You run so fast that grandma and grandpa can't keep up with you now! Enjoy your 2nd birthday and here's to many more years of monumental growth for our little grandson.
You've graduated from baby purées to solid foods and from walker toys to running and throwing balls. Here's to a happy 2nd birthday to my grandson!
Enjoy your toddlerhood and don't grow up too fast into a kid. I want to squeeze your cheeks and have you always laugh about it. Happy 2nd Birthday to you, my big boy grandson.
Greetings to you on your 2nd birthday, our toddler grandson. You're growing up way too fast. Stay handsome and inquisitive and have a great birthday!
You're 2 and toddling along, grandson. I'm so happy to see how you're growing into a smart boy. Happy birthday to you!
2 is an awesome age, learning new words and to speak sentences. You'll be talking our heads off in no time, grandson. Enjoy your special day!
If you enjoy this article, you might also like our Birthday Wishes for your Grandmother
Birthday Wishes for your Grandson's 16th birthday
Happy Handsome 16, grandson!
You're 16 and halfway through high school. Before you know it, you'll be off to college. Happy 16th Birthday, grandson!
Enjoy your 16th birthday today! Soon you'll be learning how to drive. Don't scare your mom when she teaches you how to drive, grandson.
Your life's path will become clearer as you finish high school. Don't lose your fervor to succeed. Have an enjoyable 16th birthday, grandson.
Dynamic grandson, words can't express how proud we are of your accomplishments. Soar higher to achieve your goals. Have an epic 16th birthday!
Grandson, on your 16th birthday, I remember all the years that have passed watching you grow. You're a handsome and smart young man with so much ahead of you. Have a great birthday!
Driving school, sports, school work, and maybe a girlfriend. You sure have a busy schedule already, grandson. Stop by to unwind and see your grandparents some time. Have a happy 16th birthday!
Birthday Wishes for your Grandson's 18th birthday
Can you believe your grandson is a grown man now?
You're a man now, grandson and off to bigger and better things as an adult. Happy 18th birthday to you!
Whatever you decide to choose as your career, I'm there with you all the way, grandson. Put your cares aside and have some fun on your 18th birthday!
You've transformed into a man right before my eyes, grandson. Have an enjoyable 18th birthday!
While you do have life plans to think about now that you're 18, take a day to chill and relax and celebrate your special day. Have a happy 18th birthday!
The only way to go is up. Keep being a great, level headed person, grandson. Here's to a happy 18th birthday!
You clean up well, grandson. You're so handsome and ready for adult life. Happy 18th birthday to my little grandson because you'll always be little in my eyes.
"Happy Birthday, Grandson!" Images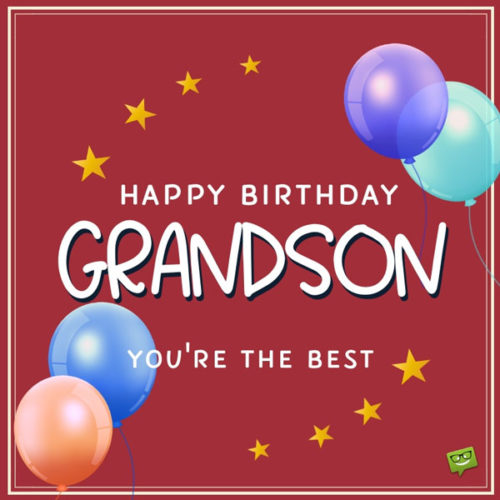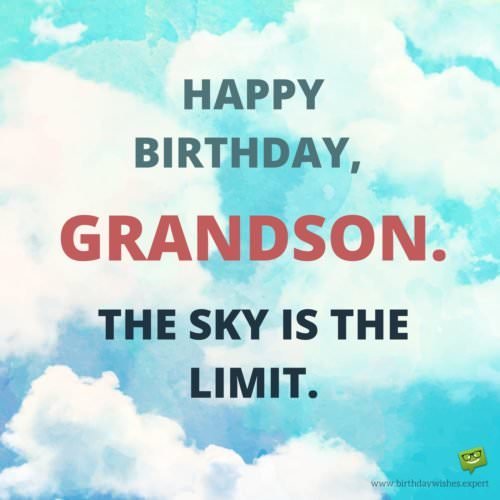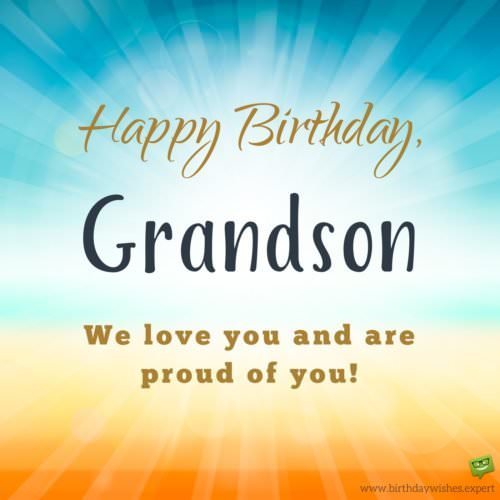 You may also like:
50 Amazing Wishes for Kids | Birthday Wishes for Pre-Schoolers
Top 74 Birthday Wishes for Teenagers
Great Happy Birthday Images for Free Download & Sharing