Planning to send a message to someone in celebration of their daughter's birthday but aren't exactly sure of what to put into the message?
Below we have literally dozens of absolutely sweet and heartwarming birthday wishes to help get you started on your noble cause.
Table of Contents
Birthday Wishes for a Best Friend's Daughter
Sending your beautiful daughter's way a day so special and magical that she never forgets it. May her heart always be a container for happiness.
Happy birthday to your adorable little daughter! May her beautiful smile grow wider and wider every blessed day.
If all daughters in this world were as amazing as [Name of Daughter], this world would have certainly been a magical place filled with boundless happiness. On her birthday, my only prayer is that God will always fill her life with the most priceless gift in the universe – true joy.
I'm so happy to join you in celebrating the birthday of your little princess. May love, beauty, good health and happiness be hers all her days.
Your daughter's big day gives me a great opportunity to let you know how wonderful she is. You are such a blessed mother to have such an angel for a daughter. I pray she has nothing but an absolutely wonderful and happy life.
It's a privilege to be able to join you in observing the birthday of your phenomenal daughter. As we celebrate this special day, may she be blessed with all the things that her big heart longs for.
On your daughter's big day, I wish her a life full of incredible happiness and good health. She deserves these precious things and many more for being such a lovable angel.
Some children are great blessings to their families. Your daughter, [Name of Daughter], happens to be one of such children. May God lay His mighty hands upon her as she celebrates her birthday today and bless her abundantly.
Wishing your adorable daughter a truly fantastic birthday celebration. May she never stop smiling and shining.
On your dearest little cutie's anniversary, may blessings and happiness without end forever be her companion.
May your darling daughter's special day bless her with all the beautiful things she wants in her life. She's truly amazing, and I'm so proud of her.
For being a phenomenal person, your daughter deserves good fortune, good health and, most of all, true happiness on her special day and the coming year.
I hope your precious little girl will celebrate her birthday today knowing that is truly loved and treasured. May God constantly keep His eyes on her and keep her protected and happy wherever she goes.
Yay! Once again it's the birthday of our adorable [Daughter's Name]! Hope she enjoys oceans of joy and love her entire life.
Your daughter is one of the most special people to me. I hope her birthday fills her heart with as much joy as she brings into mine. May God forever bless her.
Never stop being happy and feeling proud because you have been blessed with a magnificent daughter that the average parent on earth would love to have as theirs. May every millisecond of her big day be blessed with limitless happiness.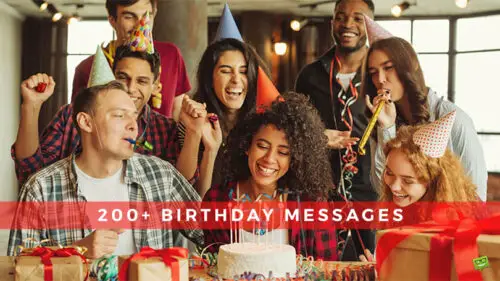 Related: 200 of the Best Birthday Messages to Make Someone's Day Special
Sweet Birthday Wishes for a Friend's Daughter
I know you feel like the proudest father in the world. I don't blame you. If I was lucky enough to have an awesome daughter like yours, I too would be so proud! On your darling's special day, I pray for heavenly happiness to envelop her for eternity.
In my eyes, your sweet daughter is the epitome of adorable. As we celebrate her day of birth today, I pray that happiness will never stop flowing into her world.
Words can't say how happy I am to join you and your beautiful family in celebrating the birthday of your sweet angel of a daughter. May God bestow His love, blessings and protection upon her…today and forever.
Wishing your lovely princess a lovely birthday celebration loaded with absolutely happy and magical moments. May happiness accompany her like her own shadow not only on her special day but forever.
True happiness is the heavens' most precious treasure. On the birthday celebration of your beloved daughter, may life forever fill her world with this priceless treasure from above.
May your little girl's birthday be as happy as she makes everyone around her feel. It's a great delight to know her and be in her life.
For making our earthly journey a beautiful experience, may the good Lord, in His infinite mercy and love, bless your daughter with a life of everlasting happiness as she commemorates her day of birth today.
It was just like yesterday when she was just a little baby. I can't believe she turns [Age] today. May God bless her and keep her protected and happy all her life.
Your daughter is a year older today, and that's so beautiful. Congratulations on raising such an outstanding child! On her birthday and on all the days of her life, I pray that God will never stop doing His utmost best to make her happy.
I love your daughter as though she was my own daughter, and I pray that every moment of her special day will be absolutely magical.
Also read: The Very Best 16th Birthday Wishes for your Daughter
What a wonderful daughter God has blessed you with! She becomes more and more beautiful, loving and intelligent with every birthday she celebrates. I'm so lucky to be one of the blessed people to know her.
She's growing up incredibly fast! I can't wait to see the wonderful woman she eventually grows up to become. May God bless her on her birthday and direct her footsteps.
As your beloved daughter grows up, I hope her blessings and happiness also grow. May she have a truly fun birthday celebration.
May your dear angel's birthday and all the numerous years ahead of her bring her sunshine, laughter, prosperity, good health and great happiness.
My dear, I know, without a shadow of doubt, that your daughter is a blessing from above. On her special anniversary, may every day of her life begin with true joy and end with true joy.
Happiness is having a wonderful daughter like yours! On this birthday of hers, may her future shine as brightly as her beautiful smile.
Related: 100 Loving Birthday Messages for Your Grown-Up Girl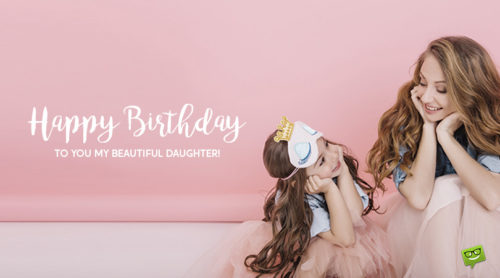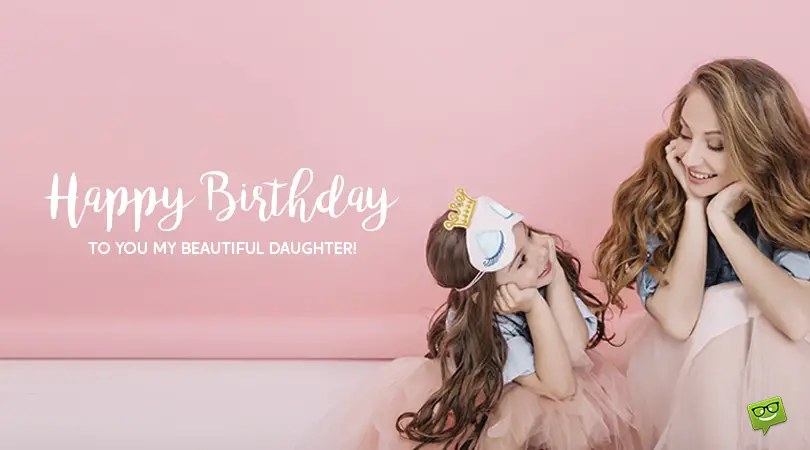 Happy Birthday, my Sweet Daughter! Wishes for Daughters of All Ages
You may also like:
Good Morning Quotes for your Son and Daughter | Thinking of my Kids
Wish "Happy 17th Birthday" To Those Great Teenagers!