Groundhog Day is one of the most interesting days of the year. Every February 2nd, people from all over the United States and Canada gather for a unique event – the prediction of whether or not spring is coming sooner than expected. This day has been immortalized in popular culture with the iconic movie, "Groundhog Day" starring Bill Murray.
If you're looking for ways to wish your friends and family a fun and unique Happy Groundhog Day, look no further!
Celebrating Groundhog Day
The tradition of Groundhog Day originated with Pennsylvania's German settlers. According to folklore, if a groundhog on February 2nd sees his shadow during the day, winter will last for another six weeks. If no shadow is seen, it means that spring will arrive early.
Punxsutawney Phil
Punxsutawney Phil is the most well-known groundhog, who lives in Punxsutawney, Pennsylvania, USA. On February 2nd each year Phil is awoken from hibernation and taken to Gobbler's Knob where he is presented with a weather prediction.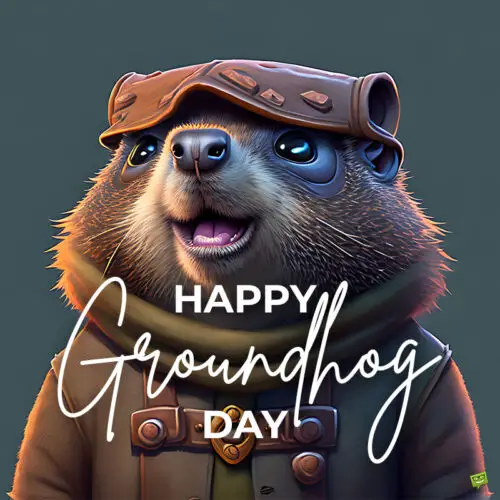 How to Celebrate Groundhog Day
There are many ways to celebrate Groundhog Day that don't involve actually trying to find a groundhog.
In fact, the best way to observe this special day is by having a party or gathering with friends and family where you can make punxsutawney-themed treats! There are tons of fun recipes out there for making delicious (and sometimes weird) groundhog-themed food and treats.
You could also get creative and make your own Groundhog Day decorations or party favors. Another fun way to celebrate is by crafting a stuffed animal version of Punxsutawney Phil, the most famous groundhog in the world. Grab some felt and craft supplies and get creative!
What is the meaning behind Groundhog Day?
Groundhog Day is a celebration of hope and optimism. This day serves as a reminder that no matter how long the winter seems to last, spring will eventually come. It also highlights the importance of taking each day as it comes and being grateful for whatever you have in life. Groundhog Day is a way to celebrate the passing of time while reflecting on the joys and challenges that come with it.
No matter how you choose to observe Groundhog Day, be sure to enjoy the fun of this unique holiday and make some special memories along the way! Wishing you a wonderful Happy Groundhog Day!
10 "Happy Groundhog Day" Quotes
Here are twenty fun ways you can wish your loved ones a happy Groundhog Day.
1. Hope your Groundhog Day is full of marmot-tastic surprises!
2. Hope Punxsutawney Phil sees his shadow… so that winter will last longer! #wintertype
3. Time to get out of bed and enjoy this special day… AGAIN! Happy Groundhog Day!
4. Happy Groundhog Day! Let's enjoy our favorite winter activities just a bit longer!
5. If Punxsutawney Phil doesn't see his shadow, happy days are here again – it's almost springtime!
6. Don't let Punxsutawney Phil fool you – it's time to get outside and enjoy the snow while we still have it! Happy Groundhog Day!
7. Happy Groundhog Day everyone – let's hope Punxsutawney Phil sees his shadow today so we can enjoy an extra six weeks of wintery weather!
8. It's time for an early spring celebration – Happy Groundhog Day!
9. I'm hoping for more winter fun – Happy Groundhog Day!
10. Let's all hope this Groundhog Day is truly special! (Have we said this one before?)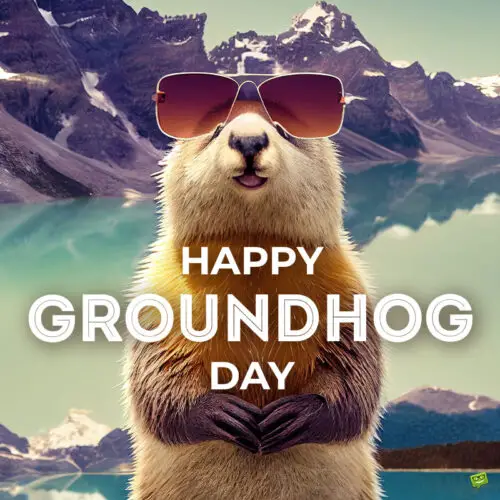 10 Quotes from the film 'Groundhog Day' to say on repeat
The 1993 movie by Harold Ramis starring Bill Murray and Andie MacDowell has become a part of world culture and has defined the phrase "Groundhog Day" as an expression of endless repetition.
These are 10 great quotes from the film you can say on repeat.
1.
Phil: You want a prediction about the weather, you're asking the wrong Phil. I'll give you a winter prediction: It's gonna be cold, it's gonna be grey, and it's gonna last you for the rest of your life.
2.
Phil: Well, it's Groundhog Day… again…
3.
Phil Connors: This is pitiful. A thousand people freezing their butts off waiting to worship a rat. What a hype. Groundhog Day used to mean something in this town. They used to pull the hog out, and they used to eat it. You're hypocrites, all of you!
4.
Rita: Phil, why weren't you like this last night? You just fell asleep.
Phil: It was the end of a VERY long day.
5.
Phil: Do you know what today is?
Rita: No, what?
Phil: Today is tomorrow. It happened.
6.
Phil: Something is… different.
Rita: Good or bad?
Phil: Anything different is good.
7.
Rita: This day was perfect. You couldn't have planned a day like this.
Phil: Well, you can. It just takes an awful lot of work.
8.
Rita: What did you do today?
Phil: Oh, same-old same-old.
9.
Phil Connors: Excuse me, where is everybody going?
Fan on Street: To Gobbler's Knob. It's Groundhog Day.
Phil Connors: It's still just once a year, isn't it?
10.
Phil: When Chekhov saw the long winter, he saw a winter bleak and dark and bereft of hope. Yet we know that winter is just another step in the cycle of life. But standing here among the people of Punxsutawney and basking in the warmth of their hearths and hearts, I couldn't imagine a better fate than a long and lustrous winter. From Punxsutawney, it's Phil Connors. So long. [applause]
Groundhog Day Memes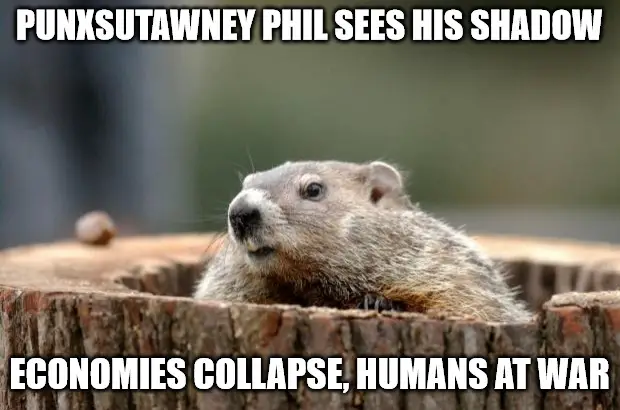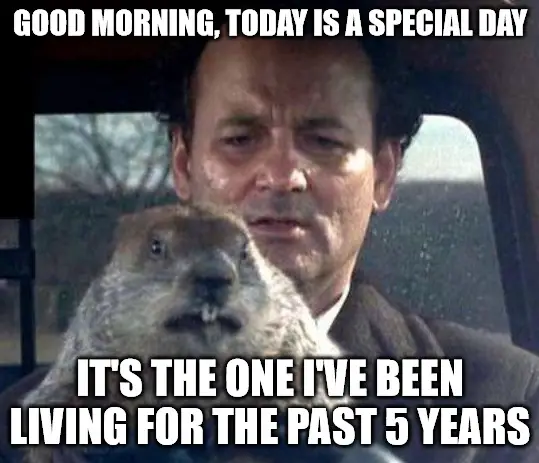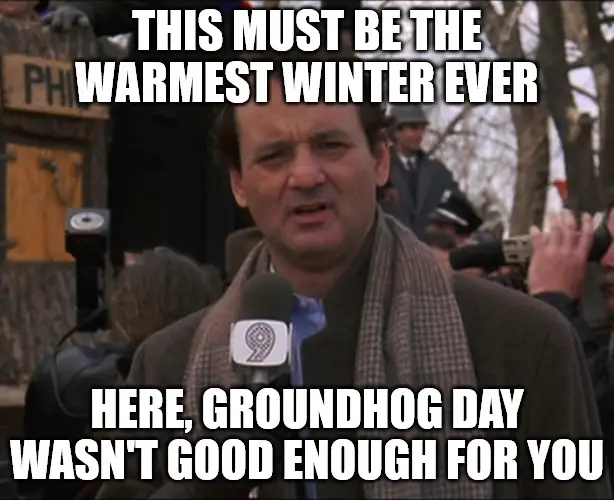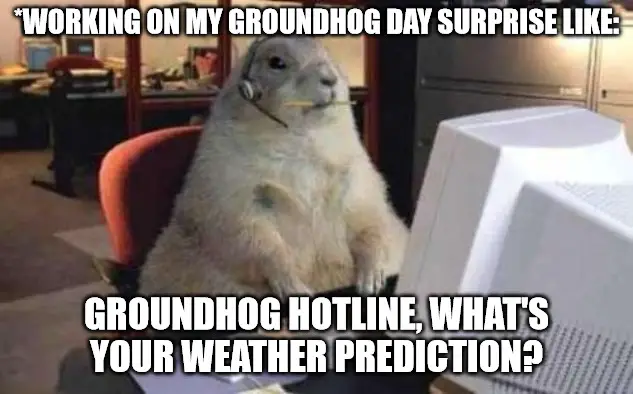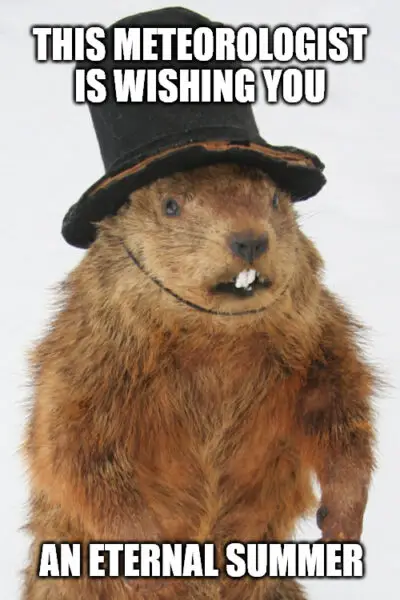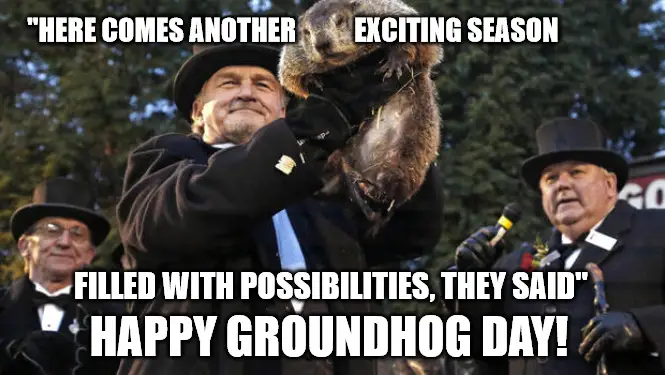 Conclusion
No matter how you celebrate this quirky holiday, wishing someone a "Happy Groundhog Day" is sure to put a smile on their face and lighten up their mood during these cold winter months. So this February 2nd, don't forget to spread some cheer by sending these funny messages or creating your own funny way to say "Happy Groungdohg Day"! Have fun and stay safe while celebrating this special holiday!
Pin it to save it for later!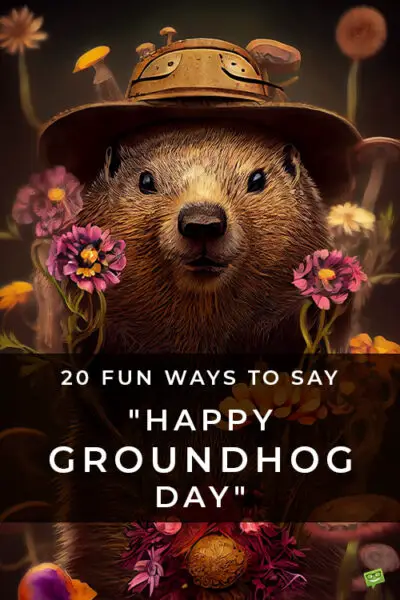 You may also like:
Hello, February! | A Reminder of Love
Good Morning, February (Love is in the Air)
Funny Leap Day Birthday Wishes (for Those Born on February 29th)