April 22nd is Earth Day – the day officially earmarked for the celebration of mother Earth! Needless to say that this is a critical period for the relationship mankind has with nature, so this day takes on a whole new meaning.

In commemoration of this very important global annual celebration that promotes environmental protection, we present you with some of the most profound Earth Day quotes and wishes. We hope these powerful messages will inspire you to contribute your quota towards saving this planet and making it a better place for generations yet unborn.
Best Earth Day Quotes
Earth provides enough to satisfy every man's need, but not every man's greed. Mahatma Gandhi
We have met the enemy and he is us. Walt Kelly
When one tugs at a single thing in nature, he finds it attached to the rest of the world. John Muir
What is the use of a house if you haven't got a tolerable planet to put it on? Henry David Thoreau
The more clearly we can focus our attention on the wonders and realities of the universe about us, the less taste we shall have for destruction. Rachel Carson
Nature, to be commanded, must be obeyed. Francis Bacon
You say that you love your children above everything else. And yet you are stealing their future. Greta Thunberg
Now I see the secret of making the best person: it is to grow in the open air and to eat and sleep with the earth. Walt Whitman
In wilderness is the preservation of the world. Henry David Thoreau
Water and air, the two essential fluids on which all life depends, have become global garbage cans. Jacques Cousteau
Teach us to walk the soft Earth as relatives to all that live. Sioux prayer
You cannot get through a single day without having an impact on the world around you. What you do makes a difference, and you have to decide what kind of difference you want to make. Jane Goodall
One of the first conditions of happiness is that the link between man and nature shall not be broken. Leo Tolstoy
Humankind has not woven the web of life. We are but one thread within it. Whatever we do to the web, we do to ourselves. All things are bound together … all things connect. Chief Seattle
When the last tree is cut, the last fish is caught, and the last river is polluted; when to breathe the air is sickening, you will realize, too late, that wealth is not in bank accounts and that you can't eat money. Alanis Obomsawin
Earth rejoices our words, breathing and peaceful steps. Let every breath, every word and every step make the mother earth proud of us. Amit Ray
We have forgotten how to be good guests, how to walk lightly on the earth as its other creatures do.
Earth Day Quotes For Kids
Where flowers bloom, so does hope. Lady Bird Johnson
In every walk with nature one receives far more than he seeks. John Muir
He that plants trees loves others besides himself. Thomas Fuller
We do not inherit the earth from our ancestors; we borrow it from our children. Native American Proverb
The wide world is all about you: you can fence yourselves in, but you cannot forever fence it out. J.R.R. Tolkien
The world is not in your books and maps, it's out there. J.R.R. Tolkien
When the well's dry, we know the worth of water. Benjamin Franklin
I took a walk in the woods and came out taller than the trees. Henry David Thoreau
Earth Day Quotes For Students
You are not even worth trying, sorry. Petra Hermans
I don't want you to be hopeful, I want you to panic. Greta Thunberg
Never doubt that a small group of thoughtful, committed citizens can change the world; indeed, it is the only thing that ever has. Margaret Mead
Most of us are familiar with recycle and reusing, but how often do we think of the third R – REDUCE? 'Reduce' is probably the most important of the three Rs because, if we reduced, it would limit the need to recycle and reuse. Catherine Pulsifer
An understanding of the natural world and what's in it is a source of not only a great curiosity but great fulfillment. David Attenborough
Climb the mountains and get their good tidings. Nature's peace will flow into you as sunshine flows into trees. The winds will blow their own freshness into you, and the storms their energy, while cares will drop off like autumn leaves. John Muir
There is hope if people will begin to awaken that spiritual part of themselves, that heartfelt knowledge that we are caretakers of this planet. Brooke Medicine Eagle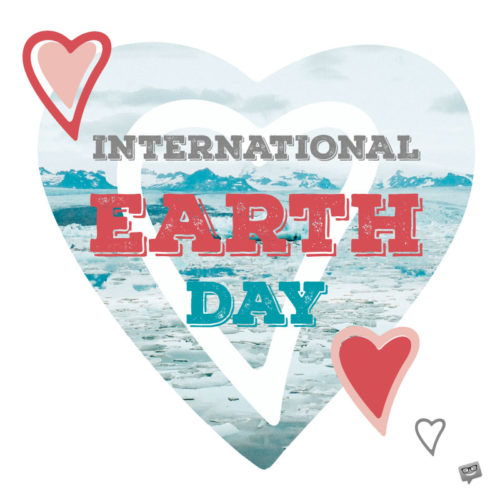 Inspirational Earth Day Quotes
And forget not that the earth delights to feel your bare feet and the winds long to play with your hair. Kahlil Gibran
Keep close to Nature's heart… and break clear away, once in awhile, and climb a mountain or spend a week in the woods. Wash your spirit clean. John Muir
I felt my lungs inflate with the onrush of scenery—air, mountains, trees, people. I thought, "This is what it is to be happy." Sylvia Plath
Progress is impossible without change, and those who cannot change their minds cannot change anything. George Bernard Shaw
I'm not an environmentalist. I'm an Earth warrior. Darryl Cherney
A true conservationist is a man who knows that the world is not given by his fathers, but borrowed from his children. John James Audubon
I thank you God for this most amazing day, for the leaping greenly spirits of trees, and for the blue dream of sky and for everything which is natural, which is infinite, which is yes. E. E. Cummings
Live in each season as it passes; breathe the air, drink the drink, taste the fruit, and resign yourself to the influence of the Earth. Henry David Thoreau
It seems to me that the natural world is the greatest source of excitement; the greatest source of visual beauty; the greatest source of intellectual interest. It is the greatest source of so much in life that makes life worth living. David Attenborough
Nature always wears the colors of the spirit. Ralph Waldo Emerson
Sooner or later, we will have to recognize that the Earth has rights, too, to live without pollution. What mankind must know is that human beings cannot live without Mother Earth, but the planet can live without humans. Evo Morales
Away, away, from men and towns,
To the wild wood and the downs, —
To the silent wilderness,
Where the soul need not repress its music.
Percy Bysshe Shelley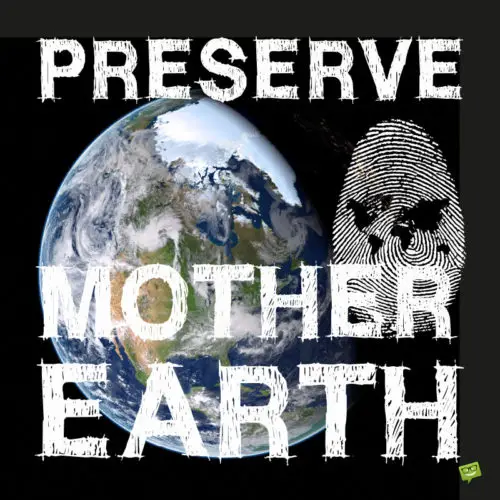 Short Quotes For Your Instagram Posts on Earth Day
There are no passengers on Spaceship Earth. We are all crew. Marshall McLuhan
The Earth is what we all have in common. Wendell Berry
…the climate and the biosphere don't care about our politics and our empty words for a single second. Greta Thunberg
Earth laughs in flowers. Ralph Waldo Emerson
I really wonder what gives us the right to wreck this poor planet of ours. Kurt Vonnegut Jr.
Look deep into nature, and then you will understand everything better. Albert Einstein
Time spent among trees is never time wasted. Unknown
I believe in God, only I spell it Nature. Frank Lloyd Wright
This world is but a canvas to our imagination. Henry David Thoreau
The earth has music for those who listen. William Shakespeare
The good man is the friend of all living things. Mahatma Gandhi
For 200 years we've been conquering nature. Now we're beating it to death. Tom McMillan
All we have to do is to wake up and change. Greta Thunberg
Nature is painting for us, day after day, pictures of infinite beauty. John Ruskin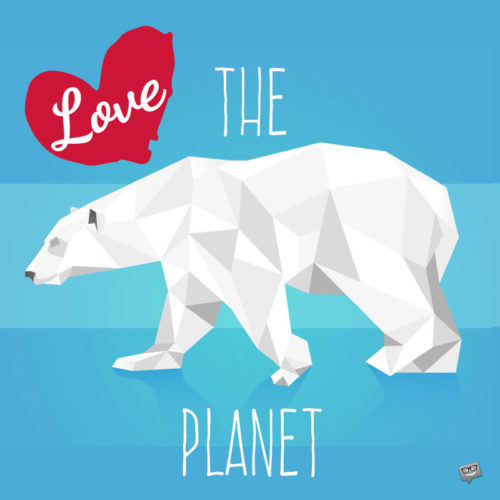 Famous Earth Day Quotes
There must be a reason why some people can afford to live well. They must have worked for it. I only feel angry when I see waste. When I see people throwing away things we could use. Mother Teresa
The environment is where we all meet; where all have a mutual interest; it is the one thing all of us share. Lady Bird Johnson
We need the tonic of wildness—to wade sometimes in marshes where the bittern and the meadow-hen lurk, and hear the booming of the snipe; to smell the whispering sedge where only some wilder and more solitary fowl builds her nest, and the mink crawls with its belly close to the ground. Henry David Thoreau
I had assumed that the Earth, the spirit of the Earth, noticed exceptions – those who want only damage it and those who do not. But the Earth is wise. It has given itself into the keeping of all, and all are therefore accountable. Alice Walker
Earth Day should encourage us to reflect on what we are doing to make our planet a more sustainable and livable place. Scott Peters
A nation that destroys its soils destroys itself. Forests are the lungs of our land, purifying the air and giving fresh strength to our people. Franklin D. Roosevelt
Now I know why I'm here. Not for a closer look at the moon, but to look back at our home, the Earth. Alfred Worden
The wealth of the nation is its air, water, soil, forests, minerals, rivers, lakes, oceans, scenic beauty, wildlife habitats, and biodiversity. Gaylord Nelson
"Happy Earth Day" Wishes
Wishing you a fabulously happy Earth Day! May your blessings be as big as this earth!
Happy Mother Earth Day to a truly wonderful individual in my life. May this special day bestow upon you every good thing you have ever wanted in life.
Beyond a shadow of a doubt, you are a phenomenal individual. Have a wonderful time celebrating Earth Day.
We only have one earth. I hope this special day reminds us of how important it is to keep it healthy and safe for future generations. Happy Earth Day to you!Just as Mother Earth is critical to our survival, so are you critical to my happiness. Have a truly amazing Earth Day!
Today is truly a great day! May God bless Mother Earth and all her wonderful children – most especially you! Happy Earth Day!
As you celebrate Earth Day today, do know that I treasure you more than anything in my life. Happy Earth Day. And don't forget to go green!
I want to wish one of the sweetest people in my life a very Happy Earth Day celebration. May this wonderful day fill your world with truly magical moments.
In honor of International Mother Earth Day, I want to thank you for your never-ending efforts in protecting this environment. Keep up the great work. Happy Earth Day!
Happy Earth Day, my dear! It's people like you who make this world a better place. Enjoy this special day, knowing that I value you like I value my life. Stay blessed.
You are as important to me as this planet is to the survival of mankind. Happy Earth Day!
Just like Mother Earth is the only home we have, each other's hearts are the only homes we have. I love you so much. Happy Earth Day!
Wishing a Happy Earth Day celebration to a wonderful person in my life. May we live to celebrate countless more Earth Days together!
On this Mother Earth Day, may the heavenly showers of happiness and good fortune pour down on you. Have a fabulous day!
It's Earth Day! May the powerful spirit of the Earth be your protector and guide today and forevermore. Happy Earth Day!
You are my favorite citizen of planet Earth. Have yourself a Happy Earth Day.
In my eyes, you are as precious as the Earth is to mankind. Happy Earth Day.
May the merciful spirits and gods of the Earth make your skies blue and your fields green. Happy Earth Day.
Good planets like Earth are very hard to find. If you were a planet, you'd be planet Earth because good people like you are very hard to find. Happy Mother Earth Day!
I shall forever be grateful to this planet for giving me the opportunity to meet someone as wonderful as you. Had it not been for Earth, how else would I have met you?! Happy International Earth Day, my dear!
Wishing a happy Earth Day to the sunshine of my world. May this remarkable day bless you with good health and make every step of your earthly journey a blissful experience!
Your presence in this world makes it brighter. I hope you always remember that! Happy Earth Day.
You may also like:
Freedom Quotes for Independence Day | 4th Of July
Happy Mother's Day! | Wishes For All Those Great Women in Our Life