Although separations hurt, bitterness doesn't always have to be the final outcome. On this special day of his, let us take a moment to remember all the happy memories you created together and wish your ex-boyfriend a very happy birthday.
No matter what has happened in the past, whether you're also the ex-girlfriend or perhaps the other ex guy, sending them heartfelt words of affection is a great way to show that you still care for them despite your broken heart. Here are some touching birthday messages for your ex-boyfriend that you can send or share.
Touching Birthday Messages for your Ex Boyfriend
No matter what the future holds, we hope that these touching birthday messages will bring you some comfort on this special occasion. Never forget how much your ex-boyfriend means to you even after all that has happened between the two of you. "Live and let live" is what they say after all.
Happy birthday to the one who taught me how to laugh, love, and live life to its fullest. Wishing you a day full of joy and plenty of wonderful moments.
Happy birthday, my love. I will always remember all the amazing times we had together. May your big day be as special as you are to me.
Happy birthday! Everywhere I go, the sweet memories of our time together linger in my heart. I wish you all the best for your special day.
Memory persists just like Dali's melted clocks, but life also moves forward like Hokusai's "The Great Wave off Kanagawa". Glad we're both managing to live our lives like these two works of art. Happy Birthday, all my love.
Ever since we broke up, I still remember the happy moments we shared together – they can never be forgotten. Happy birthday to you, my dear!
Though we are not lovers anymore, I still have you in my heart because you used to be the king of my castle. I will forever cherish those precious moments you and I shared together. Happy birthday!
The heartbreak I feel will not change the fact that you were once a very special person whose kisses and hugs I always pined for. Maybe you might have found a new girlfriend and moved on, but I still have your name written in my heart. Have a blissful birthday.
You know that it is not possible for me to forget your birthday because it reminds me of the special moments that we spent together. I hope you have a pleasant day, my dear. Happy birthday.
I can't stand it whenever I refer to you as my ex- boyfriend. I wish we had never ended our relationship. Happy birthday!
There is no amount of heartbreak that can erase the fact that you are one of the most wonderful people I have ever met. The lovely memories I have of you will never fade away. Happy birthday, boy!
I really miss you so much because I have now come to a realization that your love for me was genuine and true. I wish you could come back to me. Happy birthday!
I can't pretend that I don't miss you because I truly do. You have left a massive void in my life, and nothing seems to have the ability to fill that emptiness. I hope you have a fantastic birthday celebration. I miss you.
I want to use your birthday as an opportunity to let you know how bored I am without you in my life. You were really an angel to me. Happy birthday!
Happy birthday, my dear. As you celebrate today, do know that my heart still cries for your love every night.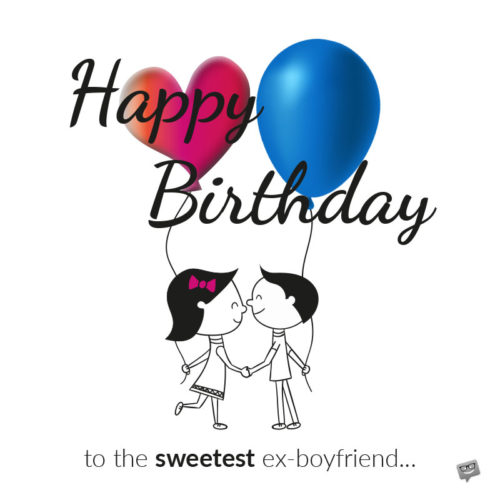 The fact that we have broken up doesn't mean that we cannot be friends. You will always be one of the best friends I have ever had. Happy birthday.
How I wish we had never ended our relationship. How I wish I could be the one to shower you with kisses and hugs on your special day. My dear, I wish you a blissful birthday celebration. Miss you.
I can never forget the special day of a boy who once ruled my heart. We might not be together but I still love and care for you, my dear. Happy birthday.
I am unable to hide the fact that I still love and adore you. How I wish we had never gone our separate ways. As you celebrate your birthday today, I pray that you can someday find it in your heart to forgive me and accept me into your heart once again. Happy birthday.
I have never told you this, but I often miss all the fun you and I used to have together. I miss you so dearly. Happy birthday.
Happy birthday to the sweetest ex-boyfriend in the entire universe. It is my wish that you will find joy in everything that you do in this life. I hope you have loads of fun on your special day.
It is my prayer that you would use this special day of yours to forgive me for all the heartaches I have caused you because I'm truly sorry. I hope we can be very good friends. Happy birthday.
You can also take a look at our collection of Funny Happy Birthday Images
Funny Birthday Wishes for your Ex Boyfriend
The fact that you're apart doesn't mean you should be bitter about the moments you lived together. In fact, you can even joke about them! If that's the case, these birthday wishes for your ex boyfriend will help:
Together, we had a plethora of great times regardless of our decision to live apart. Thank you for teaching me the meaning of plethora – that means a lot.
Happy birthday to my ex-boyfriend who taught me that I'm not allergic to sushi, just to you. Enjoy your special day, I'm sticking with the sushi.
Happy birthday to the ex who said he wanted a partner who was spontaneous, but always complained when I surprised him. I hope your birthday is really safe!
Happy birthday to the ex who always had a knack for making me laugh, even when I was at my lowest. I hope your birthday is filled with as much joy and laughter as you brought into my life.
Happy birthday to the man who taught me that sometimes, things just don't work out, but that doesn't mean we can't still be friends. Have a fantastic birthday and let's grab a drink sometime!
Happy birthday to the ex who showed me that sometimes, the best relationships are the ones that don't last forever. I hope your day is filled with all the things that make you happy, just like you did for me.
If you like this post, check our Funny Birthday Wishes That Will Make Your Boyfriend Laugh on his Special Day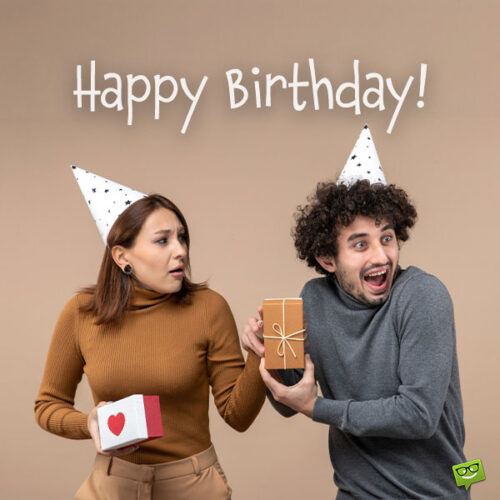 Birthday Poems for your Ex Boyfriend
If your birthday wishes rhyme, they manage to tell a story that may be both sad and cute – just like life itself if. Here are some birthday poems you can send to your ex-boyfriend:
1.
As I sit here remembering us two,
I'm filled with both joy and sadness too
We shared amazing moments of happiness,
But our romance was ultimately less
I hope your birthday brings you peace of mind,
And that life will treat you so very kind
Happy Birthday to my ex-boyfriend,
You always gave me so much to contend
2.
We had our fun, we shared our love,
But it's time now for us both to move on above
It saddens me that our time has past,
But I will forever cherish what we made last
Though you are an ex and it's true,
I still wish you the best day for you
Happy Birthday, I hope your dreams come true!
3.
My heart was broken when we said goodbye,
But my love for you will never die
You may have moved on but that's okay,
It's time now to start off a new day.
Happy Birthday, I wish only the best,
May you never feel like you're under stress
As my ex-boyfriend, I send my love to thee,
Have an amazing birthday that's full of glee!
4.
Every little thought about you
Sends tears running on my face
I love you in my heartbroken state
And would never hold anything against you
I hope you find happiness wherever you are
And free yourself from the guilt
Happy birthday
5.
One of my failures in life
Is not being able to hold on to you
However the lessons are quite good for me
I hope you are able to achieve all the desires of your heart
Happy birthday
6.
However you take this
Know that it is coming from the bottom of my heart
My sincere apologies for all the things I have done
I hope to put back the smiles on your face
By first wishing you happy birthday
Have a great day
7.
After facing the dilemma of whether to text you or not
I finally decided to forget about the past
And talk to you on your birthday
It doesn't mean I am weak
But it means I value people in life
Happy birthday
8.
It makes no difference who is right or who is wrong
There's nothing worth fighting for
I give up on revenge
Let's pick up the pieces
And build something with our lives
You are still dear to my heart
Happy birthday
9.
I forgive you for the hurt you caused me
And wish you happiness in life
This is just to say
That we can now be friends
Happy birthday
10.
I still think you are a wonderful guy who every girl would be lucky to have
It is just a shame I lost you
And even though our relationship is over
I still love you
I hope we can be friends forever
Happy birthday
11.
It doesn't matter
If we had a bitter past
There's always a chance to make things right
And stop the blame game
I start by wishing you a happy birthday
Have a glorious day
12.
You deserve nothing less but the best in life
I had my chance and I guess I threw it away
And I'm truly sorry for that
Sending you lots of love on your special day
Happy birthday
13.
I send you this friendly text
Regardless of whatever happened between us
I guess we should bury the past
And move on with our lives
I still believe in your dreams
And can't wait to see you live it
Happy birthday dear
14.
I wish I could still be the one
To hold and kiss you on your birthday
I really miss you greatly
Happy birthday to my ex boyfriend
15.
There isn't a perfect time
To settle our differences than on your birthday
I am sorry for the pain I caused you
And ask for friendship as a new beginning
Accept my apology, please
Happy birthday
16.
The time has come for me to break the silence
And admit my wrongs and make things right between us
The past is gone
Away with its pain, sorrow and violence
I am terrible sorry for everything
Happy birthday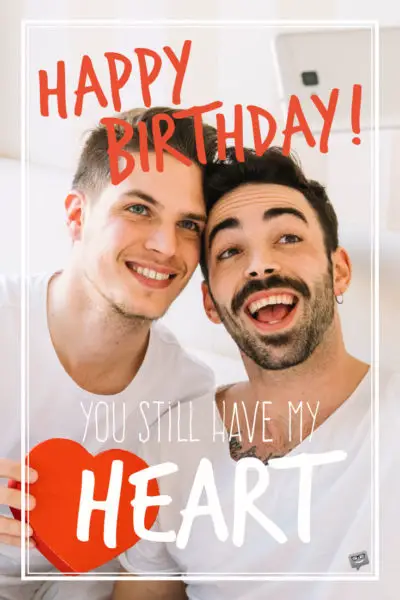 17.
It is not easy to forget a person like you
No matter how hard I try
I hope you find a place in your heart
To forgive me of all my sins because I'm truly sorry
I wish you the best of everything
And hope you find someone who will make you smile again
Happy birthday
Pin it to save it for later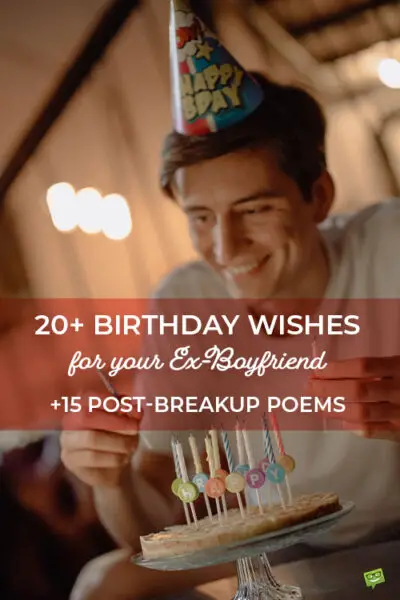 You may also like:
Rise Above: 60 Savage Attitude Breakup Captions for Instagram
25 Thank You Notes for Beautiful and Unexpected Gifts