Valentine's Day is a special time to show our love and affection to those who are important to us. Whether you're celebrating with your romantic partner or with family and friends, it can be beneficial to reflect on the meaning of love as presented through God's Word. In this blog post, we'll explore Bible verses that are perfect for Valentine's Day.
The Bible speaks of relationships, love, and commitment in a variety of ways. One of the most important things it teaches us is that true love is patient, kind, and selfless. It encourages us to put others first and to always be there for them during both the good times and the bad. As we celebrate Valentine's Day, let us remember to show our loved ones the love that the Bible teaches.
Whether you want to share a romantic message with your partner, are looking for words of encouragement for a friend, or just need something meaningful to share on social media, there are plenty of Bible verses suitable for the occasion. So without further ado, let's dive into some of the best Bible quotes for Valentine's Day! Here you'll find words of affirmation, wisdom, and comfort perfect for expressing your love to someone special. After all, what better way is there to show your love than with words of God's infinite love?
I have found the one whom my soul loves. Song of Solomon 3:4
You are altogether beautiful, my love; there is no flaw in you. Song of Solomon 4:7
So Jacob served seven years for Rachel, but they seemed like only a few days to him because of his love for her. Genesis 29:20
Come, let us take our fill of love till morning; let us delight ourselves with love. Proverbs 7:18
Enjoy life with the wife whom you love. Ecclesiastes 9:9
My lover is mine, and I am his. Song of Solomon 2:16
Let him kiss me with the kisses of his mouth— for your love is more delightful than wine. Song of Solomon 1:2
There are three things that amaze me— no, four things that I don't understand: how an eagle glides through the sky, how a snake slithers on a rock, how a ship navigates the ocean, how a man loves a woman. Proverbs 30:18-19
He Behold, you are beautiful, my love; behold, you are beautiful; your eyes are doves. Song of Solomon 1:15
Therefore a man shall leave his father and his mother and hold fast to his wife, and they shall become one flesh. Genesis 2:24
You have captivated my heart, my sister, my bride; you have captivated my heart with one glance of your eyes, with one jewel of your necklace. Song of Solomon 4:9
How beautiful is your love, my sister, my bride! How much better is your love than wine, and the fragrance of your oils than any spice! Song of Solomon 4:10
Don't forget to also read our collection of Happy Valentine's Day Messages
Above all, love each other deeply, because love covers over a multitude of sins. 1 Peter 4:8
Owe no one anything, except to love each other, for the one who loves another has fulfilled the law. Romans 13:8
A friend loves at all times, and a brother is born for adversity. Proverbs 17:17
Be kind to each other, tenderhearted, forgiving one another, just as God through Christ has forgiven you. Ephesians 4:32
Take delight in the Lord, and he will give you the desires of your heart. Psalms 37:4
Greater love has no one than this, that someone lay down his life for his friends. John 15:13
Jesus replied: "Love the Lord your God with all your heart and with all your soul and with all your mind." This is the first and greatest commandment. And the second is like it: "Love your neighbor as yourself. Matthew 22:37-39
And hope does not disappoint us, because God has poured out his love into our hearts by the Holy Spirit, whom he has given us. Romans 5:5
The fruit of the spirit is love, joy, peace, patience, kindness, generosity, faithfulness, gentleness, self control. Galatians 5:22-23
Be completely humble and gentle; be patient, bearing with one another in love. Ephesians 4:2
check out our collection of Happy Valentine's Day Messages for Friends if you enjoy this article.
Valentine's Day Gems: Bible Quotes to Teach Children about God's Love
No one has ever seen God; but if we love one another, God lives in us and his love is made complete in us. 1 John 4:12
The Lord is merciful and gracious, slow to anger and abounding in steadfast love. Psalm 103:8
As the Father has loved me, so have I loved you. Abide in my love. John 15:9
The steadfast love of the Lord never ceases; his mercies never come to an end… Lamentations 3:22
The Lord your God is in your midst, a mighty one who will save; he will rejoice over you with gladness; he will quiet you by his love; he will exult over you with loud singing. Zephaniah 3:17
And so we know and rely on the love God has for us. God is love. Whoever lives in love lives in God, and God in them. 1 John 4:16
To love him with all your heart, with all your understanding and with all your strength, and to love your neighbor as yourself is more important than all burnt offerings and sacrifices. Mark 12:33
For God so loved the world that he gave his one and only Son, that whoever believes in him shall not perish but have eternal life. John 3:16
Love must be sincere. Hate what is evil; cling to what is good. Romans 12:9
Dear children, let us not love with words or tongue but with actions and in truth. 1 John 3
Also check these Happy Valentine's Day Images that will help you craft the perfect post.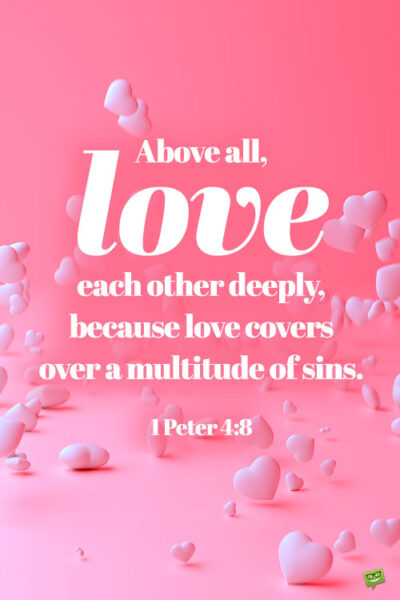 What is the Bible Verse 1st Corinthians 13?
Maybe the most famous of all the bible verses about love is the 1 Corinthians 13 which is often referred to as the "Love Chapter" of the Bible. It provides us with an insightful and heartwarming depiction of what it means to truly love someone. It reminds us that love should be patient, kind and unselfish. Love should be full of compassion, understanding and trust.
If I speak in the tongues of men or of angels, but do not have love, I am only a resounding gong or a clanging cymbal. If I have the gift of prophecy and can fathom all mysteries and all knowledge, and if I have a faith that can move mountains, but do not have love, I am nothing. If I give all I possess to the poor and give over my body to hardship that I may boast, but do not have love, I gain nothing.Love is patient, love is kind. It does not envy, it does not boast, it is not proud. It does not dishonor others, it is not self-seeking, it is not easily angered, it keeps no record of wrongs. Love does not delight in evil but rejoices with the truth. It always protects, always trusts, always hopes, always perseveres.Love never fails. But where there are prophecies, they will cease; where there are tongues, they will be stilled; where there is knowledge, it will pass away. For we know in part and we prophesy in part, but when completeness comes, what is in part disappears. When I was a child, I talked like a child, I thought like a child, I reasoned like a child. When I became a man, I put the ways of childhood behind me. For now we see only a reflection as in a mirror; then we shall see face to face. Now I know in part; then I shall know fully, even as I am fully known.And now these three remain: faith, hope and love. But the greatest of these is love..1 Corinthians 13 1-13 NIV
The message of this verse is timeless and it serves as a reminder that love is something to be cherished and celebrated all year round! True love should be characterized by compassion, humility, patience, respect for others, selflessness, forgiveness, and a commitment to truth, kindness and righteousness. So no matter how you celebrate this day, let 1 Corinthians 13 provide you with inspiration to spread some love in your life.
Valentine's Day Reflections: Inspirational Bible Verses to Contemplate
This Valentine's Day, let us explore the Bible's teachings on love. From God's love for his people to Jesus' commands to show love for our neighbors, the Bible provides ample guidance on how we can express and understand this most powerful of emotions. Through scripture and parables like the Good Samaritan, the Bible presents us with a model of love that speaks to all times and ages. Let us take a look at some of the Bible's most beloved verses on love!
We love because he first loved us. 1 John 4:19
Hatred stirs up conflict, but love covers over all wrongs. Proverbs 10:12
And above all these put on love, which binds everything together in perfect unity. Colossians 3:14
Many waters cannot quench love; rivers cannot wash it away. If one were to give all the wealth of his house for love, it would be utterly scorned. Song of Solomon 8:7
Let the morning bring me word of your unfailing love, for I have put my trust in you. Show me the way I should go, for to you I entrust my life. Psalm 143:8
I have loved you with an everlasting love; therefore I have continued my faithfulness to you. Jeremiah 31:3
For the mountains may depart and the hills be removed, but my steadfast love shall not depart from you, and my covenant of peace shall not be removed," says the Lord, who has compassion on you. Isaiah 54:10
Follow God's example, therefore, as dearly loved children and walk in the way of love, just as Christ loved us. Ephesians 5:1-10
This is how we know what love is: Jesus Christ laid down his life for us. And we ought to lay down our lives for our brothers and sisters. 1 John 3:16
Ιs There a Bible Verse About Valentine's Day?
The Bible does not describe or celebrate Valentine's day, as it is a holiday that originated in the ancient Roman Empire. However, there are several Bible verses which could be interpreted to represent aspects of love and relationships that are linked to Valentine's Day. These include, among many others, 1 Corinthians 13:13 ("And now these three remain: faith, hope and love. But the greatest of these is love") and 1 John 4:7-12 ("Dear friends, let us continue to love one another, for love comes from God. Anyone who loves is a child of God and knows God. But anyone who does not love does not know God, for God is love").
The Bible does not give specific instructions on how to celebrate Valentine's day, but it clearly speaks of the importance of love in relationships and encourages us to show love to those around us. Ultimately, the Bible encourages us to demonstrate our love for one another through acts of kindness, generosity and compassion rather than through celebrating holidays such as Valentine's Day.
Pin this post to save it for later!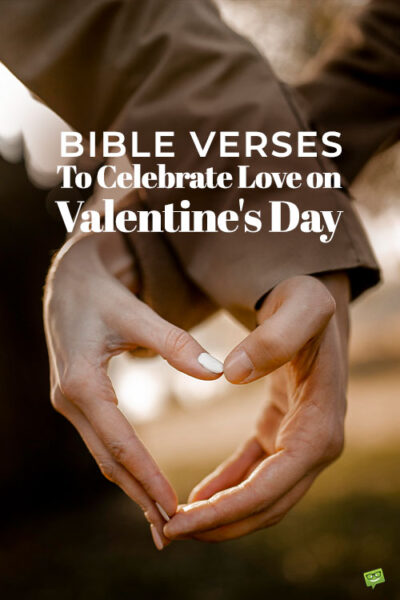 You May Also Like:
25 Happy Valentine's Day Messages for your Daughter
100 Heart-melting Valentine's Day Quotes on Genuine Love
Love is What It's All About | Valentine's Day Quotes For Her