Valentine's Day is quickly approaching, and what better way to show your significant other just how much they mean to you than with a thoughtful quote. Whether you've been together for a while or you're just starting out, expressing your feelings with the perfect words can make a big difference.
These valentine's day quotes range from romantic and sweet, to funny and light-hearted, so there is something for every couple in our selection. Each quote has been carefully chosen to express the emotion of love, from famous poets, writers and even some movie characters. You are sure to find something that conveys your feelings perfectly – whether it is a heartfelt message in a card, as a caption on a photo or even as a text message.
Show her how much you care this valentine's day by expressing your love with one of these quotes. Let her know she is truly treasured and appreciated by you, and make this valentine's day one she will never forget. We hope our selection helps to create an atmosphere of love between the two of you! Happy Valentine's Day!
Best Valentine's Day Quotes For Her
In a world full of temporary things you are a perpetual feeling. Sanober Khan
Don't ever think I fell for you, or fell over you. I didn't fall in love, I rose in it. Toni Morrison
I won't give up on us, even if the skies get rough. Jason Mraz
I will never forget the moment I realized I loved you. Unknown
You are the answer to every prayer I've offered. Nicholas Sparks
You put your arms around me and I'm home. Unknown
Love recognizes no barriers. It jumps hurdles, leaps fences, penetrates walls to arrive at its destination full of hope. Maya Angelou
And suddenly, all the love songs were about you. Unknown
A kiss makes the heart young again and wipes out the years. Rupert Brooke
You are my sun, my moon, and all my stars. Unknown
You are my heart, my life, my one and only thought. Arthur Conan Doyle
All you need is love. But a little chocolate now and then doesn't hurt. Charles M. Schulz
For it was not into my ear you whispered, but into my heart. It was not my lips you kissed, but my soul. Judy Garland
The minute I heard my first love story, I started looking for you, not knowing how blind that was. Lovers don't finally meet somewhere. They're in each other all along. Rumi
Love is too weak a word for what I feel for you. One life is too small a time to express how madly I am in love with you.
Love is composed of a single soul inhabiting two bodies. Aristotle
Love does not dominate; it cultivates. Johann Wolfgang von Goethe
If you have only one smile in you give it to the people you love. Maya Angelou
Love will find a way through paths where wolves fear to prey. Lord Byron
Love is just a word until someone comes along and gives it meaning. Paulo Coelho
You know you're in love when you can't fall asleep because reality is finally better than your dreams. Dr. Seuss
Take my hand, take my whole life too, but I can't help falling in love with you. Elvis Presley
If I had a flower for every time I thought of you…I could walk through my garden forever. Alfred Lord Tennyson
There is only one happiness in this life, to love and be loved. George Sand
The Perfect Valentine's Day Message To Show You Care
I love you because the entire universe conspired to help me find you. Paulo Coelho
My dearest, all the world's love can't compare to my love for you. Today I'm reminded of how much our relationship means to me and how grateful I am for your presence in my life. From the first moment we met, I knew that this was something special. Your kindness and understanding has made the days brighter and I'm so thankful for having you by my side. On this valentine's day, may all your dreams come true. You mean more to me than words can say and I will always be here to support you in any way possible. My love for you is infinite! Happy Valentine's Day!
I feel so alive whenever you hold me in your arms. If this isn't the definition of true love, then I don't know what true love is.
Your sweet love is the only thing worth dying for in this world. Happy Valentine's Day!
There are never enough I Love You's. Lenny Bruce
All that you are is all that I'll ever need. Ed Sheeran
I am not blessed with riches, but yet I feel like the luckiest man in the world because I have the love of the most beautiful and loving woman in the world.  Dearest love, I will always love you and be %1000 behind you in whatever you do.
Your voice is the sweet melody that serenades my soul and takes me to paradise. Happy Valentine's Day, my precious love.
You are and always have been my better half.
The only necessary thing in my world is your amazing love because it sustains my life like the sun sustains the earth. Thank you for being my Queen and sunshine.
The love Romeo and Juliet had for each other was truly powerful, but ours is stronger and more beautiful than theirs. Happy Valentine's Day, my love.
You are the love of my life and the Queen of my heart. Sweet love, my life shall forever revolve around you.
I wouldn't want to live in this world if I didn't have someone as special as you to share my life with. Darling, your love is all I need, and it is all I will ever need to be truly happy.
Being deeply loved by someone gives you strength, while loving someone deeply gives you courage. Lao Tzu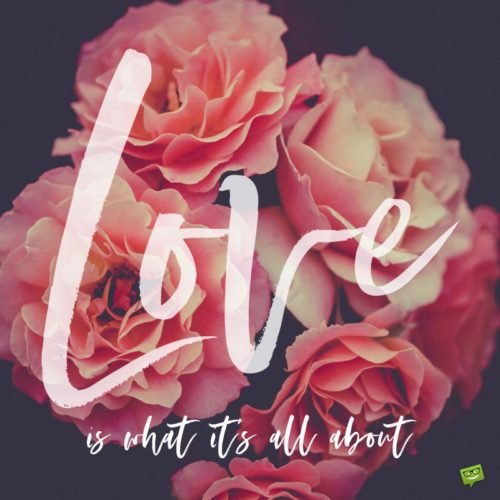 Holding you in my arms and kissing your lips – sheer paradise!
In you, I see my future. In you, I see my life, and that is why I shall forever love you from the bowels of my soul.
On this Valentine's Day, I just want you to know that until the end of time, my heart shall be completely yours. Thank you for blessing me with your incalculable love.
Your warm and tender love is more valuable to me than all the treasures of the universe.
Love is friendship that has caught fire. It is quiet understanding, mutual confidence, sharing and forgiving. It is loyalty through good and bad times. It settles for less than perfection and makes allowances for human weaknesses. Ann Landers
The sweetest tasting thing on earth is your sweet kiss, and that is why I can never ever get enough of it. And please, always keep it coming. I love you so much, sweet darling.
On this special day, I promise to love you wholeheartedly and keep you smiling until the day my soul dies. Happy Valentine's Day.
Every single day you demonstrate to me that you are indeed sent from above to put a smile on my face. Honey, I hope that someday I can make your life as cheerful and beautiful as you make mine.
Plant your sweet lips against mine and I'm in heaven. Sweetheart, that's how special your love is to me.
Funny Valentine's Day Messages for Her

I bought you a very expensive gift this Valentine's Day, but Cupid came and stole it away with my heart. Happy Valentine's Day.
Love is like a box of chocolates, beautifully wrapped on the outside, but full of surprises on the inside.
Babe, sometimes I can't help but wonder whether it is really worth fighting for love. But then I see you and I arm myself to the teeth and rush headlong into battle. Have a sweet Valentine's Day.
When I fell in love with you, my heart was locked, the key thrown in the mud and then run over by a truck. Happy Valentine's Day.
All of the drama you put me through this past year almost made me shun you this Valentine's Day, but then I remembered I wanted to get laid. Just kidding! Have a beautiful Valentine's Day.
I think your parents didn't name you appropriately. You are absolutely phenomenal. I think "Absolutely Phenomenal" should be on your birth certificate. Happy Valentine's Day!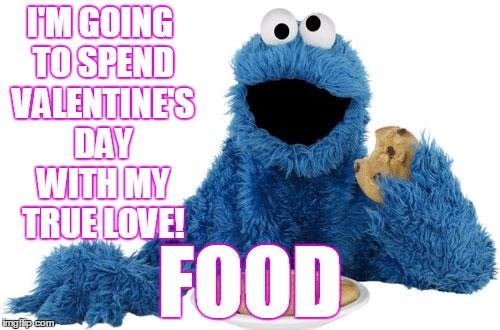 Babe, if my money grew as much as my love for you grows, then I'm certain I'd be richer than Bill Gates by now. Happy Valentine's Day.
Tonight I will strip off your clothes like you're stripping that box of chocolates! Happy Valentine's Day.
This year I've decided to truly test the depth of our love by not buying you anything yet still expecting to get laid. Happy Valentine's Day!
New studies have shown that Saint Valentine was actually a staunch feminist whose goal in life was to bring about the slow, painful demise of men by promoting love.  Happy Valentine's Day!
I hope this box of chocolates proves to be a lasting symbol of my affection for you, because I'm not buying anything again until next year. Happy Valentine's Day.
Sweetheart, I love you more than a macho man loves the gym.
You are like a mother to me, so now it has become inappropriate to buy you gifts on Valentine's Day. Love you!
Because I love you so much, everything about me is yours, including my debts. Have a beautiful day.
You bring the chocolates, and I will bring the candles. Let's stay in tonight and make some magic happen. Unknown
On this day of love, I just want you to know that I can't live without you just like a teenager can't live without his/her smartphone. Happy Valentine's Day.
Honey, I love you even more than Jesus loves you. And that's really major, considering how much Jesus really loves you.
My love, because of your presence in my life, every day is as happy payday!
I knew I had fallen head over heels in love with you the first time you farted and I didn't run away. Happy Valentine's Day.
If you enjoy this article, check our Happy Valentine's Day Images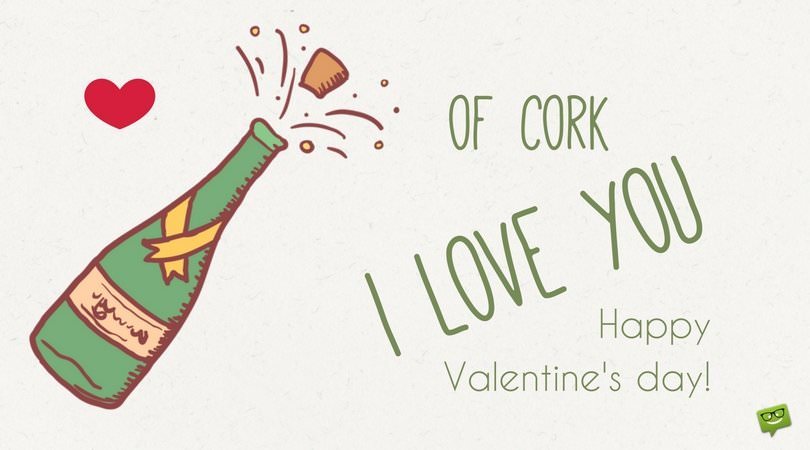 Romantic Valentine's Day Messages for My Girlfriend
Nowadays, you maybe shouldn't send your girlfriend just a series of emoticons to show off your love. Words go a long way in reminding her how important and loved she is, but feel free to add some emoticons alongside these lovely messages.
Today I fully give my heart, attention, and time to the best girlfriend and best friend ever.
Dating you has been the most exciting event of my life. Here's to an even more adventure-filled Valentine's Day.
Love is our true destiny. We do not find the meaning of life by ourselves alone – we find it with another. Thomas Merton
Today I'm happier than usual as it's our first official Valentine's, and I hope for many more.
Love planted a rose, and the world turned sweet. Katharine Lee Bates
Wishing you a romantic day filled with love, joy, and all the chocolate and sweet treats you could ask for.
With open heart and open arms, I hope you have the best day ever.
Your constant love has made me a better person, and it's my wish to treat you like the queen you are today.
For the two of us, home isn't a place. It is a person. And we are finally home. Stephanie Perkins, Anna and the French Kiss
When love is not madness it is not love.When love is not madness it is not love. Pedro Calderon de la Barca
Can't wait to meet up later to spoil the most gorgeous, sweetest girlfriend ever.
To my perfect match, here's to a fun-filled Valentine's Day.
You have made a place in my heart where I thought there was no room for anything else. You have made flowers grow where I cultivated dust and stones. Robert Jordan
Wishing the most beautiful woman in the world a great Valentine's Day.
There's no bad consequence to loving fully, with all your heart. You always gain by giving love. Reese Witherspoon
Sending all my love to the perfect girlfriend.
To love at all is to be vulnerable. C.S. Lewis
To the only girl who makes my heart beat faster every time she smiles, Happy Valentine's Day.
Also check out these Valentine's Day Quotes for Him that inspire romantic feelings and express love and appreciation for your special someone.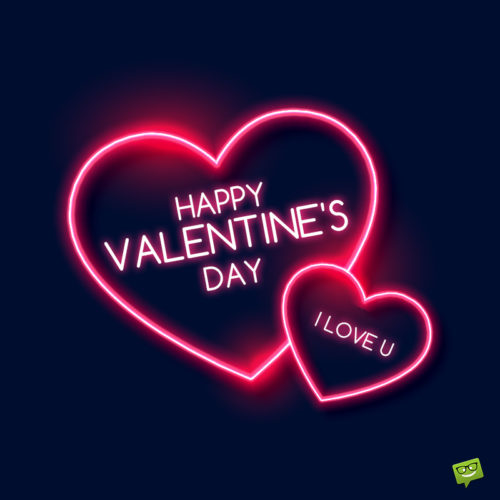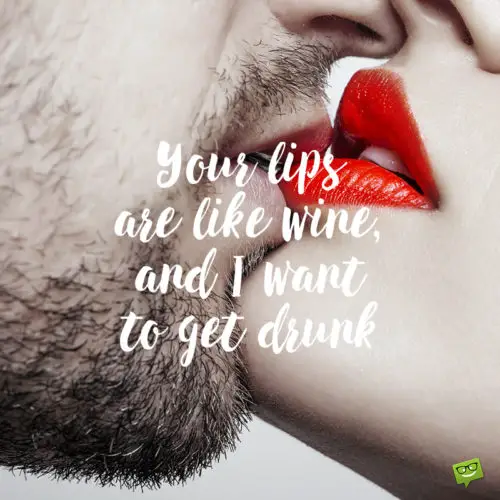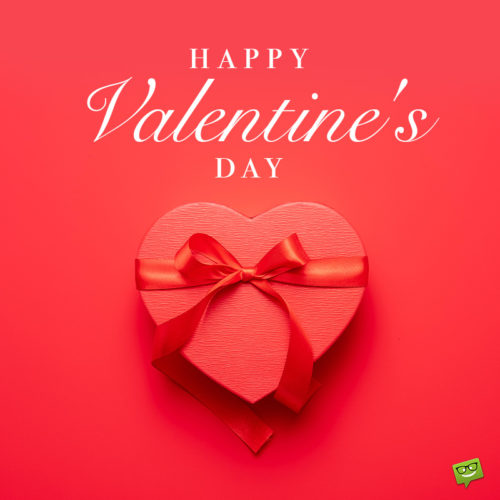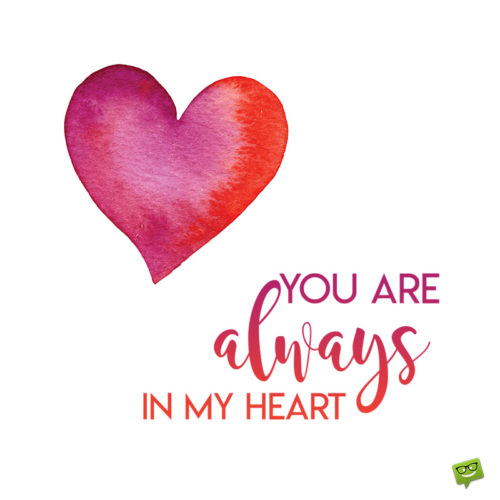 Cute Messages and Valentine's Day Wishes for My Wife
Don't spend too much of your energy thinking about the right gift for her. These messages will bring a smile to her face, so consider personalizing some of them with her pet name to really make her happy.
You're my forever Valentine. Unknown
You've shown me special treatment for our whole marriage; Valentine's Day is my chance to give it all back.
[10] years go by fast. Cheers to a hundred more celebrations with the greatest woman on earth!
For our first Valentine's as a married couple, I'm looking forward to an exciting day planned.
My dreams have come true being able to celebrate this day with the most beautiful woman in the universe.
There is no charm equal to tenderness of heart.Jane Austen
Beyond being an incredible wife and mother, you're the greatest example of devotion and love. Hope you have a great Valentine's Day.
You make every day better than the rest. Let's make today all about you.
Just when it seems I'm incapable of loving you more, you continually prove me wrong. Happy Valentine's Day, honey.
This may be the first celebration we've spent apart, but it's filled with no less love in my heart.
Love doesn't make the world go 'round. Love is what makes the ride worthwhile. Franklin P. Jones
Being married is like having somebody permanently in your corner. It feels limitless, not limited. Gloria Steinem
Love is friendship that has caught fire. It is quiet understanding, mutual confidence, sharing and forgiving. It is loyalty thru good times and bad. It settles for less than perfection and makes allowances for human weaknesses. Love is content with the present; it hopes for the future and it doesn't brood over the past. It is the day-in and out chronicles of irritations, problems, compromises, small disappointments, big victories and common goals. If you have love in your life, it can make up for a great many things that you lack. If you don't have it, no matter what else is there, it isn't enough.. Ann Landers
Let's toast to another year of valentines, another year of marriage, and another year with you being the most beautiful sight to wake up to.
I'm lucky to call you my wife all these years. Happy Valentine's Day, sweetheart.
To my dearest wife, sit back and relax as today is your day to be taken care of.
If you work through the tough times, the respect and love that you feel deepens. Barack Obama
Words may pale in comparison to all you've done, but let me show you today just how much I appreciate you.
What greater thing is there for two human souls, than to feel that they are joined for life–to strengthen each other in all labor, to rest on each other in all sorrow, to minister to each other in all pain, to be one with each other in silent unspeakable memories at the moment of the last parting? George Eliot
Valentine's Day Memes For Her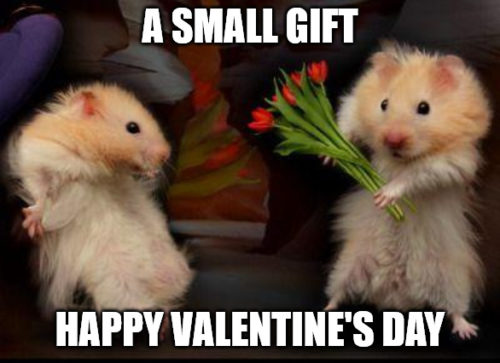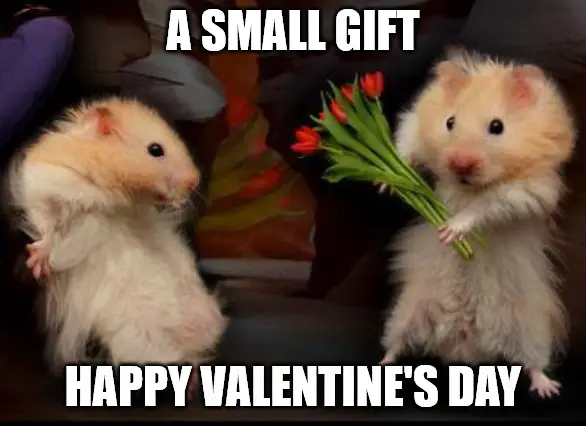 A small gift – Happy Valentine's Day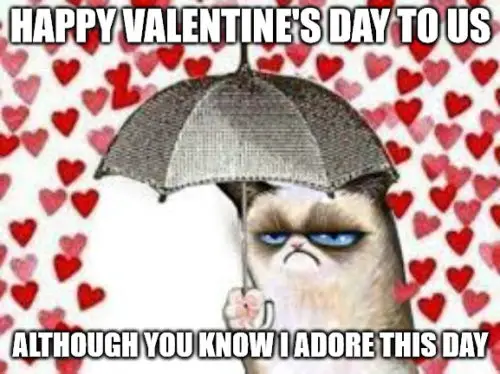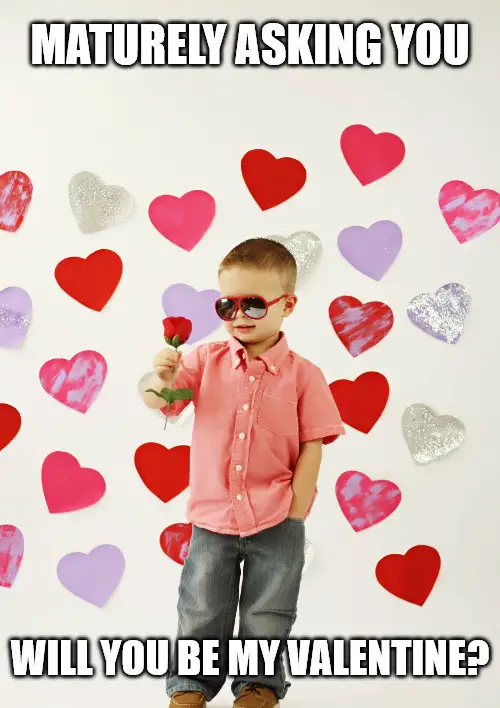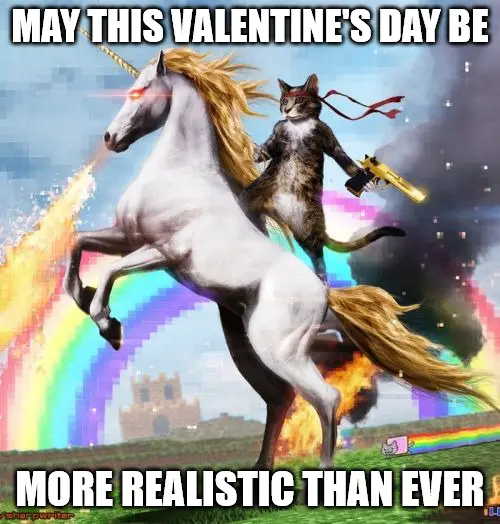 You may also like:
100 Heart-melting Valentine's Day Quotes
Intimate Valentine's Day Wishes (That Will Bring You Closer)
10 Things to Do (and Make an Impression) on Valentine's Day
200+ Love Quotes to Find the Pathway to Their Heart
Galentine's Day Quotes: How a TV Series Left a Legacy of Female Empowerment