Thanksgiving Day can never be complete without a number of things, including family get-togethers, feasting and of course sweet Thanksgiving messages. The latter, though simple, play a significant role in making the festive occasion a more meaningful and exciting one to everyone, including your lovely parents of course!
Here, we have very beautiful messages that you can send to your parents this Thanksgiving to fill their lives with warmth and happiness as they count their blessings.
Happy Thanksgiving Messages for Mom
I want to thank you very much, sweet Mom, for always making Thanksgiving Day such an incredible one for me. I will forever praise Jehovah for giving me such a remarkable parent like you. Wishing you a gladsome feast!
Beloved Mother, nothing in this world compares to the precious gift of your wonderful presence in my life. You always make me the most grateful child on this earth. I wish you peace and great health for this Thanksgiving Day!
I want to take the specialness that this feast day brings to tell you how excellent and incredible you are and also to let you know how joyful my world is having you as my mother. Have a very happy Thanksgiving Day!
You are everything that I need and you make a huge difference in my life. This is what makes you the most cherished gift that the Lord has given to me. Happy Thanksgiving Day, dear Mother!
Dearest Mom, may all the beautiful things that exist on Earth be yours on this day and throughout the coming year. Have a fabulous Thanksgiving Day.
My sweet mom, here's a heartwarming thanks to you for constantly filling my soul with happiness.
Today I just want to express my heartfelt gratitude to you, Mom, for being the sunshine in my life. Have a blessed and sunny Thanksgiving Day.
Mom, this season gives me the perfect opportunity to thank you for enriching my life with your love, support and care. Happy Thanksgiving Day.
Happy Thanksgiving to you, my dearest Mom. May the sun never stop shining on your wonderful life.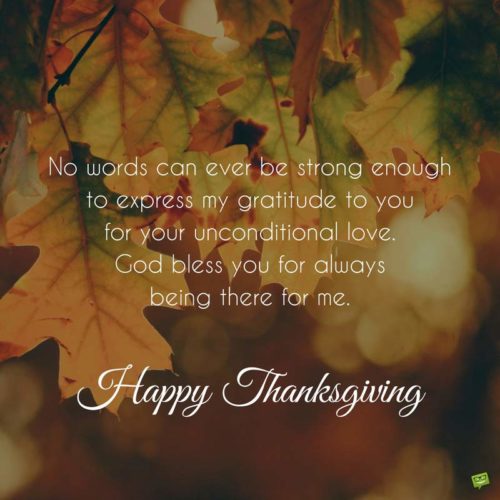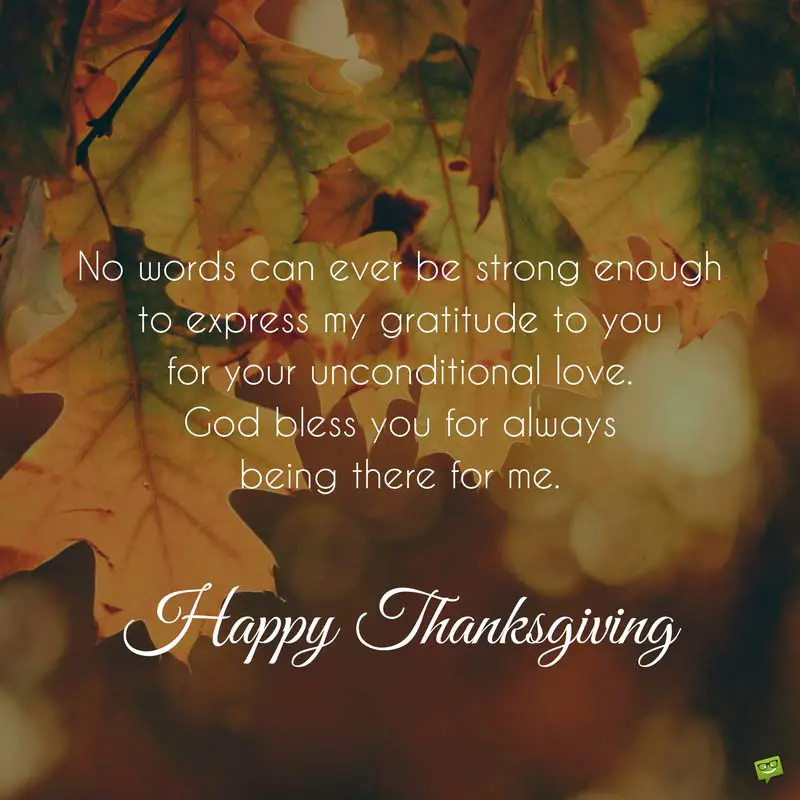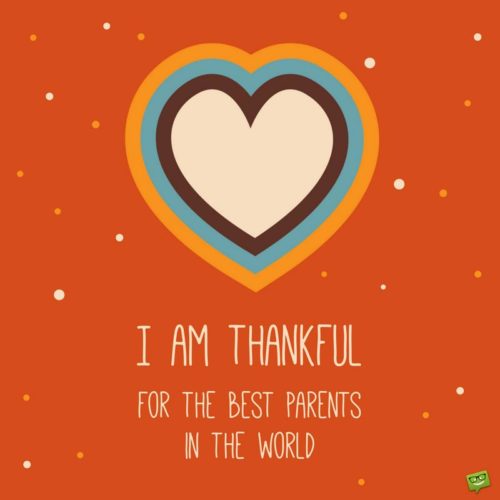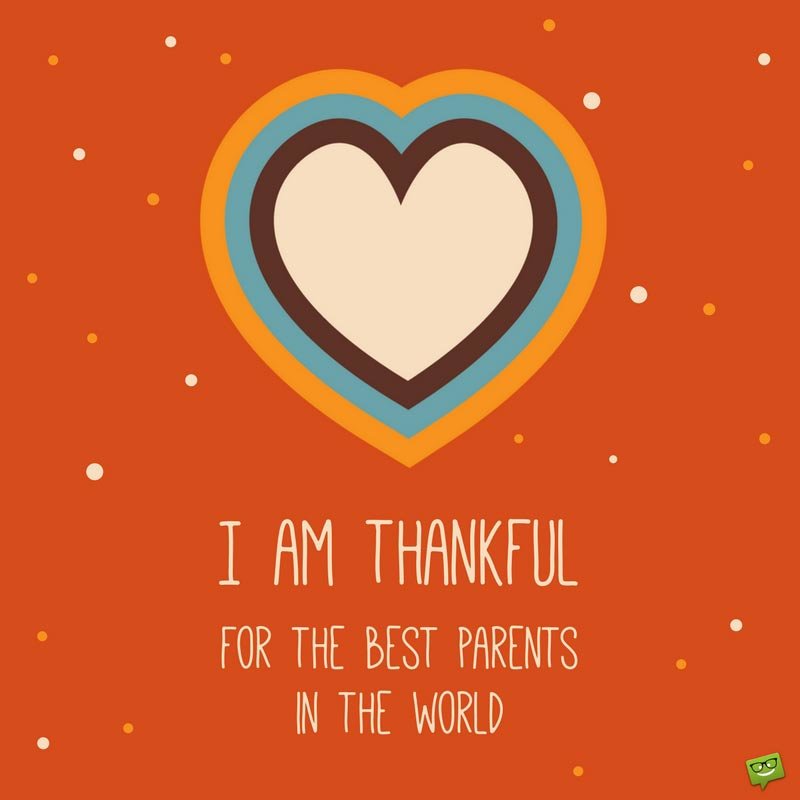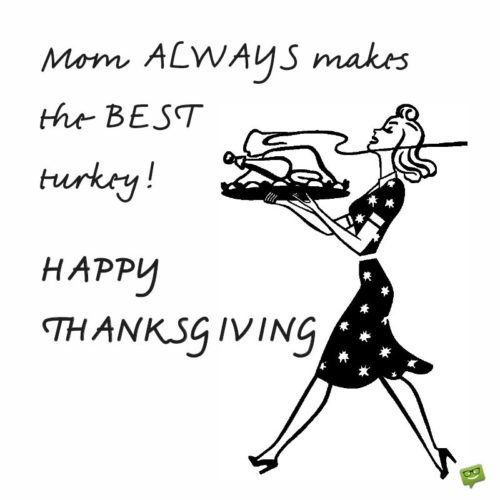 Happy Thanksgiving Greetings for Dad
Dad, today, I thank you from the bottom of my heart for all the unconditional love, joy and inspiration that you bless my life with. Happy Thanksgiving Day! May your day be a totally magical and happy one.
This Thanksgiving Day is a truly special moment for me to appreciate the Lord wholeheartedly for making you my father. I hope you have yourself a very beautiful Thanksgiving celebration!
Happy Thanksgiving Day, Father! I hope this remarkable day will bestow upon you happiness, peace, great health, and prosperity.
It is truly joyful and exulting to wake up every morning knowing that such an amazingly fabulous man like you is my father. Have a blessed and fun-filled Thanksgiving, Dad.
Thank you, dear Father for all the happiness and love you have brought into my heart. I wish you a very glorious Thanksgiving! May you always have plenty of joy in your heart.
Happy Thanksgiving Day, dear Father! I am hoping and praying that every blessed day of your life will be filled with more joy than your heart and soul can contain.
A heartfelt thanks to you this day for forming me into the person I am today. Happy Thanksgiving, dear Dad.
As you count your blessings, Dad, do know that you are the most significant blessing in my life. Have a wonderful Thanksgiving Day!
Thank you for helping me to realize my full potentials. Have a blessed Thanksgiving, Dad.
Thanksgiving Messages for your Parents
Thank you for giving me the best in life. I hope this day brings you happiness that lasts you a lifetime.
As you thank God for the good things that He has blessed your life with, may He continue to pour down more blessings from up above onto your lives. I wish you nothing but happiness and good health on Thanksgiving.
Sending you, my dear parents, a warm thank you for all the wonderful things you have done for me over the years. Have a blessed Thanksgiving Day that is filled with happy and special moments.
I thank God for the countless blessings He has bestowed upon our lives. May we all enjoy nothing short of a bountiful Thanksgiving.
Wishing you a fabulous Thanksgiving celebration as you count your blessings.  May true happiness be yours in abundance on this Thanksgiving Day and on all the days of your existence.
This is a perfect time to be grateful for all the beautiful things you have been blessed with.
Of all the things that I'm thankful for having in my life, Dad and Mom, none compares to you.
I'm really blessed that I can call you my parents. Today, I want to thank God from the bottom of my heart that He gave me parents like you. Have a blessed Thanksgiving.
It's my prayer that this Thanksgiving will be filled with all the happiness in the world.
I wish you a holiday that is as beautiful as your souls are. Thank you for being magnificent parents.
On this festive season, I hope you enjoy peace and love beyond your wildest imagination.
Gratitude will always convert the little we have into more than we need. Have a fabulous Thanksgiving Day.
I am the luckiest child in the world to have parents like you in my life. Happy Thanksgiving!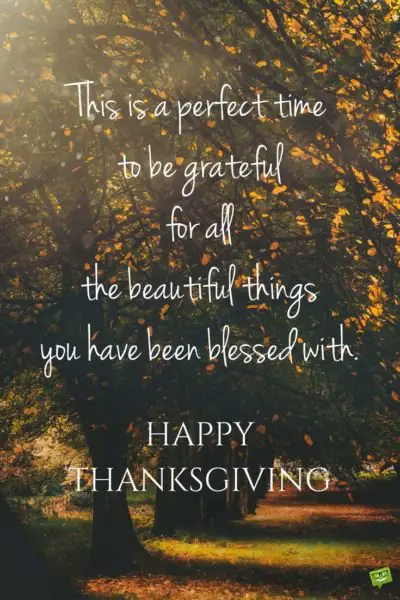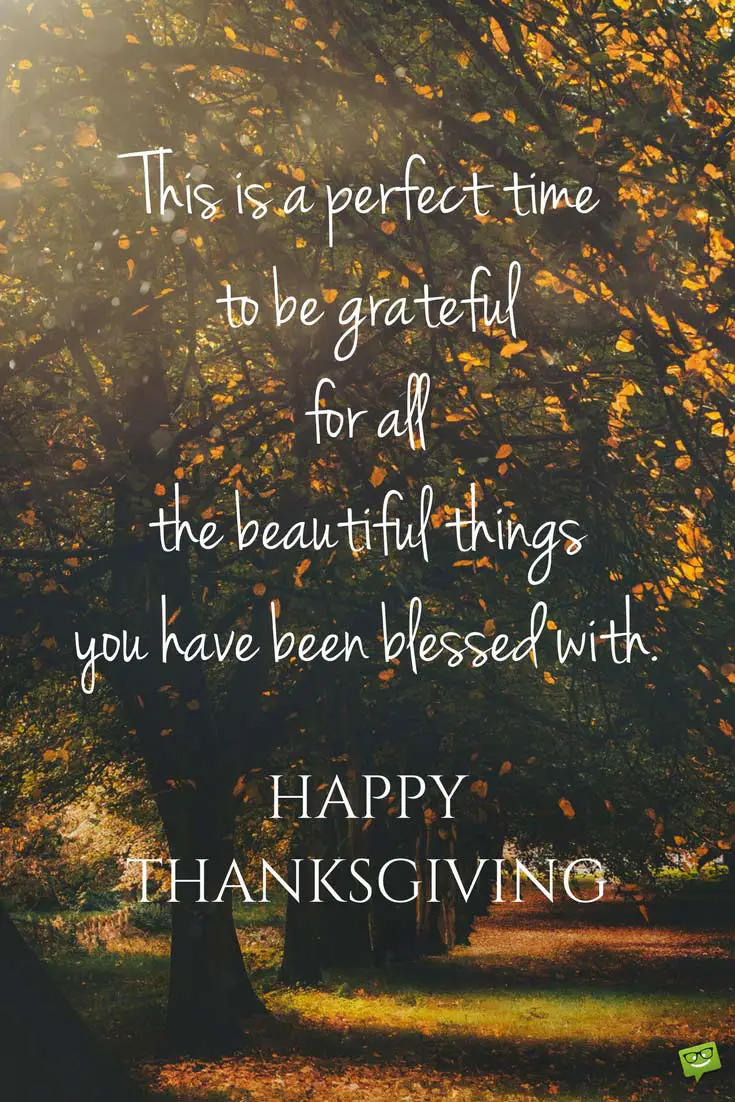 I have so much to be thankful for today simply because God blessed me with wonderful parents like you. Happy Thanksgiving!
When you are thankful for the things you have, you usually end up having more than you'd ever need in life. Happy Thanksgiving.
Wishing you a Thanksgiving that is utterly happy and blessed. We might be far apart, but our hearts are always close together.
My best wishes for you, Mom and Dad for a truly blessed Thanksgiving. You guys are truly a gift from Heaven.
With a heart full of gratitude, it is very easy to unlock the fullness and beauty of life. Happy Thanksgiving.
May your Thanksgiving Day be as wonderful as your lives are to my world. Have a blessed Thanksgiving.
On this festive day, I want to thank you for being the best parents ever. Happy Thanksgiving.
You are the most special people in my life. I can't thank you enough for bestowing me with all the happiness of the world. Have a blessed and truly happy Thanksgiving Day. I love you till the end of time.
My heart shall always be grateful to the Heavens for blessing me with amazing parents like you. Not all the wealth in this universe can ever mean as much as you guys mean to me. Happy Thanksgiving, my priceless Mother and Father.
May this Thanksgiving bring you the happiness that the fact that you are my parents brings into my life. Happy Thanksgiving!
May this beautiful occasion bring happiness into your world. There's not a part of my heart that isn't thankful to the Almighty for having you as my parents. Enjoy this Thanksgiving Day to the max!
Wishing a blessed Thanksgiving to the most precious parents in the world. Have a beautiful day.
I'm blessed beyond measure to have phenomenal parents like you in my life. Thank you for always being by my side to support me through life. Have a blessed Thanksgiving.
You are without a shred of doubt the best parents any child could ever be blessed with. On this Thanksgiving, all I want to say to you are the words: "Thank you for being loving parents to me".
Whenever I count my blessings, I count you two first. Thanks for being the light that illuminates my entire world. Happy Thanksgiving Day.
On my list of the over a billion reasons why I'm grateful to God, dear Mother and Father, you occupy the number 1 position. May good health and happiness forever wrap your lives. Happy Thanksgiving!
Wishing my extraordinary parents an astonishingly blessed Thanksgiving Day. Thank you for being phenomenal parents to me.
No words in English can ever be strong enough to express my gratitude to you for your unconditional love. God bless you for always being there for me. Happy Thanksgiving.
By blessing my life with wonderful parents like you, God has given me the most precious gifts on Earth. It would be therefore greedy on my part to ever ask for more from God. Happy Thanksgiving.
Dear Mom and Dad, as you enjoy your delicious pumpkin pie and turkey, may God fill your lives with good fortune just like you fill mine with. Happy Thanksgiving.
May happiness and good fortune be yours, not only on this holiday but on every blessed day of your lives. Have a beautiful Thanksgiving Day.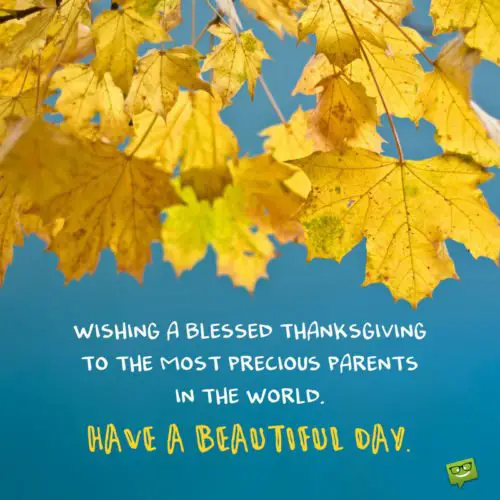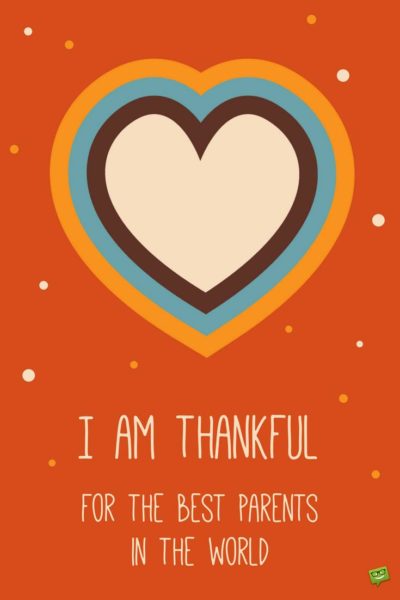 You may also like:
65 Heart-Warming Thanksgiving Quotes for your Family
80+ Touching Thanksgiving Day Wishes
100+ Thanksgiving Quotes for a Day of Gratitude