If you've just got yourself an adorable puppy or a dog and are racking your brains trying to get a cute name for it, worry no more.
Here is a list of 100 of the most popular dog names that can help you easily get the perfect name for your new best friend. The top half of the list contains 50 names for male (boy) dogs whereas the second half contains 50 names you can give to your female (girl) dogs. Having said that, it is worth noting that some of the names are gender-neutral. Hence they can be suitably used to name both male and female dogs.
50 Names for Boy Puppies
1. Max: This is not only one of the most popular dog names in America, but it is certainly also one of the coolest names to give to your dog. This was even the name of the dog actor that starred in the hit 2015 Hollywood film Max.
2. Jack: In many English-speaking countries around the globe, this is one of the most common names for boys. Give it to your dog and make it one of the coolest dogs in the neighborhood. When you think of major TV and film characters like Captain Jack Sparrow, Jack Frost, Jack Bauer, Jack Reacher and Jack Dawson, you'd understand why this is a cool name to give to your dog.
3. Charlie: This name, which is commonly used as a nickname for "Charles", is a very popular name for boys. Give it to your male dog and make him as cool as Charlie Dog from the Looney Tunes or even Charlie Chaplin.
4. Buddy: This means close friend. If to you, your dog is more than just a pet and has been upgraded to best friend status, this name would be a great and cool option.
5. Cooper: Even famed American rocker Alice Cooper thinks this is a really cool name!
6. Shadow: If your dog has darkish fur, giving him this name is a pretty cool idea.
7. Rocky: This name was made famous by the legendary Hollywood movie "Rocky" starring Sylvester Stallone as the famous boxer Rocky. If your pup is strong, fierce and feisty, then this could make a wonderful name for it.
8. Toby: This sounds really lovely for a dog of any race.
9. Teddy: This is a really fun name to call your dog – especially if he is as adorable as a teddy bear.
10. Milo: This is nothing short of cute; also a name used for cartoon characters.
11. Blackie: Surely one of themost obvious but also coolest options for a black dog!
12. Goblin: If your dog is fond of being mischievous, this name would have no trouble suiting him.
13. Marley: This not only sounds good, but it also reminds us of the great reggae legend Bob Marley.
14. Samson: A cool name for a strong dog.
15. Leo: This name, which in Latin means "lion", is another sweet name for a dog with considerable strength.
16. Jackson: The King of Pop made this name one of the coolest names in the world. You can make your dog super cool by giving him this name.
17. Winston: This will remind many of Winston Churchill.
18. Oliver: This is really an adorable name. We have this feeling that when people hear the name it's going to remind them of Charles Dickens' famous fictional character Oliver Twist.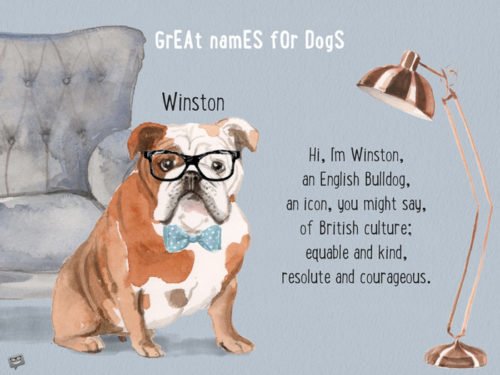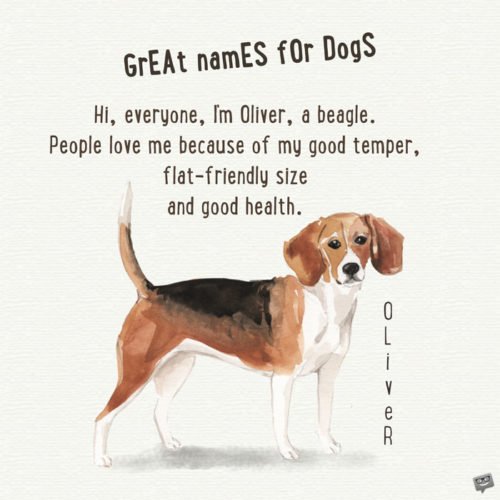 19. Zeus: This is without doubt a very powerful name. Zeus was the supreme ruler of all the Olympian gods! While your dog might not be as powerful as Zeus, the name might just make him feel like it.
20. Einstein: This is a really nice name for a dog – especially one that is really intelligent.
21. Bruno: Just one word: super cool. Okay that was actually two words!
22. Sam: This is very simple and sounds so good in the ears.
23. Cupid: If your pup stole your heart the very first time you set your eyes on him, by all means give him this name.
24. Oscar: Cute and reminds us of the renowned Irish poet Oscar Wilde.
25. Lucky: It's a fun name and just might bring you and your dog some good fortune.
26. Diesel: This is a neo-macho name that brings to our minds a certain type of fuel that powers heavy trucks. Give this to your feisty and strong dog.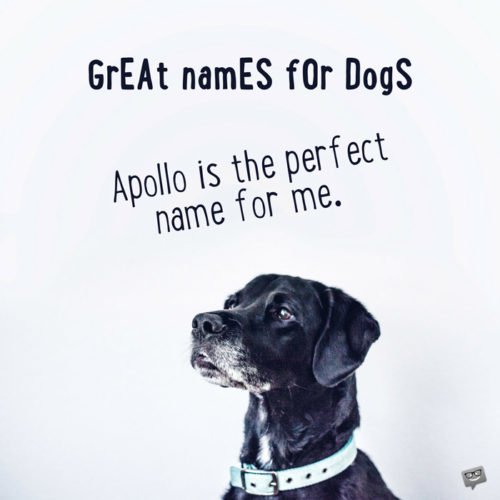 Original Photo by Ken Reid
27. Murphy: Thanks to celebrities like Eddie Murphy and Cillian Murphy, this name drips with coolness.
28. Apollo: Your dog certainly isn't the Greek god of medicine who drives a fiery chariot across the sky, but he would definitely be transformed into one of the coolest pets in the neighborhood with this name.
29. Henry: Being a very cool name, it's no surprise that a lot of dog owners choose this name for their dogs.
30. Cody: If this Irish name doesn't sound good, we don't know what does.
31. Kobe: Thanks to the renowned American basketball player, the name Kobe has become one of the coolest names for male dogs the world over. Transform your dog into Mr. Cool by giving it this name.
32. Hank: This is absolutely fun!
33. Chubs: This makes a cute name for a pup that is chubby.
34. Bandit: If your dog is often up to no good, this name might suit it very well.
35. Rocco: This is so cool singer Madonna was forced to give it to her son.
36. Jasper: This is one of the most precious gemstones in the world. It is a perfect name for your dog if he is very precious to you, which we suspect he is.
37. Bentley: It is true that this is famous for being the name of a car and certain places in England, but this doesn't stop it from being one of the cutest names you can ever give your dog!
38. Thor: Your dog might not be a hammer-wielding god, but this name would surely look good on him – especially if he has remarkable strength.
39. Chewy: Since dogs love to chew on things, this is just a really adorable name for your dog.
40. Chester: This sounds super fun!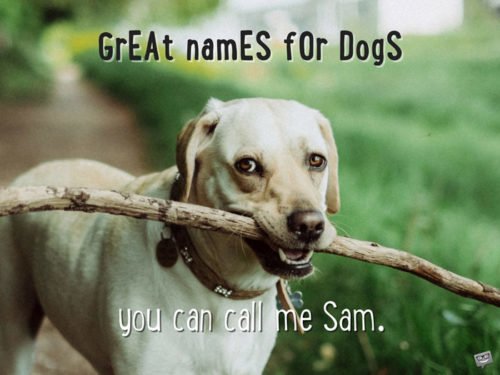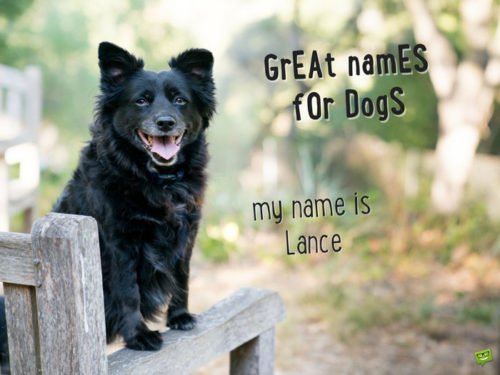 41. Otis: This name not only sounds good but it reminds us of the great American singer Otis Redding.
42. Tyson: If your dog has a somewhat fiery temperament, this can be a fitting name for it.
43. Bo: This name became one of the world's most famous dog names after former U.S. President Barack Obama and his family gave it to their dog.
44. Rex: In Latin, this means "king". Make him a king of all the neighborhood pets with this beautiful name.
45. Duke: This is truly a powerful name that will make your dog feel like royalty. The Latin meaning of Duke is "leader".
46. Simba: This is a Swahili word for "lion". Thanks to The Lion King franchise, it is super cool giving this name to your male dog.
47. Baxter: Many notable people and dogs bear this beautiful name. Your dog can be one of them.
48. Ace: Super cute and implies encouragement!
49. Cuddles: If your dog loves cuddling, then this name is a great! Besides it's also totally cute!
50. Romeo: Shakespeare made it famous all over the world thanks to his legendary play Romeo and Juliet. To make things even more fun, if you have a female dog, you can name it Juliet.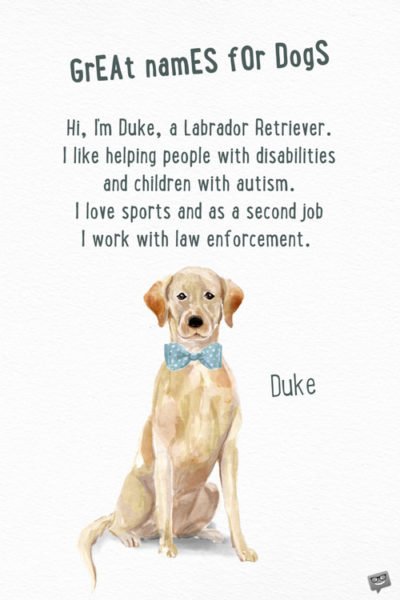 50 Names for Girl Puppies
1. Jackie: This is the female version of "Jack", and just as the male version "Jack" is cool for male dogs, so will this name add up grace to your girl puppy.
2. Lola: This is a really cool choice to give your girl puppy if she's a feisty and strong one.
3. Blue: It became super famous since rapper Jay-Z and singer Beyoncé named their daughter Blue Ivy.
4. Belle: This is a very beautiful name. Actually in Italian, it means "beautiful".
5. Autumn: Does the fur of your dog resemble autumn leaves? If you answered yes, then this name would be awesome for it.
6. Lulu: This is the name for your dog if she is truly outstanding.
7. Josie: This is a name you might want to consider if you are pretty religious. It is the Hebrew for "God will give".
8. Pearl: If your puppy is white, this is a very sweet name to give it.
9. Sugar: Too sweet!
10. Angel: An absolutely angelic and charming name!
11. Lucy: This name, which means "light", ranks very high in the list of the cutest and most adorable names for any female dog.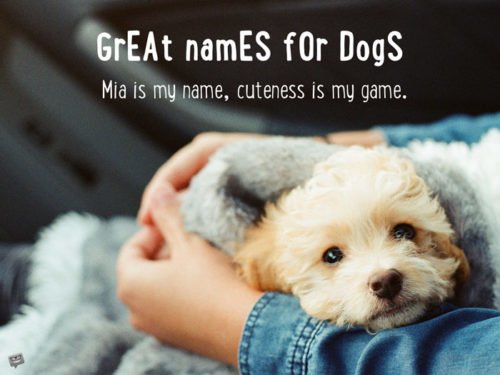 12. Daisy: Such a beauty to mention!
13. Coco: It is certainly one of the sweetest sounding names on this list.
14. Lily: This beauty is obviously derived from the lily flower, which is one of the most beautiful flowers in the world.
15. Lady: She would definitely love hearing this!
16. Penny: This was cool long before Penny of the Big Bang Theory came along!
17. Ruby: This exceptionally adorable jewel name is derived from the cardinal gem ruby. Give it to your dog because you think she is precious. And by the way, since this gem is the birthstone of July, if your dog was born in the month of July, this would make a perfect name.
18. Zoe: This is certainly another lovable name on our list. In Greek, this name means "life".
19. Mia: One word: cute!
20. Jasmine: This refers to the beautiful, sweet-smelling jasmine flowering plant. If you have a sweet dog, by all means use this sweet name.
21. Sadie: This is one of the most beautiful female black dog names ever!
22. Maggie: What list would this be if we didn't include this?!
23. Dakota: This adorable name means "friend".
24. Layla: Yes this cutie reminds us too of the famed Eric Clapton song of the same name. Actually the name was popularized by that song.
25. Emma: We just love the way it sounds!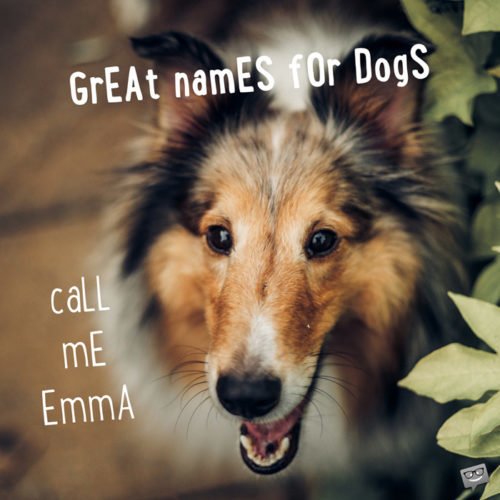 26. Sasha: President Obama's daughter isn't the only one that deserves to have this adorable name! Your lovely dog deserves it too.
27. Princess: Make her feel like a princess with this name!
28. Willow: This is without doubt one of the most adorable options out there.
29. Maddie: She might not really come from Magdala in Galilee, like the meaning of the name, but it would definitely look fine on her.
30. Cali: This is also a great option if you have a black dog.
31. Dixie: A sweet sounding name.
32. Maya: It is beautiful and has a myriad of meanings, including "illusion", "spring" and "love".
33. Gypsy: If she is playful and loves to move from place to place, giving her this name is a lovely choice.
34. Delilah: Yet another lovely name for her if she has a little bit of a mischievous personality.
35. Ella: Adorable! No two ways about that!
36. Baby: More than cute!
37. Bonnie: Originating from Scotland, this means "pretty, attractive". It has been used by many a notable female personalities over the years, including American gangster Bonnie Parker of Bonnie and Clyde fame.
38. Heidi: "Nobility" is what this adorable name means.
39. Annie: A very sweet English name!
40. Belle: This very delicious name is the short form of Isabella.
41. Xena: If she has a very friendly character, then you might want to give her this lovely Greek name, which means "welcoming, hospitable"'.
42. Charlotte: This is so adorable. And we say this not just because of Princess Charlotte of Cambridge – the adorable daughter of Prince William and Kate Middleton.
43. Gigi: We can't talk about cute names without mentioning this one!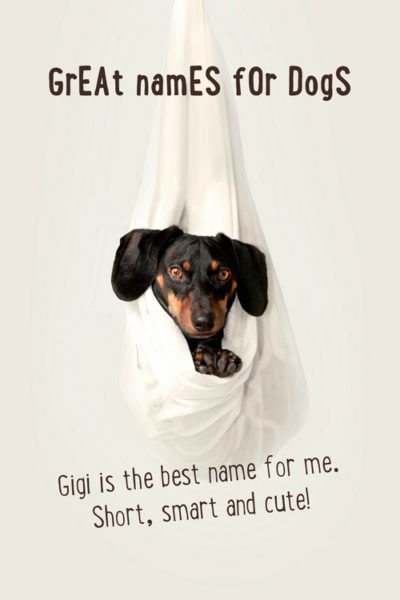 44. Abby: It is Hebrew and means "my father's joy". Give this to her if she brings joy into your heart.
45. Sydney: It means "wide meadow", and it is certainly as beautiful as a meadow!
46. Hazel: It derives its name from the beautiful flowering shrub called hazel. If she happens to have greenish eyes, this will be the perfect name for her!
47. Missy: Any sweet dog deserves this sweet name.
48. Molly: Give this beautiful pet form for Mary to your beautiful puppy. She'll love it!
49. Ava: Charming and sweet-sounding!
50. Roxy: An utterly fun name, which means "dawn" in Persian.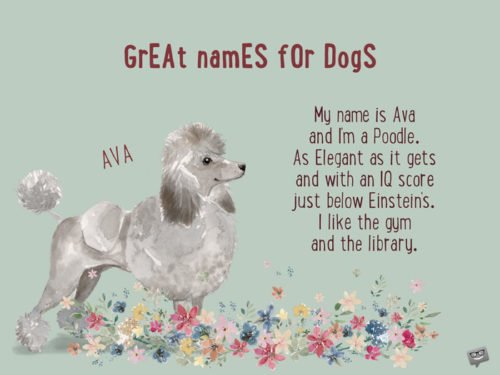 You may also like:
30 Heartwarming and Hilarious Birthday Wishes for Dog Lovers!
How Should We Call Our Furry Ball? | 100 Great Names for Cats
Candles on Pet Food | Heart Touching and Cute Wishes for your Dog's and Cat's Birthday