Looking for awesome love quotes that you can use in expressing how much you love that cute puppy of yours? If this is you, then you're in luck, for we have an awful lot of that right here on this page.
Our collection below contains dozens of highly profound and sweet dog inspired sayings that include 100% originals that have never been published anywhere as well as those by some of the world's most famous personalities.
---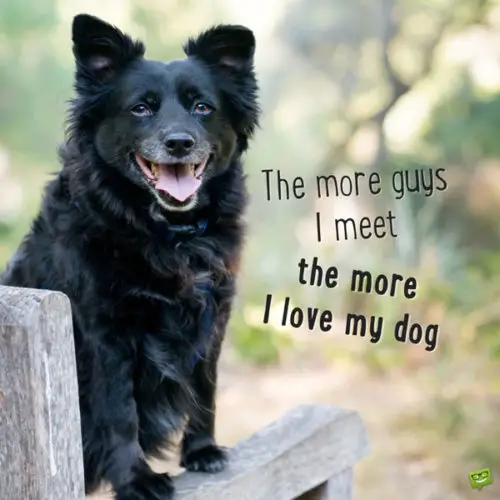 Original Love Quotes for Puppies
You, my sweetie, are my best friend and my greatest source of happiness. My world would certainly lose its color if I were to live in it without the sweet furry pal that you are.
My adorable furry friend, you are the sunshine that fills my sky. You keep me healthy and happy all the time, and that is why there's nothing on earth I wouldn't do to make you happy.
It's hard finding a human that can bring me the amount of happiness that you give me. I have no doubt in my mind that dogs are sent from above to put smiles on our faces and happiness in our hearts.
Happiness has always been my companion since I decided to include you in my life. Long live my sweet four-legged friend.
When my puppy licks my face, all the troubles in my world suddenly trade places with joy. This is one of the countless reasons why I can't stop loving and treasuring my dog.
You have never experienced what it means to be truly happy until you have found yourself in the company of a playful puppy.
There are only a handful of things that this world cannot exist without, and one such things are dogs. I'm so blessed to have one of these remarkably lovable creatures in my life.
One of the most priceless treasures of my life is my adorable dog. Forever shall I cherish and love this wonderful creature that God has blessed me with.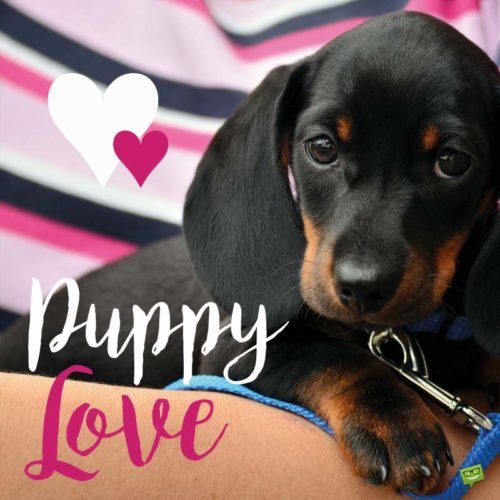 I never knew what true friendship meant until I got myself an adorable, loving and faithful dog. Now joy is all my heart feels.
My furry little friend makes every blessed day of my life brighter and more colorful than anything in this world. I'm so in love with her/him!
The only time I am filled with true happiness is when I find myself in the company of my amazing furry companion. By all accounts, heaven wouldn't feel like heaven to me if I went there and it didn't have dogs.
No matter how down I get, being with my dog always has the power to uplift my spirits and put a bright smile on my face. May God forever bless my lovely dog for the immense happiness he/she brings into my soul.
The outstanding unconditional love I receive from my puppy on a daily basis is wonderfully priceless. I can't thank God enough for bringing her/him into my life.
My fabulous dog not only provides me with a truly wonderful companionship but he/she also fills my world with so much happiness. In my eyes, there shall never be anything more joyful than owning a dog.
My search for my best friend ended the moment my cute little dog entered into my life. I can never stop loving and caring for him/her because he/she brings me absolute joy and never lets me down.
If humans were half as friendly and loving as dogs, what a truly wonderful place this world would be.
I found paradise on earth for the first time in my life the moment I fell in love with my dog. Thank God for blessing this world with dogs.
I have been with human beings and dogs long enough to conclude that no human (no matter how close they are to you) can be as faithful to you and love you as unconditionally as your pet dog will.
I am the proud owner of the world's most wonderful dog who fills my world with so much love, happiness, laughter and sunshine. My goodness, I'm so blessed!
No matter how broken my heart gets, my dog always goes out of its way to find a way of mending my heart. How can I ever stop loving such a wonderful creature who constantly puts my own happiness before its own?
Famous Quotes about Puppies
A dog is the only thing on earth that loves you more than he loves himself. Josh Billings
If you pick up a starving dog and make him prosperous, he will not bite you. It is the principal difference between a dog and a man. Mark Twain
Dogs have given us their absolute all. We are the center of their universe. We are the focus of their love and faith and trust. They serve us in return for scraps. It is without a doubt the best deal man has ever made.  Roger A. Caras
Happiness is a warm puppy. Charles Schulz
Fall in love with a dog, and in many ways you enter a new orbit, a universe that features not just new colors but new rituals, new rules, a new way of experiencing attachment. Caroline Knapp
Dogs never bite me. Just humans. Marilyn Monroe
If there are no dogs in Heaven, then when I die I want to go where they went. Will Rogers
I think dogs are the most amazing creatures. The give unconditional love. For me they are the role model for being alive. Gilda Radner
You want a friend in Washington? Get a dog. Harry Truman
I care not for a man's religion whose dog and cat are not better for it. Abraham Lincoln
When an 85 pound mammal licks your tears away, and then tries to sit on your lap, it's hard to feel sad. Kristan Higgins
There is no faith which has never yet been broken except that of a truly faithful dog. Konrad Lorenz
The gift which I am sending you is called a dog, and is in fact the most precious and valuable possession of mankind. Theodorus Gaza
Dogs' lives are too short. Their only fault, really. Agnes Turnbull
The greatest fear dogs know is the fear that you will not come back when you go out the door without them. Stanley Coren
I have found that when you are deeply troubled, there are things you get from the silent devoted companionship of a dog that you can get from no other source. Doris Day
Once you have had a wonderful dog, a life without one, is a life diminished. Dean Koontz
A dog is the only thing that can mend a crack in your broken heart. Judy Desmond
The one absolutely unselfish friend that man can have in this selfish world, the one that never deserts him, the one that never proves ungrateful or treacherous, is his dog. George Graham
The average dog is a nicer person than the average person. Andy Rooney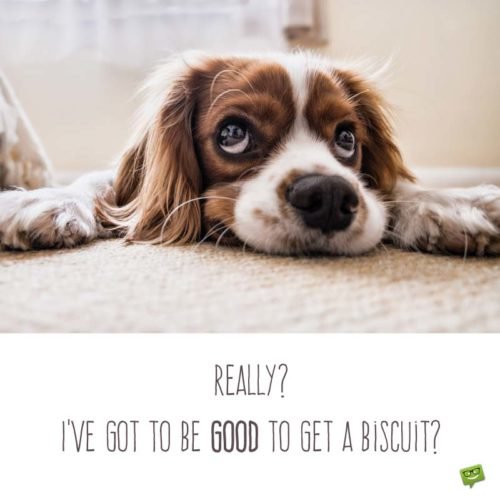 100 Great Names or Dogs and Why Pick Them
If you've just got yourself an adorable puppy or a dog and are racking your brains trying to get a cute name for it, worry no more; just click here.
You may also like:
Candles on Dog Food | 64 Heart-Touching and Cute Wishes for a Dog's Birthday
165 Quotes About Dogs And The People Who Love Them