Candles on Pet Food | Heart Touching and Cute Wishes for your Dog's and Cat's Birthday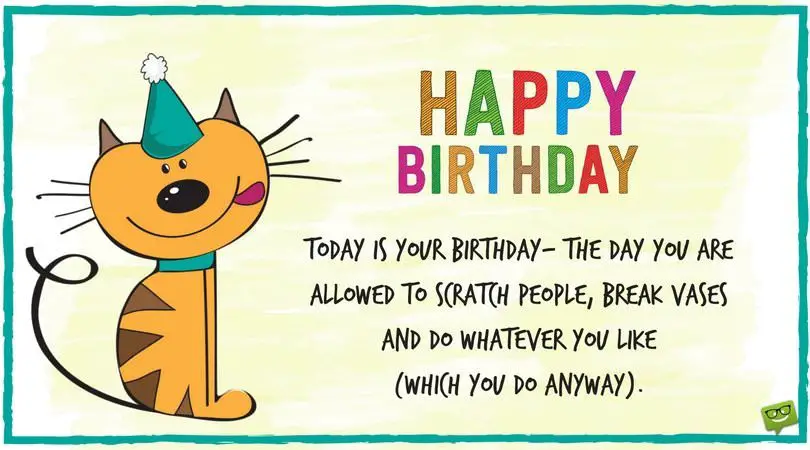 Our pets are not just some animals we buy to keep us entertained. They are like our children and our friends. They teach us the empathy for every living being, not just humans. They teach us how it is like to take care of someone apart from our own selves. They teach us great friends could be found at every corner and every species. Frankly, they become an inseparable part of our lives- someone who mean to us more than most humans.
On their birthday, words might seem like a moot thing, since they can't understand it anyway. Like children, they do not even understand that today is any different from other days. But a birthday greeting is a way for us to pin down what exactly they mean to us, and how special they have been. Not until you say it, can you realize that they are more important than you ever thought. Here are some great birthday greetings for your dogs and cats on their special day:
---
Happy Birthday to my Lovely Dog | Status Updates for your Puppy's Birthday

Hey there, old friend. Today is your special day, but you are special to me for every day of the year. May you shine like your fur, now and always.Wish you a very happy birthday.
You might not know this, but today is your birthday. You might also not know this, but you have been the best friend I ever got. I wish our friendship lasts forever. Happy birthday.
Hey pal, this is your friend. No, not your owner, your friend. It's your birthday today! Time to go out, smell some bitches, pee at some poles and chase some cars. Whatever you want, it is your special day. Enjoy!
So, it's your birthday today. You know, the weird ceremony we humans perform, to celebrate that we are now one year older than we were last year. Also, we give gifts – so get ready to have some delicious dog food. A very happy birthday, buddy!
There is nothing much I can say about you that you might understand. But like we humans say, "Keep Calm, It is your birthday". Enjoy your special day, buddy.
They say those who bark doesn't bite. Well, you did both; but I still love you. Thanks for being such an amazing and loyal friend in a world full of negative people. Wishing a very happy birthday to the greatest dog in the universe.
Very Purry Wishes | Status Updates for my Cute Cat's Birthday
Hello, my feline master. Your human servant wants to wish you a very happy birthday, and hope he could remain at your servitude now and forever. May god bless your majesty.
Hello, my cute little friend! It is your birthday today, even though you might not realize it. Don't worry, sit tight and enjoy while I shower you with treats. Wish you a very happy birthday, darling.
Today is your birthday- the day you are allowed to scratch people, break vases and do whatever you like (which you do anyway). A very happy and thrilling birthday, pal.
You have been a constant companion to me; someone to brighten up my days and bring a smile on face. Wish this bond continues forever. Wishing you a happy birthday, lovely friend.
I used to be someone who wasn't mature enough to even take care of himself. Then you came and taught me how to take care of someone else. For this and everything else, thank you. Happy birthday, pal.
The best friendships are born with mutual understanding and being crazy together. By that definition, ours have been one of the best friendships to ever exist. Happy birthday, dear friend. May your fur remain shiny forever.
Birthday Message for a friend's dog
Your master has been a great friend to me, but you have been better. On your special day, I hope we three continue our bond forever. Happy birthday!
My desire to have pets began the day I met you. Yet I never bothered to, because no one could have been as cute as you. Happy birthday, old pal! Enjoy your day.
The reason I visited your place so much was not because your master was a great host, but because it gave me a chance to meet you. Happy birthday to the best dog anyone could every meet.
Since the first time you barked at me and almost bit me, we have shared a great friendship. I can only hope this bond continues forever because it has been the best of times for me. Happy birthday, buddy.
Remember the time I scratched your ear and you didn't expect me to pull out a coin or a rabbit? Well, for all such great moments, thank you. Happy birthday, pal.
Two are a pair, three becomes a gang. You, my friend and me- we have been the coolest gang ever, and you have been undoubtedly the leader. For being so awesome, thank you. Happy birthday, dear friend.
Status Update for a friend's cat
Despite the time when you have scratched me bloody, I could never resist spending time with you. In your own, purring way, you are the best cat anyone could ever hope to meet. Happy birthday, sweet pea.
I was never a great animal-lover, until the first time you meowed at me. Thanks for coming into my life and teaching me that animals are perhaps better companions than humans. Happy birthday.
Hello, feline master. This is the friend of your human slave, or as you like to call me, your other slave. I want to offer my best wishes for your birthday, and hope you could grace us forever. All hail the Lord.
I have seen my friend become a much better human being, ever since you came into his life. Then I met you and realized why. Happy birthday to the most amazing cat ever.
You were the cutest kitten when I first met you, and now you are the most awesome cat. Here is a wonderful birthday and much more to come, where you might hopefully evolve into a tiger or something.
---
You may also like:
20 Dog Quotes For People Who Love Dogs
Flying Friends for a Flying Start | Good Morning Pictures with Birds
12 Cute and Funny Birthday Videos to Share with Special Friends and Family
Happy Birthday Wishes for People Who Love Cats and Dogs
UNIQUE GIFT IDEAS
If you're looking for great presents for all budgets, we have done the work for you.
Click here for the
best birthday gifts
for friends and loved ones.
If you liked what you read, please share it. It really helps us a lot.