Candles on Pet Food | Heart Touching and Cute Wishes for your Dog's and Cat's Birthday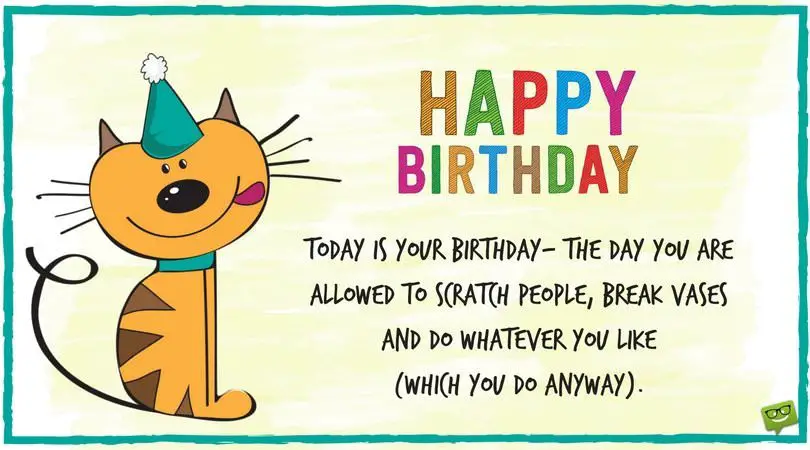 Our pets are not just some animals we buy to keep us entertained. They are like our children and our friends. They teach us the empathy for every living being, not just humans. They teach us how it is like to take care of someone apart from our own selves. They teach us great friends could be found at every corner and every species. Frankly, they become an inseparable part of our lives- someone who mean to us more than most humans.
On their birthday, words might seem like a moot thing, since they can't understand it anyway. Like children, they do not even understand that today is any different from other days. But a birthday greeting is a way for us to pin down what exactly they mean to us, and how special they have been. Not until you say it, can you realize that they are more important than you ever thought. Here are some great birthday greetings for your dogs and cats on their special day:
---
Happy Birthday to my Lovely Dog | Status Updates for your Puppy's Birthday

Hey there, old friend. Today is your special day, but you are special to me for every day of the year. May you shine like your fur, now and always.Wish you a very happy birthday.
You might not know this, but today is your birthday. You might also not know this, but you have been the best friend I ever got. I wish our friendship lasts forever. Happy birthday.
Hey pal, this is your friend. No, not your owner, your friend. It's your birthday today! Time to go out, smell some bitches, pee at some poles and chase some cars. Whatever you want, it is your special day. Enjoy!
So, it's your birthday today. You know, the weird ceremony we humans perform, to celebrate that we are now one year older than we were last year. Also, we give gifts – so get ready to have some delicious dog food. A very happy birthday, buddy!
There is nothing much I can say about you that you might understand. But like we humans say, "Keep Calm, It is your birthday". Enjoy your special day, buddy.
They say those who bark doesn't bite. Well, you did both; but I still love you. Thanks for being such an amazing and loyal friend in a world full of negative people. Wishing a very happy birthday to the greatest dog in the universe.
Merely being with you brings me all the happiness in the world. Happy birthday to the most phenomenal pet and friend in the whole wide world.
The companionship you give me is absolutely priceless. I wish I could bark the loudest happy birthday for you, my dear friend. Have a beautiful day.
You are playful, fun and lovable. I will do everything within my power to be with you and play with you all the time because you are the most adorable pet in the world. Enjoy your birthday.
Though it might sound unbelievable to many, but I love and adore you as much as I love and adore myself. Happy birthday!
Every creation of God has its day, and I'm so excited today is yours! I wish I had a tail to wag to show you how much I love and admire you. Happy birthday.
Nothing makes me feel happier than playing with you. You are one of the biggest reasons why I love staying at home. Happy birthday.
You are the only one who shows me unconditional love and care without expecting anything in return. You are the best dog in the entire world.
There's not a day that passes by that you don't do countless things to put a smile on my face. Words can't express how much I love you.
Thank you for being the greatest companion in my life. None brings me the amount of joy that you do, which is why you will always mean the universe to me. Happy birthday.
Happy birthday! For always going out of your way to make me happy, I promise to spoil you with treats today!
You are my greatest stress buster. Simply watching you play around the house makes me the happiest person in the world. Happy birthday.
Very Purry Wishes | Status Updates for my Cute Cat's Birthday
Hello, my feline master. Your human servant wants to wish you a very happy birthday, and hope he could remain at your servitude now and forever. May god bless your majesty.
Hello, my cute little friend! It is your birthday today, even though you might not realize it. Don't worry, sit tight and enjoy while I shower you with treats. Wish you a very happy birthday, darling.
Today is your birthday- the day you are allowed to scratch people, break vases and do whatever you like (which you do anyway). A very happy and thrilling birthday, pal.
You have been a constant companion to me; someone to brighten up my days and bring a smile on face. Wish this bond continues forever. Wishing you a happy birthday, lovely friend.
I used to be someone who wasn't mature enough to even take care of himself. Then you came and taught me how to take care of someone else. For this and everything else, thank you. Happy birthday, pal.
The best friendships are born with mutual understanding and being crazy together. By that definition, ours have been one of the best friendships to ever exist. Happy birthday, dear friend. May your fur remain shiny forever.
Nothing melts my heart the way having you in my life does. Thank you for making my life heavenly. Happy birthday.
Your meow is the only sound that gives me hope every morning. Happy birthday.
Of all the billions of people in the world, I was the luckiest to be blessed with you. You bring so much happiness into my life, and that is a feeling I can never trade for all the wealth in the world. Happy birthday.
Spending time with you brings so much happiness and sunshine into my life. Have a birthday that is as fabulous as your priceless "meows".
I will forever be thankful that God gave you to me. I hope I can fill your days with as much happiness as you fill mine with.
People say I'm too obsessed with my cat, but that is because they don't know how much happiness you bring to my heart. If I could speak meow, I would sing you a happy birthday song in meow.
On this beautiful day of yours, I promise to make you the happiest cat in the world because you bring so much joy into my life. Happy birthday.
My life has been full of sunny days ever since you came into my life. Happy birthday.
Though we don't speak the same language, I know you're telling me you love me whenever you meow. Happy birthday.
You are a very important part of my life. I will get for you all the birds in the world just to make you happy. Happy birthday.
You're my greatest mood booster. Have a fabulous birthday!
Birthday Message for a friend's dog
Your master has been a great friend to me, but you have been better. On your special day, I hope we three continue our bond forever. Happy birthday!
My desire to have pets began the day I met you. Yet I never bothered to, because no one could have been as cute as you. Happy birthday, old pal! Enjoy your day.
The reason I visited your place so much was not because your master was a great host, but because it gave me a chance to meet you. Happy birthday to the best dog anyone could every meet.
Since the first time you barked at me and almost bit me, we have shared a great friendship. I can only hope this bond continues forever because it has been the best of times for me. Happy birthday, buddy.
Remember the time I scratched your ear and you didn't expect me to pull out a coin or a rabbit? Well, for all such great moments, thank you. Happy birthday, pal.
Two are a pair, three becomes a gang. You, my friend and me- we have been the coolest gang ever, and you have been undoubtedly the leader. For being so awesome, thank you. Happy birthday, dear friend.
Wishing you a happy woofing Big Day. May you continue to love and protect my friend with all your heart like you've always done.I love you.
Wishing a fabulous woofing birthday to the world's most fabulous dog. Thank you for constantly giving us a reason to smile and be happy.
Though I can't understand woof, just woof at me whenever you need me. Happy birthday.
Though you sometimes scare me away with your bark, I can't let today pass without wishing you the best birthday ever. Enjoy your day.
I wouldn't hesitate for a second giving away all my wealth just to have you. That's how adorable you are. Happy birthday!
You touch my heart like no other dog in this world. Happy birthday.
On your birthday, I want you to know that your happiness matters to me because you are exceptionally adorable. Thank you for bringing sunshine into our world.
Happy birthday! May your day shine like the light you bring into this world.
You bring a bright smile to my face whenever I see you. You are hundred times a better companion than most humans in this world – there's no two ways about it. Happy birthday.
Status Update for a friend's cat
Despite the time when you have scratched me bloody, I could never resist spending time with you. In your own, purring way, you are the best cat anyone could ever hope to meet. Happy birthday, sweet pea.
I was never a great animal-lover, until the first time you meowed at me. Thanks for coming into my life and teaching me that animals are perhaps better companions than humans. Happy birthday.
Hello, feline master. This is the friend of your human slave, or as you like to call me, your other slave. I want to offer my best wishes for your birthday, and hope you could grace us forever. All hail the Lord.
I have seen my friend become a much better human being, ever since you came into his life. Then I met you and realized why. Happy birthday to the most amazing cat ever.
You were the cutest kitten when I first met you, and now you are the most awesome cat. Here is a wonderful birthday and much more to come, where you might hopefully evolve into a tiger or something.
I fell in love with you the first time I saw you. You are the cutest cat in the world. Have a fabulous birthday.
Happy birthday to my best furry friend in the world. I love you for making the hard days of my life bearable.
I can't imagine what would have happened to my friend if you were not part of his/her life. I can't thank you enough for bringing light that is beyond that of a million suns into his/her life. Happy birthday.
Thank you for your priceless companionship. May your birthday bring you as much happiness as you bring my beloved friend.
You might not wag your tail or jump on me to show your affection whenever you see me, but when you nestle in my lap you cause my heart to overflow with happiness. Happy birthday.
If I had one wish, I'd wish to become a cat like you just to tell you in your language exactly how much I love and cherish you. I am so privileged to know you. Have the best meow birthday.
Today is the day you graced this earth and our lives with your presence. May you continue to have beautiful fur that shines brighter than all the stars in the universe. Happy birthday.
You captured my heart from the moment I set my eyes on you. Thank you for being the world's most adorable cat. Happy birthday.
Each time you cuddle up on my laps, you send me to paradise. It is my wish that you receive the best of treats and foods on your big day. Happy birthday.
---
You may also like:
20 Dog Quotes For People Who Love Dogs
Flying Friends for a Flying Start | Good Morning Pictures with Birds
12 Cute and Funny Birthday Videos to Share with Special Friends and Family
Happy Birthday Wishes for People Who Love Cats and Dogs
Click here for our best birthday wishes.