65 Famous Thanksgiving Quotes for a Day of Gratitude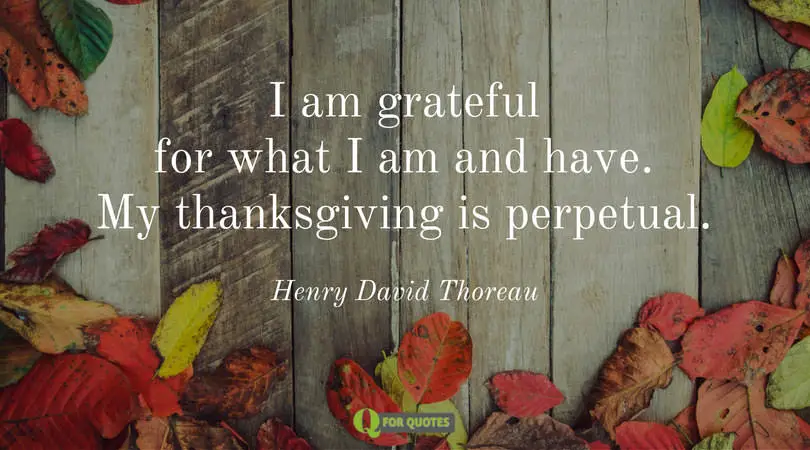 George Washington proclaimed the first nationwide thanksgiving celebration in America marking November 26, 1789, "as a day of public thanksgiving and prayer to be observed by acknowledging with grateful hearts the many and signal favors of Almighty God."
Since then, many prominent figures made historic comments on Thanksgiving Day and the concept of gratitude itself. Share some of these truly thankful quotes made by famous people that will inspire you and your loved ones, so that they will remember and appreciate the true importance and meaning of this day.
---
I'm thankful for every moment. Al Green
An optimist is a person who starts a new diet on Thanksgiving Day. Irv Kupcinet
I celebrated Thanksgiving in an old-fashioned way. I invited everyone in my neighborhood to my house, we had an enormous feast, and then I killed them and took their land. Jon Stewart
After a good dinner one can forgive anybody, even one's own relations. Oscar Wilde
Christmas is more stressful with present buying and making sure everyone gets included, but Thanksgiving is really not that. I don't ever really get stressed out about the food. Sandra Lee
Be thankful for what you have; you'll end up having more. If you concentrate on what you don't have, you will never, ever have enough. Oprah Winfrey
To give thanks in solitude is enough. Thanksgiving has wings and goes where it must go. Your prayer knows much more about it than you do. Victor Hugo
As we express our gratitude, we must never forget that the highest appreciation is not to utter words, but to live by them. – John F. Kennedy
My cooking is so bad my kids thought Thanksgiving was to commemorate Pearl Harbor. Phyllis Diller
The thankful receiver bears a plentiful harvest. William Blake
Gratitude is the inward feeling of kindness received. Thankfulness is the natural impulse to express that feeling. Thanksgiving is the following of that impulse. Henry Van Dyke
Thanksgiving dinners take eighteen hours to prepare. They are consumed in twelve minutes. Half-times take twelve minutes. This is not coincidence. Erma Bombeck
Dear Lord; we beg but one boon more: Peace in the hearts of all men living, peace in the whole world this Thanksgiving. Joseph Auslander
For what I have received may the Lord make me truly thankful. And more truly for what I have not received. Storm Jameson
There is one day that is ours. Thanksgiving Day is the one day that is purely American. O. Henry
Best of all is it to preserve everything in a pure, still heart, and let there be for every pulse a thanksgiving, and for every breath a song. Konrad von Gesner
If you think Independence Day is America's defining holiday, think again. Thanksgiving deserves that title, hands-down.Tony Snow
If a fellow isn't thankful for what he's got, he isn't likely to be thankful for what he's going to get. Frank A. Clark
It is now common knowledge that the average American gains 7 pounds between Thanksgiving and New Year's Day. Marilu Henner
If you think about a Thanksgiving dinner, it's really like making a large chicken. Ina Garten
Even though we're a week and a half away from Thanksgiving, it's beginning to look a lot like Christmas. Richard Roeper
Drink and be thankful to the host! What seems insignificant when you have it, is important when you need it. Franz Grillparzer
Pride slays thanksgiving, but a humble mind is the soil out of which thanks naturally grow. A proud man is seldom a grateful man, for he never thinks he gets as much as he deserves. Henry Ward Beecher
On Thanksgiving I will stop to give thanks that my family is safe and healthy, especially because I realize that, following the tragedies of this year, it is all too real a possibility that they might not have been. Bobby Jindal
From too much love of living, From hope and fear set free, We thank with brief thanksgiving Whatever gods may be That no life lives for ever; That dead men rise up never; That even the weariest river Winds somewhere safe to sea. Algernon Charles Swinburne
Thanksgiving is a time when the world gets to see just how blessed and how workable the Christian system is. The emphasis is not on giving or buying, but on being thankful and expressing that appreciation to God and to one another. John Clayton
My restaurants are never opened on Thanksgiving; I want my staff to spend time with their family if they can. My feeling is, if I can't figure out how to make money the rest of the year so that my workers can enjoy the holidays, then I don't deserve to be an owner. Michael Symon
I love chicken. I would eat chicken fingers on Thanksgiving if it were socially acceptable. Todd Barry
Always expect the unexpected. Right around Thanksgiving, when the new Alex Cross will be out. It's called Four Blind Mice and it's a pretty amazing story about several murders inside the military. James Patterson
It's so warm now, and Thanksgiving came so early – is it just me, or does it not really feel like Ramadan? David Letterman
The truth is the Super Bowl long ago became more than just a football game. It's part of our culture like turkey at Thanksgiving and lights at Christmas, and like those holidays beyond their meaning, a factor in our economy. Bob Schieffer
A lot of Thanksgiving days have been ruined by not carving the turkey in the kitchen. Kin Hubbard
There is no racial or ethnic involvement in Thanksgiving, and people who may be very distant from the Christian system can see the beauty and the positive spirit that comes from the holiday. John Clayton
It's like being at the kids' table at Thanksgiving – you can put your elbows on it, you don't have to talk politics… no matter how old I get, there's always a part of me that's sitting there. John Hughes
Christians were instructed to serve others, and the thanksgiving was for the grace of God and the fact that God offered a way for man to return to a positive relationship with Him. John Clayton
Over the Thanksgiving holiday I took time to reflect on what is most important to me and realized I need to find a way to put the fun back into racing. Kurt Busch
My whole problem is that all of my favorite things at Thanksgiving are the starches, and everyone is trying to go low-carb this year, even a green vegetable has carbs in it. Ted Allen
As a kid, I was always mad – just noticing the women at Thanksgiving, running around the kitchen, while the men were watching football. For one, I don't want to cook, and for two, I hate football. I was stuck in the middle. Beth Ditto
As much as I love crisp, clean whites, there's always a time for rich but balanced Chardonnays with oak, especially at Thanksgiving. Gary Vaynerchuk
I absolutely adore Thanksgiving. It's the only holiday I insist on making myself. Ina Garten
When I was about nine years old, I announced to my mother that I was going to cook Thanksgiving dinner. And I went to the library and got this whole pile of books. I'd love to say it all turned out great. It didn't. But, sort of, from that point on, whenever there was serious cooking at home, I was the one who did it. Nathan Myhrvold
There is always something to be Thankful for.
Black Friday is not another bad hair day in Wall Street. It's the term used by American retailers to describe the day after the Thanksgiving Holiday, seen as the semi-official start of Christmas shopping season. Evan Davis
In many ways, September feels like the busiest time of the year: The kids go back to school, work piles up after the summer's dog days, and Thanksgiving is suddenly upon us. Brene Brown
Christmas is the antithesis of Thanksgiving. Christmas is pretty much a man-made holiday. John Clayton
Thanksgiving is a season that is very much in accord with the themes and teachings of Jesus Christ. John Clayton
As governor, when I visited our troops in Kuwait and Iraq, I served them Thanksgiving dinner. It was a small gesture compared to their sacrifice. Jennifer M. Granholm
I think I'm going to give my baby her first food on Thanksgiving, make her some organic sweet potato. I'm very excited! It's going to be a big day and my husband is in charge of the turkey – he's the chef of the family! Lily Aldridge
Not to sound too much like Christopher Guest in 'Waiting for Guffman,' but on Thanksgiving you're putting on a show! Ted Allen
I never drank except a couple sips of wine at Thanksgiving. Carol Alt
I don't think any other holiday embraces the food of the Midwest quite like Thanksgiving. There's roasted meat and mashed potatoes. But being here is also about heritage. Cleveland is really a giant melting pot – not only is my family a melting pot, but so is the city. Michael Symon
I am so excited this year getting to play the 85th Anniversary Macy's Thanksgiving Day Parade. Everyone knows on Thanksgiving morning to get up, turn on the TV and watch the parade, so to be an actual participant is going to be fun and I'm looking forward to it. I am gonna have to put on my deer hunting gear, though, to stay warm! Rodney Atkins
The act is unjustifiable that either begs for a blessing, or, having succeeded gives no thanksgiving. Merle Shain
My fondest memories are generally the day after Thanksgiving. I get the total decorating Christmas itch. Katharine McPhee
I love Halloween, trick or treating and decorating the house. And I love Thanksgiving, because of the football and the fall weather. And of course, I love Christmas – that's my favorite of all! Joe Nichols
Something I didn't even know was on my bucket list has been achieved. I have cooked Thanksgiving dinner with Martha Stewart. I vow to follow the gospel of her teachings and do my very best in the remarkably less glamorous kitchen of my own home… without the luxury of magically appearing prep bowls filled by a staff of sous chefs. Jesse Tyler Ferguson
In deference to American traditions, my family put our oven to rare use at Thanksgiving during my childhood, with odd roast-turkey experiments involving sticky-rice stuffing or newfangled basting techniques that we read about in magazines. Jennifer Lee
I've spent a lot of Thanksgivings on the road with my band, so anytime that I can spend Thanksgiving with my family in a traditional aspect, eating sweet potatoes and cranberries and stuffing and all the trappings of Thanksgiving and then get on a treadmill the next day extra long, I'm happy. Richie Sambora
My favorite meal is turkey and mashed potatoes. I love Thanksgiving, it's just my favorite. I can have Thanksgiving all year round. Cindy Margolis
The craft Emmys are kind of the kids' table at Thanksgiving. You're not really invited to the big dance. It's still really, really exciting, and the statue still counts. Hank Azaria
Thanksgiving is nothing but a toast to genocide. Stephen Evans
There is always something to be thankful for.
My son was born during my last semester in college. His due date was Thanksgiving, but he didn't show up until finals week. I brought my books to the hospital and didn't think anything of it. That is what a father is supposed to do. LZ Granderson
Thanksgiving Day is a jewel, to set in the hearts of honest men; but be careful that you do not take the day, and leave out the gratitude. – E.P. Powell
My most memorable meal is every Thanksgiving. I love the food: the turkey and stuffing; the sweet potatoes and rice, which come from my mother's Southern heritage; the mashed potatoes, which come from my wife's Midwestern roots; the Campbell's green-bean casserole; and of course, pumpkin pie. Douglas Conant
One of my most memorable Thanksgiving memories was probably the first year that me and my two brothers decided to start our annual eating contest. We ate throughout the whole day. We started that morning and weighed ourselves, and at the very end of the night, we weighed ourselves out. And all three of us equally gained five pounds. Charles Kelley
I'm vegetarian, but I love Thanksgiving dinner: faux turkey, stuffing and mashed potatoes. Leigh Lezark
I'm a big cook and prefer to make meals at home when I can. I'm either cooking, or we're going to a drive-through somewhere. I'm really proud of my homemade sweet potato pie. At Thanksgiving I make five of them because they go quick. Chandra Wilson
I'm blessed to come from a family with five brothers. We're all physical and athletic and like to work out, like to be outside, like to throw the ball around. We spent our entire childhoods on some kind of corner or in a field. We still do a Turkey Bowl every Thanksgiving. It gets competitive, man. Bloody. Danny Pino
If you are really thankful, what do you do? You share. W. Clement Stone
I have nothing against turkey. We eat turkey for Thanksgiving in my house. Marc Forgione
In our family, mom and dad are Longhorns, our first two kids are Aggies and we're hoping our last one is a Longhorn. It gives us family fun on Thanksgiving Day. Bob Wells
---
---
You may also want to read:
55 Touching Thanksgiving Day Wishes
Thanksgiving Wishes for my Sister and Brother
Good Morning and Happy Thanksgiving!
Click here for our best
birthday wishes
.
If you liked what you read, please share it. It really helps us a lot.