100 Unique Birthday Wishes to Post and Share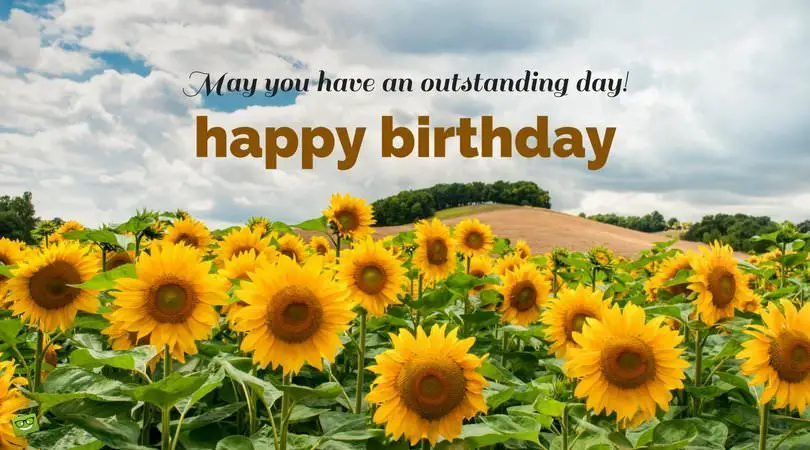 For so many people, just remembering their birthday is more than enough. Imagine how they will feel when you send them something special, a special message! The fastest way to do that today is send an SMS, an MMS, an e-mail or share on social networks. This collection of short and warm birthday wishes will definitely give you ideas or inspire you to write something yourself.
Here are some wishes that you can use to show how much you care. Be sure that the birthday girls or birthday boys are always happy to receive one!
---
A birthday is the one day a year that is all about you. Live it to the fullest
I wish you the best birthday you have ever had
Happy Birthday! Hope it is full of cake, love, and presents.
I hope that your birthday is spent with people who love you
I hope that your birthday is as crazy as you are. And trust me, that's pretty crazy!
Happy Birthday! Hope this is the start of the best year ever.
You have to get older, but growing up is your choice.
I've been that age. Enjoy it! (Dinosaurs used to live back then)
You are only as old as you feel. Make tonight feel as if you were 18 again!
Wishing you the most beautiful birthday. Enjoy, dance, laugh, and make the most of it!
Happy Birthday! I hope it exceeds every expectation you had!
You make my world a better place. Happy Birthday.
Eat, drink, and party! Happy Birthday. P.S. Party, too!
You are like wine, with age you get more and more delicious. Happy Birthday
You are the greatest gift anyone could receive. Happy Birthday.
Happy Birthday, thank you for being such a wonderful person!
Never stop being so incredibly awesome! Happy Birthday.
Happy Birthday baby! Welcome to the world!
Hope that your wishes come true when you blow out those candles!
Happy Birthday! May this be one of many great birthdays!
Best wishes for a day filled with fun and laughter!
Happy Birthday!… Wishing's over, so now pass me some cake!
You are brilliant, make today brilliant also! Happy Birthday.
Happy flippin' Birthday! Hope it is filled with plenty of alcohol and bad decisions!
Hope you get the rest and relaxation you deserve today. Happy Birthday!
I hope this new year brings you all the joy and happiness you could wish for!
Life is about living in the present, enjoy every moment of your birthday!
Let loose and live it up on your birthday! Have fun, birthday boy!
I hope that this year is filled with more good times than bad times! Happy Birthday!
Hope all is well, and I hope that this birthday is filled with cake and ice cream!
Happy Birthday! Let me congratulate your mother and father for doing such a great job!
Happy Birthday! Where did the cake go? There's just a big blob of wax on the plate!
Things I love about you: looks, humor, and everything else. Happy Birthday!
You may only be one person to the universe… but to me, you ARE the universe. Happy Birthday.
I hope that this year is filled with bright new opportunities. Happy Birthday!
You will always be my favorite person to party with… thanks for giving us a reason. Happy Birthday!
I love your birthday! It's the day you were brought into the world to become my world!
This day marks the day greatness was born! Happy Birthday!
Happy Birthday! Nobody's letting you forget it: you're older!
Happy Birthday! I can't eat this cake all by myself! On the other hand, why put pressure on you on your special day?
I always love an excuse to eat cake. Happy Birthday!
Happy Birthday! I got you the same thing this year. ME!
Happy Birthday! It's time for the big number candles or a huge cake.
Let's eat cake. It's somebody's birthday somewhere. Happy Birthday!
Happy Birthday! Your rocking chair's reserved!
Happy Birthday, Bestie! We've been friends as long as you've been alive!
Happy Birthday, Mom! You're the reason I'm here.
Happy Birthday! Is something burning?
No, the fan is not your birthday gift…it's to help you blow out the candles! Happy Birthday!
What day is it? The happiest day of the year for me! Happy Birthday!
Happy is a state of mind. Today's your birthday. Get your mind right! Happy Birthday!
Wanna know what happy looks like? Look in the mirror! It's your birthday! Hope yours is the happiest!
Happy Birthday! It's the day you were born on! Let the party begin!
What's not to be happy about? We have a whole cake to eat! Happy Birthday!
Happy Birthday! It's officially a party!
Happy Birthday! I sure hope your teeth don't land on the cake again!
Happy Birthday, my love! I'm so happy you'll share it with me!
Happy Birthday! Every day feels like it's mine, since I met you!
Happy Birthday! The only day you know you'll be invited to the party!
I know you'll have a great day, simply because you're in it! Happy Birthday!
---
Time is going by fast! You're all grown up! Happy Birthday!
Happy Birthday! You know what? I'm not telling you that again until next year!
Happy Birthday! That's as inspired as it gets. Yep, that's it.
I wanted to give you something special, then realized you have me. Happy Birthday!
Another year older and still the wisest person I know! Have a great birthday!
With age, comes wisdom. You must be very wise! Happy birthday!
Happy Birthday! You haven't changed a bit over the years. Let that sink in for a minute.
Time to blow out all those candles and enjoy your birthday cake!
Get the fire extinguisher! Time to celebrate your birthday!
Happy Birthday! No, really you are hot… it's not the amount of candles on the cake!
---
It's your birthday, so let's make it a super one! Have fun tonight!
Wishing my love and soul-mate a beautiful birthday!
My gift to you for your birthday is this thoughtful message. I love you – and there's more than words to prove it!
Wishing you a magical time on your birthday. Enjoy the ride and Happy Birthday!
Hoping your day is full of surprise, joy, and excitement. We love you all!
Birthday cards are lame, but you are super cool. Happy Birthday!
Life is short so enjoy this year's birthday. You may not get another one 🙂
Hoping you have a whimsical birthday full of wonder. Happy Birthday!
Birthdays may come and go but I'm happy to have you in my life every day.
Have a birthday full of rock 'n' roll! Or any other music genre, really… 😉
---
Happy Sweet 16… and sorry but no, I didn't get you a car!
You are amazing and so is your day of birth.
Make your birthday count and give it all you got.
Hope you find the inspiration to have a great birthday.
Make this special day a joyous one as it is for me to have you. Happy birthday!
Happy Birthday? Is it already another year gone by? You still look the same! Happy
The actual day may be over but my birthday card to you still counts.
Greatest day ever? EASY! Your birthday!
If I could go back in time, I'd tell you happy birthday. Sorry your birthday card is late.
Whether text, handwritten letter, card, or phone call, sending you happiest birthday wishes is better late than never.
For your birthday, let's party like it's 1999!
Happy Birthday! Is it yours or mine? How old are we? Look, CAKE and FIRE!
Wishing you fulfilled dreams on your most important of days!
Happiest birthday memories to you this year and every year.
There is nothing more exciting than celebrating the day you entered this world. Happy Birthday!
In the past, we would have made a phone call to say happy bday. Today, you are lucky to get an emoticon 🙂
You are the love of my life and the reason I'm alive so you deserve the best birthday ever!
Believe in miracles and you will have every birthday wish granted!
---
Watch this video or share by clicking on the top-right arrow in the frame.
Unique Happy Birthday Wishes to Send to the Ones you Love
---
Related posts:
200 Happy Birthday Wishes that Will Help you Find the Right Words
Original Birthday Quotes | A Unique List with Happy Birthday Messages
Click here for our best
birthday wishes
.