Birthday Wishes for an Important Person in your Life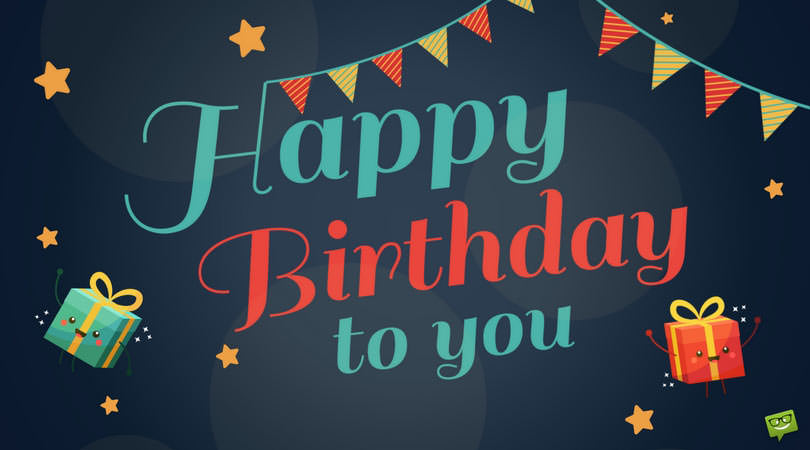 Everyone has someone very important to them, and you are probably no exception. This important person could be a parent, sibling, a significant other, a true friend, etc., who means the world to you and who inspires you in life. It definitely goes without saying that the way you'd approach the birthday of an important person in your life would differ greatly from that of any other person in your life.
Knowing that, we have taken our time to create very meaningful and heartfelt wishes that you can use to express your deepest feelings to that highly significant person in your life as they celebrate their birthday. These beautiful and thoughtful messages below would let them know how precious their presence in your life is to you while at the same time making their birthday memorable. Don't waste any more time. Go through the wishes and send any to that remarkable person you know, you'd be glad you did!
---
For someone you love romantically
You are my favorite person in the entire world. I am so blessed to have someone as lovely as you in my life. Thank you for loving me and being there for me always. I pray that your special day will bring you oceans of happiness and smiles.
You have always been my pillar of support and inspiration. Babe, I want to use your special day to say a gargantuan thank you and let you know that my love for you will never end. Happy birthday, my dear.
Your birthday is a special day in my life because you are the most special person in my life. I would be nothing without your unconditional love. Enjoy your special day, my love.
Your love gives me all the strength needed to overcome all the adversities in life. You are the reason I keep moving from grace to grace. Thank you so much for loving me. On your birthday, do know that I cherish you more than all the wealth this world can ever offer. Happy birthday.
My life had never known sunshine and warmth until you walked into it. You are the most important person in my life, and you'll always be. I love you so much. May your birthday be blessed with all the good things in the world.
Your arms are the only place where I get the warmth, peace and strength I need to live. Happy birthday to the light in my world!
The only thing I desire in my whole life is to make you the happiest person on this planet. Have a birthday filled with our love!
I see all the beauty of the universe whenever I look into your eyes. And whenever I kiss your sweet lips, I experience paradise. Happy birthday.
You spice up my life with your love and care. For me, there's nothing more precious in this world than your smile. Have an amazing birthday, dearest.
Sending my sweetheart the warmest birthday wishes with hugs, kisses and cheers! May your Big Day be as joyous as your wonderful love is to me. Happy birthday.
May happiness overwhelm your heart today.
Every smile of yours adds some happiness and fortune to my life and subtracts sorrow and misfortune from my life. Happy birthday.
Beginning from your hair down to your toe, everything about you takes me to the moon and back. May your day become as sweet as your lips!
My love, you are the person who fills the big hole in my life. I love you for everything you are. May your day be blessed with love and happiness! Happy birthday.
For someone you consider a real hero
You are my hero, my mentor and certainly the most influential person in my life. I thank God for putting such a phenomenal person like you into my life. I shall forever remember and appreciate all the incredible things you have done for me. God bless you. Happy birthday.
On your birthday, I deem it necessary to let you know how much your presence in my life motivates me to believe in myself and achieve remarkable things in life. May God bless you abundantly. Enjoy your day.
Today is a special day for an extraordinarily special person in my life. On your birthday, my dear, I pray that God will give you all the beautiful things this life has to offer. Thank you for changing my life in such an extraordinary way.
You have been a priceless gift to me all of my life. I hope that someday I can be even half the person you are. What an achievement it would be. Happy birthday, my friend, mentor, and hero.
Thank you for always being my refuge and rock. Without your presence in my life I shudder to think how miserable I would have been by now. This heart of mine will always thank you for as long it beats. Happy birthday.
If I could become half the person you are. I wouldn't ask for anything again in my life. Happy birthday!
You became my wings to soar over every obstacle in my life. You are a true proof of greatness. Happy birthday.
I feel so happy whenever your birthday arrives because it reminds me of the person who gave me love when there was none in my life. Have a wonderful time!
Happy birthday to the best mentor I have ever had. Thank you for the inspirations and encouragement you constantly bring to my life. Happy birthday!
It is my wish that this day made for a hero like you will become as wonderful as you made my life. Celebrate today with smiles!
Happy birthday to a man/woman who gives me the strength and determination to surmount the obstacles this crazy world puts in my way. I can't thank God enough for your life. I hope you have a truly fantastic birthday.
For a true Friend
A true friend who loves you unconditionally is the most difficult thing in this world to find. It is for this reason I will forever bless the day that we became the best of friends. Happy birthday, my beloved friend. May happiness always find its way to you and accompany you like your shadow.
I jubilate every blessed day of my life because I am blessed with the most wonderful friend in the world. From the bottom of my heart, my beloved, I just want to say I appreciate you and will forever be indebted to you for bringing happiness into my life. Happy birthday.
Wishing my most precious friend in the world a wonderful birthday. May God bring you all the things that gladden your beautiful heart so that you may forever glow in happiness. I love you so much, buddy.
Thank you for constantly standing by me in the rainy days. You are indeed the definition of a true friend and an angel sent to me from heaven. Have an awesome birthday.
Dear friend, when you are not around, I feel empty. The world is always a better place to live in with you by my side. For all the good things you have done for me all these years, I shall always honor you with the Best Friend Medal. Happy birthday.
My biggest dream became a reality because of our friendship. May this day mark the genesis of the achievement of your most cherished dreams. Happy birthday, pal!
I always feel glad that I have an important person like you in my life. I want to thank you for being the friend that every one wishes they were blessed with. Happy birthday!
Every morning that I wake up from sleep, I can't help but count myself among the luckiest people on earth to have found a true friend in an amazing person like you. God bless you on your Big Day, dearest friend.
No quantum of treasure can ever compare to a friendship like yours. Happy birthday to my best friend in the universe!
With a true friend like you in my life, every day is sunny and beautiful. Have a fabulous birthday, my dearest friend.
To you, I may be just another friend you have. But to me, you are the reason why my there's always sunshine in my world. Happy birthday, dear friend!
Never have I had a friend whose actions and words inspire me to greater heights the way yours do. Thank you for being a fantastic friend to me. Have a truly fantastic Big Day!
For your Father
For being the greatest father this world has ever seen, I pray that happiness and peace follow you everywhere you may find yourself. You have such a wonderful soul and deserve to have nothing short of pure happiness all the days of your life. Happy birthday.
There are no words strong enough to express how much being your son/daughter means to me. You are my greatest hero in life. Happy birthday, Dad.
Wishing my sweet father a joyous birthday celebration. May your special day bring you a lifetime of love, peace, and true happiness. I love you so much, Dad.
You make my life an extremely happy one just by being in it. On your special day, I just want to thank you and let you know how proud I feel whenever someone calls me your son/daughter. Happy birthday.
Dad, you were my No 1 yesterday, you are my No 1 today, and you shall be my No 1 tomorrow and forever because you have always been amazingly wonderful to me. Happy birthday.
For your Mother
Mom, you are not only my mother, but also my best friend, inspirer and paradise. On your birthday, may pure happiness touch your life today and on all the days of your life.
Every success I have today I owe it all to the world's most wonderful mother. Mom, thank you for being my everything. On your special day, I ask for nothing but the choicest of the Almighty's blessings in your life. Happy birthday.
Every moment of my life is a memorable experience because I have someone as remarkable and exceptional as you as a mother. Happy birthday, Mom. You shall forever be the most priced jewel in my life.
Wishing my dearest Mother an amazing birthday celebration. Mom, enjoy your special day, knowing that there is a special place I have reserved for you and only you in the deepest core of my heart because you are priceless to me. I love you, Mom.
Mom, you are my guiding light that always leads me to paradise. Thank you so much for constantly being my guardian angel. Happy birthday, Mom. May God, in His amazing mercy, always shine His exceptional light on you.
For your Sister
A sister like you is a million times more precious than the sun. Thank you for bringing sunshine and joy into my life. Happy birthday, sweet sis!
I never feel afraid because I know that you will be with me through thick and thin. Happy birthday!
Having an amazing sister like you makes everything in my life simply beautiful. Happy birthday, my dearest sister.
Sweet sister, on this birth anniversary of yours, I want to say thank you for not leaving me to wander in this crazy world all by myself. Have a beautiful day!
No love can compare to the amazing love of my wonderful sister. Have an exceptionally wonderful birthday!
You are the best friend nature has given me ever since I was born. Have a bliss filled birthday celebration!
I thank Dad and Mom for blessing my world with such a helper like you. But I thank you more for blessing my life with yours. Happy birthday!
I wouldn't have accomplished anything in my life without you. Happy birthday to the sweetest sister in the world! I love you.
For your Brother
Nothing best defines happiness to me than you. Happy birthday, my precious bro!
I consider you nothing but the most precious of blessings in my life. Happy birthday, my sunshine.
I am confident that I can never be a failure when I have a wonderful brother who always has my back. Thank you for always going out of your way to make me stand out among my peers. Have a wonderful birthday celebration today!
Dear brother, it is my wish that each day of your life will present you with abundant strength to help you realize your aspirations. Happy birthday to my one and only bro!
Though life's path is winding, you always help me with the wisdom I need to walk in it safely. Thank you very much, and do have fantastic birthday!
It is my wish that you receive all the happiness your heart can contain and every blessing that this wonderful day can offer. Have fun brother!
I am very happy you have successfully made another trip around the sun! May you be replenished with every blessing you need to take the next one and the ones ahead. Happy birthday!
For a special Relative
Wishing my sweet brother an incredibly memorable birthday celebration. I am who I am today thanks to the sacrifices you have made in your life to ensure my journey in life is smooth. I shall never forget all your sacrifices for me. God bless you, brother.
You are responsible for forming me into the successful man/woman I am today. I owe everything to you. May all the days of your life be bathed in happiness and peace. Happy birthday.
For all the wonderful things you have done in my life, may your life always be bathed with the rays of happiness. I hope you have a birthday celebration of a lifetime.
All of my life, you have always been there to lend me a helping hand whenever my strength failed me. I can't thank you enough for your kindness and love. On your birthday, I pray that God will bless you with happiness and prosperity beyond your wildest imagination.
Sis, you are my shining star. As you celebrate this very important day of your life, I pray that God will guide you through any unfamiliar path that you travel and bring you all the desires of your heart. Happy birthday.
For an old Teacher
No amount of wealth can ever buy all the knowledge and wisdom that you impart. I wish you a life full of strength and the truest form of joy. Happy birthday!
If all teachers were like you, every student would never want to miss class. You're truly a phenomenal teacher. Happy birthday, dear Sir/Madam!
For molding me into the man/woman I am today, I just want to say, "Thank you from the bottom of my heart". Happy birthday.
Wishing the greatest teacher ever an extraordinarily wonderful birthday celebration. Thank you for encouraging me to do better.
The world is a better place because of selfless teachers like you. On your birthday, I pray that you will be handsomely blessed with good health and everlasting joy for all the sacrifices you make to brighten the future of your students.
Dear teacher, in our eyes, you shall forever be a hero. Thank you for guiding us, mentoring us, inspiring us and transforming us into what we are today. Happy birthday.
Your birthday gives us a perfect chance to let you know that we utterly appreciate your hard work and dedication to us. Have a lovely day.
Regardless of where life takes me, I shall always remember you for being a wonderful teacher, mentor and friend. Happy birthday.
---
You may also like:
Birthday Wishes According to People's Professions
Unique Happy Birthday Wishes to Send to the Ones you Love
67 Cute Birthday Messages to Make Someone's Birthday Special
The Best Birthday Greetings You'll Read in 2017
Click here for our best
birthday wishes
.
If you liked what you read, please share it. It really helps us a lot.