Top 100+ Original and Funny Happy Birthday Memes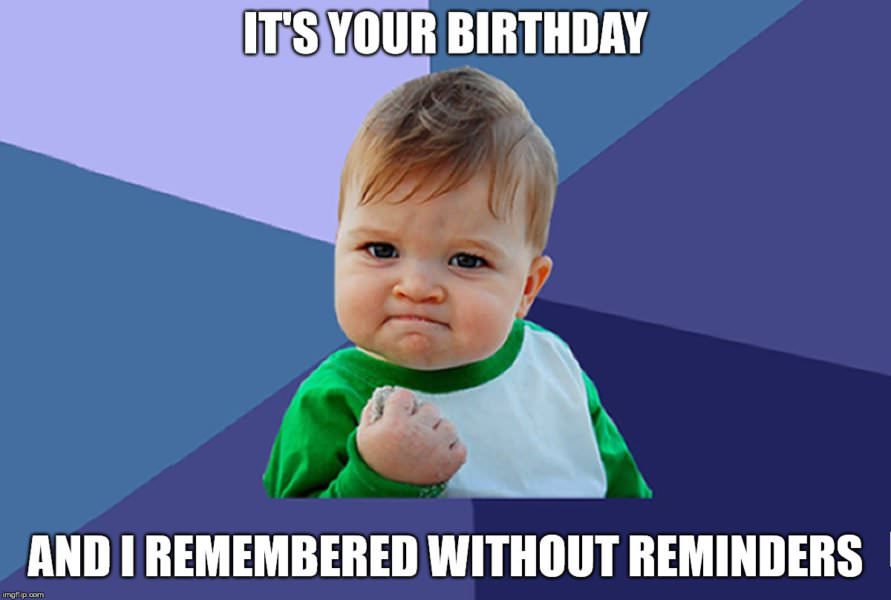 Memes, just like genes (a word which "meme" was based upon), is an inherent element of internet life as it it today. They define and affect us culturally in so many ways that there are few topics of modern human activity that haven't been the object of memes. Taboos are yet to fall in the name of humor…
Birthdays are no exception: wishing someone for their birthday or making funny comments on the passing of time (and, subsequently, their age) through memes is a hilarious alternative to the usual sending of wishes – although caution is advised when you don't feel close enough to the birthday boy or girl. Our collection of original birthday memes will give you humorous ideas of images to share with the ones you love and care about. If you're aiming for some plain text, you can find funny birthday wishes here. Have a great laugh, then!
---
Top 100 Original and Funny Happy Birthday Memes (continued)
Let's raise the bar on expectations.
---
---
Cats: never really satisfied. Always seeking perfection. #not
---
As if last year wasn't enough…
---
Actually its further than the moon… usually.
---
Remind me next year.
---
Let Ron Swanson speak the truth about birthday and sincerity.
---
---
What a coincidence, dude!
---
Freestyler.
---
If it ain't broken, don't fix it. #age
---
Immigration opportunities.
---
The awesomeness factor.
---
The recipe for the absolute 40th birthday.
---
What do you mean "some friends only"?…
---
You may also like: 200 Laughs | The Quest for the Most Hilarious Happy Birthday Meme
---
We care about you and your diet.
---
I might bring my mini-me over.
---
Enjoy your birthday, don't drink and drive…
---
When you're older, play it cool.
---
Help yourself to a piece of… Channing.
---
---
Let's drink to that.
---
Surprise, surprise! Cat memes everywhere.

---
Praise this birthday!
---
I would like to thank me, myself and I for the wonderful times together.
---
Pretty obvious life tip.
---
Birthday humor can be as black as my car.
---
I can be a real party animal if I want to.
---
Murray Birthday to you.
---
Eat, Wish, Love.
---
"Oh, please, you shouldn't have…"
---
Do it like Sinatra.
---
Absolutely Fabulous Birthday Wishes, sweetie!
---
Everything is great
---
You may also like:
Cracking a Birthday Joke | Huge List of Funny Birthday Messages and Wishes
Happy Birthday to… Me! – Birthday Wishes for Myself
200 Happy Birthday Wishes that will Help you Find the Right Words
Get more unique birthday wishes!
Click here for our best
birthday wishes
.