Spending Valentine's Day alone can seem daunting, but it doesn't have to be! Being single on this hallmark day of romance can actually be an enjoyable experience when you focus on the joys of being independent and solo.
To help spread some cheer for all the singles out there, here are 60 funny captions and quotes about being single on Valentine's Day.
Funny Single Valentine's Day Captions. It's More Fun Than You Think!

These funny Valentine Day captions are designed for people who choose to be single on Valentine's Day.
Love is in the air…so I'm just gonna keep my windows closed today!
Single and ready to mingle…with my bed and snacks!
He loves me, he loves me not. Who cares because I love myself.
I only have eyes for me.
I'm not crying because I'm alone on Valentine's Day…I'm laughing because there's no one here to judge me for eating all the chocolate!
My plans for Valentine's Day? Oh, you know, the usual: Netflix and chill—by myself.
For Valentine's Day, I'm going to celebrate with a bottle of wine. Cheers to me!
I don't have to fear losing love I don't have. So, I'll celebrate being single on Valentine's Day and enjoy the chocolate and the wine and whatever else makes me happy.
Single, but not alone. I'm celebrating Valentine's Day with my loyal little feline, who's also single.
Be happy with yourself because you are your own best friend.
Valentine's Day? No worries—my heart is taken by Netflix and Hulu!
I'm not angry with Cupid for not shooting an arrow for me because I know he's waiting for the right one to come along.
Me, myself, and I and my dog. Except for a bottle of Chianti, what more do I need?
I love you a bushel and a peck. Yes, I'm singing to myself.
I guess I'd just have to date myself today.
Whoever aborted the love of my life will not escaped my vengeance.
This Valentine, I can't help but envy my calendar simply because it has dates whereas I don't.
Let the haters hate and the lovers love..and me? I'll just be over here enjoying my independence this Valentine's day!
Forever a proud member of the Association of Single Men and Women!
When you have long-lasting AA batteries, being single can be super awesome!
I like to look myself more as a free agent than a lonely single on Valentine's Day.
Not celebrating Valentine's day this year? Don't worry, there are plenty of other holidays throughout the year!
I'm single because I'm so hot that I literally burn anyone that comes closer to me.
This Valentine's Day, I'm not looking for love…I'm looking for chocolate!
I have the most beautiful girlfriend in the world. The only problem is she's invincible.
Had singleness been an Olympic sport, I would surely win multiple gold medals.
Next February I'm going to file a lawsuit against Valentine's Day for singles' discrimination.
My Valentine's Day gift to myself: unlimited pizza and Netflix!
Valentine's Day Cheer for Singles Everywhere! Funny Single on Valentine's Day Quotes
I love being single. It's almost like being rich.
There's nothing I am better at doing than being single! Unknown
I'm single because I was born that way. Mae West
One of the biggest pros of being single is that you're 100% sure you haven't get yourself involved with the wrong person.
If being in love is what it means to be free, then this Valentine's Day my heart is in solitary confinement!
This February 14th, take a moment to laugh thoroughly at your singlehood, everybody else does!
Singlehood is good on your pocket. Wishing a fantastic Valentine's Day to you.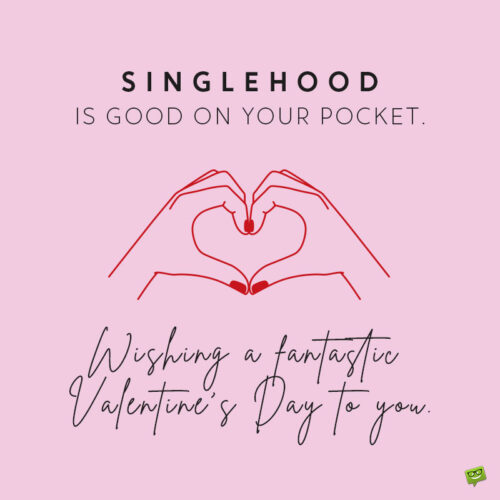 If singleness were a crime, you, my friend, would certainly be one of the most dangerous criminals on planet Earth.
If lovers get half price off on Valentine's Day, then singles should just get everything for free.
It sucks spending Valentine's Day alone, but at least I'll have more money to spend to make myself happy!
I had every intent of celebrating Valentine's Day, but when Cupid got around to me it seems he had run out of arrows.
This year's Valentine's Day I will enjoy long, romantic walks to the fridge.
Does anyone know the perfect gift to get a robot to wish it a Happy Valentine's Day?
If you're alone on Valentine's Day, just remember: there are plenty of fish in the sea, but you're not quite ready to do some deep sea fishing. Amy Schumer
This Valentine's Day, I want to give a mighty shout-out to all my peeps for still having the courage to smile despite being as single as f**k!
This fine V-Day, I'm going to spend every single cent I have on my one and only love – me.
I dumped my girlfriend on February 13th in hopes that being alone on Valentine's Day will make me appreciate her more.
I'm single today because my heart was created to pump blood and not fall in love.
Cupid called and said he can't make it over this February 14th as it seems the TSA detained him for carrying what they perceive as suspicious-looking chocolates.
If Valentine's Day is all about affection and chocolate, then it should be a holiday dedicated to appreciating fat people.
I am out to break the Guinness world record for most Valentine Days spent alone.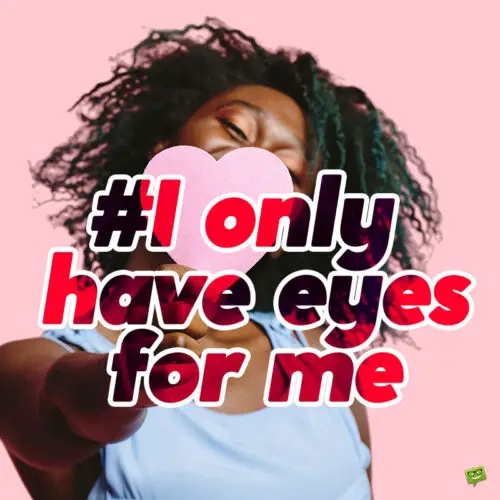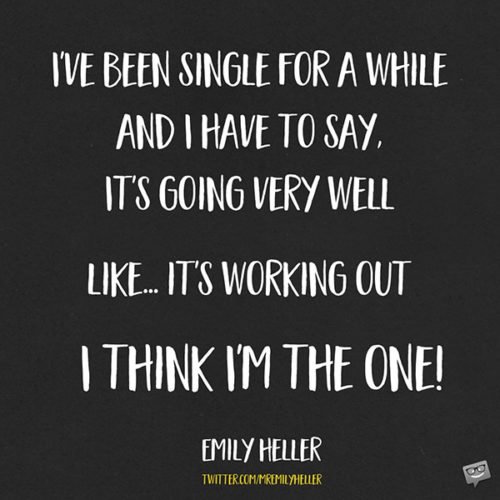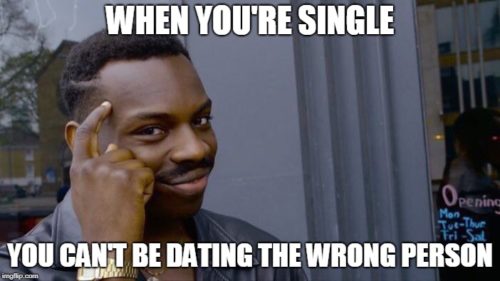 Funny Single Valentine's Day Status
When you're alone and proud on V-Day, you might as well shout it out loud.
I have chosen to be single because it makes my bank account as fat as Shrek.
Me and an entire box of chocolate all to myself is a match made in heaven!
The faithful pizza delivery man, who lovingly spreads pepperoni over the cheese, is the only Valentine I need this year.
By God, I shall spend the entire Valentine's Day with the love of my life…Myself!
I gave my no-good boyfriend the boot earlier this month, making this the happiest Valentine's Day I've had in years!
Cupid pulled out his biggest arrow, aimed right at my heart and fired with all his might – but still missed.
Since I don't have a partner, on Valentine's Day, I will go around and collect Cupid's broken arrow and then sell it back to him on eBay.
If acquiring a boyfriend was as easy as becoming fat, I certainly would have had one to share my Valentine's Day with.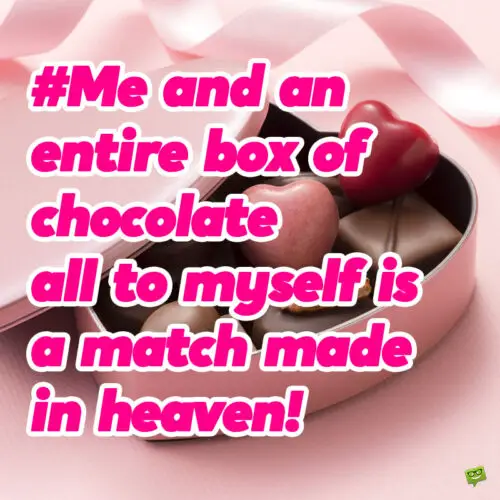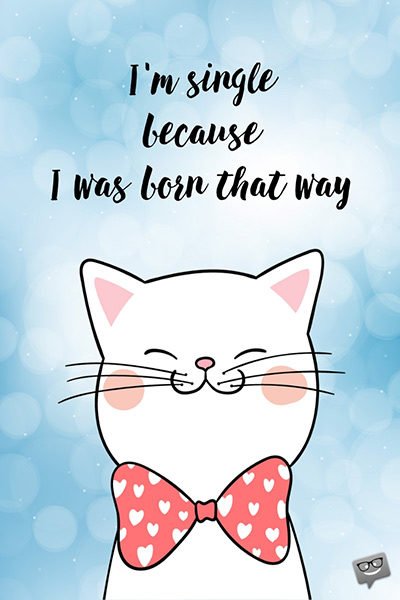 Singledom might not be the best for you, but it surely is great for your purse on V-Day!
Valentine's Day is appropriately the only holiday where the popular character that symbolizes the occasion is brandishing a very deadly weapon. Thank God I'm single!
If Cupid is such an advocate of intimate love, then why is that he has never been spotted with a girlfriend or wife, not even on Valentine's Day? Something is definitely not right!
My quest to spend every Valentine's Day alone is based on a personal goal of achieving spiritual oneness.
My girlfriend is 1000 miles away this Val's Day, and I want to extend her my sincerest holiday wishes that she stay there!
If you could get a good look at my ex, then you would see why I now consider Valentine's Day more like Halloween.
If I actually had enough money to celebrate a holiday as frivolous as Valentine's Day, then my girlfriend from last year would still be around.
I'm like a one-man shipping vessel on Valentine's Day – mateless.
During Valentine's Days like this, I feel like going back in time and freeing the love of my love from being trapped in a condom.
After I got finished dealing with him for his last screw-up Cupid is thoroughly afraid of even looking my direction on Valentine's Day.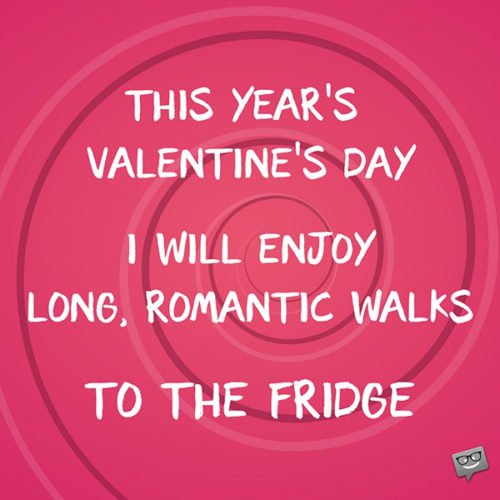 You may also like:
In Love With You Forever – Happy Valentine's Day Images
The Greatest Romances Ever and the History of Valentine's Day
100 Heart-melting Valentine's Day Quotes
10 Things to Do (and Make an Impression) on Valentine's Day
200+ Love Quotes to Find the Pathway to Their Heart
Galentine's Day Quotes: How a TV Series Left a Legacy of Female Empowerment