Halloween is undoubtedly one of the truly exciting celebrations of the year. And in honor of this important annual event, we have prepared a bunch of cool Halloween quotes for you.
The first section of this post consists of famous Halloween statements by famous personalities, whereas the second section is made up of original and never-before-published quotes. Feast your eyes on both sections and feel free to use the quotes in any manner you want as you observe this year's All Hallows' Eve.
---
Short Halloween Quotes
Shadows of a thousand years rise again unseen. Voices whisper in the trees, tonight is Halloween. Dexter Kozen
Halloween starts earlier and earlier, just like Christmas. Robert Englund
It's Halloween, everyone's entitled to one good scare. Leigh Brackett, "Halloween"
There is a child in every one of us who is still a trick-or-treater looking for a brightly-lit front porch. Robert Brault
Halloween wraps fear in innocence, as though it were a lightly sour sweet.

Let terror, then, be turned into a treat…

Nick Gordon
I love, love, love, Halloween. I love dressing up – I think it's rad! Lauren Cohan
A grandmother pretends she doesn't know who you are on Halloween. Erma Bombeck
I only eat candy on Halloween. No lie. Michael Trevino
I love the spirit of Halloween and the energy that comes with it. Katharine McPhee
For some of us, Halloween is everyday. Tim Burton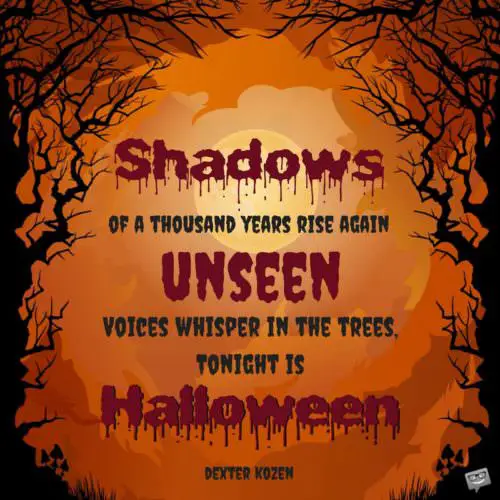 Famous Halloween Quotes
Halloween is one day of breaking out of your shell, one day you can be completely expressive, where the world gives you license to dress up. Chris March
I'm a really big fan of all things macabre in general; Halloween happens to be my favorite holiday. Dove Cameron
Being in a band you can wear whatever you want – it's like an excuse for Halloween every day. Gwen Stefani
I love scary movies. I like blood and gore, and I love Halloween movies. Carrie Underwood
I wasn't allowed to have sugar as a kid. We didn't have candy or soda or anything, so Easter and Halloween were my favorite times 'cause I could eat as much candy as I wanted. Kaley Cuoco
On Halloween, the parents sent their kids out looking like me. Rodney Dangerfield
But I love Halloween, and I love that feeling: the cold air, the spooky dangers lurking around the corner. Evan Peters
Halloween is an opportunity to be really creative. Judy Gold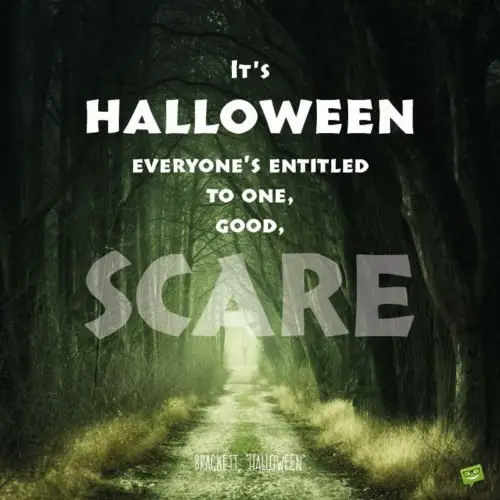 Halloween is bigger than Christmas in America. I've experienced it in New York, Los Angeles and Washington D.C., and if you're in the right neighborhood, every house is decorated with spooky ghosts, spider webs, and jack-o-lanterns. Rhys Darby
Acting is like a Halloween mask that you put on. River Phoenix
I don't know that there are real ghosts and goblins, but there are always more trick-or-treaters than neighborhood kids. Robert Brault
People value Halloween, like Valentine's Day, because they can tell themselves that it's not merely secularized but actually secular, which is to say, not Christian, Jewish, Hindu or Muslim. Amity Shlaes
All my life, I have been a celebrant of Halloween. For me, it is the most important day of the year, the turning point in the old pagan calendar. John Burnside
Halloween is not only about putting on a costume, but it's about finding the imagination and costume within ourselves. Elvis Duran
I love Halloween! I love it so much that I used to work at a haunted house every year. Daniella Monet
I came from a Halloween-friendly home. My dad, Spencer, was a U.S. Marine captain. But when it came to Halloween, my dad had a soft spot. He would take his three sons and friends on escapades on Halloween night. Bill Moseley
Double, double, toil & trouble, Fire burn & cauldron bubble.  Song of the Witches, Macbeth, William Shakespeare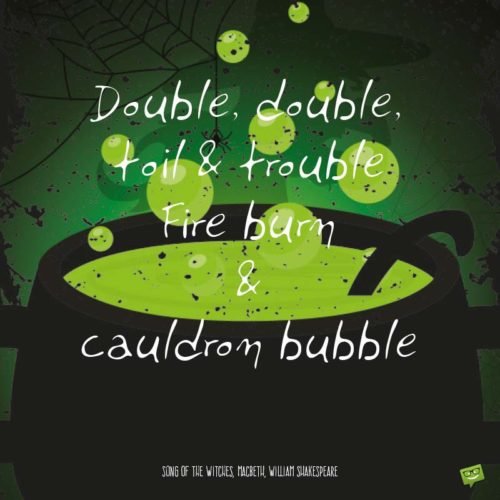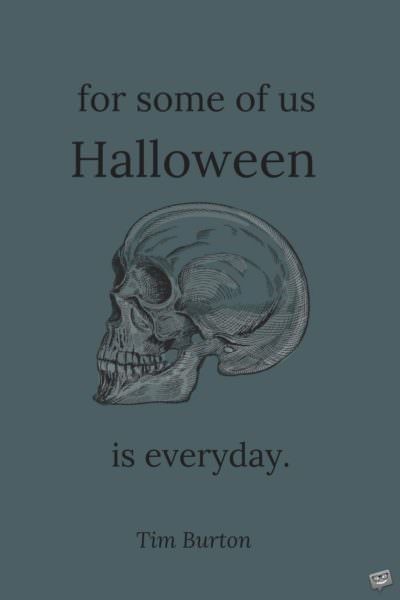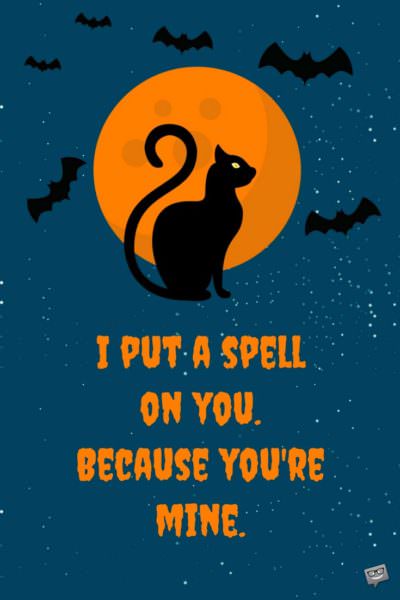 Original Halloween Quotes
The cool thing about Halloween is the fact that it knows no religious boundaries. Regardless of your religious affiliation, you can celebrate it to the fullest.
Halloween, you are the love of my life!
I love the celebration called Halloween because it gives me the unique opportunity of being whoever I want to be.
I live for Halloween!
The excitement that accompanith Halloween is immeasurable. It brings a magic no other holiday can ever bring.
The adrenaline rush I get from Halloween is of immeasurable value.
There are 365 days in the average year. Out of these 365 days, the only day you are blessed with a free pass to assume whatever persona your heart desires is on Halloween Day.
True excitement only occurs once a year in the form of Halloween.
Halloween is so fun, if you don't like it, I humbly suggest you jump in a lake!
You haven't had fun until you have experienced the magic of Halloween.
Halloween is a fantastic mixture of chills, companionship, fun and thrills. There's nothing on earth more heavenly than that!
You can take away all the celebrations of the year, but please don't touch my Halloween!
Without All Hallows' Eve, this universe would certainly lose one of the most important things that make it an exciting place.
I fell in love with her from the very first moment I experienced her. Viva Halloween!
Halloween, what an incredible treasure of excitement you are to mankind!
If Halloween isn't celebrated in heaven, then I don't want to be there when I close my eyes for the very last time and take my final breath.
No matter how down I get, the magic of Halloween always finds a way of lifting me up.
Fear tastes sweetest when consumed on Halloween.
If you think Halloween isn't fun, your definition of fun is different from mine!
If Halloween doesn't scream excitement, I don't know what does.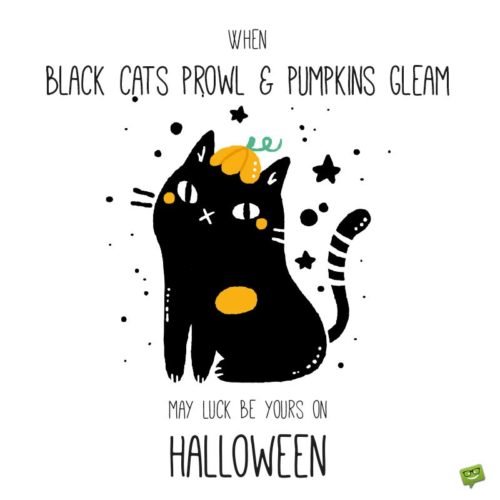 Only Halloween can make cold streets filled with gruesome ghouls and terrifying vampires beautiful and exciting.
Life is no life without you, my darling Halloween. You send cold shivers down my spine but I adore you immensely.
Forever that person who strives to enjoy the joy of fear that cometh with Halloween.
Don't get me wrong, other celebrations rock but my soul enjoys Halloween the most!
Walking down a dark alley one Halloween night, I came face to face with a bunch of terrifying monsters that scared the living daylights out of me. And although I sh*t my pants out of fear, I loved it! Such is the strange beauty of Halloween!
The older I get, the more I fall in love with All Hallows' Eve.
If I were to die today, one of the things I'd miss most on earth would be Halloween.
I have been blessed with an amazing friend. Her name is Hallowe'en.
The incredible magic of Halloween is one of the most beautiful things these two eyes of mine have ever beheld.
If Halloween came every day, planet Earth would have been such a wonderful place!
What would life be like without Halloween? Boring!
I will choose Halloween over any other holiday every single time.
Enjoy Halloween with all thy might, for she comes only once a year.
In a universe where true excitement is hard to find, it's a blessing to experience Halloween.
One thing is for sure, Halloween will never ever stop being exciting.
It's unfortunate that too many people in this world would sadly depart this life without ever enjoying Halloween even just for a second. That's awfully sad!
---
You may also like:
20+ Very Scary Halloween Quotes, Memes & Pics
A Spooky Day on Campus | Halloween Messages for College Students