Valentine's Day is a day made for the expressive creativity of poetry, especially towards someone you love.
Below is a trove of truly heartfelt Valentine's Day poems you can shower lavishly on that special person in your universe. Hopefully these lines would contribute towards making this super romantic day a memorable one for you and him/her.
---
Valentine's Day would be nothing,
Without the love of my life,
Today you are my girlfriend,
But one day you will be my wife.
Cupid shot an arrow right through my heart,
I knew this from the very start,
Because I was in love with you from the day we first met,
So in terms of enjoying this Valentine's Day, you need not fret.
These flowers will one day wither away,
And these chocolates, if you don't eat them, will by all means decay,
These are just symbols to make your Valentine's Day special,
But my true love for you is everlasting, eternal.
This is true love, more than mere infatuation,
Because our time to breakup has already exceeded the statute of limitation,
If loving you has made me sightless, may I forever be blind,
And may you always bestow upon me the great privilege of being your Valentine.
There's a song playing in my heart, even if you never heard,
Like it's mating season, and you're my lovebird,
So I'm going to use the opportunity of this Valentine's
To express the sincere desire that you would be mine.
My love for you is deeper than the ocean,
It is a thousand times more vibrant than the morning commute with all its commotion,
It is a million times stronger than the roots that hold up the strongest tree in the universe,
I would be honored beyond words if you spent Valentine's Day with me.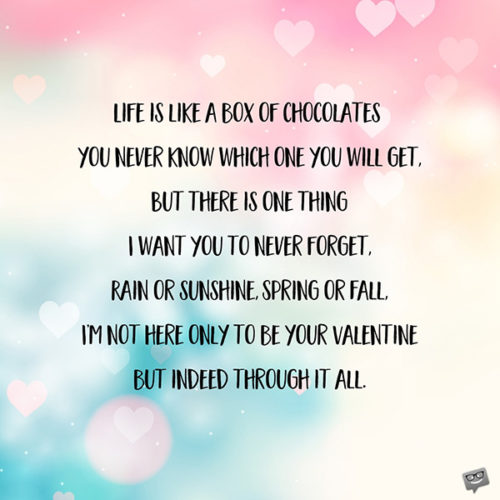 Putting your heart on the line can make you look like a fool,
But being afraid to express your feelings is even more uncool,
So right now I'm going to put my ego on the line,
And humbly request that you would be my Valentine.
The red symbolizes that my love will never die,
And the white symbolizes all the reasons why,
These are the ways I feel about you every single day,
But on this special occasion, I decided to say it with a bouquet.
Life is like a box of chocolates – you never know which one you will get,
But there is one thing I want you to never forget,
Rain or sunshine, Spring or Fall,
I'm not only here to be your Valentine but indeed through it all.
I am a slave to your love, a servant to your requests,
Because with you, I know that I am blessed,
To me, you are like Cupid, an angel from up above
So please accept this gift as a symbol of my eternal love.
I could be out playing basketball or chilling with the guys,
But for this special day, I came to realize,
That the entire 24 hours should be dedicated to you,
To honor none but you and give you the proper due.
Since we were brought together by fate,
February 14th is a day I no longer a date,
It's a day I always can't wait to celebrate,
Thanks for allowing me to enjoy your love's sweet taste.
I'm mesmerized by your beauty, entranced by your virtue,
That's why I adore you and will never do anything to hurt you,
Indeed I took it upon myself, made it my obligation
To make sure you spend this Valentine's in joy and elation,
So if you desire affection, if it's caressing that you need,
Look no further than my direction, because I love you indeed.
From the day I first saw you, the day my eyes first saw you,
Cupid's arrow had been lodged in my heart,
He asked if I wanted it out, but I told him I didn't mind,
Because forever in my heart you will be my Valentine.
Cards, flowers, poems and chocolates,
I wanted this to be a Valentine's you would never forget,
But as for me, I don't want a gift
Because I can't think of any present more pleasant than being with you.
I'm not a rich man, nay, the money doesn't always flow,
But there is one thing I want you to know,
That whatever the price of making your Valentine's Day nice,
I am thrilled and more than willing to make that sacrifice.
To make sure I stand out and that you will always remember me,
I decided to buy you this piece of jewelry,
Not as a symbol of a deal that is already done,
But rather as a harbinger of things to come.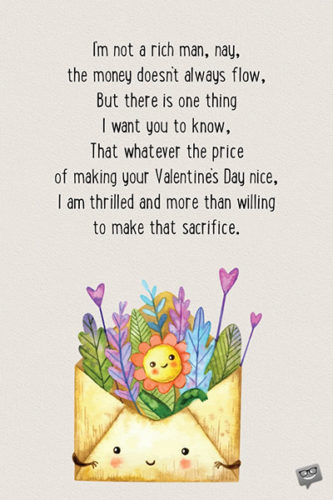 It is a pleasure, indeed a bragging right of mine,
To have you every year as my Valentine,
I love you, and you love me too,
So it is with my whole heart I make these vows anew,
Indeed having someone so lovely as a wife
Is enough to rationalize marrying your twice!
To me, this is actually my favorite time of year,
The time that is dedicated to honoring the one I hold dear,
Who has given me joy like no other,
For this day, I've waited an entire year to officially show you how much I care,
So please accept this gift and the sweet words of my lips,
As not only an expression of my love but also my friendship.
I've waited my entire life, so this is long overdue,
To finally have a Valentine as precious as you,
Every time I look at you, my heart tastes great pleasure
Indeed life is so sweet because of you, my greatest treasure
Today is Valentine's Day,
The perfect time to celebrate our glorious love,
Celebrate this day, knowing that you're the most beautiful woman I've ever known,
In your sweet love, I shall eternally drown.
You mean the world to me, my Valentine,
Your love is sweeter than the world's sweetest wine,
You make me happy and bring me all the stars in the universe,
With you by my side, my life will forever shine,
Thank you so much for deciding to be mine.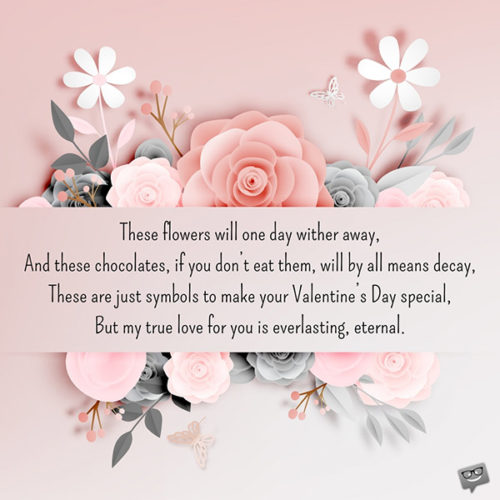 You may also like:
33 Valentine's Day Captions for Moments of True Love
In Love With You Forever – Happy Valentine's Day Images
Love Quotes for Valentine's Day for Her and for Him
100 Heart-melting Valentine's Day Quotes
200+ Love Quotes to Find the Pathway to Their Heart
Galentine's Day Quotes: How a TV Series Left a Legacy of Female Empowerment