The Warmest Christmas Wishes and Cute Christmas Cards to Share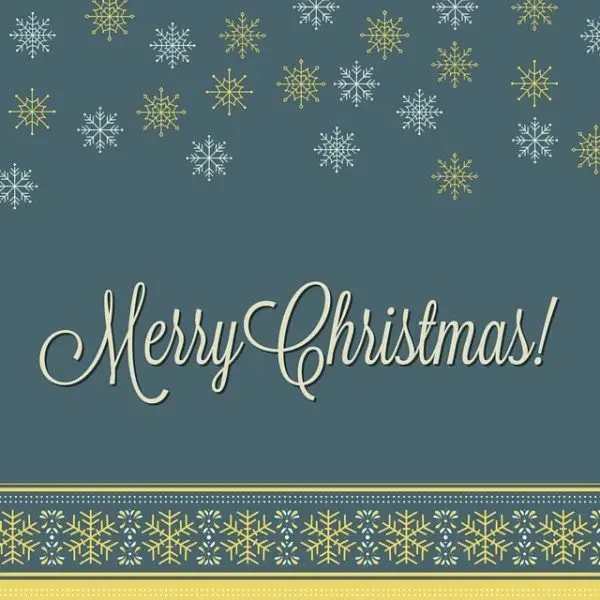 The easiest way to spread some Christmas cheer and make this year a little brighter is by sending Christmas wishes. Christmas is definitely one of those times of the year when people hearts get closer and spirits tune in for a real celebration.
Here are some suggestions of Christmas wishes for you to send to your loved ones and those in need of encouragement.
You can also visit our collection of Happy New Year Wishes
---
May your home be warm, your tree bright, and your heart merry this Christmas.
Wishing you winter wonder and childlike joy this Christmas season.
My love for you shines ever brighter with each passing year, and on this Christmas morning I hold you ever more dear.
For this Christmas my dear, may your dreams be filled with Santa Claus and reindeer, your stocking full, and your tree surrounded by presents.
May each of your Christmas lights burn brightly and your ornaments dazzle, as brilliantly as the love I hold for you in my heart.
I just wanted you to know, on this blessed Christmas day, that you are my angel and the light of my life, in every perfect way.
May you be enfolded in the wings of peace and filled with joy this holiday season. Merry Christmas!
I'm blowing you a kiss and with it a Christmas wish that your heart is overflowing with all the love I have to give.
or all the times I forgot to tell you and when I neglected to show I care, forgive me and let me say this Christmas, "I love you forever and always.
Remember this Christmas season that the God who crafts each snowflake individually, has made you unique and beautiful, and He loves you in every way.
This Christmas I pray that your heart is merry, your eyes bright, and your soul as peaceful as the dove.
May you experience all the joy and wonder that life has to offer this holiday season, as you live, laugh, and love. Happy Christmas.
My beautiful angel, thank you for this great past year and may this Christmas tie us together even closer.
Meet me under the mistletoe and I'll show you how my love still burns passionately for you. Merry Christmas my love!
May this Christmas stir all your senses and delight you in every way.
Merry Christmas to you and your loved ones, may you cherish and honor each other in all that you do.
This Christmas, take time to reflect on how you've been blessed, as you look ahead with hope into the New Year.
Lord, open my eyes to the hungry, my hands to the needy, and my heart to the lonely this Christmas.
This is the season to live in joy, to dry our tears, and lift our hands in thanks. Merry Christmas!
Holiday treats and holiday cheer bring smiles to faces year after year. Merry Christmas!
Sing carols, sing praises, or simply shout for joy. Christmas time is a happy time for every girl and boy!
This is the season to enjoy giving, and I hope you delight in each and every one of your gifts. Have a Merry Christmas!
Christmas time is coming, Christmas time is here! Christmas time is a happy time to celebrate the past year.
Ring the bells and call the elves for Santa is on his sleigh! He's coming near to bring great cheer to good little girls and boys!
The weather is colder, we're all a bit older, but at heart we are still young. For the true meaning of Christmas lives on within us, if only we look toward the Son! Have a Merry Christmas!
While you may not get to sleep in, I pray that you wake with a smile as big as your children's this Christmas.
This Christmas I pray that you get everything that you love and love everything that you get.
This year my Christmas list was blank, because I already have everything I could wish for in you.
Christmas helps strengthen the bonds of friendship and family so that they may never be broken. Love to you and yours, Merry Christmas.
I pray that the love of all those around you fills your Christmas to overflowing with warmth, happiness, and joy.
May your eggnog be creamy, your hot chocolate steamy, and your heart filled to the brim with gladness this Christmas.
Christmas reminds us that we are never alone. Merry Christmas my love!
Wishing you the gifts that really matter this Christmas: hope, joy, love, health, and peace.
May your days be sunny, your nights starry, and your Christmas jolly!
This Christmas I hope that you indulge in every good thing, until you are satisfied and no more, that you give away your love in order to receive more, and that every day you experience what life is worth living for.
May your every day be as wonderful as a Christmas morning.
May your Christmas be bright, beautiful, and bountiful, and may its light shine throughout the coming year.
Let love surround us all this blessed Christmas day, and inspire us to share goodwill in each and every way.
Christmas is a time of excitement, hope, and love. It is the season of joy and giving, when people go out of their way to help others and let their loved ones know how important and appreciated they are. By October, the stores are already stocked with Christmas decorations, wrapping paper, trees, presents, and lights, but Christmas is so much more than tangible gifts. While Christmas traditionally symbolizes the birth of Jesus Christ, all people, whether religious or not, can come together in community and share the symbolism behind the decorations. For example, the rich green of the evergreen Christmas tree signifies everlasting hope. The star or angel that crowns the tree is a sign of fulfillment, peace, and goodwill toward all people. Candles symbolize a light in the darkness and the positive impacts that we can all make in the world. The continuous circle of the wreath reminds us that love never dies. Santa Claus himself symbolizes generosity. Whether young or old, rich or poor, Christian or not, we can all share in the wonder, promise, and bountiful nature of Christmas, as we reflect on the past year, uplift our loved ones, and assist those in need.
---
---
---
---
You may also want to check out:
Perfect Christmas Cards with the Best Season's Greetings
UNIQUE GIFT IDEAS
If you're looking for great presents for all budgets, we have done the work for you.
Click here for the
best birthday gifts
for friends and loved ones.
If you liked what you read, please share it. It really helps us a lot.