Happy New Year Wishes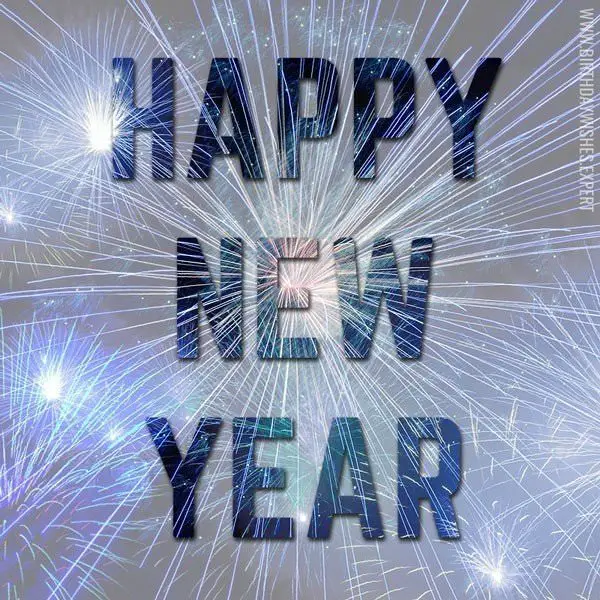 As the hands on the clock turn to bring about a new year, people all over the world are celebrating the passing of the old into the new. Resolutions will be made and broken. Hopes and dreams for the future will be shaped. Mistakes of the past will be forgotten. New memories are waiting to be made. The New Year is the time when everyone can begin their lives anew with hopes for a bright and prosperous future.
The optimism that the arrival of a new year brings is an inspiration to all – and our New Year wishing cards express said optimism. With the help of good will – and, often, good luck – this can be another great year!
---
Your life is a canvas and you are the artist. Show your brilliant colors in this coming New Year!
Like a seed in a new spring garden, your new season has begun. Bountiful harvests are awaiting you in this New Year!
Today try to forget the worries of your past, if you are having trouble forgetting, then down another glass. Happy New Year!
Open your eyes to the light of a new day, a New Year, a new chance to achieve your every wish and desire.
As you approach this New Year, try and see life as through the eyes of a child. A time when nothing seemed impossible, fear did not exist, and learning occurred every day. Love was not earned but given freely, emotions were worn on the sleeve and happiness existed from the tiniest of accomplishments. Happy New Year! May life's blessings rain down upon you.
May every sunrise you witness be a reminder of your ability to rise out of the darkness and spread light and warmth into the world in this coming year. Happy New Year!
As a child I was always so nervous and excited to see a teacher wipe the blackboard clean and begin fresh new ideas and learning. This is what the New Year brings for us as well. A chance to wipe the past away and begin a new year of excitement and learning.
Remember the good times, forget the bad times and look forward to the new memories this New Year will bring.
Even though there are lessons to be learned from the past if you are constantly looking over your shoulder to learn from past events you will miss the opportunities and lessons to be learned that are only a few steps ahead of you. Here's to looking forward in this New Year.
Take your failures from the past year and use them to build a strong foundation for the accomplishments you will achieve this year.
Do not fear the winds of change. Instead lift your sails and let the winds take you where they may. Happy New Year!
There's an old Spanish tradition of eating twelve grapes on New Years for each strike of the clock at midnight in order to bring prosperity. Let's make the tradition better by changing those twelve grapes into twelve glasses of wine. Happy New Year!
Through many miles, smiles, tears, wishes and dreams you have been my truest friend. I wish you and your family the happiest of New Years.
Eyes shining brightly toward the future, hopes awaken and dreams come into view, looking forward to spending this New Year with you!
Light the candles and pour the champagne, bring in the New Year with expectation and celebration. Happy New Year!
Dearest one, Happy New Year. May you look forward with joy and overcome each challenge you face.
Happy New Year to a pretty spectacular person!
Hello! Hola! Howdy! Happy New Year to someone who likes to get rowdy!
Go big, shoot for the stars, this New Year, you can have it all! Happy New Year.
We're not glancing back, we're only striving forward, and making the most of every single day that goes by. Happy New Year and may each day be filled with joy and sunshine.
Happy New Year, I hope this year brings you peace, security and unlimited possibilities!
I pray this New Year brings you joy, peace and a full understanding of who you are in God. You have so much to look forward to and so many possibilities ahead of you!
Happy New Year to an awesome best friend who has been by my side through difficult times and through the best of moments!
Don't look back at the past, for the future now holds wonderful opportunities for you! Happy New Year. Celebrate and enjoy the day, and the entire year!
There is no better time to move forward in life than New Year's Day. Happy New Year and may every day be special for you.
To my best friend, I hope you have a spectacular holiday as you bring in this exciting New Year!
We've come a long way together and I'm looking forward to spending this New Year with you!
There's no time better than a New Year to open our eyes to new excitements the world holds for us. I'm wishing you the very best this world has to offer you. Happy New Year to someone very special.
Near and dear, no matter how far apart we may be, Happy New Year to you, from me!
God bless you on this new journey and this New Year. Live life abundantly and to the maximum potential. We're here to support you in all the new things you take on. Happy New Year!
From now 'til the next 365 days, may we celebrate along the way! Happy New Year, beloved.
No matter what has happened before, life can be different from now 'til evermore. Happy New Year. It's a new beginning and a clean slate.
May joy and exuberance greet you as you bring in this darling new year. Happy New Year, sweet friend.
To a loved one I could not imagine life without. May your New Year bring you special moments and precious memories.
I wish you and your family the best possible New Year.
---
---
---
---
---
Also read
34 Life Tips that will inspire a better day
UNIQUE GIFT IDEAS
If you're looking for great presents for all budgets, we have done the work for you.
Click here for the
best birthday gifts
for friends and loved ones.
If you liked what you read, please share it. It really helps us a lot.