Happy Birthday, Sister! | 40 Cute Wishes for Her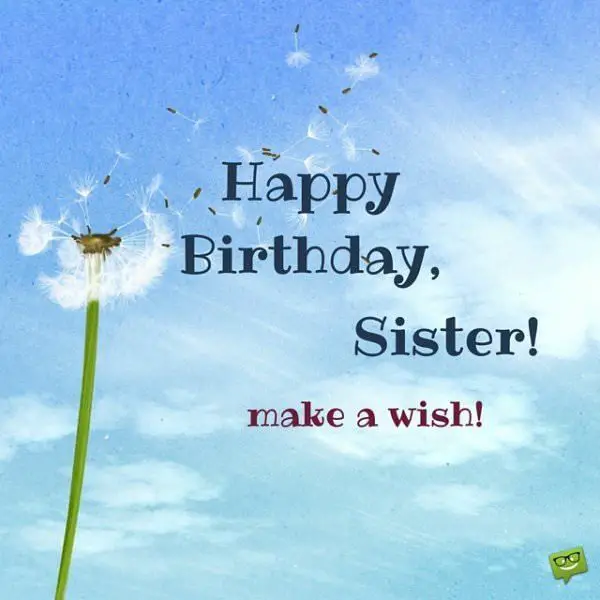 Sisters come in many shapes and sizes. But all of them are wonderful, best friends that no one can take away. The friendships we share with our sisters should always be cherished and are important to be grateful for each day. After all, it's this kind of family/friendship thing that hold us together so strong and makes us help each other in times of trouble. So, take time to wish your sister a happy birthday wish and make her feel loved on her special day – isn't she worth it?
Giving the right birthday wish is a great way to say many things: I love you, you rock, you're great, and anything else your imagination can create. So here are some birthday wish ideas that any sister will love to hear.
---
Sweet Birthday Messages for your Sister
Dear sis, they say that sisters will fight and argue and quarrel, but all I want to do on your birthday is hug and kiss and wish you the best birthday ever! I love you always. Happy birthday.
Even though we don't always get along, the friendship we share still melts my heart everyday. Thanks for being the best sister ever! Happy birthday.
I may have gotten all the guys, but you definitely got the smarts. Happy birthday, you smarty pants.
I honestly don't know which one of us is really the lucky one. You are the best sister I could ask for and more. Happy birthday.
Friends may come and go and others will walk away, but you're my only best friend that I want to forever stay. Happy birthday, sis.
When you find Mr. Right tell him I get visiting rights for all the shopping, hugging, and story telling we still have to do. Love you, sis. Happy birthday.
Although cake is good, it's better with icing on it. You're the icing to my cake and my best friend. Happy birthday.
Thanks for being my bestie and trying to understand me. I'm still working on understanding you, but hey, we'll get there. Happy birthday, sis!
Even though we have our parents to thank for making us sisters, I think we became best friends all on our own. And I never want that to change. Happy birthday, sis.
No one gives hugs like you. Here's a big hug for you to say happy birthday. Love you, sis!
You're the coffee to my mornings and the joy in my life. I love you, sister. Happy birthday.
To the only person in my life that can make me laugh when I want to cry. Thanks for everything, sis. You're the best. Happy Birthday.
If we needed nicknames and were swimming in the ocean, I would call you a starfish because you're a star! Happy Birthday, Sis!
To someone who has always seen the best in me, even when there was little of it to find. Thanks, sis. Happy Birthday.
Having a sister is like having a beautiful flower from the same magical garden. I love you, sis. Happy Birthday.
I know it's your birthday, but today has always been just as special for me because it is the day my favorite friend was born. Happy Birthday, Sis!
To the most beautiful, genuine, loving and adorable person I know. Happy Birthday, Sister!
Don't worry, sis, I've always had your back and always will. So when the birthday fairy came around I got rid of her quick. You're welcome and Happy Birthday.
You make me smile when I think about our relationship- and then I always laugh because of the fact that there is nothing we can do to change it. Hilarious, right? Happy Birthday, Sis.
Did I tell you that you're my favorite sister? Well, you are, but just don't tell anyone else- we might get attacked by the others. Happy Birthday.
Dear sister, I was going to wish you a great birthday, but then I thought it might be depressing to celebrate how old you're getting. So have a great day and do something you'll remember forever- because you never know how long forever will be.
Hey, sis! Guess what: it's your birthday! I finally remembered, but don't ask me how old you are. Ain't nobody got time for that kind of math!
---
Let me say Happy Birthday before I say anything else. Because now I need to wish you good luck- you're going to need it if you want to be as awesome as me!
I know this day won't be as perfect as you are, but I hope it comes close. Happy Birthday, Sis. I love you with all my heart.
I'm really glad you are my sister, since I doubt anyone else could put up with you. Happy Birthday. Love, your amazing sister.
Hey you hot, amazing, wonderful human being. Happy Birthday to you! Xoxo from your sister, who adores you.
Even though you are not my only sister, I love you like no one else. Thanks for being so amazing. P.S. Shhhh… don't tell anyone I said you are my favorite.
Happy Birthday to my sister who is the biggest party animal I know-since it's your birthday I guess I will volunteer to be the designated driver. You're welcome.
Wait! You're how old!? Excuse me, I need to go see a therapist. You just reminded me how old I am. Happy Birthday.
Happy Birthday to the cutest sister ever! I love you, sister. Have a wonderful birthday.
Happy Birthday to my twin sister! Congrats on your awesomeness- you're getting really close to reaching mine.
Sister, may this day be the best one you have ever had. I wish I could be there- but you're amazing all by yourself so I'm sure you'll be fine. Happy Birthday. Xoxo
Hey, sis, just wanted to wish a very Happy Birthday to our parent's second favorite child. Congrats on being runner up.
Your friendship means the world to me… and more. I miss you lots, sister. Have a great birthday!
---
Birthday Images for your sister!
Tap on the image for the share buttons to appear, or tap longer for the save option to be enabled.
Then share your favorite image on your sister's timeline, or email her with the image as an attachment. Visualize your wishes. It's fun!
---
---
---
---
---
---
---
---
---
You will also find inspiration in the following articles:
Sisters are Forever : Birthday Wishes for your Sister
Click here for our best
birthday wishes
.