Happy Birthday, Mom!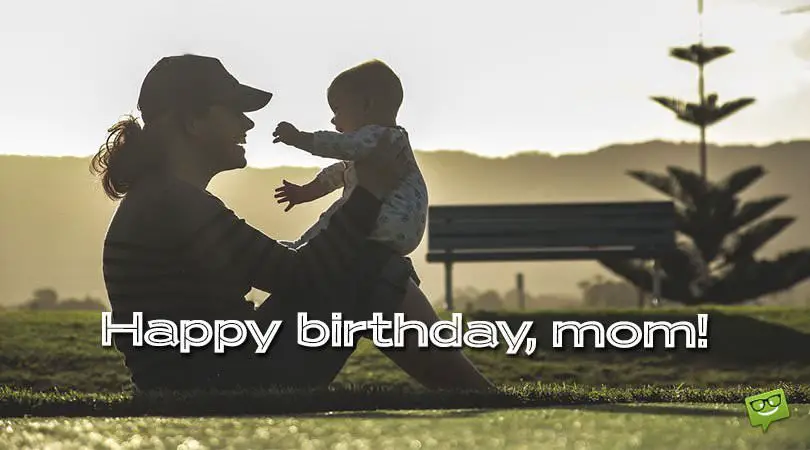 Our mothers are usually the most important people in our lives. They shelter us, give us our very first and most precious lessons, and build the foundations within us that make us the people we grow up to be. On their birthdays they deserve to be told how much we owe them, and how much we intend to repay them for their care and love.
Here we have made a list of some of our favorite birthday wish ideas suitable for your mother on her wonderful birthday. We hope you can find inspiration for your own message from this collection of examples.
---
Sweet Birthday Wishes for Mom
Mom, when I think about all the most important people in my life, your face is always the first to appear in my mind. I will love you forever. From the luckiest son in the world, Happy Birthday.
It's only fair to all the other moms that we don't have an annual mom of the year competition. Things like that get old quickly when the same person wins every year. Happy Birthday to the world's reigning champion!
Dad's always saying how lucky he was to have found you and make you his wife. I feel the same way. I consider myself the luckiest person in the world to have been born with the greatest mom anyone could have ever dreamed of. Happy Birthday.
You've made sure we have all been sheltered, fed, bathed and clothed for all these years. We thought today we would return the favor. Sit back, relax, and prepare yourself to be thoroughly unimpressed with our pathetic attempts to do half as good a job as you. Happy Birthday, mom, from the best looked after family on the planet.
For making all of my childhood birthdays so beautiful, I owe you everything and more! Happy Birthday, mom! I love you more than I love your cakes, and that's saying something!
My mind is full of wonderful childhood memories thanks to you, mom. You were the pillar of stability and care for me for so many years, If today you have but an ounce of the joy I was privileged to have growing up, it will be a beautiful day for you! Which is only what you truly deserve. Happy Birthday!
Even if we don't get on for most of the year, mom, your birthday is still one of my favorite days, simply because I get to turn everything around and show you how much I really love you. Happy Birthday!
If I even feel down about my luck and sorry for myself, all I have to do is remember that I have you for a mother, and I quickly realize I am the luckiest person alive. Happy Birthday!
If all the mothers in the world were as good as you, the planet would be full of perfectly balanced people that were decent in every way. Then how would I stand out? Thankfully, you are a particularly rare breed! Happy Birthday, mom! From your loving daughter.
I've always felt like we were more like sisters than just mother and daughter. I hope when I have my children I can be half as good a mother as you have been to me – as just that would make me one of the best of all time! Happy Birthday, mom!
---
Funny Birthday Messages for Mom
It's about time you reached this age, now that you've grown out of flowers and chocolates, we can get you a real present that actually has some punch. You said you did some horse riding before, right? Happy Birthday!
For such a young mom you've always had such a wise head on your beautiful young shoulders. It's a shame that also means you know how to keep such close tabs on me using Facebook. Happy Birthday!
This time next year you'll be a Grandma! If that worries you in any way, just look at the bright side: in about 15 years time it will mean twice as many presents every year! Happy Birthday! #Longgame
Does this message count as a gift? If not, I'm going to need a list. Happy Birthday from your outstandingly lazy son! You only have yourself to blame!
Time to tell you the truth, mom, you don't make the best cookies in the world. But you do give the best: hugs, kisses, head scratches, back rubs, care when I'm ill, support when I'm down and home to come back to. Your Sunday roast isn't bad either. Happy Birthday!
You're the most beautiful, graceful and wonderful woman in the world. Dad was blessed to have met you, and your children all know we owe you everything. A day does not go by that I don't appreciate everything you have done for us. Still working on that will, right? Happy Birthday!
Just like you are not supposed not have a favorite child, we are not supposed to have a favorite parent. But just between you and me, let's just say dad gets a lower birthday budget every year. Happy Birthday, Mom! From your secret favorite of the litter.
While all the other kids were allowed out to play, you made sure I was home safe, fed and studying. It's your fault that I'm now the smartest of all my friends. Happy Birthday, mother! From your arrogant and grateful son!
---
Short Birthday Greetings for Mom
I didn't just remember, I made sure this day was free just so I could spend it with you. Happy Birthday!
Back in school, all my friends were jealous of my packed lunches, it's because of you I grew up loving food! Happy Birthday, mom!
Happy Birthday! From your son who is never too busy to drop everything for his No.1 lady.
I believe I have the greatest mother in the world. Those that don't agree just don't know any better. Happy Birthday, mom!
We made you a cake this year, don't expect it to be anywhere near as good as the ones that you make! Happy Birthday!
Sending this early to make up for the late one last year. Happy Birthday, mom!
---
---
---
---
---
Watch and Share this video with your Mom
---
You may also like:
Best Mom in the World : Birthday Wishes for your Mother
Funny Birthday Wishes for your Family and Friends
Get more unique birthday wishes!
Click here for our best
birthday wishes
.
If you liked what you read, please share it. It really helps us a lot.