Birthday Wishes in Difficult Circumstances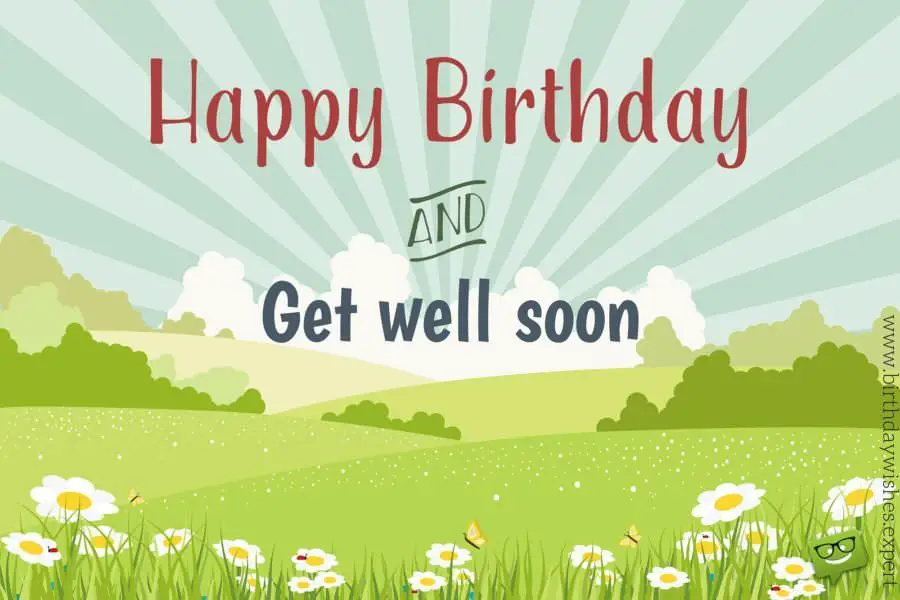 Celebrating a birthday during a challenging or difficult situation comes with mixed emotions and feelings. In fact, often, the celebrant may prefer to be silent throughout that day and may want to shut down any means of communication with people around, including loved ones.
Thoughtfully crafting a soothing and heart-touching birthday wishes in difficult circumstances can help melt a heavy heart, comfort the hurting, and encourage the discouraged.
And, you don't have to rack your brain to come up with the most suitable birthday wishes and messages for the challenge that the celebrant is going through. Our collection of birthday wishes for the bereaved, ill, divorced or someone who recently became unemployed can be your great source of inspiration to come up with unique wordings and messages.
---
Birthday Wishes to a Sick Celebrant
Wishes you can send to someone who prefers not to celebrate his/her birthday due to illness.
Being alive to celebrate another birthday regardless of your illness is something to be thankful for. "Where there is life, there is hope". Wishing you a happy birthday and quick recovery. Have a swell time.
My special prayer for you on your birthday is that God will heal you and grant you quick recovery. Get well soon. Happy birthday.
Happy birthday! Happy new day! Happy new you! This birthday will mark the end of ill-health in your life and usher in a new you, in health and in wealth.
As you pick courage to blow off those candles on your birthday cake, you are blowing off every flame of sickness in your life. Happy birthday and happy recovery.
We stand by you in good times and in bad times, which is why we are sending our best birthday wishes today and the quickest recovery wishes.
"A living dog is better than a dead lion." Your birthday today is a sign of hope for you. Get well soon, dear.
Your birthday is a celebration of life. Get well soon.
Birthday Wishes to Someone Who Lost a Job
Wishes for someone who recently became unemployed
It's your birthday, it's your great day. Rise up above your job loss situation and celebrate the gift of life that you have. Every other thing will surely fall in place for you. Happy Birthday!
The lost of a job is an indication of a better opportunity elsewhere! Don't indulge in self-pity and moody countenance because a better opportunity awaits you out there. Enjoy your birthday today and boost up your energy to explore that greater opportunity waiting for you!
I feel sorry for your job loss. But, don't get all worked up, it's time to become your own boss! Happy birthday.
I celebrate with you on this special day and would want you to know that the lost of a job is the beginning of a new and better opportunity. Go out there and explore it. Happy birthday.
Happy birthday dear! Don't sit back and moan about your job loss, enjoy your day to the fullest and wake up with fresh ideas that will make you become your own boss.
You should see your job loss as a blessing in disguise – a greater opportunity to explore the real financial growth that has been knocking at your door. So, go ahead and enjoy your birthday to the fullest.
When you company or boss fires you, they are indirectly telling you it's time for you to become an employer and not an employee. So, enjoy your birthday without stress as you get ready to become your own boss.
Losing a job in times like this can feel like the end of life. But, you should look at the brighter side of life as you celebrate your birthday today.
When a silver door shuts you out, a golden one opens for you; that is how you should see your job loss as you mark another beautiful birthday today. Happy birthday.
Birthday Wishes to a Bereaved One
Wishes for someone who's mourning after a loss
It's hard to laugh when the heart is hurting. But, you should rise above your situation, in hope that your loved one is in a better place. Let go of your sorrow as you celebrate your birthday today.
I wish you a happy birthday and deeply condole with you on your loss. The comfort from above will wash away your sorrow and replace your mourning with dancing.
We know how deeply it hurts to lose a loved one, which is why you would rather prefer to keep a sorrowful mood today. But, remember, 'a merry heart does good like medicine'. So, get out there and catch fun and enjoy your day to the fullest. It will help relieve your sorrow. Happy birthday.
We rejoice with you on your birthday and sincerely send our condolence for your loss.
Take heart on your loss as you celebrate your birthday in hope that you will see your loved one again someday. Happy birthday.
"Do not sorrow like those who do not have hope." Put on your dancing shoes and dance away your sorrow – it's your birthday today!
Birthday Wishes to Someone Who is Divorced
Separating permanently from your life companion might be hard, but life has its pace
I know what you're going through right now, having separated from your spouse. But it's not the end of life. Your birthday spells hope for you. So, enjoy your day to the fullest.
Don't let your present predicament deprive you of the joy of witnessing another birthday. Be merry and have a swell time.
Sometimes, life does not turn out the way we wanted. But, the gift of life and another birthday shows that something good is on the way. So, don't give up! Happy birthday.
When a partner leaves, it feels like a part of one's life has departed. You should rise above this situation as you celebrate another birthday today. All hope is not lost, dear! Happy birthday.
Give yourself a great treat today. It will help relieve you of the hurt you're feeling right now. And, always remember we are here for you. Happy birthday day.
---
---
---
You may also like:

200 Happy Birthday Wishes that will Help you Find the Right Words
200+ Great Birthday Images for Free Download & Sharing
Get more unique birthday wishes!
UNIQUE GIFT IDEAS
If you're looking for great presents for all budgets, we have done the work for you.
Click here for the
best birthday gifts
for friends and loved ones.
If you liked what you read, please share it. It really helps us a lot.