Birthday Wishes for Your Sister-In-law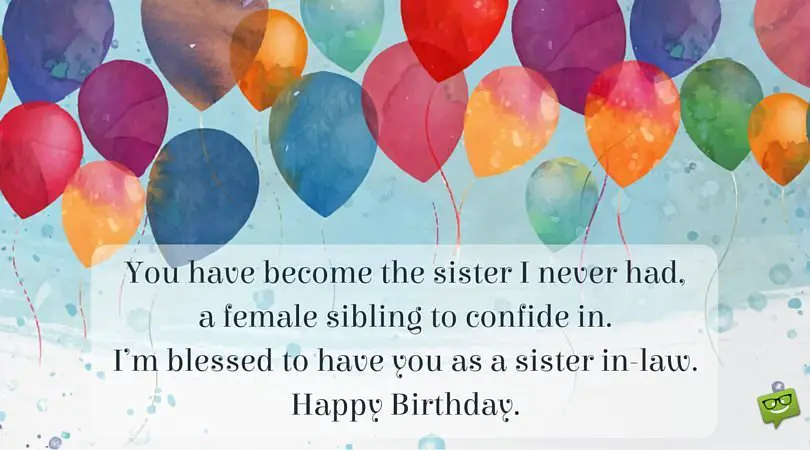 Looking for special and unique wordings to convey your birthday wishes to a sister-in-law? You are on the right webpage to get inspiration for the best, cute, funny and even semi-formal birthday wishes for your sister-in-law. Whether she's your brother's wife, husband's sister, or your wife's sister, show her how much she means to the family by crafting heart-touching and breathtaking wishes on her birthday. The good news is that you don't have to crack your brain thinking of how to put the wishes together. You can take advantage of our rich resource for varieties of birthday wishes for a sister in-law, including heart-felt poems.
Make her feel at home as part of the family by sending her remarkable birthday wishes. Good words are like precious ornaments that are cherished for life, especially when you craft them and send to someone special on a special day like birthday.
---
Cute Birthday Wishes for your Sister-in-law

Sisters are Forever! You are not just my sister-in-law; you have become my sister right from the day you said 'I do' to my brother. You are my sister forever! Happy birthday.
I've longed for a perfect timing to tell you how much your humility to my brother has inspired me to become a humble wife to my husband. Thank you for being an exemplary sister-in-law. Happy birthday.
Thanks for allowing our brother to still bond with us. Your self-less gesture is worth commending on a special day like this. Best birthday wishes.
My brother is so lucky to have you as a wife. I pray each day that I will be as lucky to marry a woman just like you. You are a great blessing to our family. Have a fun-filled birthday.
If there is marriage after this life, I will recommend you again to my brother. That's to tell you how special you are to him and the entire family. Happy birthday, dear sister-in-law.
To your husband, you are a virtuous woman; to your mother in-law, you are a gracious mother; as for me, you are a precious gift to our family. Have a swell birthday.
I thought my wife is the most wonderful woman in the world until you came to live with us. I can say that goodness runs in your family, it's also evident in your good conduct. Happy birthday, dear sister-in-law.
The report I've always had about sister-in-laws is negative. But, you are a sister-in-law with a difference. I celebrate you on this special day. HBD.
You have become the sister I never had, a female sibling to confide in. I'm blessed to have you as a sister-in-law. Happy Birthday.
I frowned when my brother announced he's getting married, that's because I concluded that someone is coming to take my place as his 'one and only' girl. But, I was wrong! You encouraged my brother to keep up the loving bond he had with me, and was never jealous to have me share your husband with you. Happy birthday, sister-in-law.
I'm glad to announce to the whole world that today is my sister-in-law's birthday. Five hearty cheers to a loving sister-in-law on her birthday!!!!!
Do you still have a female sibling? I would also want to marry from your family. But, that's if only she's as loving and cute as you are! Happy birthday, sweet sister-in-law.
---
Funny Birthday Wishes for your Sister-in-law

I was mom's only pet until you showed up in our family as my sister-in-law. Frankly, I get so jealous when mom uses the same pet name for me to address you… But, what can I do? I've learnt to accept it that way. At least, I'm still dad's best pet. Best wishes on your birthday.
I have a confession to make on this special day; I only pretended to be ill last week because I was getting very jealous of how you pamper my brother. My trick worked! You also pampered me with my favorite dish and exempted me from house chores. But hey, next time I say I'm ill, don't think it's a trick… please bring on the pampering again! Happy birthday to my sweet sister-in-law.
I thought of a perfect gift for you on your birthday and came up with just one idea. Guess what it is? The biggest cooking pot! You make the best applesauce and I want more quantity of it each time you make it. Many happy returns on your birthday, dear sis in-law.
Let's make a deal on your special day; keep being a sweet sister-in-law and I won't stop being a sweet brother in-law. Happy birthday and many happy returns.
---
Happy Birthday Poem for a Sister-in-law
Although not siblings by birth
You have become a sibling in my heart
Although not sisters by default
You have become a sister I can rarely fault
Thank you for marrying my brother willingly
You have become a favorite to our family
Happy birthday to a loving sister-in-law.
Your husband calls you my love, because you're his truelove
The mother fondly calls you the dove, because you're a peacemaker
The father simply hails you the gov, because you govern the home judiciously
For the rest of the family, you are the beloved, because you are dearly loved by all
Happy birthday to a darling sister-in-law!
Semi-Formal Birthday Wishes for your Sister-in-law

Happy birthday, sister-in-law. Best wishes on your birthday
May your day be filled with joy, love and fun. Have a fulfilled birthday celebration.
As you mark another birthday today, so you will mark many more birthdays ahead. Happy birthday and a blessed celebration to a dear sister-in-law.
May your home be filled with love, joy and blessing. Happy birthday, sister-in-law.
There's no better way to appreciate you for being a blessing to the family than to stand by you on your special occasion. Happy birthday to our loving sister in-law.
---
Find more inspiration! Click on the following links.
Sisters are Forever | Birthday Wishes for your Sister
A Funny Birthday Wishes Collection to Inspire the Perfect Birthday Greeting
Happy Birthday Images that Makes an Impression!
Click here for our best
birthday wishes
.
If you liked what you read, please share it. It really helps us a lot.