30 Birthday Wishes eCards to Share, Post and Pin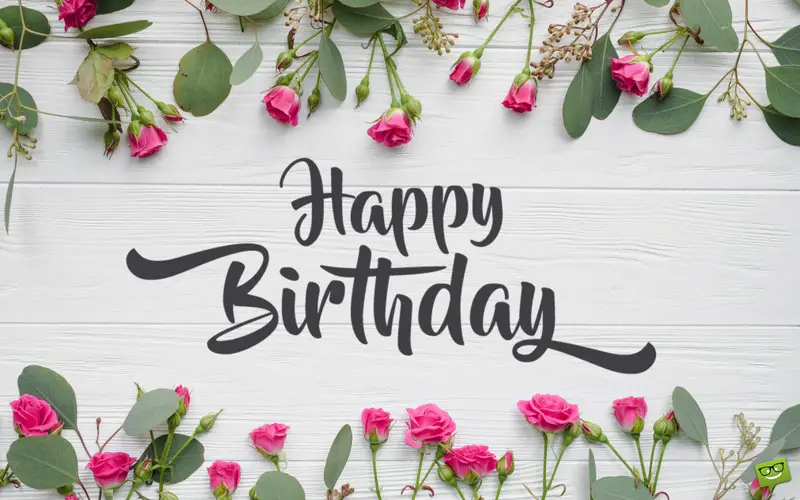 We share with you some beautiful Cards to share on your friends' timeline on their birthday to wish them Happy Birthday! There is a variety of them, with the floral pattern more prominent though. Some are more specific like the ones to wish Happy Birthday to you mother of grandma but the majority is more generic and can be used in a wide range of situations. All of these images are ready to use in most of the Social Media Platforms. choose the portrait orientation for Pinterest and Tumblr, the Landscape usually fits better on Facebook and WeHeartit.com, the square is ideal for Instagram.
Hope you will find something you like. And if you did, please share this page. It really helps us a lot 🙂
---
Sweet Birthday Wishes
Happy Birthday! To the kindest-hearted person in the world! Thank you for making us all feel so lucky to have you in our lives!
You've taught me as well as so many others how to live life to the fullest and how to avoid making silly mistakes. I only hope, by letting you know how much we all appreciate your strength, you can understand how much we care. Happy Birthday!
For one of the most impressive people alive no gift is too expensive, and no gesture is too much to handle. So many of my best traits are rooted in your influence. I could not have wished for a better role model. Happy Birthday!
Some people are just blessed with looks, character, drive and charisma. These people all tend to make others cling to them, and lavish them with our affection. Many try to develop these traits for the attention it brings, but for some very lucky few, nature has simply been kind. Happy Birthday, to you – one of the very lucky few!
Others throw elaborate parties, and have wild nights out. You play it smart and have elegant nights in. I have always admired the choices you make and hope you get all the wonderful things you deserve for your special day! Happy Birthday!
When they made you at the person factory they must have decided to turn all of the dials up and really see what beauty the machines could produce! Happy Birthday, gorgeous!
Not ready to be your age yet? Don't worry, I felt the same. I got over it by hanging out with loads of older people until I realized I was still young enough to enjoy the company of folks like you! Happy Birthday, from your biggest (older) fan!
Scroll down for even more sweet birthday messages!
---
---
---
Sweet Birthday Wishes [continued]
Everyone needs someone like you in their lives; someone that can light up every room, give life to any party and remain on everybody's side. For these reasons your birthday will be filled with elaborate and heartfelt messages from all your admirers. Enjoy it! You deserve it! Happy Birthday!
If you were a star in the sky, you would be one of those that guides everyone to a safe and recognizable place. Solid and reliable. Bright and beautiful. Reassuring and absolute. I would trust you and follow you anywhere. Happy Birthday!
Transparency and the ability to be genuine are two of the most admirable traits a person can have. You have both and everyone adores you for it! Don't ever let anyone tell you otherwise! Happy Birthday!
It's not every day that a character like you comes swooping into someone's life… which is why you will be treasured like a gem by everyone you meet. Happy Birthday!
They say opposites attract! I'm plain looking, boring, I lack humor and have a clumsy, uncomposed form. But I find you incredibly attractive, what does that say about you? Happy Birthday!
---
---
---
---
---
---
Funny Birthday Wishes
There's a time for arguing and a time for making up. Your birthday should be a time for champagne and celebrating your existence, so let's just get on with that! Happy Birthday!
Not sure I can make it this year, but will do my best. In case I can't I will leave you with this: HAPPY BIRTHDAY!!! Do everything that I likely won't be able to!
Whoops! Your birthday falls on the same day as the football. Oh well… Maybe next year! Happy Birthday!
If a friendship was measured by the gifts each friend gives to one another, ours would be off the chart for being supremely unbalanced! But that's fine by me! Happy Birthday from your overly generous friend!
Now that you're getting old I think you should think about taking it easier on your birthdays. For that reason I'm not getting you alcohol. It's nothing to do with the fact that I'm broke. Happy Birthday!
Scroll down for even more funny birthday messages!
---
---
Funny Birthday Wishes [continued]
The day you were born, the doctors must have looked upon you and thought themselves lucky to be there to greet you into the world. Only the most beautiful people in the world can have this effect. It's not something that can be seen, it is just something you can feel. You have this gift, and you better use it for good! Happy Birthday!
When someone is brave it is admirable, when someone is cute they are adorable, and when someone is scary they are feared. You are sweet, and for it everyone wants to lick you! You have yourself to blame! Happy Birthday!
You are sporty, lively, energetic and playful! Today you can do anything you want with your day. For most this would mean doing something wild and different. For you, however, wildly different to your usual lifestyle would be sitting on the couch and enjoying some TV. So get to it! Happy Birthday!
I'm sure your birthday is today. If it isn't, then this is either late or early – which means I have a 50% chance of being cool. Happy Birthday! #DecentOdds.
This year when buying your gift I'm going to try and aim for 0% glamour and 100% sentiment. A big fat kiss! The best things in life are free after all! Happy Birthday!
---
---
---
Photo by Alina Sofia
---
---
---
Short Birthday Wishes
Keeping it boring and simple this year, are we? I'll see you later, and we'll see how normal you really manage to keep it! Happy Birthday!
Don't be lame! Let's go out and get up to no good like last year! Happy Birthday!
It hasn't been long since we met, but I have a feeling this won't be the last birthday wish you'll be getting from me! Happy Birthday!
Wings, cake, candles, beer. Nothing else matters. Happy Birthday!
If your life was a movie, you would be played by Leonardo, just because you're awesome! Happy Birthday!
If you were a zombie, I would struggle to shoot you. That's how much you mean to me! Happy Birthday!
Remember us little people this time next year when you are a model, actor, public figure and global star! Happy Birthday!
Everything you touch turns to gold or happiness, this should help explain why I everyone likes being hugged by you so much. Happy Birthday!
To my partner in crime! Happy Birthday! Let's take the world for everything it's worth this year!
---
Photo by Al Martin
---
---
---
Photo by Carlos Quintero
---
---
---
---
---
You may also like:
200 Happy Birthday Wishes that will Help you Find the Right Words
Get more unique birthday wishes!
Click here for our best birthday wishes.