Words of Gratitude | Thanksgiving Wishes for Friends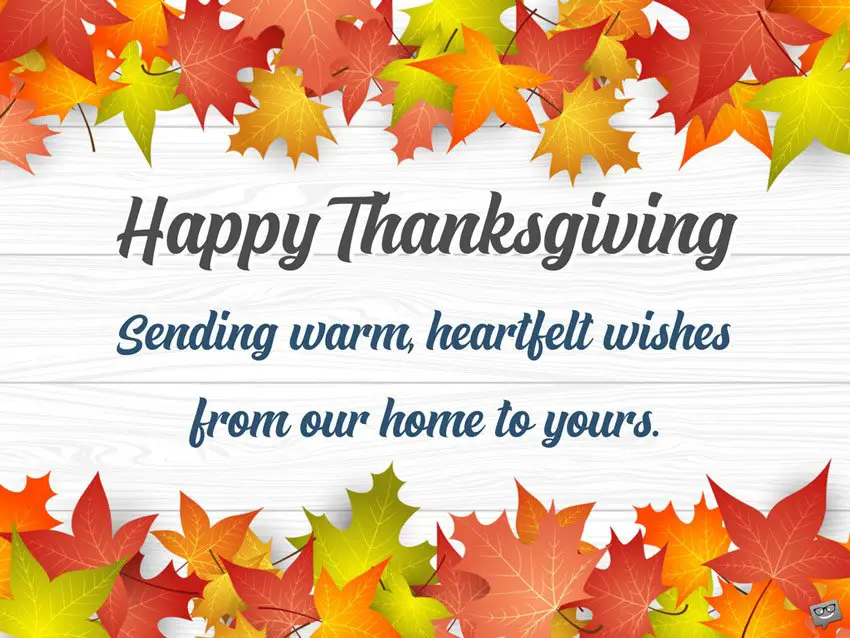 Family, food, and sometimes football. These are all the things that usually say Thanksgiving for most families. For some, though, sending a heartfelt wish to friends on this holiday can be just as important. But knowing what to say can be as hard as cooking the turkey.
Fortunately, it can be super easy by using the following as a guide to let your friends know how thankful you are for them.
---
They say that when you love all that you have, you'll realize you have everything. I'm grateful I have you.
Even though we fight sometimes, having you as a friend in my life not only makes each day more bearable, but you make every day more like a fairytale. Happy Thanksgiving to my best friend ever.
Turkey, veggies, mash potatoes, stuffing, pumpkin pie- oh my! It's all so delicious. But nothing compares to having you as my friend. Happy Thanksgiving. Hoping to share some pie with you soon.
On this Thanksgiving day, I want to do more than stuff my face with all the food. So, I'll start by saying that I am so grateful for YOU. Happy Thanksgiving, friend.
They say if you give thanks for the little things you will be given more. But with you as my best friend, I already have all I need. Happy Thanksgiving!
Dear friend, may all the best things in this life be yours today and every day. Happy Thanksgiving.
Wishing a very Happy Thanksgiving to my dear friend. May you and your family enjoy the food and company with laughter and endless joy.
Cheers to all my friends that make Thanksgiving the best day of my year- because it becomes Friendsgiving. I wouldn't want it any other way.
They say that gratitude makes you realize all the wonderful things you already have in your life. But honestly, I am already thankful for you. Happy Thanksgiving, friend.
Dear friend, may God bless you and your family on this Thanksgiving. You deserve all the wonderful things life has to offer.
I cherish all the little moments we've shared together and look forward to all the days in the future. Happy Thanksgiving, friend.
Dear friend, I'm so grateful to have you in my life. You help me see that Thanksgiving is more than just a day- it's a lifestyle. Thank you for always reminding me of this.
Happiness belongs to those who are most thankful. That's why I'm thankful to call you my friend. Happy Thanksgiving.
Dear friend, I wish you success, lots of pie, and pure laughter on this holiday and every day. Happy Thanksgiving!
May our coming days always be filled with thanks and giving. Happy Thanksgiving, dearest friend.
Dear friend, it's time to get those fat pants out. Cheers to a wonderful Thanksgiving filled with plenty of opportunity to stuff your face.
There is always something we can be thankful for- today that something is You. Happy Thanksgiving, friend. You're truly the best.
Some say that silent gratitude is no good to anyone. So, let me be clear: I'm super thankful for you, bestie. Happy Thanksgiving.
From my home to yours, friend, Happy Thanksgiving.
Dear friend, God has truly blessed us with a one of a kind friendship. And that's something to be thankful about. Happy Thanksgiving.
For someone who is rich in kindness, love, and compassion, I wish a very Happy Thanksgiving. May your day be filled with all the stuffing and good things your heart can handle.
Being thankful is an action, so today I'm acting thankful. As my friend, I give you permission to join in and take a bow with me after the meal. Cheers to us on this Thanksgiving.
Good morning, afternoon, midnight, stuff your face, grab a beer… you get the picture. Whatever your Thanksgiving looks like, friend- I hope it's spectacular. Have a great holiday.
Eat. Drink. Say thanks. What else do we need to do today? Happy Thanksgiving, friend.
As the saying goes, a heart will always find its way home on Thanksgiving. I'm grateful today that having you as my friend feels as close to home as anything. Happy Thanksgiving.
Good wine and great company is all you need for this holiday. Thanks for bringing both, dear friend. Happy Thanksgiving!
Dear friend, you better eat all that turkey. I shot it myself in the frozen food department. Enjoy it. Happy Thanksgiving.
Dear friend, today I hope my thanksgiving is as everlasting as our friendship. Happy Thanksgiving Day.
Dear friend, they say that no man has ever become poor by being thankful. So today may we both be rich and stay rich forever. Here's to more trips and midnight happy hour together- Happy Thanksgiving.
Today I am reminded that all I am and all I have has something to do with you. Thank you, friend, for always being there. Happy Thanksgiving.
Dear friend, they say Thanksgiving is supposed to be a family event. But to me you are family. Happy Thanksgiving.
I don't want to feel grateful and not share that beautiful feeling with someone. For that would be a real tragedy. So, dear friend, let me tell you that I'm thankful for you. My life would not be the same without you. Happy Thanksgiving.
Blessed. Given many opportunities to laugh till you cry. Great food. Good company. Lots of pie. Happiness that fills your whole heart. These are all the things I wish you, friend. Happy Thanksgiving.
To my friend: no matter what our culture is, American or not, this day is always a good reason to say how much you mean to me. Happy Thanksgiving.
Today I am very happy for the friends in my life and that includes you! Happy Thanksgiving, friend.
Some say that nothing is better than a grateful heart. While that's true, and I'm grateful, I think great friends and amazing food comes in at a close second. Cheers to all of the above. Happy Thanksgiving and may we spend many more together.
---
You may also like:
Thanksgiving Messages for your Parents
65 Famous Thanksgiving Quotes for a Day of Gratitude
Good Morning and Happy Thanksgiving!
Click here for our best
birthday wishes
.
If you liked what you read, please share it. It really helps us a lot.