The Best Wishes for your Special Guy | Happy Birthday, Son!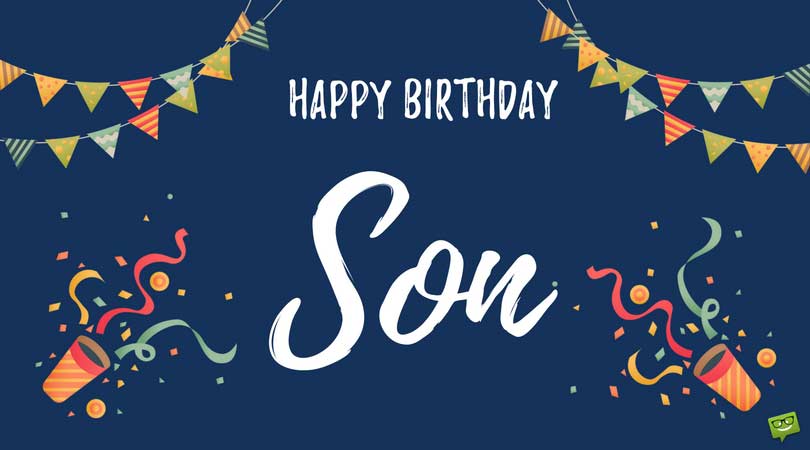 A happy birthday celebration always starts with wonderful and beautiful wishes.
If your son's birthday is close at hand and you are looking for inspiration to express your love and care for him, you might want to browse through our earnest and deeply felt birthday wishes from proud parents to sons below. In addition to the heartfelt messages, we also have in store a big dose of laughter for your son with our funny wishes that never disappoint.
---
Funny Birthday Wishes for your Son

Happy birthday to you, son. Counting more years and less hair on your head. Have a great day ahead.
On your Big Day, son, it is my wish that you grow taller and wiser than me. Have a terrific birthday.
I didn't forget your birthday this year thanks to my good friend called Facebook. Have a wonderful day.
I am still searching for a cake big enough to hold all your candles, son. But meanwhile, I wish you a ridiculously fabulous happy birthday, handsome.
Don't worry about getting old, we will always treat you like a toddler to feel younger. Happy birthday.
Now that you are demanding not to be treated like a toddler, I hope you know the responsibilities of adults around the house. Happy birthday.
Today is your birthday son, and come what may, you shall support wildlife by having a super wild party.
Happy Birthday, Son! | Inspirational Birthday Messages For Him

Son, you might not have reached there yet, but I know that you are definitely going to get there and make it big! I'll be right behind all the way. Happy birthday!

One of the shortest things in the universe is life, so don't wait until tomorrow to live it. Start living it right now! Happy anniversary.

I'm so proud to be the mother/father of a son who is more radiant than a million suns. Never stop shinning, my dear. Happy birthday.

Your God-given gifts are extraordinary, and they are going to take you to great places in life. Happy birthday, son.

If you want success, you should never give up chasing your dreams. No matter how far they run, if you give them a good chase, you'll definitely catch them. I wish you the best of luck in the pursuit of those beautiful dreams. Happy birthday.

If you never stop thinking positive, amazing things will never stop happening in your life. Happy birthday.

As you celebrate this great day of yours, know that it is not just another anniversary, but another opportunity to bring all your dreams into reality. Happy birthday.
There's something inside you that wants you to soar above the sky. Don't shut down that thing. Nourish and nurture it and the sky shall be your starting point. Happy birthday.

Good things come to people who wait. However, extraordinary things come to people who chase after what they want. Happy anniversary.

You are undeniably a wonderful person, who will achieve great things in life. I'm so proud of you. Happy birthday!

Son, on your birthday, I want you to know that you can reach mesmerizing heights if you give life your best shot. You are a truly outstanding son who never stops leaving me amazed. Have a great day!

I might not be a fortune teller, but I know that your breakthrough is on the horizon. No matter how difficult the situation may get, don't ever give in, for your success is at hand! Happy birthday, my beloved son.

As you journey through life, never ever be afraid of challenges because they are part and parcel of any road that leads to success. I wish you great luck and God's guidance on all your exciting endeavors in life. Happy birthday.

Happy birthday, dearest son. I hope this day will give you the inspiration and strength needed to transform everything negative that rears its head in your life into something positive. May this day inspire you to give life your best shot.

The higher the mountains in your path to success are, the grander your victories become. Always remember that. Happy birthday, son.

Never lose faith in yourself, son, because you are a star that is destined to shine until the end of time. I believe in you. Happy birthday.

With every passing day, you make me prouder to be your father/mother. Keep being positive, my dear, for a glorious life awaits you. I hope your anniversary is absolutely magical.

The more challenging your road to success is, the more magnificent your success becomes. Never be afraid to encounter challenges. Believe you can overcome them and you surely will. Happy birthday.
Birthday Greetings From Mom to Son

There are only few of your kind in this universe. You make motherhood such a blessing. Happy birthday to my most priceless blessing, you my son.
Every great son deserves to be celebrated on the day he was born. Your birth was the beginning of happiness in my life as a mother. Happy birthday!
Your presence is what livens up my life, son. Thank you for filling my life with lots of adventure and fun. Happy birthday and have a great one.
You turned my life around the moment you arrived into it. I can't wait for another incredible year with you. Happy birthday to my lovely son.
Raising a son like you has been the most beautiful thing in my life. My love for you is endless. Happy birthday, my prince. You will always be my world.
Today is my favorite of all the days of the year because I get to celebrate a champion of a son. Enjoy every bit of your day. Happy birthday.
I always wanted to be an example to you, son. Little did I know that you would one day become an example to me. Happy birthday.
It has been a wonderful experience mothering an adorable son like you. Thank you for being such an amazing blessing to me. Happy birthday.
The joy and happiness surrounding my life is all because of one person, my son. Happy birthday, my angel.
Happy birthday to my hero. Know that I am your number one fan, and I can't wait to see all your dreams come true. Wishing you a great year ahead. Happy birthday.
Birthday Wishes From Dad to Son

I may have been very harsh on you sometimes but it was all in the bid to make you the great son you have become. Wishing you success in all your pursuits in life. Happy birthday!
Thank you for being a constant reminder of how beautiful life is. You are the reason I smile every day. Happy birthday to my handsome son.
To be a father isn't an easy task, but thanks to you, the process was a breeze. You are a special kind of a son, and I shall forever remain proud of you. Happy birthday.
I always dreamed of becoming a good father, and now I'm even a better one. Thank you for bringing the best out f me. Happy birthday!
Here is to success and fruitfulness in life. A true star was born today. Never stop shining : Happy birthday.
Thank you for giving me the chance to experience fatherhood. Wishing you all the good fortunes you deserve in life. Happy birthday to you, dear son.
You are every father's dream, a son so charming, caring and captivating. You will forever remain my favorite boy. Happy birthday.
The best part of fathering an angel like you is that I always see a part of me in you. You are my pride. Happy birthday.
I promise to do everything possible to make your birthday a happy one because that is what you did with your very first cry. Happy birthday!
Nothing can compare to the love I have for you. Everyday should be a special day for a son as priceless as you. I will love you till the day that I die. Happy birthday.
Son, I may have taught you a lot of lessons in life, but you also taught me how to become a better person in life. Thank you. Happy birthday!
Birthday Messages From Both Parents to Son

Because of you, we are the best parents in the world. Here is to a year of more happiness in our lives. Happy birthday, son.
As you celebrate your new age, we want to thank you for making our lives colorful. Happy birthday!
Do you believe in miracles? You are a perfect example of a miracle that happened to our lives. Wishing you more years of success, happiness and preparing. Happy birthday.
We have never stopped thanking our stars for coming into our world. You are the reason life so meaningful. Happy birthday sweet heart.
We will never grow tired of loving you son, no matter what. All we ever want from you is to continue being who you are. Happy birthday to you.
If all children were like you, this world would be full of happy parents. You are our bundle of joy. Thank you for making us the happiest parents on this planet. Happy birthday.
Just like the candles on your cake glow, so will our love for you forever glow. There is no limit to the love we have for you – always remember that. Happy birthday to a special son.
Sons like you make parenthood an honorable calling. To us, you are a treasure that can never be bought with all the wealth in the universe. Happy birthday.
The most precious thing in our lives is you, son. And you shall forever be. Enjoy your Big Day to the max with the knowledge that we shall forever love and cherish you.
Congratulations on your birthday, son. May the good Lord help you to fulfill all the desires of your heart and fill your heart with immense happiness all the days of your beautiful life. Happy birthday.
The most beautiful part of our union is having an angel who brings light into our world. Happy birthday, handsome.
---
You may also like:
Why these Parents are Proud | Birthday Wishes for your Son
Top 40 Birthday Wishes for Teenagers
Good Morning Quotes for your Son and Daughter | Thinking of my Kids
Cracking a Birthday Joke | Huge List of Funny Birthday Messages and Wishes
Click here for our best
birthday wishes
.
If you liked what you read, please share it. It really helps us a lot.