Whether you are the giver or the receiver, this holiday season is a time of love, joy and peace; it's a time for the warmest Christmas wishes to friends and family. Then again, although this is usually a time for fun and partying, it can also be a time for introspection or meditation, a moment to truly appreciate what we have in life.
Below are some inspirational Christmas messages, as well as inspiring quotes that you can give to someone to encourage them to have a more positive outlook on life this Yuletide season and thus improve their overall holiday experience.
Best Inspirational Christmas Messages for the Holiday Season
Whether you're planning to celebrate Christmas together or you're just looking for the right Christmas card message, we have compiled the most inspirational Christmas messages to make your loved ones' spirits bright. Wish them a Merry Christmas with these heartfelt phrases!
I know this year you will experience your best Christmas ever, and I hope that you are prepared for that! Merry Xmas.
Christmas is like life. It's going to give you back what you put in. So I hope this year you are bringing all the joy to Christmas that it deserves!
In my eyes, every aspect of your life is perfect. Merry Christmas and Happy New Year.
Your friendship has sown the seed of a Christmas tree in my heart, and I am eagerly anticipating spending Christmas Eve and the holidays with you.
Merry Christmas filled with love and hope, my dear! Forget about all your problems and celebrate this lovely Christmas with family and friends to the fullest.
Even Santa has to work to enjoy Christmas, so you shouldn't expect to enjoy the holiday if you're not going to put anything into it. Happy Christmas.
You have a very bright future ahead of you. May the festive season bring hope and remind you to never give up on your dreams. Merry Christmas!
No matter what you have planned this season, how great or how small, I wish your Christmas to be a thousand times more spectacular! Have a wonderful Christmas!
This Christmas season I hope you are able to do something charitable for the less fortunate as that alone will automatically make your holiday into a more joyous one!
Even if things don't go as planned this Christmas, I implore you to keep a positive outlook, and I'm confident that by the turn of the New Year you will feel a lot better. And by the way, I'm going to make it my personal mission to ensure you enjoy the holidays, whether you want to or not!
Spending this holiday without you would be like having a Christmas tree without lights because you are the main source of my fun, smiles and laughs.
This Christmas, I want you to go out and buy a gift for the one person you're angry at the most. If that doesn't make this holiday more cheerful, I don't know what will.
Even if you don't have all the resources you feel you need on Christmas, I am confident the spirit inside of you will still bring unspeakable joy to those whose lives you touch.
Never give up, for you're going to live a happy and successful life. I promise you this. Merry Christmas.
This Yuletide, I hope you are reminded of the true essence of this holiday, that you may receive gifts more valuable to your soul than to your body. Merry Christmas.
May your spirit soar to even greater altitudes than Santa's sleigh. May this Christmas fill your heart with joy and love!
This Christmas is not only about the here and now. You are also sowing seeds for Christmases in the future – Christmases you may not be present for but are still influencing by the selflessness you show people today.
I know that Santa has a nice present for you, and what I mean by that is the universe knows that you've been nice, and that is why this festive season you will receive a just reward even if it doesn't come in a way you would expect.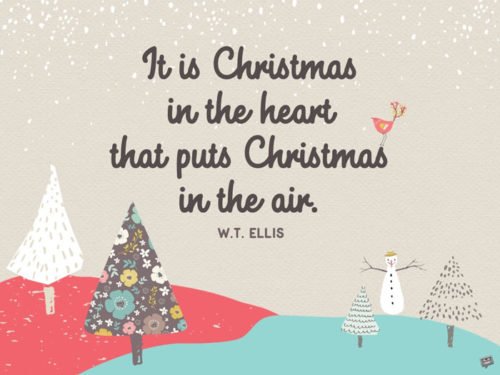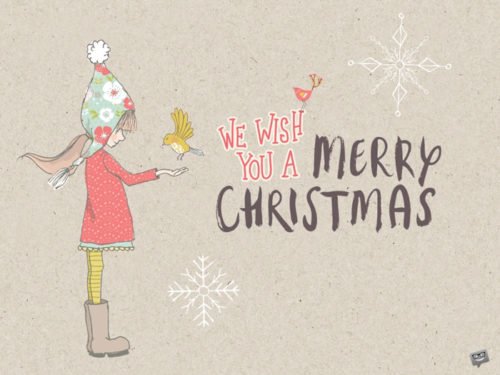 This is going to be a magical Christmas – one where all the goodness you give out will be delivered right back to you.
To enjoy true happiness all you need is a grateful heart. Merry Christmas.
Even if you are alone on Christmas Day, even if no one stops by or calls, remember that Jesus, whom this very holiday is fashioned after, cares for you – and also that I'm just a phone call away.
This holiday, if you find yourself searching unsatisfactorily for the Christmas spirit, just look within yourself, as you are one of the friendliest people I know. Merry Christmas!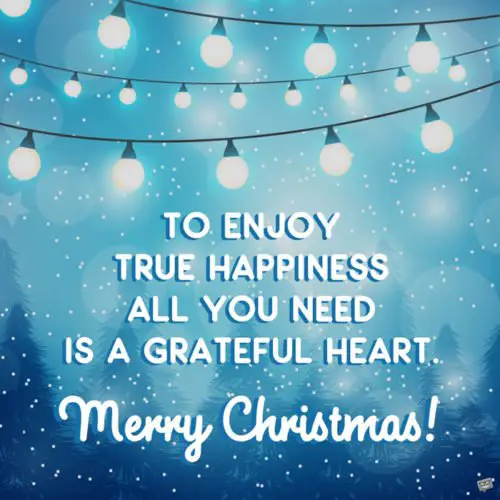 My personal philosophy is to celebrate each Christmas like it's your last because the harsh reality is none of us has been promised another one.
This year, I hope your mind is intoxicated with the lights of Christmas and the laughter of children enjoying the holiday with their families.
Today I want to challenge you to smile to everyone you deem appropriate, no matter how you may feel on the inside, and afterwards report back to me with the results, which I anticipate will be nothing but joyous ones. Merry Christmas!
This Yuletide season, no matter what gifts you receive, I pray that the value of the thought behind the sacrifice penetrates your consciousness more than its monetary price. Have a very Merry Christmas.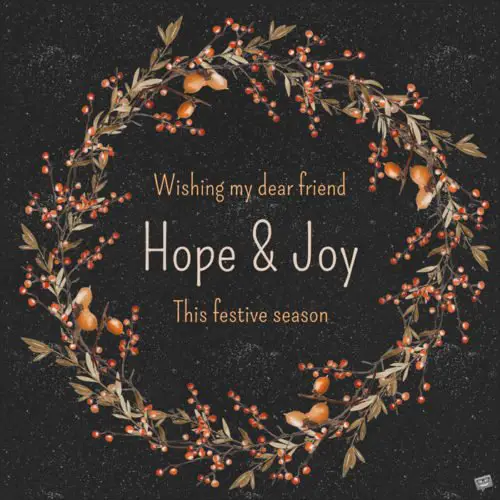 Christmas is one of the special seasons of the year where joy and happiness are mandated. However, the onus is still on you to go out and possess them. You have in you all you need to enjoy paradisaical bliss.
Even if last Christmas was not what you thought it should be, this year, we are faced with a fresh opportunity to not only receive but also give merriment. Happy Christmas.
This beautiful Christmas is about you because you're special. All I want you to do is focus on making yourself happy so that even if the world doesn't give you your just due, you will still have a merry Christmas!
This is a truly magnificent Christmas! I hope it inspires you to venture to new places and experiment with new experiences.
If this Christmas turns out not to be as joyful as you expected, I challenge you to be the primary source of the joy you're seeking yourself.
My dear, celebrate this joyful Yuletide season knowing that I believe in you like I believe in the spirit of Christmas.
Whatever challenges life has put at your doorstep, don't let them prevent you from making this Christmas a merry one. May this Christmas bring new ideas, positivity and true solutions.
Even if Christmas has never been one of your favorite holidays, I hope this year's will be so special that you fall in love with it.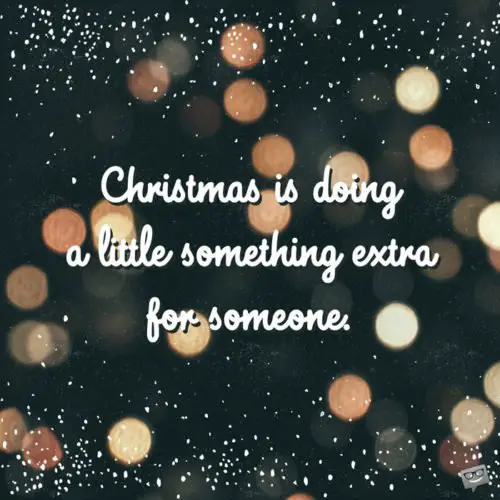 Christmas needs you just as much as you need it! Go out and make someone's holiday special, because if there's one thing anyone can use is some good old fashioned Christmas cheer!
Christmas is the time to rejoice. God bless you and your loved ones, and have a truly great Christmas.
Life is too short to worry about the problems in it. Have yourself a truly merry Christmas.
Inspirational Christmas Messages for Friends

This collection of inspirational Christmas messages that are perfect for sending to your friends and loved ones this holiday season. From thoughtful expressions of love and gratitude to warm wishes of joy, these messages will spread Christmas cheer and help you make your loved one's Christmas extra special.
May your holidays be blessed with peace, joy and love!
May every moment of your Christmas be filled with joy! My warmest wishes.
Let us never forget why we celebrate this season – bringing hope to others.
May all your Christmas wishes come true!
Merry Christmas and a joyful New Year to you and yours.
Wishing you an abundance of joy, peace, love, and as much happiness your heart can take this festive season. Merry Christmas!
Be thankful for the times we have spent together, and look forward to those yet to come.
Christmas is celebrated with love in our hearts – may it stay that way forever!
Happiness takes many forms: family, friends, good food – but most of all – time spent together. Merry Christmas!
The spirit of giving is alive and well at Christmas time – may your day be filled with giving and receiving.
Christmas is a time to reflect on all the good things in life – may you find peace this season.
Hope shines like the stars at Christmas – may it light up your heart!
The gift of love, family, friends and laughter make Christmas special. Wishing you all these gifts this holiday season!
May your day be merry and bright as we celebrate the blessings of the year past. Merry Christmas!
Christmas is a magical time of togetherness: wishing you peace, joy, hope and love this holiday season.
Wish them a Very Merry Christmas with Inspiring Short Christmas Messages
The holiday season is a time of giving, joy and love. Make your loved one's Christmas even brighter with these short and sweet inspirational Christmas messages.
Good friends make the season bright.
Christmas is a time of love, hope, and commitment.
Set aside your differences and extend a helping hand this season.
As long as we know in our hearts what Christmas ought to be, Christmas is.

Eric Sevareid

Meeting those loved ones for Christmas is one of the year's true inspirations.
Peace on Earth would happen if we lived like it was Christmas every day.
When family and friends unite for the holiday, the true meaning of the season blooms.
It's simply a season of love.
Christmas is found in your heart and soul, not under a tree.
It is Christmas in the heart that puts Christmas in the air. W.T. Ellis
Memories of Christmas are what really matter.
This holiday brings hope, faith, and above all, love.
The true meaning of Christmas will never cost money.
Laughter and love are all we need to make the perfect Christmas.
The holidays are perfect when you have love and faith in your heart!
The true meaning of the 25th comes straight from the heart.
Share your time, love, and patience this holiday season.
Christmas is most truly Christmas when we celebrate it by giving the light of love to those who need it most. Ruth Carter Stapleton
Family wrapped up close is the true meaning of the season.
It's a magical time to be healthy and happy!
It's the simple treasures that make the best gifts.
'Tis the season to make the world a little bit brighter for all.
Tips On Writing Inspirational Christmas Messages
Whether you're writing inspirational Christmas messages for cards, social media, emails, or other occasions, here are some tips on how to craft the perfect inspirational message.
First and foremost, focus on what it is about the season that inspires you. Do you love the feeling of giving? Do the snow-covered streets make you feel peaceful? The best inspirational messages come from genuine emotion and sincerity so don't be afraid to let your feelings shine through!
Continue by thinking about what inspired you during the year- were there any special moments or experiences that evoked positive emotions? Is there something in particular that motivates you at Christmastime? Consider how you can capture those feelings in your inspirational message. You might draw on traditional holiday sayings or create a unique phrase of your own. Don't be afraid to express your own inspirational thoughts- they are often the most meaningful.
Next, consider how you can best communicate your inspirational message. Short inspirational quotes or phrases can have a big impact. They are easy to remember and share with others, and they will stand out among the typical holiday greetings. If you want to write something longer, stories that illustrate a moral lesson or emphasize the importance of family provide an inspirational foundation for any inspirational Christmas message.
No matter what you choose to write in your inspirational Christmas messages, make sure it is heartfelt and sincere. A genuine expression of love or appreciation will be sure to touch hearts this holiday season! Share your inspirational message with friends, family members, neighbors – anyone who could benefit from a bit of extra cheer. Through inspirational Christmas messages, you have the power to brighten this holiday season and make a lasting impact.
Happy writing!
You may also like:
Celebration Time! | Good Morning Wishes for Christmas
60 Best Christmas Quotes of All Time | Joyous Lines & Sayings
The 250 Warmest Merry Christmas Wishes and Cute Cards with Season's Greetings