A person who has taken up an extraordinary profession and hobby should be acknowledged for such during special occasions, such as their birthday.
If you are looking for the right words to honor the birth anniversary of various kinds of artists and professionals, then we are hoping that the below skillfully crafted wishes/messages/quotes can be of some creative use to you.
Happy Birthday Wishes for a Dancer
Happy birthday, and may you be dancing to the rhythm of life for countless years to come!
May you have a blessed birthday and a life as smooth and graceful as you are on your feet.
I want to just glide across this room, plant a big kiss on your cheek and wish you the happiest birthday ever!
Congratulations for making it to a new age! May the grace and beauty you possess forever serve inspiration to others.
Fit, talented, graceful, inspirational – those are all words that accurately describe you during this special day.
Your footwork through the challenges of life has thus far been outstanding, and I know you will impress even more from here. Happy born day.
I have met many a dancer throughout my life, but none as exceptional as you. Keep up the amazing work.
Happy Birthday. Have Fun, Dance, Be Happy.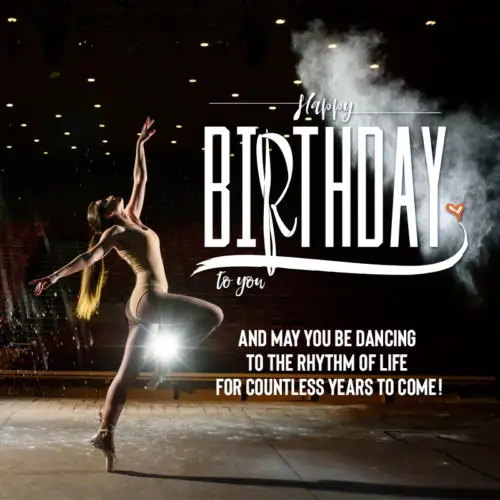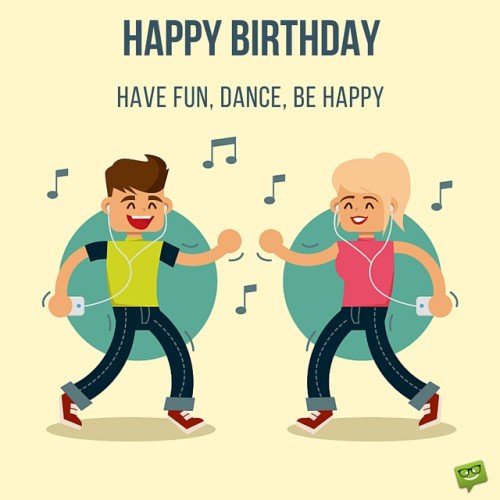 Happy Birthday Wishes for a Pianist
As a music connoisseur myself, there is no sound that I find more pleasing than the hearty laughter of my favorite pianist – you – during your birthday.
I know it's your birthday, but I would really appreciate it if in celebration, you can play a tune for me instead.
Thank you for being a person who cares enough to bring the gift of music into our lives. We hope to experience many more years of being blessed by your artistic gifts and aspirations.
May the days of your life be more blessed than even the exceptional gifts that you possess. Have a wonderful beef day.
Today you have transitioned into the threshold of a living classic. Congratulations! May your life be as timeless as the beautiful music that you compose.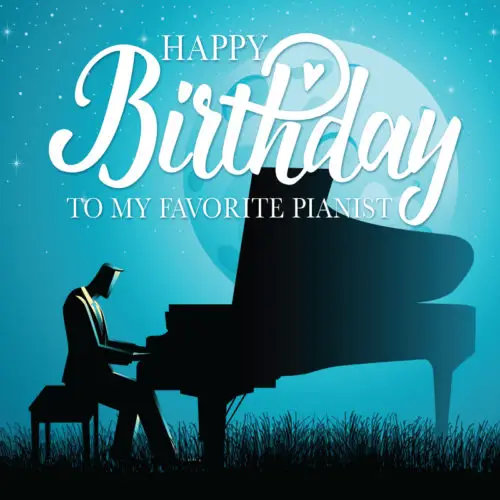 Happy Birthday Wishes for a Guitar Player
When I look at you, I know I'm looking at a legend in the history of guitarists, even if people can't recognize your greatness at the present moment.
May you have a birthday as smashing as a guitar at a heavy metal concert.
You have chosen a marvellous profession, and today I want to not only wish you an exciting birthday but also the best in your endeavors.
It's like you came out of nowhere and pow, rocked our world. So wham, please accept this birthday gift and blam, have a wonderful birthday.
You have chosen a wonderful discipline, and my sincerest birthday wish for you is that you master it to the fullest.
One day when you're rich and famous and continuously mobbed by adoring fans, don't forget your roots and the fact that I love and forever wish you a happy birthday.
Since you are my musical champion, I guess that would also make you my guitar hero. Keep up the good show, mate!
I'll provide the cake for your birthday celebration, but you have to provide the entertainment!
Happy Birthday Wishes for a Bass Player
I am proud of you for turning a hobby into a viable career. Today, we pay tribute to a person who one day will be a legendary bassist!
That ominous pulse you hear is my heart beating in anticipation of wishing you a happy birthday!
I'm wishing a raucous birthday to the best bass player I know. We couldn't have made it this far without you!
May your birthday be highlighted by a cool, mellow vibe, and may you still keep on jamming for many years to come.
May the masses appreciate the joyous melody you have brought into our lives. You are one of the greats, and it is my pleasure to wish you an outstanding birthday!
I know a talent when I see one, and I really hope you develop your bass playing skills. But even more importantly, is my wish for you to have a wonderful birthday.
May your birthday be as thrilling as an action movie soundtrack. We all wish you the best this and every other day.
May the love you experience on this most-extraordinary day vibrate through your being and reverberate through your soul from now 'til the end of time.
Happy Birthday Wishes for a Drummer
From a little drummer boy to a big drummer man. Happy birthday, bro, and may you continue to bust eardrums from now into eternity!
I won't beat around the bush – this is the birthday of the best drummer that I know!
As you grow older, may you also become more skilled, confident and experienced in your craft. Oh, and have a thumping birthday!
I may not be a musician myself, but if I were you, I would serve as the inspiration for all of the happy songs I write. Happy birthday.
I hear a sweet sound emanating from the lips of a loved one on this blessed day, sending missives of greetings and cheer in the direction of a special birthday boy.
I'm not trying to beat you in the head, but I honestly believe you are the greatest drummer on earth. Or let me rather say that this is my way of wishing you an amazing birthday!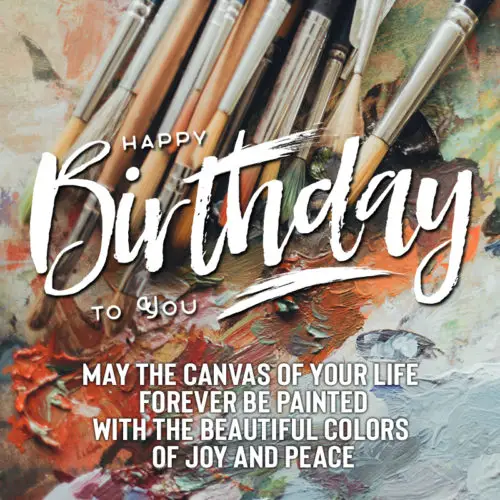 Happy Birthday Wishes for a Painter
Thank you for being the type of person who literally brightens up the lives of those around you. I hope you have a wonderful time today.
May you experience a birthday as colorful as the entire spectrum of my love for you.
Don't let life stroke you the wrong way – always be happy, because you are a wonderful and gifted human being!
May your soul age like a priceless work of art, and your days ultimately be remembered as the era of a great artist.
My interpretation of your life is that it is full of potential, with deep meaning hidden behind an unassuming portrayal. May you have a day that is just as abstractly beautiful as you are.
May the canvas of your life forever be painted with the beautiful colors of joy and peace.
You may also like:
Something Punny About This Message | Happy Birthday Puns
Energy Within | Birthday Wishes for those Fitness Freaks
Birthday Wishes According to People's Professions