Having a favorite teacher is common. He or she is person that creates an invaluable connection between you and the entire process of learning. When it's time for such people in the educational system to go, it can be hard for the student. That's where you might need one of these retirement wishes for teachers to express how you feel about their departure.
Go ahead and share these quotes with your retiring teacher to wish them a Happy Retirement, and rest assured they will appreciate it.
Happy Retirement Wishes for Teachers
Special teachers deserve thoughtful retirement wishes for years of dedicated service.
It's now time for you to take a step back from teaching and start learning how wonderful retirement is.
Surely you'll be missed even by your most restless students as they too will be missed by you. Keep them at heart and move forward to begin your new chapter in life.
You have inspired and motivated so many children and now you will find inspiration yourself to enjoy your special stage of retirement.
No more classes, no more boards and chalk and markers. Hip hip hooray! Your special retirement day has just arrived. Look back with a smile and enter a world of relaxation. You deserve it.
It may be not be easy to close the door on a wonderful career but luckily it is a lot easier to open the door of retirement. Your time has come to indulge life as you wish.
Thank you for being my favorite teacher. I wish you the best of luck on your retirement.
Your years of teaching and advice will never be forgotten. Good luck on your retirement and wherever life takes you next.
Teachers hold a special place in the hearts of their students. As you retire, know you have a special place in mine.
Dear (teacher's name), thank you for being an example of strength, dedication, and compassion. You will be missed.
Words cannot express how much you will be missed as you retire. Thank you for always bringing your best.
Time with you will never be enough. We will miss the days spent together, but wish you many fun-filled retirement days.
Dear (teacher's name), please remember us during your retirement. You are always welcome to visit the school as we would love to see you soon!
Every day, we saw your commitment to educating others. We hope your retirement is a time when you can commit to learning new things for yourself!
Retirement will be like endless summer vacations! I hope you get to see and do all the things on your retirement list!
Although your animals will be happy you are home every day, there will not be a day that goes by we won't miss you. We are very proud of you on your retirement.
You have worked hard to reach retirement. May God bless you wish many happy and peaceful days full of things that bring you joy!
We are so grateful all our children were able to learn under your teaching. You made learning fun while also teaching them how to be good people and we wish you many congratulations on your retirement.
During your retirement, please keep in touch. You are a special teacher and will be missed.
I will miss you as a co-teacher, but am so proud of you for reaching your retirement. Your accomplishment continues to set an example for others.
Amazing teachers like you deserve an amazing retirement! We hope your retirement is full of wonderful opportunities for you to continue to shine!
If you like it, pin it!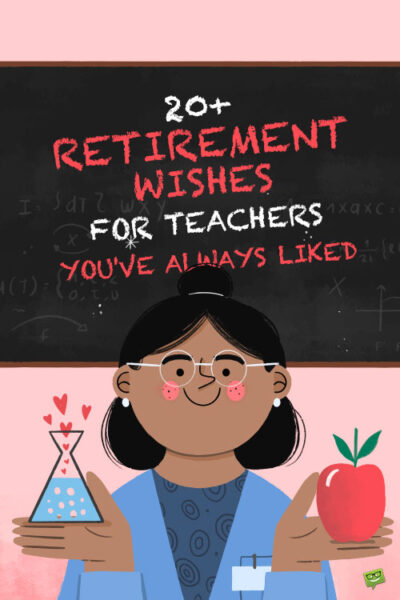 You May Also Like:
175 Inspiring Happy Retirement Wishes
Forever Grateful | Happy Teacher's Day Wishes