Hey hey, fellow sons and daughters! Are you ready to help give your old man the retirement send-off he deserves? Of course you are! Whether your dad's a master of dad jokes, a barbecue king, or just an all-around great guy, he deserves to be celebrated as he hangs up his work boots for good.
So get ready to break out the streamers and the cake, because we're about to share some hilarious retirement wishes that will make your dad feel like the superstar he truly is. Let's give him a send-off that he'll never forget!
Retirement Has Never Been Funnier: Hilarious Wishes for Dad!
From now on, your daily schedule consists of coffee, naps, and more naps.
You're finally free from your boss, but don't forget – you'll still have to answer to Mom!
Congrats on retiring, Dad! Your nap game is about to level up.
No more suits and ties – from now on, it's sweatpants and slippers!
You've worked hard for many years, so it's time to kick up your feet and let your socks finally breathe!
Welcome to the land of the retired, where every day is a weekend!
Retirement: because work is overrated, and golf is not.
Time to hang up the work boots and slip on the flip-flops!
Here's to your retirement, Dad – may you spend the rest of your days yelling at the TV during daytime shows!
Goodbye, work! Hello, happy hour!
Finally, you'll be able to get that 'lazy Sunday' feeling every day of the week!
Retirement is like hitting the jackpot – but instead of cash, you get unlimited time to do whatever you want!
You're officially free from the tyranny of the morning alarm clock!
Congratulations, Dad! You've graduated from the school of hard work and now you're a full-time student of relaxation.
Now that you're retired, you can finally focus on the important things in life – like perfecting your grill game!
Retirement: when every day is a weekend and every night is a party!
You've worked hard all your life, so now it's time to focus on the more important things in life – like napping.
Say goodbye to work stress and hello to a lifetime supply of relaxation.
Congratulations on joining the world of the retired – where every day is a Saturday, and every night is an early bedtime.
If you enjoy this article, you might also like our collection of Retirement Wishes For a Coworker Who's Retiring
The Best Retirement Wishes for the Best Dad: Saying Goodbye to Work and Hello to Fun!
If a beautiful message to send to your Daddy on his retirement is what you are looking for, your search has brought you to a great source of that.
Dad, may the retired days of your life be as sweet as honey!
May your retirement be filled with endless days of doing absolutely nothing – except enjoying the peace and quiet!
You've still got it, you old rascal!
Our hearts jubilate with joy to know that you are finally retired. We will now be able to have quality time with you. We wish your days become as beautiful and sparkling as a diamond. Have a happy retirement, Dad!
The days I have been praying for have finally arrived. Now, I get to be with you 24/7. I wish you a long and healthy retired life, Daddy!
Yay! Our dear father has finally retired! Dad, may the happiness you gift us be returned to you in oceans every single day of your retired life.
Congratulations on your retirement, Dad! I hope every day of your life as a retiree will be relaxing and joyful.
You've spent your entire life working hard, but now it's time to switch to "vacation mode" and never look back!
Here's your one and only daughter/son wishing you tons of love and happiness for your retirement. I will be coming home really soon to be part of the celebration. I wish your retired days are filled with all the best things that this earth has to offer. Happy retirement, Dad!
You truly deserve this total break from normal work, Dad. Now you will have enough time to spend with us and enjoy your life to the max. Happy retirement.
Congrats, dear Father, on your retirement. May this season of your life bring into your heart all the joy under the sun!
Wishing a fabulously happy retirement to my fabulous father! Dad, for the past [insert number of years], you were able to perfectly juggle your family responsibilities and the extraordinary demands of your job. You are my hero.
Daddy, enjoy your retirement to the max and know that I love you immensely! Happy retirement!
After years of hard work, you have finally attained this milestone. May your faithful service all these years bring to your life every blessing you stand in need of. Have the happiest of retirements.
Though you fulfilled all your duties at the office, you never shunned away from fulfilling your family responsibilities. You are nothing short of a truly awesome father. Happy retirement, dearest Father.
Dad, we are more than elated to know that you have finally retired from work. May the rest of your days on this earth be filled with blessings of happiness and good health. Massive congrats on your graceful retirement!
Now that you are retired, you have been blessed with a unique opportunity to enjoy all the beautiful things that life has in store for you. I'm so happy for you, Dad. Happy retirement.
Dear Daddy, as you begin this amazing new phase of your life, it is my prayer that the heavens will shower blessings of great physical health, love and joy onto your life till you become the happiest man in the world. Have the best of retirements!
Indeed there is time for everything under the sun. It's your turn to rest from the daily hard work and enjoy the fruits of your outstanding service.
Dad, wishing you a retired life decorated with the most beautiful things this universe has to offer! Happy retirement.
Words can't express how happy we feel seeing you go on retirement. We wish your days of retirement will be fun, sunny, peaceful and absolutely blissful.
You withdraw from active work tomorrow, and we are already busy with preparations to make your retirement the best ever! Happy retirement, dear Dad, and may your retirement days be filled with paradisaical joy!
I wish you happiness and God's blessings in your retirement. Congrats, for successfully making it this far in life.
I wish you great happiness and good health all the days of your retirement! Congrats!
Sending you oceans of blessings and warm wishes as you retire. It is my deepest desire that all the things you dream of will be materialized. Happy retirement to you, my sweet Daddy!
May your happiness flourish as you on retirement. Have a blessed retirement.
Happy retirement, Dad. I hope this chapter of your life will be the best of all!
I can't imagine any person who deserves this break from work more than you. You've worked so hard to make sure I never lacked anything. It's time for me to take care of you and for us to have some great moments together. Happy retirement, Father!
I could tell how much you yearned for rest whenever you came for weekends. Now, you are blessed with retirement, and that means less tension, more sleep and increased enjoyment with me. May good health and joy walk with you all the days of your retirement!
Wishing you blessings and the best of everything on your retirement. I love you, Dad.
The hard work and pressure are over. It is now time for resting, relaxing and enjoying every bit of your life. Happy retirement.
My dear father, may your life after retirement be as beautiful and bright as the sunflower! All the best on your retirement!
Dad, you are now officially a retiree. I am happy for you because not everyone gets to see this stage of their life. As you press forward, it is my prayer that you will be blessed with more opportunities to realize every single dream nestling in your heart. Happy retirement, Daddy!
Related: Best Retirement Wishes for Mom
Happy Retirement Images for Dad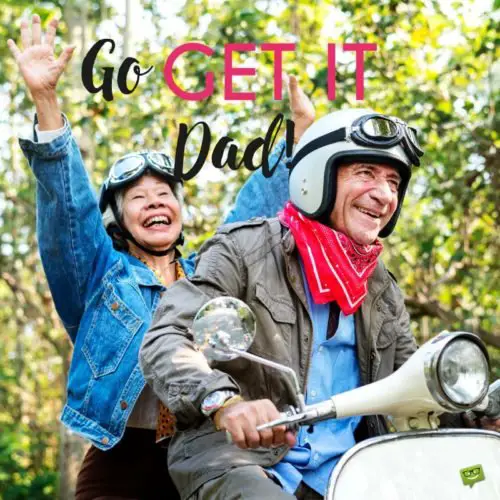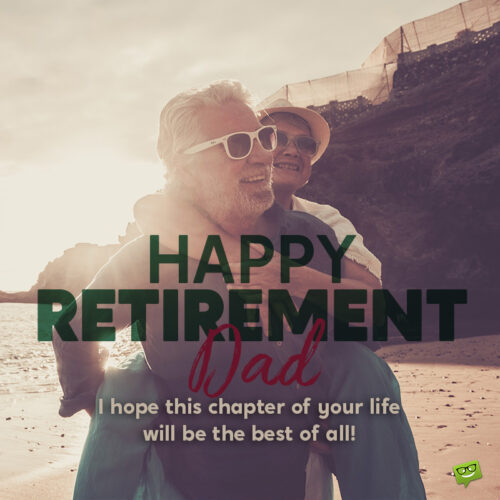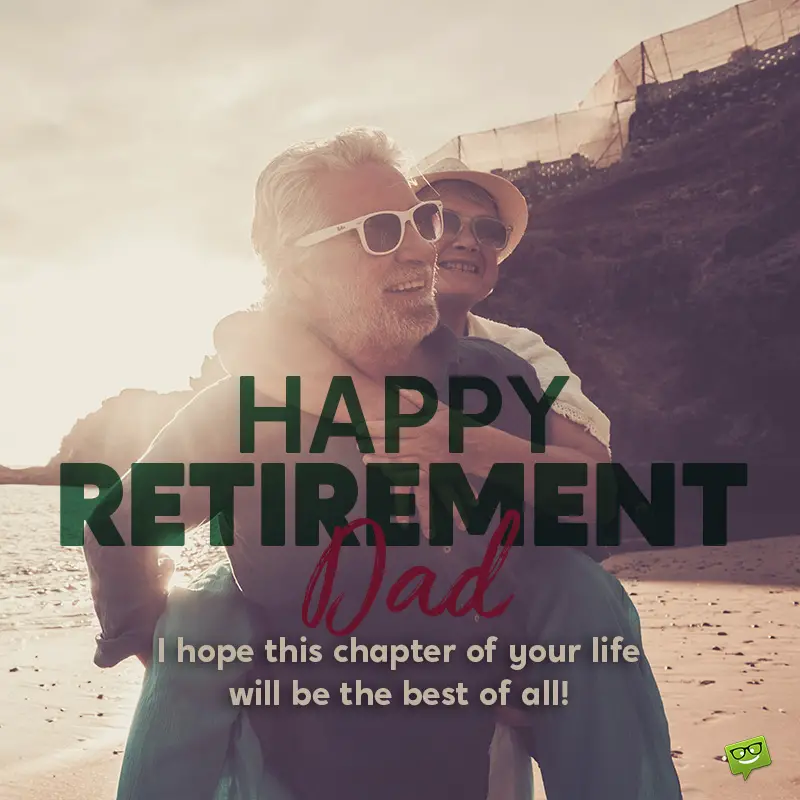 Happy Retirement Poem for Dad
A hero at work
A mirror at home
Never failed in your duty at work
Never waned in your responsibility at home
Your boss calls you the pacesetter
Your family hails you the peacemaker
We celebrate your retirement
And we pray it will be filled with merriment
Congratulations, dad, on your retirement.
Your selfless service was evident in your career
Your flawless leadership was undeniable at home
Today we celebrate your freedom from a life scheduled by another
As you come into a new phase and enjoyable life kindled by self power
We promise to be by your side forever
Best wishes on your retirement, dad.
You may also like:
75 Inspiring Happy Retirement Wishes
Birthday Greetings for Dad | Joyful Wishes for your Father