You know how Christmas is like the group hug of the year? Well, penning down a card for your folks is like that hug in words. Imagine their smiles as they unfold a message that's got more warmth than Grandma's famous knit sweaters. These cards are your stage to shout out all the 'thank yous' and 'love yous' that might have played hide and seek during the busy year. Picture your card as a snowball of joy, packed with memories and inside jokes, ready to thump!—right into the feels. Writing to your mom and dad is basically wrapping up a bear hug with a bow, topping it with a cheeky wink, and slipping in all the mushy stuff you don't say enough. So, let's get to scribbling those words that'll make their Christmas lights twinkle a bit brighter, shall we?
Table of Contents
Heartfelt Christmas Wishes for Mom and Dad To Write on a Card
Deck the halls and sound the cheer, Christmas is the time to tell Mom and Dad they're the year's VIPs. Here's to wishes that are short but steeped in all the feels:
Here's to you, Mom and Dad, for the laughs that filled our home and the love that filled our hearts!
Merry Christmas to my favorite duo! May your days be as bright as the twinkle in your eyes.
To the world's greatest team, thank you for making every day feel like Christmas.
Cheers to you, Mom and Dad, for the warmth and joy you sprinkle like snowflakes!
Mom and Dad, you're my Christmas morning, every day.
To the ones who wrap the best gifts: hugs, hope, and happiness. Merry Christmas!
Together, you make the season bright. Love you, Mom and Dad, more than all the Christmas lights.
Santa's got nothing on you two; thanks for a lifetime of Christmas miracles. Merry everything!
Holiday hugs and mistletoe kisses to the ones who turned every day into Christmas.
To Mom and Dad, the reasons every Noel is nice and every memory is bright.
May your Christmas sparkle with moments of love, laughter, and goodwill. Thanks for all the joy!
For every time you've made my world brighter — here's to adding sparkle to yours this Christmas!
Joy to the world, and especially to you, Mom and Dad — the real Santa's of my world.
You're the jolly to my holly, the silent night to my holy night. Love you more than Christmas cookies!
To my first ever Santa and Mrs. Claus, thanks for filling every season with wonder.
Mom and Dad, may your Christmas be wrapped in happiness and tied with love.
Here's to you, the champions of cheer and wonder. Merry Christmas to my amazing parents!
Merry moments, warm memories, Mom and Dad, you're my forever Christmas story.
I am thinking of all of the Christmases you made perfect for me in the past, Mom and Dad!
As parents, you gave me a love of Christmas, and I hope your day is great!
Mom, you deserve all the gold in the world this Christmas!
Dad, I hope you see how loved you are this Christmas!
You two are the kind of parents who deserve a Christmas that is magical.
Personalized Christmas Greetings for Parents
This Christmas, let's make our greetings for Mom and Dad as one-of-a-kind as they are. Tailor every message to echo with the laughter and love that fills your family's home.
To the dynamic duo who makes holiday cheer look easy — keep being legendary. Merry Christmas!
For the heroes in my tale, may your Christmas be as storybook perfect as you've made my life.
Here's to the king and queen of Christmas past, present, and future — long may you reign.
May your Christmas be as cozy and warm as the socks you gift me every year. Thanks for the warmth!
For the best bear huggers I know, may your Christmas be snug and your New Year bright.
Cheers to the parents who double as my lifelong elves — Santa's got nothing on your joy-spreading skills!
To the twinkle in my eye and the merry to my Christmas — may your days be golden and bright.
Wishing a rocking Christmas to the Mom and Dad who've made every noel feel like a rock concert of love.
May your Christmas be as sweet as the hot cocoa you've made for me all these years.
To the ones who've always made sure my Christmas was lit — lots of love and sparkly wishes!
Merry Christmas to my life's guiding stars. May your holiday shine as brightly as your guidance.
Here's to the cool parents who make every season bright — stay chill, and merry on!
Mom and Dad, may your Christmas jingle all the way to joy and peace, just like every tune you've hummed to me.
Decking the halls and jingling bells to the parents who made every Christmas a blockbuster hit.
May your Christmas be merry, your feast be delicious, and the season as enjoyable as the life you've given me.
For the folks who've given me the world, may yours be filled with joy and cheer this Christmas!
Sending love to my human Santas who deliver joy 365 days a year — merry Christmas, Mom and Dad!
To my in-house Santa and chief cookie-maker, may your holidays be as fabulous as you've made every one of mine.
Here's to a jolly Christmas filled with the laughter that always echoes in our home.
Merry Christmas to my wonderful parents! May your eggnog be spiked with extra love this year.
Every line here is a present in itself, wrapped up with the brightest paper of words and tied with the ribbon of your unique family ties.
Funny Christmas Wishes for Parents
Ditch the sugarplums and figgy pudding – this Christmas, we're serving up laughs on a silver platter. Get ready to fill Mom and Dad's holiday cards with chuckles, snickers, and good old-fashioned holiday hijinks.
Merry Christmas to the parents who think 'silent night' is just a suggestion!
Here's to Mom and Dad: We'll always believe in Santa, but you're the real deal (minus the chimney).
Santa's checking his list, but don't worry—I told him you've been angels. Kind of. Merry Christmas!
If laughter is the best Christmas present, consider yourselves Santa, because you give it all year long!
Merry Christmas to my parents, who have passed down the most important holiday tradition: napping after dinner.
Thanks for the genes that gave me my dazzling Christmas sweater physique. Stay fabulous, Mom and Dad!
Jingle bells, jingle bells, jingle all the way, oh what fun it is to see you both outdo Santa's sleigh!
Merry Christmas! Don't worry, I already told Santa you're good. His response? 'Ho-ho-hold on, really?'
To the parents who know that Christmas isn't about presents—it's about winning at Monopoly. Game on!
Wishing a 'wrap'-turous Christmas to my favorite present-wrapping, cookie-baking partners in crime!
Keep calm and blame the elves! Merry Christmas to the best 'elf'-ployers a kid could ask for!
Who needs Santa when I've got parents who can't quite remember where the 'naughty or nice' line is?
May your Christmas be as bright and cheerful as Dad's Christmas morning robe. Shine on!
Let's hope Santa brings you two some peace and quiet this year. You deserve it (but I'm still coming over)!
Thanks for making every Christmas merry and the waistlines not so bright. Love you both!
Cheers to the jolliest elves in the North Pole's suburbs. Merry Christmas, Mom and Dad!
Merry Christmas to my folks, who taught me that the best thing about the holidays is the 'presence,' not presents.
May your Christmas lights work on the first try – a Christmas miracle courtesy of yours truly!
To the people who put the 'mas' in Christmas…because there's 'mas' fun, 'mas' food, and 'mas' craziness when you're around!
Wishing a Merry Christmas to the two who know that 'holiday spirit' is sometimes found in a bottle of wine.
Inspirational Christmas Quotes for Parents
In the season of twinkling lights and snow-dusted dreams, let's infuse our messages to Mom and Dad with a touch of inspiration. A few well-chosen words can be a beacon of warmth and appreciation, lighting up their festive season with the glow of admiration.
Parents like you are the true north star, guiding us home, no matter how far. Merry Christmas!
The joy of Christmas is family. The strength of family is love. The power of love is you, Mom and Dad.
May the spirit of Christmas light up your world just as your love lights up mine, every single day.
Your love, dear parents, is the most precious Christmas gift of all. May the holiday return that gift to you.
Just like the Christmas star, you both lead me to the place of warmth and love, time and again.
Christmas is a time for gratitude and joy, and I am blessed with both, thanks to you.
The greatest gifts aren't under the tree, they're the people around it, my parents, who've given me life's true riches.
Each Christmas, we write a story, and you, my dear parents, are its most inspiring characters.
The warmth of your love has made every Christmas a cozy one. May your holiday be wrapped in that same warmth.
To my first and forever heroes, may the joy you've given me return to you this Christmas.
Parents like you are the season's true blessing. Merry Christmas to my greatest inspirations!
Through the chill of winter, the warmth of our parents' love is like Christmas in our hearts all year.
This Christmas, may you receive the love and joy you've spread throughout my life a thousandfold.
Your guidance is my own Christmas miracle. Wishing you a season filled with wonders, Mom and Dad.
May the lights of Christmas lead you to a future as bright and beautiful as the love you've shown me.
Your support is the foundation of every joyous Christmas memory. Thank you for the endless gifts of love.
In the Christmas choir of life, Mom and Dad, your voices have always been my favorite melodies.
Like the stars on a clear December night, the memories you've given me shine bright and clear. Thank you for a life full of light.
Wishing you the kind of Christmas magic you've always created for us, full of love and all things bright.
The Christmas season magnifies the gift of your presence in my life, as essential as the air on a crisp winter day.
Let these inspirational quotes resonate with the spirit of gratitude, love, and recognition for all that your parents mean to you, adding a sparkle to their holiday that's brighter than the most luminous Christmas light.
Tips for Writing Unforgettable Christmas Messages to Your Parents
Let's sprinkle some sugar and spice into those Christmas messages for Mom and Dad! After all, what are the holidays without a little fun? Here are some tips to pen down messages that'll tickle their hearts and maybe even their funny bones.
Reminisce with a Twist: Think of a classic family holiday moment, and give it a playful retelling. "Remember when Dad tried to be Santa and got stuck in the doorframe?"
Cheers to Their Cheer: Hats off to the tireless holiday heroes! Maybe write something like, "Here's to Mom and Dad, who make Christmas merrier, brighter, and definitely louder."
Spotlight on the Quirks: Those endearing parental quirks deserve a shout-out. Perhaps, "Merry Christmas to the woman who has more Christmas decorations than the North Pole, and the man who has the patience to untangle a million Christmas lights."
Giggles and Grins: Inject some humor into your heartfelt words. Try, "May your Christmas be as sweet as the burned cookies you always pretend to like, Mom and Dad."
Stir in Some Inspiration: Drop in an inspiring quote, but make it snazzy. "As the great someone once said, 'Christmas is the season for kindling the fire of hospitality,' so let's get those chestnuts roasting!"
Keep It Real: Speak from the heart with a wink. "From your favorite financial burden, wishing you a wallet-friendly Christmas this year!"
Wish with Flair: Get creative with their interests. For the gardening duo: "May your holidays bloom brighter than the poinsettias!"
Wrap It in Warmth: Your words should be as cozy as their favorite holiday sweater, the one with the reindeer that everyone pretends to like.
Time Travel in Sentiments: Craft a message that's not just for this Christmas, but for all of them. "Here's to many more years of Dad's infamous Christmas jokes!"
Affection with a Dash of Sass: End on a note of love, jazzed up with a little pizzazz. "All I want for Christmas is for you two lovebirds to keep being embarrassingly adorable."
Remember, writing to your parents is like decorating a gingerbread house – there's no such thing as too much sweet stuff or too many gumdrops. So let your heart lead the way, and if a couple of candy canes fall off the roof, well, that's just part of the charm.
Choosing the Perfect Christmas Card for Your Parents
The magic of a Christmas card lies not just in the words inscribed but also in the selection of the card itself. When picking out the perfect card for your parents from our online store, consider the design that speaks to the heart of your family. Is it one adorned with classic holiday motifs or perhaps a card that offers a humorous nod to an inside joke shared at the dinner table? Our collection ranges from elegantly traditional to whimsically modern, ensuring you'll find a card that resonates with your parents' unique style. Remember, the card you choose is the backdrop to your personal message – a piece of art that reflects your love and the joyful Christmas spirit.
If you like it, pin it!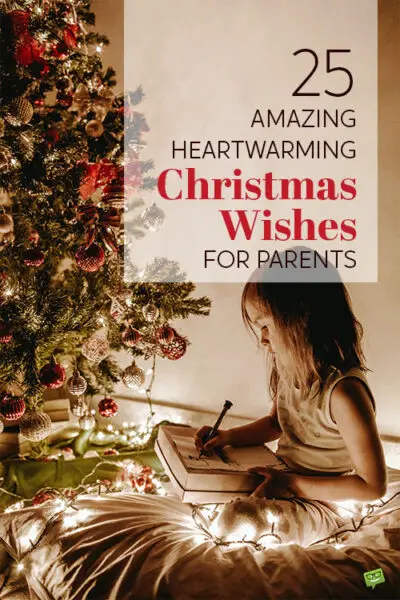 You may also like:
Spread the Spirit! Top 200+ Christmas Quotes of All Time
Words for (S)Elfies! 100+ Christmas Captions for Instagram