Your LOL Message! | Funny Birthday Wishes for a Friend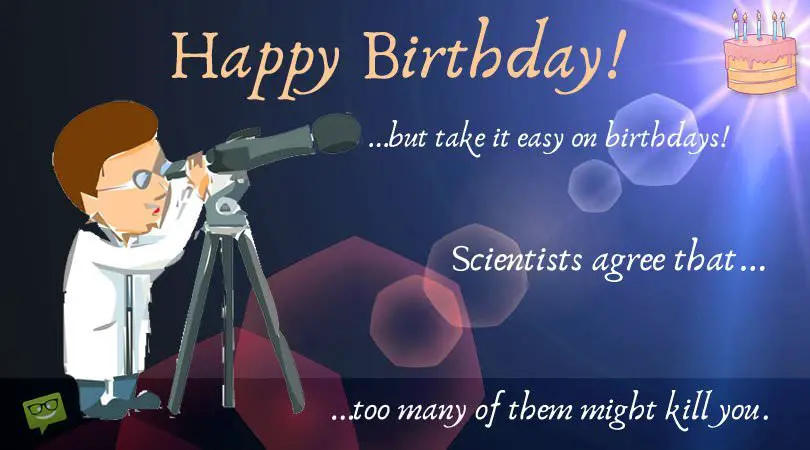 A friend is someone who is endeared to you. In fact, "there's a friend that sticks closer than a brother." One of the best times to let your friends know how much they mean to you is during their birthdays. You may not have money to give a friend on his or her birthday, or other luxurious birthday gifts. But, a well crafted birthday wish for a friend can be valued more than money and the most precious material gift you can think of.
And, your birthday wishes to a friend can be appreciated even more when you integrate lively humor to put a smile on your friend's face. This is why we've created this database of Funny Birthday Wishes for a Friend, so that you will never get stuck when it comes to funny messages to send to a friend on his or her birthday.
---
---
Funny Wishes for Friends

Happy birthday, dear friend. A friend in need is a friend in deed; I'm in need of your car, to have it as mine, can you give it to me as a mark of being a friend indeed?
Happy birthday, my great friend. I wish you long life, and I'm sure you love that wish. But, let me warn; the day you start buying anti-aging cream, you may intercept the long-life wish, because aging is the only way to live a long life!
Happy 40th birthday, friend. I hope you're not planning to blow off candles today, or we will need a trailer load of candles to represent your age.
Happy 45th birthday, my friend. Don't worry about the increasing wrinkles, you should rather be grateful for your blessings.
Happy birthday to my lovely friend. The best facial makeover as you get older is smiles all the way.
My dear girlfriend, how old are you today? Never mind, I already know the answer as always, +1. Best wishes on your birthday.
They said time heals all scars. So, as you get older, expect your scars (emotional and otherwise) to be healed…But, that doesn't include wrinkles anyway. In fact, the wrinkles get worse as you age. Happy birthday, dear friend.
There's one thing that can definitely make you live long and enjoy long life, and that is aging. So, don't be afraid to age, it's the best prescription for long life! Happy birthday to a wonderful friend.
Needless to ask what you need as a birthday present, dear friend. Since you are obsessed with chocolate, I've invited the chocolate company to your birthday, so that you can have over-doze of it. Best birthday wishes to a lovely friend.
Funny Wishes to an Intimate Friend
Happy birthday, my bosom friend. I long for you every day as I would long for food. Please, are you available for my next meal?
My sweet girl, I thought of the best gift for you on this special day and only one thing could cross my mind – to paste 25 hot kisses on your tender cheeks. But, that's only if your cheeks won't be on flames! Happy birthday to my special girl.
Dear sweet friend, my special wish on your birthday is that you will live long. Well, that may also mean having long wrinkles on your face. How about that?
Sweetheart, the older you are, the wiser you become. How about expediting your age, so that you can become the wisest person on earth? Best wishes on your birthday.
My dear, as you celebrate your birthday today, forget the ugly past because it is past, and focus on the present since it's here with you. So, don't expect any other 'present', it's already here with you! Happy birthday to a wonderful friend.
My sweet pie, I have just one request on your birthday – can I watch you all day instead of us going to see the movies? That will surely make me happy on your birthday. Happy birthday to my beautiful babe.
My darling friend, I don't want to give you a flower as a birthday gift because it will wither. There's a special gift from me that will surely not wither – my undying love for you! Sweet wishes on your birthday.
Dear, do you want a GETAWAY birthday gift? Oh, I'm not asking you to GET Away from me, you will remain my dearest friend forever! I only mean a time alone with you, away from everyone else. Happy birthday, dearest friend.
I started rhyming the alphabets I wrote down this morning and discovered that I missed 'U'. Then, I suddenly realized it wasn't the letter U that I missed, but YOU, my darling friend. Happy birthday!
Sweet friend, the older you become, the wiser you get. How about getting older by the day, so that you will become wiser by the day? Have a swell time on your birthday, my dearest friend.
My sweet boyfriend, why do you want me to bake your favorite pie on your birthday? I thought you said I'm your sweetest pie, so you have me to munch all day! Happy birthday to my loving friend and sweetest boyfriend.
---
---
Funny Wishes to an Elderly Friend
Happy 60th birthday to you. I know the secret to retaining your glory as you age – don't pick out your grey-hair, it's a crown of glory!
Happy 50th birthday, my senior friend. I hope you're counting your blessings, not your wrinkles.
Dear senior friend, I couldn't buy the candles you requested for. The candle company said they don't have provision for delivering 60 candles. As for the confectionary store, they said they don't have the technology to make a cake that can accommodate 60 candles. Oh, the fire-fighters said they don't have up to 60 fire extinguishers to bring to your birthday party. Happy birthday to my sweet, senior friend.
I wish you long life on earth, and that means not intercepting your age in any way, including using anti-aging and anti-wrinkle creams.
My elderly friend, don't worry about those wrinkles, they help to make your eyes twinkle!
A faster way to enjoy the privileges of a senior citizen is to age faster. Happy birthday, senior friend.
---
---
You may also like:
The Coolest Birthday Wishes for a Friend
Friends Forever : Birthday Wishes for your Best Friend
Friendship Always Comes First : the Best Birthday Wishes For Friends
Quotes about Friendship to Help you Discover Another Self
Get more unique birthday wishes!
UNIQUE GIFT IDEAS
If you're looking for great presents for all budgets, we have done the work for you.
Click here for the
best birthday gifts
for friends and loved ones.
If you liked what you read, please share it. It really helps us a lot.