30 Summer Quotes on Images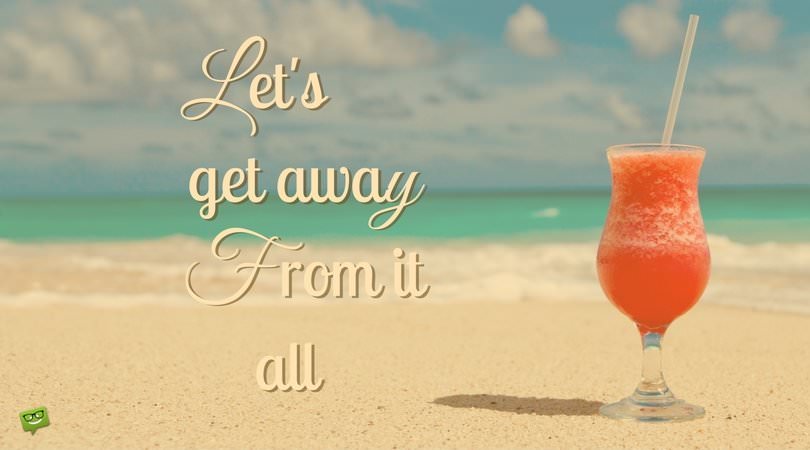 Summer is our favorite season. The days are longer and the nights are sweeter, we meet more often with friends and have more fun! It is the official season for vacation when we take a long break from our everyday lives and travel to the most beautiful places of the earth to reward ourselves for all the effort of the year. Summer is the perfect season to make plans, especially during or after holidays. Away from the rat race in the city, calm and more relaxed, chances are you will make the right decisions about your life and the way you want to carry on.
If you have the opportunity, spend as much time by the beach as possible. Nothing soothes the soul like a quiet beach, the warm sun, the sound of the waves, being offline (yeah!!!) and knowing that you don't have deadlines and work to deliver, at least for some days. Fall in love, make a summer love fantasy come true! Or if you are in a relationship, fall in love again. Summer the season of love. Maybe it's the tanned skin that excites us, maybe the carefree days, the lack of obligations and urgent issues to be solved that leave space and time for a relationship to bloom!
We have crafted these images to celebrate summer – to spread the feeling of joy that summer gives to us! Feel free to share them, download them, or attach your favorite one to an email to a friend. They came in all sizes, portrait orientation for Pinterest, square for Instagram and WeHeartit and Google+.
Leave your comment to give us some feedback, we love communicating with you 🙂 And if you liked our post, please share it, it really, really helps us a lot. Summer is here! Enjoy!
---
Summer is the right season for recreating ourselves. Just look at the word: re-creating. It has a meaning of having fun and another one that means create yourself again. When you are away from our obligations and everyday routine, we somehow see ourselves more objectively. We recognize our needs and desires more vividly. And this realization must be our goal. To make our lives feel always like we're on summer holidays! (I'll drink to that!).
This is half of the truth though, sand is not enough unless the temperature is right and the sea is close! God, how beautiful it feels to lie on the sand all day, doing nothing at all!
The ocean and the beach always makes me feel so good! Good vibes just come naturally.
---
---
Summer is never ever enough!
---
Not sure if this has anything to do with me being a Scorpio, one of the signs of the water, but it seems to me that the water and the sea have curative powers.
---
Just pin this on Pinterest and get a load of repins in minutes. Worked for me 🙂
---
---
True story!
---
---
It makes sense. These not a single summer I didn't like. Spending time by the sea, under the sun. Feeling the sweetness of the breeze when the weather is warm. Paradise.
---
---
---
---
---
---
---
---
---
---
---
---
We just love the sea, so we changed the lyrics a bit to fit our taste 🙂
---
---
---
---
---
---
---
Let the Summer Begin with this summer video to share
---
Read More:
Hello, Summer! | Sunny Beach Quotes
"Let the Summer Begin!" Quotes
Ocean, Summer and Beach Quotes
UNIQUE GIFT IDEAS
If you're looking for great presents for all budgets, we have done the work for you.
Click here for the
best birthday gifts
for friends and loved ones.
If you liked what you read, please share it. It really helps us a lot.