Sweet and Romantic Good Morning Messages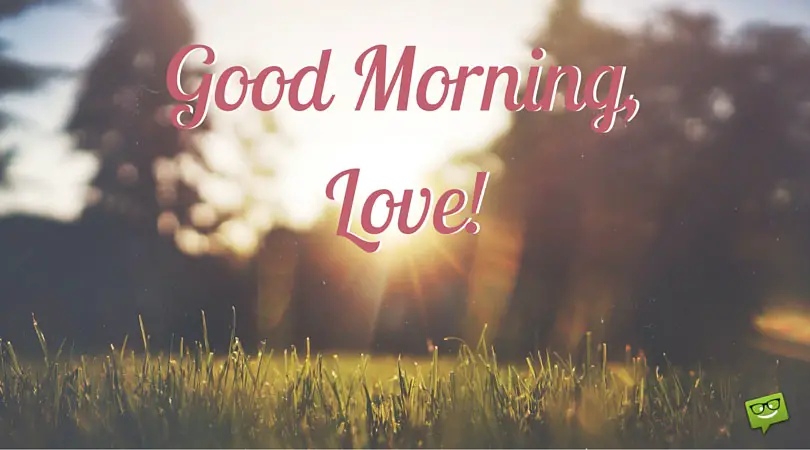 There's a saying that goes: "You can tell a good day by its morning". The start of the day as we experience it when we wake up defines our mood throughout the day, and if we want to make it a good one, we'd better set our engines running with a warm-up.
The ideal beginning of the day may be different for each and every one, but no one would deny a sweet one. Having our loved ones wish us good morning is definitely a great starting point. Whether you'd like to impress them and win their heart or just to send a romantic kiss to the one you love, sharing an affectionate good morning message is like a good breakfast: we often feel we could skip it, but only when we've missed it do we realize how badly we wanted it! So, share & make someone's morning beautiful.
---
Good Morning Messages For Him
Good Morning, to my one and only man! May this be the start of a terrific day! I will be thinking about you, until we see each other, later!
Sending an incredible man a Good Morning message! May all of your determination and hard work be rewarded, today!
---
Wishing my wonderful boyfriend a very Good Morning! I hope that you wake up in a good mood, that lasts all day! I hope that everything you do works out well!
Wishing my husband, the absolute best morning! Your loyalty means a lot to me! May your day find you around people who will always stand by your side!
Good Morning to utter perfection! You are the man of my dreams! I hope that you acquire everything that you want, today!
Good Morning! You are a man who makes my heart overflow with joy! Have a day that makes you feel happy to be alive and as glad as you have made me!
You are a man with impeccable standards! This morning, I hope that everything turns out to your liking! May it be superb!
Check out these cool Good Morning Pictures!
Good Morning! Every aspect of your personality makes me proud to have you as the man in my life! Today, I hope that who you truly are is celebrated!
At the start of your day, remember that you are the one for me! May this morning hold a place that is so different for you, that you can recall it, for days to come!
---
Good Morning Messages For Her
Good Morning to my girl! I woke up, thinking about your smile and hoping that you were thinking about mine! I hope that today is filled with many reasons for you to be happy!
Good Morning, to a magnificent woman! Every day, I am grateful for your devotion and proud of all that you have accomplished! May you have a day where you set and achieve new goals!
Wishing my great girlfriend, an even better morning! I hope that it starts off well, and progressively improves! You deserve to have an awesome day!
Sending a loving message to you, this morning! May you know how valuable you are to me! May your worth be noticed by others!
Good Morning! I never thought that I would be so lucky as to find a woman who manages to be both brave and gentle! You always tell me that I inspire you, but you inspire me, as well! Have a life-changing day!
We have an amazing collection of Good Morning Images and Quotes!
As your day begins, I hope that you feel a deep sense of calm. I hope that the calm you feel extends beyond this morning, and throughout the day. May you receive the peace that you always give me!
Hoping that I can start your morning off right, by wishing you a good day! May there be no troubles! May you only feel light-hearted!
You are the woman that I dream about, at night! May this morning be marked by great experiences for you!
Good Morning to the woman who is first in my life! May it be extraordinary!
---
Good Morning Messages For a New Love
Good Morning! Although our relationship is new, I feel a deep connection with you, that I have never experienced with anyone else. May we have a multitude of mornings, together!
Wishing my new love a Good Morning! I hope your day is exciting and fantastic!
Good Morning, to a love that is fresh and will always feel that way! You evoke tender feelings, any time I think of you!
It does not matter to me that we have not been together for very long. I know the way that I feel about you! You are the person who understands me better than anyone, and I hope that I am that person for you! Have an excellent morning!
---
Sending the person who makes my heart beat faster, a Good Morning message! I feel as if we have been together, for a while, and that things will only get better, between us! Have a splendid day!
Good Morning! Because of you, my heart is full! In the short amount of time that we have known each other, you have filled a void that was within me, for so long, that I was starting to lose faith! Thanks for giving it back to me! May all that you believe in, prove itself to be real!
Good Morning to someone who has given me the kind of relationship that I have always wanted! In the few weeks that we have been going out, I have never felt more special and loved! I hope you have a day that stands out and constantly reminds you of the way that I feel about you!
Good Morning! Our time together has been unforgettable! May we spend more days in each other's presence and create more unforgettable moments!
Taking the opportunity to let you know that there is, and will never be, anyone like you! May the start of your day be good and full of tremendous possibilities!
---
Good Morning Messages To Impress a Girl/Boy
Good Morning to the most beautiful girl I have ever laid eyes on! Have a day as gorgeous as you are!
Good Morning, to a great guy! You are very sweet and nice! Enjoy your day!
Have a Good Morning! Your beauty leaves me in awe! I hope that you are aware of your uniqueness!
Good Morning to a handsome man! May your day be breath-taking!
Sending a phenomenal woman a Good Morning message! I want to note how impressed I am by you and how glad I am to have you in my life!
Showing you, this morning, how much I care! You are a woman who is accustomed to receiving the very, best treatment! Today, I want you to know that I will always show you respect!
Good Morning! Letting you know that you are a man whose kindness causes me to think of you, often! May others extend good will to you!
Sending you a Good Morning message that conveys what a brilliant woman you are! You intrigue me! Have a day that highly interests and engages you!
---
---
---
---
Let's hear this inspiring song by Sir Paul himself:
---
You may also like:
A new Day Starts! Good Morning Pics
15 Optimistic Good Morning Cards.
A Wish for the New Day : Good Morning!
UNIQUE GIFT IDEAS
If you're looking for great presents for all budgets, we have done the work for you.
Click here for the
best birthday gifts
for friends and loved ones.
If you liked what you read, please share it. It really helps us a lot.