This Easter, celebrate with joy and reverence. As Christians, we have the opportunity to pause and reflect on the story of Jesus' resurrection – His miraculous gift of everlasting life. To mark this special event, religious Easter greetings are an excellent way to honor and commemorate the day. Whether you choose to write a card or an email, or say a prayer, these religious Easter greetings will fill you with the spirit of the season.
"He is risen!" This simple yet powerful statement is at the heart of Christianity. On Easter Sunday, we celebrate Jesus' resurrection from the dead – an event that changed the world forever. As Christians, we believe that the resurrection of Jesus is proof that death no longer has a grip on our lives. We can look forward to eternal life with Him in Heaven.
In this blog post, we've compiled over 40 of the most meaningful religious Easter greetings for you to share with friends and family this Easter season. From prayers to thoughtful quotes, these messages will convey your faith, love and admiration for Jesus' triumphant triumph over death. We hope that you find some inspiration in this collection of religious Easter greetings. Let's celebrate the Lord's resurrection with joy and gratitude!
Easter Traditions from Culture to Culture
Easter is celebrated in different ways across the world, with varying traditions and customs that reflect the cultural and religious practices of each region.
Easter in the US
In many Christian-majority countries, Easter is a time for reflection and commemoration of Jesus Christ's resurrection. However, the way Easter is celebrated may differ from country to country. For instance, in the United States, Easter is often celebrated with church services, egg hunts, and the Easter bunny, while in Spain, it is marked with processions, parades, and feasts.
Orthodox Easter
In some countries, such as Greece and Russia, Easter is celebrated on a different day than in Western countries because they follow the Julian calendar rather than the Gregorian calendar. These countries also have their own unique Easter traditions, such as the Greek custom of smashing red eggs together to see who has the strongest one, or the Russian tradition of exchanging intricately decorated Easter eggs.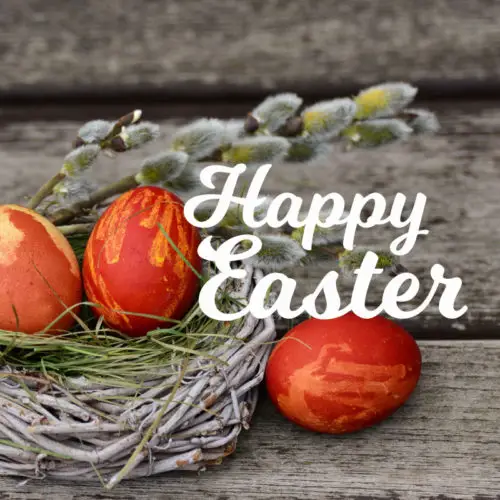 Semana Santa
In Latin America, Easter is celebrated with elaborate processions and masses, including the popular "Semana Santa" (Holy Week) in which many communities participate in reenactments of Jesus' crucifixion and resurrection. Similarly, in the Philippines, Holy Week is a significant event, with many people engaging in various forms of self-sacrifice, such as whipping or crucifying themselves, to show their devotion.
Overall, the diverse Easter traditions from around the world highlight the rich cultural and religious practices that shape our global community.
What is the meaning of Easter for Christians?
For a religious Christian, Easter is the most important holiday of the year, as it commemorates the resurrection of Jesus Christ from the dead. According to Christian tradition, Jesus was crucified on Good Friday, died, and was buried in a tomb. On the third day, which is celebrated as Easter Sunday, he rose from the dead, and his resurrection signifies the victory of life over death and the forgiveness of sins for all who believe in him.
Easter represents the core of the Christian faith, as it affirms the central belief that Jesus is the Son of God and that his resurrection has the power to redeem humanity. Christians see Easter as a time of renewal, hope, and new beginnings. It is a time to reflect on the sacrifices that Jesus made for humanity and to celebrate the hope and promise of eternal life.
Beyond its religious significance, Easter is also a time for family gatherings, feasting, and gift-giving. Many Christians attend church services and participate in rituals, such as lighting candles, singing hymns, and sharing communion. In essence, Easter represents the culmination of the Lenten season, a time of fasting, repentance, and reflection, and serves as a reminder of the love, mercy, and grace of God for all of humanity.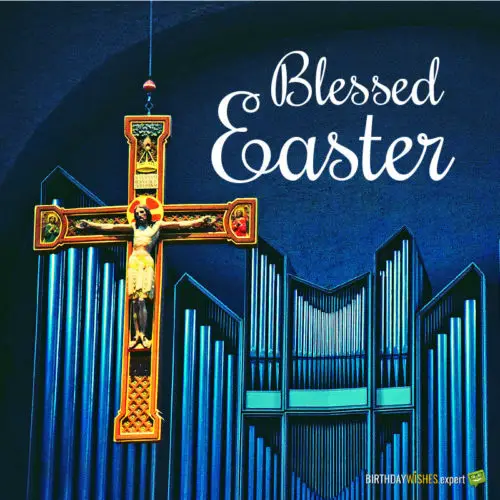 Religious Easter Greetings for Loved Ones
Easter is a time for Christians to celebrate the resurrection of Jesus Christ, who sacrificed himself for our sins. It is a time of joy, hope, and new beginnings. As we gather with our loved ones to celebrate this special day, it is important to remember the true meaning of Easter and to share the love and blessings of Christ with those we care about.
May the resurrection of Jesus Christ bring you joy and hope this Easter season.
Wishing you a blessed and peaceful Easter filled with love and happiness.
May the miracle of Easter bring you renewed strength, faith, and courage to face the challenges of life.
As you celebrate this holy day, may the love and blessings of Jesus Christ fill your heart and home.
May the peace and joy of Easter be with you and your family today and always.
Easter is a time of new beginnings and fresh starts. May this Easter bring you renewed faith and hope for the future.
Happy Easter! May you feel the love and grace of Jesus Christ in your life today and always.
This Easter, let us remember the sacrifice of Jesus Christ and the salvation he brought to us.
May the light of Christ shine upon you this Easter season, bringing you peace, happiness, and love.
May the blessings of Easter fill your heart with joy, love, and happiness.
Happy Easter! May the hope and promise of the resurrection bring you strength and comfort in times of trial.
May your heart be filled with the love and grace of Jesus Christ this Easter season.
As we celebrate the resurrection of Jesus Christ, let us remember the power of his love and the salvation it brings.
May the peace and joy of Easter fill your heart and home with love, laughter, and happiness.
Happy Easter! May you be blessed with the love and grace of Jesus Christ today and always.
Also read: Symbols of Rejuvenation : 100+ Happy Easter Wishes
Happy Easter Wishes: Religious Easter Card Messages
Let us celebrate God's sacrifice of his son so that our sins would be forgiven.
Wishing you blessings and much love on this Easter. Thanks be to our Savior who sacrificed himself for our sins and is the reason we celebrate this special day.
Easter is about God showing his love for humanity through the miraculous resurrection of his only son. May you have a glorious Easter celebration in his honor.
I wish you joy and many Easter blessings as we celebrate our Lord's resurrection.
He has risen! Praise be to God and let us all rejoice. May you join with your loved ones and have a very happy Easter.
Easter is the time to celebrate God's promise of being forgiven. May you take his love into your heart and praise his name on this wonderful day.
Let me join you in celebrating the miracle of Jesus' resurrection on this magnificent Easter day. I hope you enjoy a happy and peaceful celebration.
He began his journey on the cross. He ended it with his resurrection. We are the richer for his sacrifice. In his name, have a blessed and joyous Easter.
Can you hear the angels singing in praise of God today? I sure can! I hope the heavenly music of their voices surrounds you on this very special Easter.
Easter is the day of all days to praise our Savior! May you and your family have a blessed and happy celebration.
On this special day, may the Lord bless you and your family and fill their hearts with love. Have a wonderful Easter.
May God bless your Easter celebration with peace, love and happiness.
Take the time to rejoice and glorify God and your rewards will come back to you tenfold. May you have a happy and blessed Easter.
Wishing you much happiness and health during this Easter season. May God walk with you and keep you safe.
Easter Blessings and Bible Verses to Celebrate the Resurrection of Jesus Christ
The scriptures can often explain the true meaning of Easter.
Therefore, if anyone is in Christ, the new creation has come: The old has gone, then new is here! 2 Corinthians 5:17
He is risen. Matthew 28:6
All praise to God, the Father of our Lord Jesus Christ. It is by his great mercy that we have been born again because God raised Christ Jesus from the dead. Peter 1:3
Let your light shine before others. Matthew 5:16
He is not here; he has risen! Remember how he told you, while he was still with you in Galilee: 'The Son of Man must be delivered over to the hands of sinners, be crucified, and on the third day be raised again. Luke 24:6
Jesus said to her, "I am the resurrection and the life. The one who believes in me will live, even though they die; and whoever lives by believing in me will never die. Do you believe this? John 11:25-26
Jesus answered, 'I am the way and the truth and the life. No one comes to the Father except through me.' John 14:6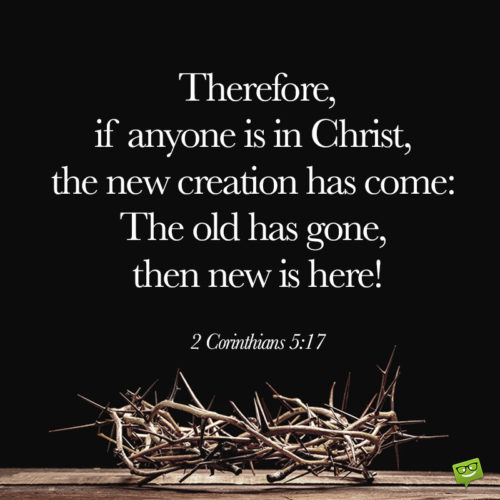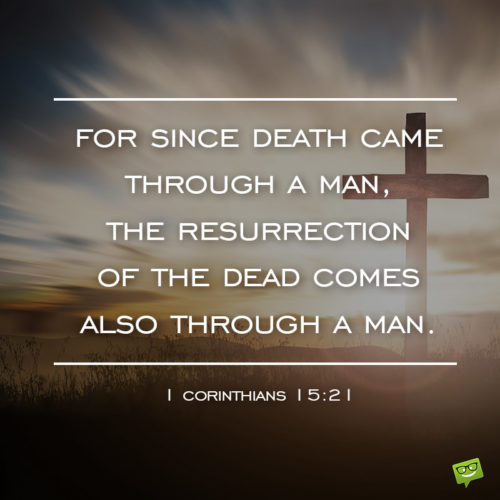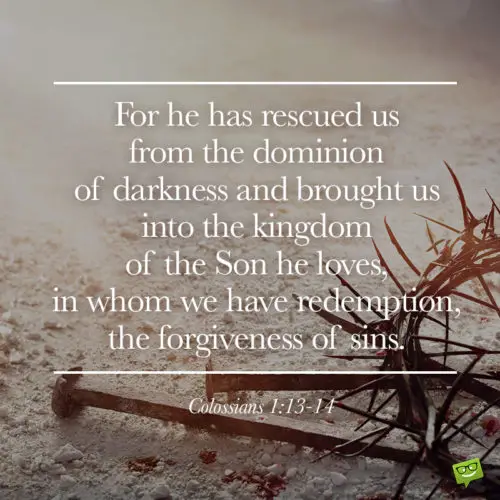 And God raised the Lord and will also raise us up by his power. 1 Corinthians 6:14
You killed the author of life, but God raised him from the dead. We are witnesses of this. Acts 3:15
We know that Christ, being raised from the dead, will never die again; death no longer has dominion over him. Romans 6:9
Who then is the one who condemns? No one. Romans 8:34
For since death came through a man, the resurrection of the dead comes also through a man. 1 Corinthians 15:21
He exerted when he raised Christ from the dead and seated him at his right hand in the heavenly realms. Ephesians 1:20
For he has rescued us from the dominion of darkness and brought us into the kingdom of the Son he loves, in whom we have redemption, the forgiveness of sins. Colossians 1:13-14
Conclusion
Easter is a time to celebrate the resurrection of our Lord, Jesus Christ and to remind us of all of God's promises. May these religious Easter greetings and Bible verses bring you peace and joy on this special day.
Have a blessed Easter!
You may also like:
30 Business Easter Messages for the Workplace and Clients
10 Easter Egg Hunt Ideas that Will Excite your Entire Workplace
What You Mean To Us: Mothering Sunday Wishes