Many of us know that Cinco de mayo is a famous annual celebration observed mainly in the United States of America to honor Mexican culture. But do we really know what this special day is?
Here you can learn all about the day and send one of our amazing 'Happy Cinco de mayo' wishes and images to your loved ones to put more color and excitement into the celebration of their beautiful Mexican heritage.
What does 'cinco de mayo' mean?
Cinco de mayo literally translates to 5th of May (or 5 of May).
Sometimes that phrase can't be easily recognized and translated by speakers of English, because months aren't written in capital letters in Spanish – and, by a funny coincidence, mayo is short for mayonnaise in the English language, making this simple short phrase confusing.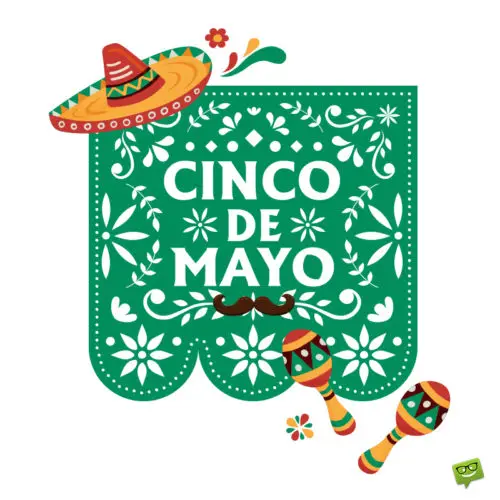 What is Cinco de mayo – History and Origin
Cinco de mayo is a famous celebration observed on May 5th every year in commemoration of Mexico's remarkable victory over the French at the legendary Battle of Puebla in 1862. The Mexican Army's victorious outcome of the battle was thanks to General Ignacio Zaragoza, who ironically died months after the battle due to illness.
Although often mistaken for the Day of the Dead or the Mexican Independence Day – celebrated on September 16, Cinco de mayo is in fact a date that has become associated with the celebration of Mexican-American culture.
These celebrations began in California, where they have been observed annually since 1863, but gained popularity across the USA in the 1980s mainly thanks to commercial advertising campaigns for drinks.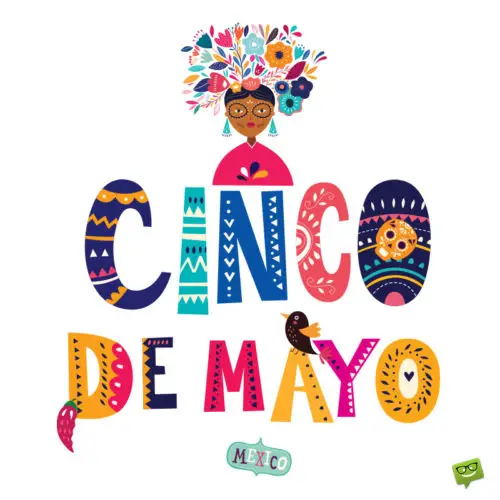 Happy Cinco de mayo!

Today is the day we began enjoying the sweet taste of freedom. By God, we shall be joyful! Happy Cinco de mayo!

As we salute our national heroes and celebrate our Mexican heritage today, may the glittering lights of Cinco de mayo fill our souls with sunshine. Have a wonderful celebration!

If there's one thing that is certain in life, it is that I will love Mexico until the day I die. Happy Cinco de mayo celebration to everyone out there who is proud of their Mexican roots.

Yay! It's Cinco de mayo once again! Let's make our heroes proud by making today one to remember!

As we celebrate Cinco de mayo, here's wishing you all the happiness and beauty in the world. Don't let anything under the sun stop you from drinking, eating and enjoying the sounds of good music today!

Wishing you a super duper blissful and blessed Cinco de mayo! I couldn't have asked God to plant me in a better heritage. Mexico forever!

This is a great day. Honor it, and don't let anything stop you from keeping the amazing Mexican spirit alive. May you and your family enjoy an absolutely amazing Cinco de mayo celebration.

As we enjoy this day with feast, let's take a moment to remember the gallant men whose efforts and ultimate sacrifices blessed us with the peace and freedom we are presently enjoying.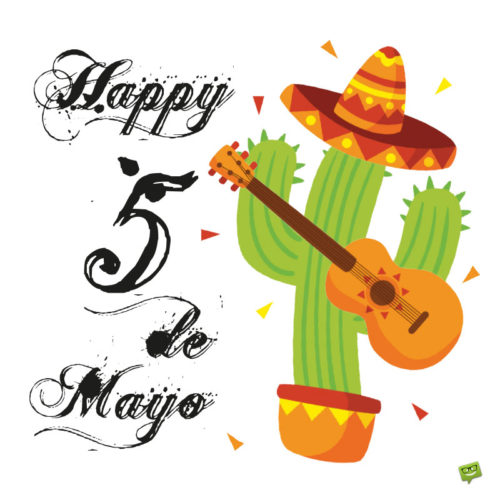 May the famed 1862 victory of the Mexican Army in the Battle of Puebla give you the motivation to overcome all the hurdles that stand in your way to success. Have a wonderful Cinco de mayo celebration.

There's no greater day to be proud of your Mexican heritage than on Cinco de mayo. Have a truly happy and blessed Cinco de mayo.

Happy Cinco de mayo to one of the most wonderful people in my life! May your life be as glorious as this great day in our country's history.  

May your Cinco de mayo holiday be as special and beautiful as your life.

Sending your way lots of love, happiness and peace as you observe this year's Cinco de mayo. Have a beautiful day!

Wishing you an amazing time on this truly special day in Mexican history. Happy Cinco de mayo!

Where would we be today had it not been for Cinco de mayo?! Commemorate this phenomenal day with a heart full to the brim with happiness and great pride.


May you know nothing short of true happiness, love and pride this Cinco de mayo. Celebrate this remarkably great day with all your ability!

As we celebrate this important day in our nation's history, let's remember to be thankful to God for blessing us with a Mexican heritage.


For me, Cinco de mayo is not just a time to celebrate, it is a time to honor the lives of every single member of our brave army that defeated the occupying French Army at the Battle of Puebla. Happy Cinco de mayo to everyone. May we forever be proud of our Mexican heritage!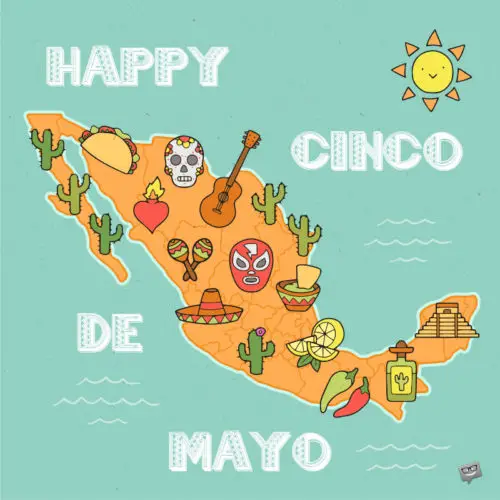 I love my Mexican heritage like I love the air I breathe. I can therefore never trade it for anything – not even for the universe and all the fortune in it. Have a fabulous Cinco de mayo celebration!

May your life be as colorful and great as our history. Enjoy your Cinco de mayo celebration to the max!

Wishing a gloriously happy Cinco de mayo holiday to you! Let us eat, drink and be merry, for this day is not only one of the greatest days in our history but it also the day that made us who we are today.

Happy Cinco de mayo! I hope you can make this day a truly memorable one. Viva Mexico!

Man it feels so incredibly good to be Mexican!! Happy Cinco de mayo to all the beautiful people of the great nation of Mexico! May God forever bless Mexico and its wonderful people.

I'm Mexican-made and will forever be grateful and proud of my heritage. Happy Cinco de mayo to everyone!

As we celebrate the occasion of Cinco de mayo, let us not forget to say thank you to every single soul who has fought to defend and protect this great country of ours!

Today marks one of the greatest occasions in the history of this dear nation of ours. As we rejoice on this wonderful day, let's strive with all our might to uphold the unity, love and freedom our national heroes fought for. Have a magnificent Cinco de mayo.

Wishing a bright and beautiful Cinco de mayo holiday to my favorite amigo. May your day be filled with music, celebration and true happiness.

May you enjoy unmeasurable happiness today. Have an amazing Cinco de mayo!

Wishing you a Cinco de mayo that is as sparkling and beautiful as a supernova. Enjoy this special day with all the pride your heart can contain.

Be proud of your Mexican heritage, not only on this great day, but on all the days of your life. Have a wonderful Cinco de mayo!

Wishing all my amigos and familia a safe and happy Cinco de mayo! We are lucky to be born in one of the greatest nations on earth. I hope we never forget that for as long as we live.

Have a blessed and fun Cinco de mayo! Words can't describe how joyful I feel today to celebrate with you this special day in our nation's history.

Let's honor the brave heroes of our beloved nation on this day and until the end of time. Happy Cinco de mayo to everyone!

Wishing you a fabulously happy Cinco de mayo celebration. May freedom and happiness always surround us.

As we make merry today, let's devote some time to remember those whose sweat, toil and sacrifice ensured the bright future we are experiencing today.

Happy Cinco de mayo in Spanish!
Celebremos junto a nuestros familiares y amigos el día en que comenzamos a disfrutar el dulce sabor de la libertad. ¡Feliz Cinco de mayo!
Mientras celebramos el Cinco de mayo, les deseamos toda la felicidad del mundo. ¡No dejen que nada les impida beber, comer y disfrutar de la buena música hoy!
Mientras disfrutamos este día con un festín, tomemos un momento para recordar a los hombres valientes cuyos esfuerzos y sacrificios nos bendijeron con la paz y la libertad quedisfrutamos actualmente. ¡Feliz Cinco de mayo!
¡Feliz Cinco de mayo a una de las personas más maravillosas de mi vida! Que tu vida sea tan gloriosa como este gran día en la historia de nuestro país.
Si hay algo de lo que estoy seguro en mi vida es que amaré a México hasta el día de mi muerte. ¡Feliz Cinco de mayo para todos los que están orgullosos de sus raíces mexicanas!
No hay mejor día para estar orgulloso de tu herencia mexicana que el Cinco de mayo. Te deseo un Cinco de mayo verdaderamente feliz y bendecido.
¡Les deseo un feliz y bendecido Cinco de mayo! No podría haberle pedido a Dios una mejor herencia. ¡México para siempre!
Que la famosa victoria de 1862 del ejército mexicano en la batalla de Puebla te dé la motivación para superar todos los obstáculos que se interponen en tu camino hacia el éxito. Que tengas un maravilloso Cinco de mayo.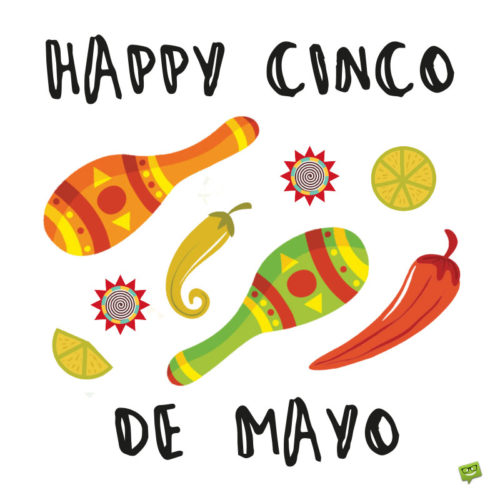 ¿Dónde estaríamos hoy si no hubiera sido por el Cinco de mayo? Festejemos este día tan especial con el corazón lleno de felicidad y gran orgullo.
El Cinco de mayo no es solo un momento para celebrar, es un momento para honrar la vida de cada miembro de nuestro valiente ejército que derrotó al ejército francés de ocupación en la Batalla de Puebla. Feliz Cinco de mayo a todos. ¡Que siempre estemos orgullosos de nuestra herencia mexicana!
Que tu vida sea tan colorida y grandiosa como nuestra historia. Te deseo un maravilloso Cinco de mayo.
¡Te deseo un feliz Cinco de Mayo! Comamos, bebamos y seamos felices, porque este día no es solo uno de los mejores días de nuestra Historia, sino también el día que nos hizo quienes somos hoy. ¡Viva México!
Soy de origen mexicano y siempre estaré agradecido y orgulloso de mís raíces y mi herencia. ¡Feliz Cinco de mayo a todos!
Hoy es una de las mayores celebraciones en la Historia de esta querida nación nuestra. Mientras festejamos este maravilloso día, luchemos con todas nuestras fuerzas para defender la unidad, el amor y la libertad por la que lucharon nuestros héroes nacionales. Les deseo un magnífico Cinco de mayo.
Siéntete orgulloso de tus raíces mexicanas, no solo en este gran día, sino en todos los días de tu vida. ¡Que tengas un magnífico Cinco de mayo!
¡Les deseo a todos mis amigos y familia un feliz Cinco de mayo! Tenemos la suerte de haber nacido en una de las mejores naciones del mundo. Espero que nunca se nos olvide mientras vivamos.
More Cinco de mayo Images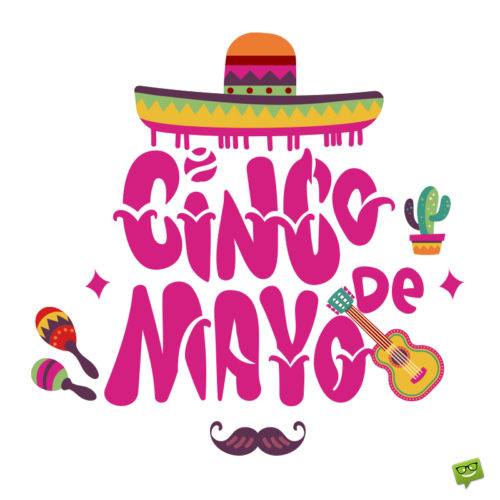 Happy Birthday Wishes for People Born on May 5th
Wishing you a twofold celebration as the most special day of your life falls on one of the most special days in this nation's history. Have yourself a super duper happy birthday and a fantastic Cinco de mayo celebration today!

A birthday celebration on Cinco de mayo? Lucky you! Wishing you a truly wonderful Cinco de mayo celebration and an equally amazing birthday party!

I wish you a fabulous Cinco de mayo holiday and a happy birthday! May the magic of Cinco de mayo and your birthday bless you with a truly phenomenal day!

As far as blessings go, you are truly blessed. Happy birthday on Cinco de mayo!

Today, I do not only celebrate the beautiful culture of Mexico, but also one of the most wonderful people I know – you! May your day shine brighter than all the stars in the universe.
---
You may also like:
200 Deseos de cumpleaños en español
Day of the Dead (Dia de los Muertos) | Original and Famous Quotes