Amazing Good Morning Images and Quotes to Inspire a Perfect Day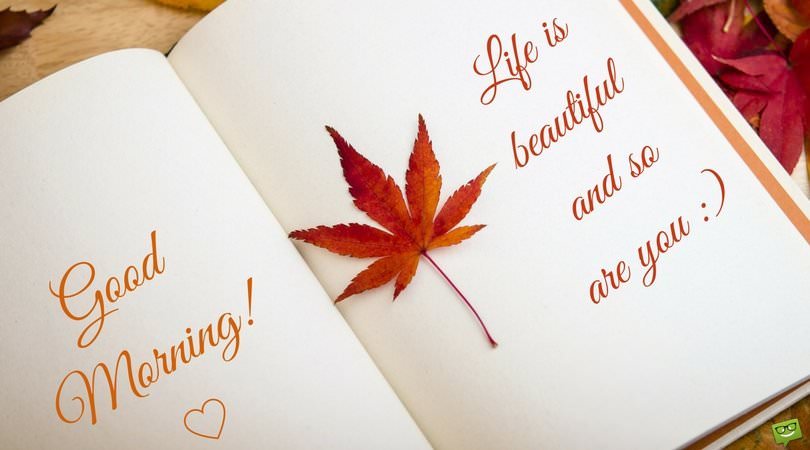 If you come to think about it, there are times that people feel haunted by their past. The reason why this feeling has mainly psychological -and not practical- basis is the fact that the past is not even here, so it has less power to affect you than the present.
This is probably why wishing "Good morning" can be so exhilarating: this phrase is the symbol of man's present power; a reminder that human actions today count more than memories, because they can really be more efficient. Our collection of quotes is combined with great good morning images you can share with the world in order to remind them what we should never forget: Today is an amazing chance for a new start.
---
Inspirational Morning Quotes
Good Morning! Today is a brand new chapter in this book of life. You start off with a blank page and only you have the pen!
Say goodbye to yesterday, for today is a brand new start.
The birds are singing, the sky is blue, it's time for you to get up and start anew!
In the words of Queen Elsa, "Let it go!", and begin your day anew!
There is a 1-in-175 million chance that you will be struck by lightning today. There is a 1-in-2 chance you will have an incredible day. The odds are definitely in your favor. Have a great day!
Good Morning! May your day be as incredible as our venti caramel macchiato! Love, Starbucks.
Count your blessings before you even set foot out of bed and start your day off with a smile and a positive mind sight!
Good Morning! May the coffee be strong! Much to be grateful for today, you have.
---
Make today awesome! You only get one today, so make it awesome!
Good Morning! Time to wake up from your beautiful dreams and start creating your dreams!
Good Morning! A spankin' fresh new day is waiting for you! Go and make it a good one!
Good Morning, Beautiful! You are a fierce and feisty go-getter! Make today the best day ever!
Keep Calm and Carry On… with having the best day ever!
Take a hot shower and wash the worries and disappointments of yesterday away. Today is a blank page in your notebook and you hold the pencil.
Whiskers on kittens and raindrops on roses. What are a few of your favorite things? Think of the happiest thoughts and go on with having a super fantastic day!
In the words of Little Orphan Annie: "Tomorrow! Tomorrow! The sun will come out tomorrow! It's only a day away!"
Good Morning! Enjoy the next 5 minutes of peace and quiet before the children realize you're awake and you become the ringmaster of a circus.
There are two kinds of people in this world. People that hate mornings and people that love mornings. Just for today could you please pretend to be someone that loves them?
Roses are red. Violets are blue. Mornings are worse than stepping in poo.
Good Morning or as the French say "Bon matin!"
---
---
---
Good Morning! I trust your day started off on the right foot. If it didn't, simply get back to bed and get out with your right foot.
"The positive thinker sees the invisible, feels the intangible, and achieves the impossible!"
Shut the door on the past. Throw open the door to today! Start your day with positive affirmations and give yourself permission to love yourself!
Good Morning! May your day be as badass as a Dothraki warrior!
Rise and shine! May your day be twice as fine as it was yesterday!
Good Morning! I hope your day is filled with plenty of laughter and fun.
Jump out of bed and yell "Yay!" to start your day off with a bit of zip!
Good Morning! I hope you have a good morning, but also a good afternoon and evening!
Good Morning, let the coffee flow to keep you on the go! Make it a great day!
Today is a gift and blessing from God! Be fully present and live in the here and now!
Start your day right by making your bed. It might sound like a silly little thing, but at the end of the day at least you'll have accomplished one.
Smile! Today is here! A beautiful day awaits your smile!
Good mornings begin with a cup of coffee. Great mornings begin with a laugh and positive attitude.
Whatever you have decided today will be, will be. Make the decision to have an incredible day and you will.
Have a great day! Be deliriously happy and engaged in every moment!
Good Morning! Now pretend that's a good thing and get out of that bed!
Good Morning! If you wake up feeling great and start your day off with a positive attitude you may very well have a great day, as long as you stay away from idiots and mean people.
---
---
---
---
---
---
---
---
---
---
---
---
---
---
---
---
---
---
Check out our Good Morning Pictures!
---
---
---
---
---
Also check: 15 Optimistic Good Morning Cards.
---
---
---
---
---
---
---
Read also: 15 Happy Good Morning Images.
---
---
---
---
---
---
---
Have you visited our post with 60 Good Morning Quotes on Images with Flowers?
---
---
---
---
---
---
---
---
---
---
---
---
---
---
It's time to rise and shine, my little puffy-eyed, sleepy-head! Time to go put on your face before you frighten little children.
Good Morning, My Dearest, How many cups of coffee shall I make to get you up and moving today?
Good Morning, sweetheart, for a moment there I thought you were a raccoon hiding under the covers but then I realized you were my wife.
Good Morning! There will only be one day like today. Go out and conquer it!
Good Morning! I hope your day is as splendid as Downtown Abbey!
It's time to break up with your best friend, the snooze button, and get out of that bed.
Mornings only come once a day so rise and shine, sleepy head!
Good Morning! May today be as glorious as your hair on this lovely morning.
Aim to become a rooster and learn to love mornings! Wake up singing "Cock-a-doodle-doo!" and parade out of bed and start your day off with some gusto!
Good Morning! There are no two more beautiful words than those.
What a beautiful day for a smile. There is nothing better than a smile to start off your day!
God is good! Another day is upon us! Have a great morning! May your day bring you much love, joy, and laughter.
Just remember it's a new day. Don't bring the troubles from yesterday into today. Leave them behind and enjoy living today!
The sunshine is shining and ready to see your smiling face! Make today a great day!
It's up to you alone to make your day great. Make the decision to have a great day and you will!
It's a scientific fact that if you start singing the "Fresh Prince of Bel Air" theme song, you will immediately put yourself in a better mood. What are you waiting for? Go sit on your throne, you're the Prince of Bel Air!
Good Morning! When you jump out of bed, act like you have just won the $100 Million Publisher's Clearing House Sweepstakes! Now go forth and have a great day! (please just remember that you really didn't win $100 Million and your bank account is still pretty much empty…)
---
Click on the top right icon [

] to share this video:
---
Links with more Good Morning Images:
20 Good Morning Images for Social Media
Time to Start the Day: 45 Good Morning Images
34 Good Morning Cards to make your Day!
UNIQUE GIFT IDEAS
If you're looking for great presents for all budgets, we have done the work for you.
Click here for the
best birthday gifts
for friends and loved ones.
If you liked what you read, please share it. It really helps us a lot.