Rumi Quotes to Help You Enjoy Life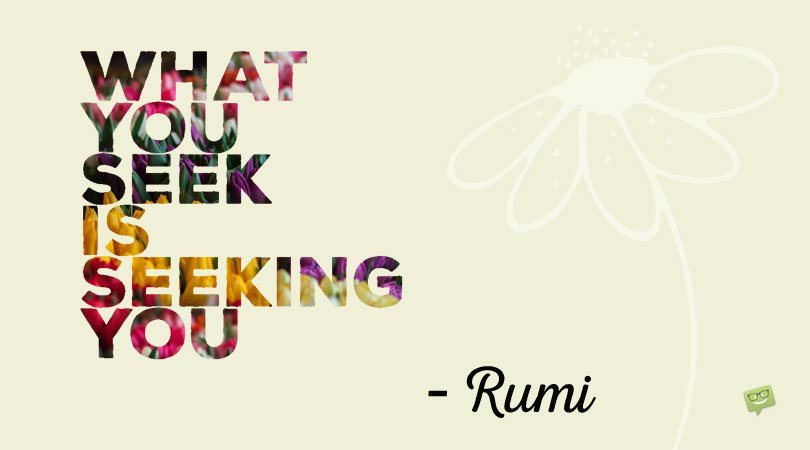 It's not a coincidence that the poetry and quotes of the great mystic, poet and philosopher from the 13th century Persia is still widely read and studied by scholars and common people alike. The simplicity of his poems combined with his accuracy on expressing the true nature of the human soul make him accessible to everyone, making him one of the great masters of global culture. That's probably why we have dedicated so many articles to him, like his 20 Best Rumi Quotes, among others.
Rumi proposes a way of life based on truth and not on the conventions of everyday life which are regarded to be a kind of prison that most people spend their lives in. Love, is a reoccurring topic in his poems, presented as a path to wisdom and a destination at the same time. His concept that everything is a part of a greater whole is a rather modern idea, explored even by scientists nowadays. This concept of Sufi teachings has become a tool for modern societies to understand the link which connects humans and nature to the great power that moves the universe.
Don't hesitate to freely share any image you like on the timeline of your favorite social medium. Portrait-oriented images are better for Google+, Tumblr and Pinterest. The square images fit better on Instagram and the landscape-oriented are perfect for Facebook. Have a great day!
---
Jalāl ad-Dīn Muhammad Rūmī Biography | The Fascinating Life of a Poet
Jalāl ad-Dīn Muhammad Rūmī, widely known by the name Rumi, was a renowned Persian poet, Sufi mystic and Islamic scholar born on 30th September 1207 to Mu'mina Khātūn and Bahā ud-Dīn Walad (also affectionately called "Sultan of the Scholars" by Rumi's students) in either Balkh, a town located in the province of Balkh, which is in present-day Afghanistan or Wakhsh, which is located in present-day Tajikistan. Rumi's lineage was filled with seasoned Islamic jurists, mystics, and theologians, including his own father Baha' ud-Din, who was a well known theologian and Hanafi jurist. Throughout his life, Rumi was inspired greatly by his father as well as the famous Persian poets Sanai and Attar.
Somewhere between 1215 and 1220, to escape the invasion of the Mongols, Baha' ud-Din safely led his entire family and a group of followers thousands of miles West, passing through a number of famous cities, including Nishapur, Baghdad, Mecca, Damascus and Sivas before finally settling in the city of Karaman, located in the south central part of present-day Turkey – a country in which he not only spent the majority of his adult life but also wrote most of his poetry.
After spending seven years in Karaman, Rumi and his family later moved to Konya, a city in the Central Anatolia region of Turkey. Some historians believe that the move from Karaman to Konya was inspired by Kayqubad I, the Seljuq Sultan of Rûm, who had on a number of occasions personally invited Rumi's father to settle down there. In Konya, Baha' ud-Din was made a teacher and the head of one of the city's many madrassas (religious school for the study of Islam).
Upon his father's death in 1231, Rumi, who was then 25 years old, took over his father's position at the madrassa while at the same time learning the Tariqa and the Shariah from a student of his father named Sayyed Burhan ud-Din Muhaqqiq Termazi. For a period of nine years, Rumi was a disciple of Burhan ud-Din until Burhan ud-Din's death in the early 1240s. It was only after Burhan ud-Din's passing that Rumi became a prominent Islamic Jurist and began issuing Islamic religious rulings or fatwas and moving from one mosque to another to preach.
Rumi was married twice. His first marriage was to a woman named Gowhar Khatun in 1225. The marriage produced two male children, Baha al-Din Muhammad-i Walad (popularly known as Sultan Walad) and Ala-eddin Chalabi. After the death of Rumi's wife, he got married again and fathered two more children, a daughter named Malakeh Khatun and a son named Amir Alim Chalabi.
By the year 1244 in November, Rumi met a dervish named Shams-e-Tabriz, who became both his very close friend and spiritual instructor. Sham's presence in Rumi's life changed him in a very dramatic way. Under the guidance of Shams, he gave up all forms of physical pleasures to become an ascetic. According to some scholars, Shams' very close relationship with Rumi sprung jealousy among Rumi's disciples, leading to several of them chasing Shams away from Rumi on a number of occasions until one day Shams mysteriously disappeared and was never seen by Rumi again. Up until today, scholars are not completely certain as to what really happened to Shams. Some say he was murdered by the jealous disciples of Rumi with the assistance of one of Rumi's own sons, whereas others believe he was driven away and decided never to come back.
The disappearance of Shams had such a devastating effect on Rumi that he temporarily abandoned the madrassah and traveled far searching for his beloved friend. He reportedly even went as far as Damascus searching for him to no avail and was forced to return home accepting the sad fact that he would never see Shams again.
The loss of his dear friend inspired Rumi to write one of his most famous masterpieces titled Diwan-i Shams-i Tabrīzī (also know in English as The Works of Shams of Tabriz), which is a brilliant collection of lyric poems mostly in the new Persian language containing over 40,000 verses. Today, Divan-e-Sham-Tabriz is widely regarded as one of the most influential works in the entire history of Persian Literature.
After the disappearance and possibly death of Shams, Rumi was again inspired by another friend named Hussam-e-Chalabi, who mentioned that if Rumi could write a book like the Illahinam, lots of traveling musicians popularly known as troubadors would like it. This encounter led to the birth of yet another major poetic work of Rumi entitled Masnavi (also known as Masnavi-I Ma'navi). The Masnavi, which is a series of six books (volumes) of poetry, is considered by many as one of the greatest works of Sufism (Tasawwuf). Each book of the Masnavi is made up of roughly 4,000 verses and comes with both a prose introduction as well as an excellent prologue.
Away from these famous works, Rumi's other notable works include Fihi Ma Fihi (It Is What It Is), Makatib (The Letters) and Majāles-e Sab'a (Seven Sessions).
In the year 1273, precisely on December 17th, Rumi passed away after a brief sickness and he was buried beside his father. The site of his burial which is located in Konya, Turkey is known as the Green Tomb (the Mevlana Museum). Today, thousands of people from all over the world visit Rumi's mausoleum every month to honor him.
Following his demise, most of his major works were taught and made famous in the West by the renowned American scholar Shahram Shiva. Today, in the western world, Rumi's teachings are much accepted as a foundation to the beliefs of Sufism. Despite his death several centuries ago, today Rumi is one of the most widely read poets in many parts of the world, including in the United States, where he is considered the bestselling poet in the country. His poems have also served as a foundation for classical music from a number of countries and have even appeared on top of the U.S. music charts on a number of occasions.
In addition to being translated from Persian language into numerous other languages such as English, German, French, Arabic, Russian, Spanish and Italian, Rumi's literary works have significantly influenced numerous scholars such as the award-winning performance poet and author Shahram Shiva and the legendary British Indian poet Sir Muhammad Iqbal. Till date, Rumi is widely considered as one of the most influential poets of all time.
---
Short Quotes by Rumi Jalaluddin
Respond to every call that excites your spirit. Jalaluddin Rumi
You have to keep breaking your heart until it opens. Jalaluddin Rumi
When you do things from your soul, you feel a river moving in you, a joy. Jalaluddin Rumi
Travel brings power and love back into your life. Jalaluddin Rumi
Remember. The way you make love is the way God will be with you. Jalaluddin Rumi
In Silence there is eloquence. Stop weaving and see how the pattern improves. Jalaluddin Rumi
Only from the heart can you touch the sky. Jalaluddin Rumi
We come spinning out of nothingness, scattering stars like dust. Jalaluddin Rumi
Set your life on fire. Seek those who fan your flames. Jalaluddin Rumi
I want to sing like the birds sing, not worrying about who hears or what they think. Jalaluddin Rumi
Raise your words, not voice. It is rain that grows flowers, not thunder. Jalaluddin Rumi
Silence is the language of god, all else is poor translation. Jalaluddin Rumi
Sell your cleverness and buy bewilderment. Jalaluddin Rumi
You were born with wings, why prefer to crawl through life? Jalaluddin Rumi
If you are irritated by every rub, how will your mirror be polished? Jalaluddin Rumi
What you seek is seeking you. Jalaluddin Rumi
What matters is how quickly you do what your soul directs. Jalaluddin Rumi
Stop acting so small. You are the universe in ecstatic motion. Jalaluddin Rumi
I know you're tired but come, this is the way. Jalaluddin Rumi
Two there are who are never satisfied — the lover of the world and the lover of knowledge. Jalaluddin Rumi
Beauty surrounds us. Jalaluddin Rumi
The moon stays bright when it doesn't avoid the night. Jalaluddin Rumi
The breeze at dawn has secrets to tell you. Don't go back to sleep. Jalaluddin Rumi
When you feel a peaceful joy, that's when you are near truth. Jalaluddin Rumi
Let the beauty of what you love be what you do. Jalaluddin Rumi
You are not a drop in the ocean. You are the entire ocean in a drop. Jalaluddin Rumi
Not only the thirsty seek the water, the water as well seeks the thirsty. Jalaluddin Rumi
The rose's rarest essence lives in the thorns. Jalaluddin Rumi
Do not feel lonely, the entire universe is inside you. Jalaluddin Rumi
I once had a thousand desires. But in my one desire to know you all else melted away. Jalaluddin Rumi
Gamble everything for love, if you're a true human being. Jalaluddin Rumi
Shine like the whole universe is yours. Jalaluddin Rumi
Maybe you are searching among the branches, for what only appears in the roots. Jalaluddin Rumi
Your heart is the size of an ocean. Go find yourself in its hidden depths. Jalaluddin Rumi
Give your weakness to one who helps. Jalaluddin Rumi
Let silence take you to the core of life. Jalaluddin Rumi
At the end of my life, with just one breath left, if you come, I'll sit up and sing. Jalaluddin Rumi
Whoever's calm and sensible is insane! Jalaluddin Rumi
Try something different. Surrender. Jalaluddin Rumi
---
Love Quotes by Jalaluddin Rumi
I am yours. Don't give myself back to me. Jalaluddin Rumi
Reason is powerless in the expression of Love. Jalaluddin Rumi
You think because you understand 'one' you must also understand 'two', because one and one make two. But you must also understand 'and'. Jalaluddin Rumi
Wherever you are, and whatever you do, be in love. Jalaluddin Rumi
There are lovers content with longing. I'm not one of them. Jalaluddin Rumi
Your task is not to seek for love, but merely to seek and find all the barriers within yourself that you have built against it. Jalaluddin Rumi
Is it really so that the one I love is everywhere? Jalaluddin Rumi
Out beyond ideas of wrongdoing
and rightdoing there is a field.
I'll meet you there.
When the soul lies down in that grass
the world is too full to talk about.
Jalaluddin Rumi
Love comes with a knife, not some shy question, and not with fears for its reputation! Jalaluddin Rumi
I was dead, then alive.
Weeping, then laughing.
The power of love came into me,
and I became fierce like a lion,
then tender like the evening star.
Jalaluddin Rumi
A thousand half-loves must be forsaken to take one whole heart home. Jalaluddin Rumi
This is love: to fly toward a secret sky, to cause a hundred veils to fall each moment. First to let go of life. Finally, to take a step without feet. Jalaluddin Rumi
That which God said to the rose, and caused it to laugh in full-blown beauty, He said to my heart, and made it a hundred times more beautiful. Jalaluddin Rumi
I closed my mouth and spoke to you in a hundred silent ways. Jalaluddin Rumi
Words are a pretext. It is the inner bond that draws one person to another, not words. Jalaluddin Rumi
In your light I learn how to love. In your beauty, how to make poems. You dance inside my chest where no-one sees you, but sometimes I do, and that sight becomes this art. Jalaluddin Rumi
The minute I heard my first love story,
I started looking for you, not knowing
how blind that was.
Lovers don't finally meet somewhere.
They're in each other all along.
Jalaluddin Rumi
When I am with you, we stay up all night.
When you're not here, I can't go to sleep.
Praise God for those two insomnias!
And the difference between them.
Jalaluddin Rumi
A mountain keeps an echo deep inside. That's how I hold your voice. Jalaluddin Rumi
At night, I open the window
and ask the moon to come
and press its face against mine.
Breathe into me.
Close the language-door
and open the love-window.
The moon won't use the door,
only the window.
Jalaluddin Rumi
Here is a relationship booster
that is guaranteed to
work:
Every time your spouse or lover says something stupid
make your eyes light up as if you
just heard something
brilliant.
Jalaluddin Rumi
Let the lover be disgraceful, crazy, absentminded. Someone sober will worry about things going badly. Let the lover be. Jalaluddin Rumi
They say there is a doorway from heart to heart, but what is the use of a door when there are no walls? Jalaluddin Rumi
I am your moon and your moonlight too
I am your flower garden and your water too
I have come all this way, eager for you
Without shoes or shawl
I want you to laugh
To kill all your worries
To love you
To nourish you.
Jalaluddin Rumi
Lovers find secret places
inside this violent world
where they make transactions
with beauty.
Jalaluddin Rumi
You think you are alive
because you breathe air?
Shame on you,
that you are alive in such a limited way.
Don't be without Love,
so you won't feel dead.
Die in Love
and stay alive forever.
Jalaluddin Rumi
This is how I would die
into the love I have for you:
As pieces of cloud
dissolve in sunlight.
Jalaluddin Rumi
In the house of lovers, the music never stops, the walls are made of songs & the floor dances. Jalaluddin Rumi
Quotes on Healing by Jalaluddin Rumi
The wound is the place where the Light enters you. Jalaluddin Rumi
Don't grieve. Anything you lose comes round in another form. Jalaluddin Rumi
If you desire healing,
let yourself fall ill
let yourself fall ill.
Jalaluddin Rumi
Love is the cure,
for your pain will keep giving birth to more pain
until your eyes constantly exhale love as effortlessly as your body yields its scent.
Jalaluddin Rumi
Dance, when you're broken open. Dance, if you've torn the bandage off. Dance in the middle of the fighting. Dance in your blood. Dance when you're perfectly free. Jalaluddin Rumi
Ignore those that make you fearful and sad, that degrade you back towards disease and death. Jalaluddin Rumi
Where there is ruin, there is hope for a treasure. Jalaluddin Rumi
The cure for pain is in the pain. Jalaluddin Rumi
This being human is a guest house. Every morning is a new arrival. A joy, a depression, a meanness, some momentary awareness comes as an unexpected visitor…Welcome and entertain them all. Treat each guest honorably. The dark thought, the shame, the malice, meet them at the door laughing, and invite them in. Be grateful for whoever comes, because each has been sent as a guide from beyond. Jalaluddin Rumi
There is a candle in your heart, ready to be kindled.
There is a void in your soul, ready to be filled.
You feel it, don't you?
Jalaluddin Rumi
Be empty of worrying.
Think of who created thought!
Why do you stay in prison
When the door is so wide open?
Jalaluddin Rumi
Goodbyes are only for those who love with their eyes. Because for those who love with heart and soul there is no such thing as separation. Jalaluddin Rumi
Suffering is a gift. In it is hidden mercy. Jalaluddin Rumi
Sorrow prepares you for joy. It violently sweeps everything out of your house, so that new joy can find space to enter. It shakes the yellow leaves from the bough of your heart, so that fresh, green leaves can grow in their place. It pulls up the rotten roots, so that new roots hidden beneath have room to grow. Whatever sorrow shakes from your heart, far better things will take their place. Jalaluddin Rumi
Come, come, whoever you are. Wanderer, worshiper, lover of leaving. It doesn't matter. Ours is not a caravan of despair. come, even if you have broken your vows a thousand times. Come, yet again , come , come. Jalaluddin Rumi
People want you to be happy.
Don't keep serving them your pain!
If you could untie your wings
and free your soul of jealousy,
you and everyone around you
would fly up like doves.
Jalaluddin Rumi
When you go through a hard period,
When everything seems to oppose you,
… When you feel you cannot even bear one more minute,
NEVER GIVE UP!
Because it is the time and place that the course will divert!
Jalaluddin Rumi
What hurts you, blesses you. Darkness is your candle. Jalaluddin Rumi
I didn't come here of my own accord, and I can't leave that way.
Whoever brought me here will have to take me home.
Jalaluddin Rumi
I will soothe you and heal you,
I will bring you roses.
I too have been covered with thorns.
Jalaluddin Rumi
I will be waiting here….
For your silence to break,
For your soul to shake,
For your love to wake!
Jalaluddin Rumi
Inspirational Quotes by Jalaluddin Rumi
Take someone who doesn't keep score,
who's not looking to be richer, or afraid of losing,
who has not the slightest interest even
in his own personality: he's free.
Jalaluddin Rumi
And you? When will you begin that long journey into yourself? Jalaluddin Rumi
Let yourself be drawn by the stronger pull of that which you truly love. It will not lead you astray. Jalaluddin Rumi
Everything in the universe is within you. Ask all from yourself. Jalaluddin Rumi
Who could be so lucky? Who comes to a lake for water and sees the reflection of moon. Jalaluddin Rumi
Be melting snow. Wash yourself of yourself. Jalaluddin Rumi
Yesterday I was clever, so I wanted to change the world. Today I am wise, so I am changing myself. Jalaluddin Rumi
Inside you there's an artist you don't know about… say yes quickly, if you know, if you've known it from before the beginning of the universe. Jalaluddin Rumi
Run from what's comfortable. Forget safety. Live where you fear to live. Destroy your reputation. Be notorious. I have tried prudent planning long enough. From now on I'll be mad. Jalaluddin Rumi
Don't be satisfied with stories, how things have gone with others. Unfold your own myth. Jalaluddin Rumi, The Essential Rumi
Knock, And He'll open the door
Vanish, And He'll make you shine like the sun
Fall, And He'll raise you to the heavens
Become nothing, And He'll turn you into everything.
Jalaluddin Rumi
My soul is from elsewhere, I'm sure of that, and I intend to end up there. Jalaluddin Rumi
Let the beauty we love be what we do. There are hundreds of ways to kneel and kiss the ground. Jalaluddin Rumi
Be like the sun for grace and mercy. Be like the night to cover others' faults. Be like running water for generosity. Be like death for rage and anger. Be like the Earth for modesty. Appear as you are. Be as you appear. Jalaluddin Rumi
I have lived on the lip
of insanity, wanting to know reasons,
knocking on a door. It opens.
I've been knocking from the inside.
Jalaluddin Rumi
Start a huge, foolish project, like Noah…it makes absolutely no difference what people think of you. Jalaluddin Rumi
But listen to me. For one moment
quit being sad. Hear blessings
dropping their blossoms
around you.
Jalaluddin Rumi
The breezes at dawn have secrets to tell you
Don't go back to sleep!
You must ask for what you really want.
Don't go back to sleep!
People are going back and forth
across the doorsill where the two worlds touch,
The door is round and open
Don't go back to sleep!
Jalaluddin Rumi
Christian, Jew, Muslim, shaman, Zoroastrian, stone, ground, mountain, river, each has a secret way of being with the mystery, unique and not to be judged
Jalaluddin Rumi
On a day
when the wind is perfect,
the sail just needs to open and the world is full of beauty.
Today is such a
day.
Jalaluddin Rumi
---
Life Quotes by Jalaluddin Rumi
When someone is counting out
gold for you, don't look at your hands,
or the gold. Look at the giver.
Jalaluddin Rumi
I, you, he, she, we
In the garden of mystic lovers,
these are not true distinctions.
Jalaluddin Rumi
Be a lamp, or a lifeboat, or a ladder. Help someone's soul heal. Walk out of your house like a shepherd. Jalaluddin Rumi
Moonlight floods the whole sky from horizon to horizon;
How much it can fill your room depends on its windows.
Jalaluddin Rumi
Within tears, find hidden laughter
Seek treasures amid ruins, sincere one.
Jalaluddin Rumi
You are a volume in the divine book
A mirror to the power that created the universe
Whatever you want, ask it of yourself
Whatever you're looking for can only be found
Inside of you.
Jalaluddin Rumi
All people on the planet are children, except for a very few. No one is grown up except those free of desire. Jalaluddin Rumi
Give up to grace. The ocean takes care of each wave 'til it gets to shore. You need more help than you know. Jalaluddin Rumi
When someone beats a rug,
the blows are not against the rug,
but against the dust in it.
Jalaluddin Rumi
Have you seen our Quotes about Education?
The truth was a mirror in the hands of God. It fell, and broke into pieces. Everybody took a piece of it, and they looked at it and thought they had the truth. Jalaluddin Rumi
If in thirst you drink water from a cup, you see God in it. Those who are not in love with God will see only their own faces in it. Jalaluddin Rumi
This place is a dream. Only a sleeper considers it real. Then death comes like dawn, and you wake up laughing at what you thought was your grief. Jalaluddin Rumi
You are a lover of your own experience … not of me … you turn to me to feel ur own emotion. Jalaluddin Rumi
The ground's generosity takes in our compost and grows beauty! Try to be more like the ground. Jalaluddin Rumi
Learn the alchemy true human beings know. The moment you accept what troubles you've been given the door with open. Jalaluddin Rumi
If in the darkness of ignorance, you don't recognize a person's true nature, look to see whom he has chosen for his leader. Jalaluddin Rumi
Rumi's Quotes to Ease Anxiety
Oh soul,
you worry too much.
You have seen your own strength.
You have seen your own beauty.
You have seen your golden wings.
Of anything less,
why do you worry?
You are in truth
the soul, of the soul, of the soul.
Jalaluddin Rumi
There is a secret medicine given only to those who hurt so hard they can't hope.
The hopers would feel slighted if they knew.
Jalaluddin Rumi
You wander from room to room
Hunting for the diamond necklace
That is already around your neck!
Jalaluddin Rumi
Like a sculptor, if necessary,
carve a friend out of stone.
Realize that your inner sight is blind
and try to see a treasure in everyone.
Jalaluddin Rumi
Do you know what you are?
You are a manuscript oƒ a divine letter.
You are a mirror reflecting a noble face.
This universe is not outside of you.
Look inside yourself;
everything that you want,
you are already that.
Jalaluddin Rumi*God turns you from one feeling to another and teaches by means of opposites so that you will have two wings to fly, not one Jalaluddin Rumi
Put your thoughts to sleep,
do not let them cast a shadow
over the moon of your heart.
Let go of thinking.
Jalaluddin Rumi
My heart is so small
it's almost invisible.
How can You place
such big sorrows in it?
"Look," He answered,
"your eyes are even smaller,
yet they behold the world.
Jalaluddin Rumi
Long Quotes by Jalaluddin Rumi
I want to see you.
Know your voice.
Recognize you when you
first come 'round the corner.
Sense your scent when I come
into a room you've just left.
Know the lift of your heel,
the glide of your foot.
Become familiar with the way
you purse your lips
then let them part,
just the slightest bit,
when I lean in to your space
and kiss you.
I want to know the joy
of how you whisper
"more"
Jalaluddin Rumi
Study me as much as you like, you will not know me, for I differ in a hundred ways from what you see me to be. Put yourself behind my eyes and see me as I see myself, for I have chosen to dwell in a place you cannot see. Jalaluddin Rumi
You try to be faithful
And sometimes you're cruel.
You are mine. Then, you leave.
Without you, I can't cope.
And when you take the lead,
I become your footstep.
Your absence leaves a void.
Without you, I can't cope.
You have disturbed my sleep,
You have wrecked my image.
You have set me apart.
Without you, I can't cope.
Jalaluddin Rumi
An eye is meant to see things.
The soul is here for its own joy.
A head has one use: For loving a true love.
Feet: To chase after.
Love is for vanishing into the sky. The mind,
for learning what men have done and tried to do.
Mysteries are not to be solved: The eye goes blind
when it only wants to see why.
A lover is always accused of something.
But when he finds his love, whatever was lost
in the looking comes back completely changed.
Jalaluddin Rumi, Night and Sleep
Your hand opens and closes, opens and closes. If it were always a fist or always stretched open, you would be paralysed. Your deepest presence is in every small contracting and expanding, the two as beautifully balanced and coordinated as birds' wings. Jalaluddin Rumi, The Essential Rumi
You have no idea how hard I've looked for a gift to bring You. Nothing seemed right. What's the point of bringing gold to the gold mine, or water to the ocean. Everything I came up with was like taking spices to the Orient. It's no good giving my heart and my soul because you already have these. So I've brought you a mirror. Look at yourself and remember me. Jalaluddin Rumi
What can I do, Muslims? I do not know myself.
I am neither Christian nor Jew, neither Magian nor Muslim,
I am not from east or west, not from land or sea,
not from the shafts of nature nor from the spheres of the firmament,
not of the earth, not of water, not of air, not of fire.
I am not from the highest heaven, not from this world,
not from existence, not from being.
I am not from India, not from China, not from Bulgar, not from Saqsin,
not from the realm of the two Iraqs, not from the land of Khurasan.
I am not from the world, not from beyond,
not from heaven and not from hell.
I am not from Adam, not from Eve, not from paradise and not from Ridwan.
My place is placeless, my trace is traceless,
no body, no soul, I am from the soul of souls.
I have chased out duality, lived the two worlds as one.
One I seek, one I know, one I see, one I call.
He is the first, he is the last, he is the outer, he is the inner.
Beyond He and He is I know no other.
I am drunk from the cup of love, the two worlds have escaped me.
I have no concern but carouse and rapture.
If one day in my life I spend a moment without you
from that hour and that time I would repent my life.
If one day I am given a moment in solitude with you
I will trample the two worlds underfoot and dance forever.
O Sun of Tabriz, I am so tipsy here in this world,
I have no tale to tell but tipsiness and rapture.
Jalaluddin Rumi
Jalaluddin Rumi Quotes on Images:
You may freely download, reuse, share or modify these photos for non-commercial purposes (CC BY-NC 4.0). We would appreciate an attribution.
---
---
---
---
---
---
---
---
---
---
---
---
---
Read More Rumi Quotes:

UNIQUE GIFT IDEAS
If you're looking for great presents for all budgets, we have done the work for you.
Click here for the
best birthday gifts
for friends and loved ones.
If you liked what you read, please share it. It really helps us a lot.