There's nothing like receiving sweet goodnight messages from the ones you love before you lay your head down to sleep. It is comforting and puts a warm feeling in your heart when a loved one sends you goodnight messages, especially when you are spending the night apart. Whether it's in the form of a text message, email, or in-person, the last person whose voice you want to hear before you go to bed at night is usually the first person you think of in the morning.
Sweet dreams of marshmallow clouds, adorable puppies, and fluffy kittens. Romantic dreams of prince charming galloping into your bedroom. Hilarious dreams of jumping pop cans and giant chocolate bunnies. So many different destinations to travel as you close your eyes and let all your cares and troubles melt away. Send your loved one any of these lovely goodnight messages that are sure to chase their nightmares away.
Cute Good Night Messages
To my darling, sweet dreams to you on this beautiful night. May your dreams be full of wonderful things and many good things!
Good dreams come to those who sleep so close your eyes and go to sleep! Your dreams can't come when you're wide awake! Shut those peepers and get some sleep!
May your dreams shine bright and your knight come to bid you goodnight. You are a princess and deserve to have the very best night.
Marshmallow clouds and fluffy puppies, chocolate trains and golden cars, may your imagination go wild and your dreams be full of the most amazing fun!
You shine brighter than any star in the sky. You are more brilliant than any diamond from Tiffany's. You are intelligent, funny, and caring. I hope your dreams are filled with syrupy sweetness and chocolate hearts. Goodnight, my princess. Sweet dreams.
On wishing you a goodnight, I pray that your sleep will be loaded with dreams that will inspire you to achieve your wildest aspirations. Good night!
I begin to miss you dearly when the night comes and we are to say goodnight to each other however, I am happy that you can take a rest after all the hard day's toils. Sleep well, my dear!
I have no doubt that you are the reason why the moon and stars show up every night. Have a sleep full of sweet dreams!
As you close the day with a sleep, it is my wish that your pillow will release nothing but the sweetest of dreams for you tonight. Sleep well!
Among the billions of souls that walk on earth, you are the one whose life inspires me to become the best I can. Good night.
Sleep is the only thing that can refresh you after the work of the day. May your sleep be filled with amazing dreams. Good night!
As you close your eyes to sleep, don't forget to dream about us because I am going to do the same here. Have a peaceful sleep!
You make my life look so attractive and wonderful. Here is wishing you a bonbon night sleep!
May your sleep melt away every worry you have and bring you the strength you would need to carry out your activities tomorrow. Good night!
The stars are sparkling with all their might just to make sure that your sleep becomes as peaceful as paradise. Sleep tight!
Funny Good Night Messages
I wish I could be the moon. I would give anything to watch you sleep. Your beauty is unparalleled and makes the North star seem dim. May your dreams be wonderful and your rest be plentiful.
Feel free to let your toes peek out from under the covers. No boogeyman will dare to come out with me right beside you. Bed bugs? Not with me around. Sleep well, my lovely!
The sun has gone down, the moon and stars are out. It's time to have all your troubles, worries, and cares melt away. Lay your head down and drift off to sleep.
Star light, star bright, let's count the sheep tonight. 1-2-3 there goes 3. 4-5-6 there goes 4. 7-8-9 close your eyes. 10-11-12 sweet dreams and goodnight.
Twinkle, twinkle little star. How I wonder where you are? Up above the sky so high, where you are I wish you were mine. Twinkle, twinkle little star. Can I keep you near or far? Goodnight my little shining star.
I wish you the sweetest dreams, my Princess! Rest your head on your pillow and close your eyes. I will be right beside you. Let's meet together in our dreams! Where shall we go?
Nothing can take your place in my life except a good night sleep. Have a wonderful sleep tonight!
Please walk to the front of your mirror and tell that person you see in there that it's time to go to bed. Good night, dear!
The only way you can be sure of a sweet dream is dreaming about me. Sleep tight!
Don't forget to send me a good night message because I won't sleep until I receive it. Have a wonderful sleep!
It is my wish that you enjoy your sleep as much as the fish enjoys being in water. Have a good night!
Sleep like today is world sleep day but make sure you don't slip out of the world in the process. Have a sound sleep!
The reason why I am wishing you a good night is because you are my hero, else forget it! Have a great time of sleep!
I won't advice you to dream big tonight since you might not be able to carry all of it with you when you wake up. Good night!
It is my heartfelt wish that you don't have any dream about money since you might never want to wake up tomorrow. Have a beautiful night!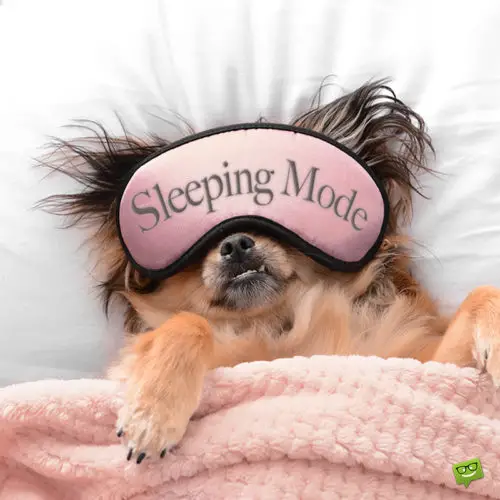 Inspirational Good Night Messages
Once upon a time there was a beautiful princess who drifted off to sleep and had the most magnificent dreams. Her dreams were the stuff fairy tales were made of. She woke up to Prince Charming waking her up with a kiss. The beautiful princess and Prince Charming lived happily ever after. The end.
Rest your head, sleepy-head. It's time for me to tuck you into your bed. Sweet dreams, my child. May the stars and moon shine down into your dreams and make them as beautiful and as sweet as you.
Know that I'm here and I will always be with you. Hand in hand and soul to soul. Close your eyes and drift off to sleep with a great, big smile. I am here, my love.
Rest your head on my shoulder and close your eyes. It's time to bid the world goodnight. Wake up in dream land and smile so bright it makes the moon look not so bright.
Goodnight, sweet prince. May your dreams be nothing short of spectacular. You are my one true love and life's wish. Love to you, my soul mate. Heart to heart we sleep.
Fluffy pillows and cozy covers, beautiful dreams and the warmest snuggles. May your dreams be full of wonderful thoughts and lovely things.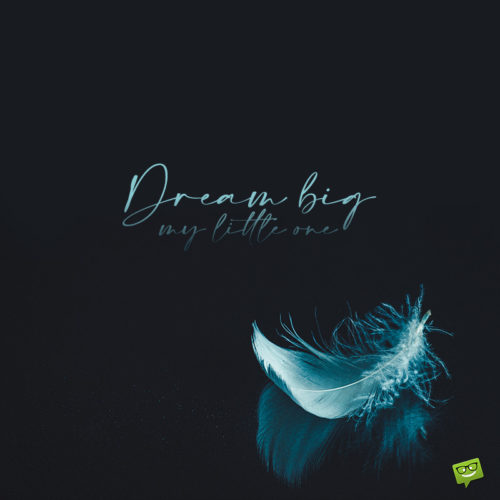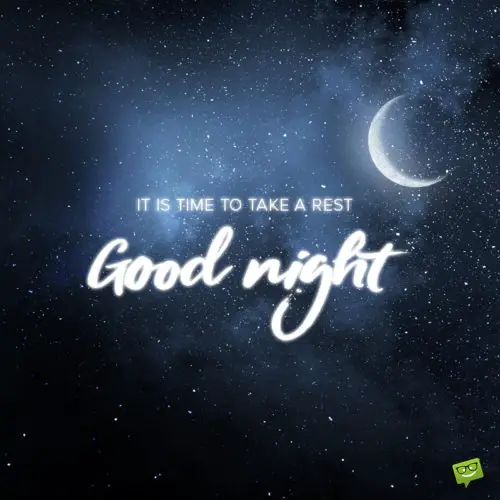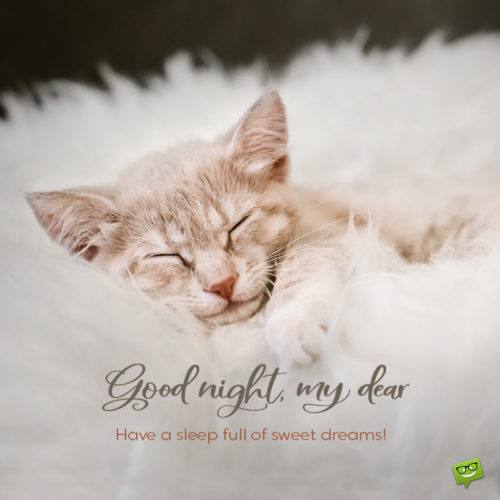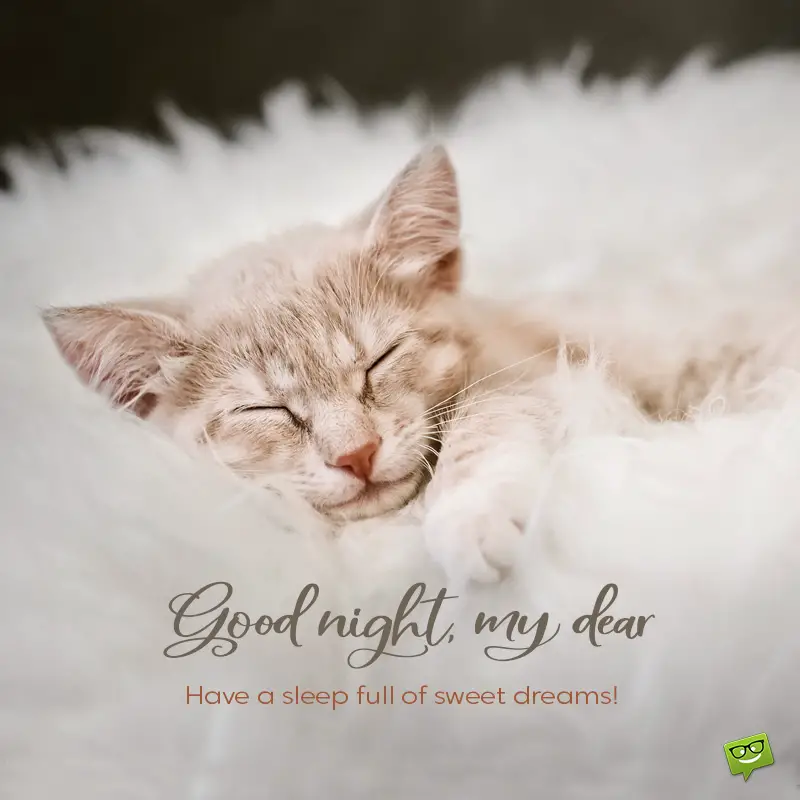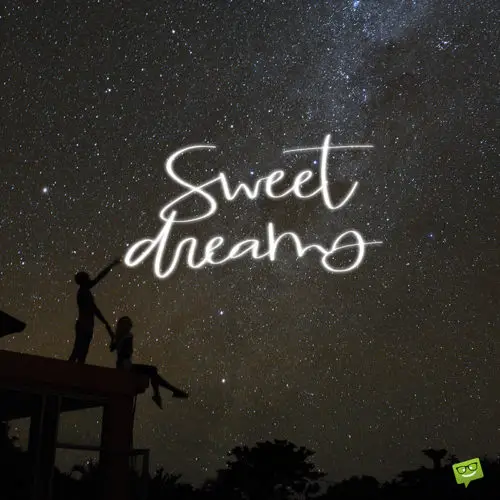 The bed bugs are gone and the boogeyman has gone away. All that's left is just you and me. Let's close our peepers and get to sleepers!
What a good day we've had. A beautiful day it was. Let's end this wonderful day with wonderful dreams of you and me. Goodnight, my love. Best wishes to you as you sleep.
Sending the warmest thoughts and prayers to you as you rest your head on your pillow and fall fast asleep. May tomorrow bring you wonderful things and have all your dreams come true.
Goodnight to you. May you have only a few stray sheep to count. May the sandman come quickly and close those beautiful eyes of yours. Tomorrow is another day with lots of exciting, fun things planned so hurry and get to sleep!
It's time for bed, they said. You're going to have magical dreams, they said. So, what are you waiting for? Close your eyes and go to bed!
The sun has gone to bed and the moon is overhead. I believe it's time for bed! Let's go upstairs and rest our heads on our fluffy pillows and meet somewhere fun in our dreams. A deserted island? The zoo? Goodnight, my love, see you soon!
Dreams are what makes our days so lovely. Beautiful, wonderful, magical dreams are exciting and fun. Let's go to sleep and quickly dream of wondrous places.
Your wildest dreams will be coming true tonight as you sleep. I've send the moon and stars a message to grant your every wish. They'll be shining down upon you as you drift off to sleep.
It's time to rest our thoughts, calm our bodies, and close our eyes. Tomorrow is another day. Today is time to put away. Goodnight.
Go to sleep with optimism to make tomorrow a better day. Have a beautiful sleep!
Trials will never stop coming your way, but you can be sure of winning over them if you fix your mind on nothing else but your goals. Sleep well!
Pass the night with smiles and you shall wake up fully replenished for all your day's activities. Sweet dreams, dear!
Nothing can shatter your aspirations if you are truly determined to bring them into reality. Here is wishing you a good night's sleep!
Employ patience in everything you do and you shall always be crowned with success. Good night!
Don't be unnerved because of the bad day you had, but have faith that tomorrow will present you with every opportunity you lost today. Have a good night!
If you desire to fly, then you have to make the bird your best friend. Good night, my friend!
There is so much power in you to allow simple troubles to win over you. See yourself as a conqueror and you shall ride over every obstacle in your way to success. Have a beautiful sleep!
The only time when you cannot achieve your dreams is when you are placed in the belly of the earth. As far as you have life, nothing is impossible to achieve. Sleep tight!
Nothing great is achieved with ease, so don't worry when things don't go as you desire but instead gather enough strength and courage to wage and win the war against the obstacles in your life. Sleep tight!
Soothing Good Night Messages

Sleep without any fear because I have prayed for thousands of angels to come to your guard tonight. Have a wonderful and delightful sleep!
I promise you that tomorrow will bring to you nothing but great fortunes. Sleep well!
I have ordered every star in the sky this night to make sure you have the soundest sleep ever. Good night!
No matter how bad people make you feel, remember that you shine brighter than the sun. Good night to you!
Sometimes life treats you so harshly, but I want you to know that there is always light at the end of that dark tunnel. Just keep on moving and you shall surely make it into the light. Good night.
As you go to bed tonight, free your heart of the fears of how you are going to make it tomorrow. Things will definitely be better tomorrow. Good night.
It is my wish that you will have a sleep free of nightmares but full of sweet things that will put smiles on your face throughout the coming day. Have a good sleep tonight!
May the radiance of the moon in your room turn into a loving grace that will be with you throughout your night. Good night!
As you nestle your head on your pillow tonight, I want you to know that no unholy force can cause any harm to you because you are guided by millions of angels. Good night!
It is my wish as you go to sleep that the unfailing protection of love will be with you throughout your sleep till the next morning. Have a good night!
Sweet dreams, my sweet girl. You'll be on my mind all night. I hope you will think of me too. Goodnight.
Snuggle in tight and wait for me. I can't wait to come wrap my arms around you and whisper sweet nothings in your ear.
Sleep tight and dream well, my love. I know we are far apart, but don't think about the distance. Think of how close I'll keep you in my heart.
The nights are so cold without your warm body next to mine. Goodnight, sweetheart.
Goodnight, my dear. You can sleep well knowing I'm here to chase away your fears.
Morning can wait a little longer to come. A night with you, dear, makes me want to chase away the sun.
The way the moonlight reflects off your eyes gives me chills down my spine. Hoping you have a peaceful night.
The night is silent, calm and still. But I toss and turn because you're not here. Missing you so much tonight. Goodnight, my dear.
I am wishing a goodnight to the love of my life. I love you.
The safest place to spend my night is in your arms. Wishing you a goodnight.
The nights are painfully longer without you here. When I get my hands on you, I'll never let you wander again. Love you and goodnight.
Can't wait to get you under the sheets. Snuggle in tight and make room for me. Goodnight baby.
Go to sleep and have pleasant dreams. And when you wake, I hope each one comes true. Have a good night's sleep.
You wonder why I always tuck you in so tight. It's because I never want to let you get away. Goodnight.
Count the stars as you fall asleep. And as you drift into dreamland, I hope you're dreaming of me.
When you're having trouble sleeping, I'm just a phone call away. Just say the words and I'm on my way. Love you always, Goodnight.
Goodnight, sweetheart. The best part of waking up is waking up next to you.
Your beauty shines brighter than the full moon tonight. Loving you always, goodnight.
I want to hear your voice as I drift off to sleep. And when I wake, I'll greet you with morning kisses. Sleep well.
I cherish our night time conversations. Confess your fears, your dreams and tell me about your day. The best part of the night is having our pillow talk. Sweat dream and good night.
This is a good night message to my cuddle partner. Don't give my cuddles away. Save all your love for me. Love always, goodnight.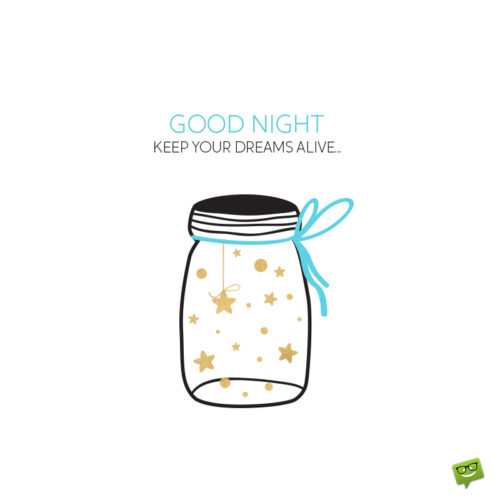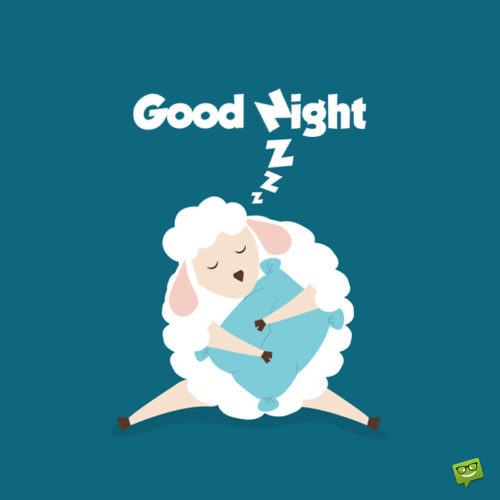 A good night with you makes for an awesome tomorrow. Thank you for sharing your nights with me. Sweet dreams, Dear.
One night with you is full of bliss. All that love wrapped up in the sweetest goodnight kiss. Goodnight to you.
There's no one else I'd share my bed with. You bring me sweet dreams and lots of warm hugs. Have a good night.
You look so beautiful when you're fast asleep. I watch you and wonder what thoughts you have. And pray your dreams are good to you.
Rest peacefully, my little angel. My tinder loving care will be here to bring you comfort as you sleep.
The perfect end to a romantic night is cuddling up with my handsome man. I love you and goodnight.
If I don't respond to your text message, it's because I went to sleep thinking of you. Goodnight, my beautiful girlfriend.
The only thing better than going to sleep thinking of you is going to sleep laying with you. Sleep well.
Goodnight, sweet girl. Sleep well to prepare for another day of fun adventures.
The best part of a romantic evening is going to sleep wishing it had never ended. Thank you for a wonderful night. Goodnight.
I used to have bad dreams. I used to be afraid of the dark. But now I am so grateful to have a strong, loving man like you to hide under at night. I hope you never leave my side. Goodnight.
Watching you lie there in bed always brings the sweetest temptations. Goodnight, sexy.
Wishing you a good night sleep and hoping you're thinking of me.
Here's a goodnight song to last you from dusk until dawn. Love you always. Goodnight, baby.
The winds are howling, the rain is pouring, and the thunder is roaring. The storm is here. But with you, there's nothing to fear.
I'll chase your fears away. I'll make your dreams sweet. Have a lovely night.
Never forget to text me goodnight. I'll be up waiting for your good night wishes.
I couldn't imagine life without you. I couldn't go one night without. Goodnight and dream well.
I'll hold onto you for as long as I can tonight. Because in the morning we will go our separate ways until we meet again for another night of bliss.
Hurry to bed, Honey. Hugs and kisses are waiting for you.
The twinkle in your eyes tonight rival the twinkle in the stars. I wish you a peacefully, good night sleep.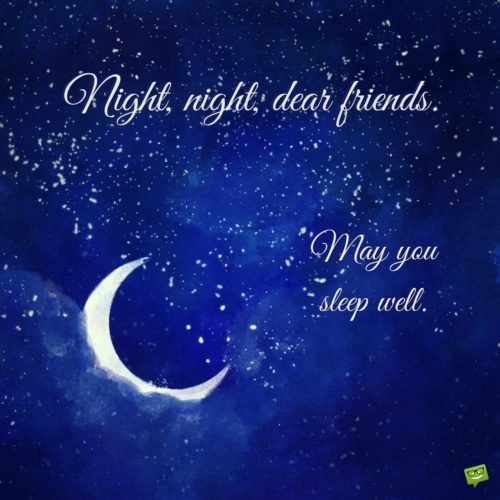 If angels slept, I imagine it would look something like the way you look in your slumber, peaceful and angelic.
Goodnight, sleep tight. Tell me all about your wild little dreams when you wake.
Laying here with you is like sleeping on cloud nine. I'm never coming down from this bliss.
Lie down, my sweetheart. I'll make you forget about the world's troubles and life's worries. Goodnight.
You May Also Like

Like a Kiss Goodnight | Good Night Images
100 Messages and a Kiss Before You Sleep | Good Night, My Love!