Get Well Soon, My Love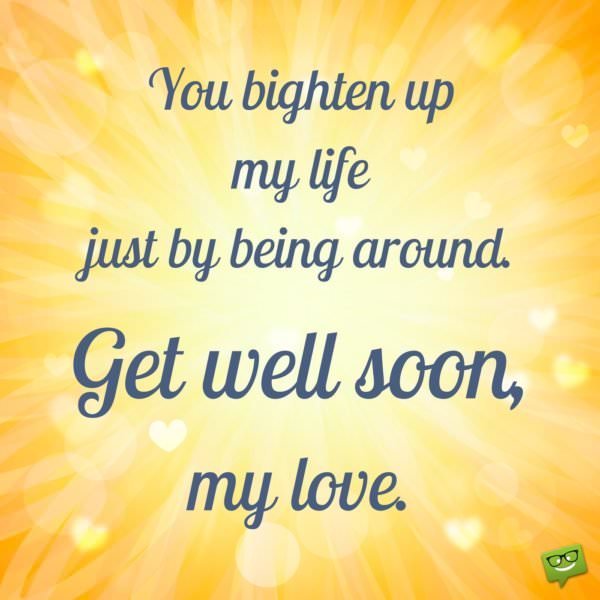 When a romantic partner becomes sick, the other partner gets worried and anxious. Well, love comes with different packages, sometimes rosy, some other times painful experiences that can disrupt the romantic relationship you've been enjoying. Sickness is one of such undesirable experiences that can affect a romantic relationship in different ways.
Instead of fretting and letting your anxiety affect your sick loved one, creating a thoughtful get well soon, my love message can help calm your anxiety and give your sick partner hope. So, whether you want to wish a speedy recovery to a boyfriend, wife, girl-friend, husband or someone dear to your heart, you can take advantage of our humorous, cute, sentimental, romantic and poetic get well messages.
---
Cute And Sentimental Get Well Wishes

My love, you are not the only one sick, I also became ill by reason of love immediately you took ill. That's why I'm saying, get well soon dear, so that I can also get well.
Sweetheart, nothing around me makes sense since you became ill. Please, get well soon…for the sake of our love.
Dear girlie, I just came to realize you're the best cook in the world. Since you took ill and can't cook for me as a result, even the best food in the best restaurant seems tasteless. I missed your first-class culinary skill, honey! Please, get well soon and come back home!
Honey, don't bother yourself going to the hospital. I know one magic pill that will surely heal your ailment…10 warm kisses on your tender cheeks. Get well soon, my one and only.
The entire house, my whole life…it all feels empty without you. Please, get well soon darling and come back to me sooner.
Honey, the kids are waiting all day at the door for your home coming since you left for treatment. We missed you dearly! Please, recover soon, dear.
My dear one and only, my eyes had known no sleep since you became ill. But, I take solace in hope that you will get well soon.
---
Humorous and Funny Wishes for a Quick Recovery

Sweetie, I'm angry at this sickness occupying an apartment it didn't pay rent for. So, right now, I'm serving it a quit notice with immediate effect! Get well soon, dear.
Mine, I just spoke with the doctor over the phone and he gave me the secret to your fast recovery. Guess what it is…making love to you with the lights turned on. J I missed you, dear wife. Get well soon.
Darling, the doctor said you will recover faster once you eat my pepper soup concoction. How about that? Get well quick, dear.
---
Oh my big baby boy…it just occurred to me that I haven't cooked your favorite meal in the past week…that's my diagnosis for your illness…you missed your favorite meal! Your recovery pill is with me, I've asked the doctor to discharge you with immediate effect, so that you can eat your favorite meal. Get well soon, darling.
My better half, the doctor just told me that the test shows you're suffering from L-O-V-I-N-G-I-T-I-S. Don't worry, it's a petite illness because I have full doze of love to make you well! I love you dearly, please get well soon.
Dear, you've been smiling and laughing little in the past week that you took ill. "A merry heart does good like medicine!" That's the key to your recovery dear. Start laughing loud now, you will start getting better instantly!
Sickness, for trespassing into my sweetheart's life, you are charged guilty! Sweetheart, the offender is now serving jail terms, you are discharged and acquitted! I love you dearly, please get well soon.
---
Romantic Recovery Wishes
Sweetheart, indeed, distance makes the heart to grow fonder… I've realized this since these few days you've been in the hospital. I love you more, dear. Please, recover fast.
The love of my life, I missed your charming smiles that brighten my day, your happy countenance that is completely contagious, and your loving notes wishing me the best of the day. I truly miss you! I'm praying earnestly for your quick recovery.
Honey, seeing you lie still on the bed all day long stings my heart greatly. I truly miss your vibrancy and activeness. Please get well soon, so that our home can be lively again.
Sweet, I want you to know that you are not alone in this trying moment. I am with you every inch of the way, and feel the pains that you're going through. One thing is sure, you will see the end of that illness, it will not see your end!
My love, it doesn't feel the same without you around. I've become obsessively addicted to you. Please, get well soon and come back to me!
To say that I'm missing you is an understatement, darling. I'm on my knees everyday, praying for your swift recovery. Please, get well soon.
---
Get Well Soon Prayers
Dear, if I give you all my earthly possessions, it will not make you well. Instead, I give you one thing that works best, my sincere and heart-felt prayer. And, I know that God will hear me and heal you. I wish you the fastest recovery, sweetheart.
My prayer is that you will get out of that sick bed sooner than you think. You are healed in Jesus name! Amen!
Doctors can only try to cure, but God is the one who heals. I pray that God's healing hands will rest upon you, dear. Your healing is sure!
---
Get Well Soon Poems
#1:
I cry when you cry, my love
I laugh when you laugh, my dove
And, because you're sick, I'm also sick
That's why I'm saying, dear, get well quick
#2:
Darling, your courageous smiles that inspire me to cover miles
Your soft speech that melts the stoniest heart and gives hope to the earth
Your liveliness, alongside your loveliness
I dearly miss them all, which makes me to reach out and call…
I call forth your speedy recovery, sweet heart.
---
---
---
---
You may also find useful:
Sincere and Witty Get Well Wishes
Click here for our best
birthday wishes
.