Søren Kierkegaard Quotes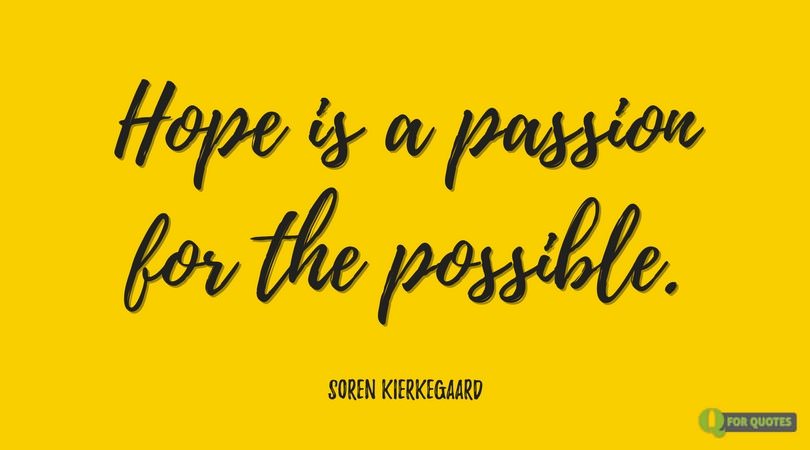 We couldn't help compiling Søren Kierkegaard's famous quotes when we realized what an impact he has had on several thinkers worldwide. The Danish born philosopher, theologian, poet, social critic and religious author, widely considered to be the first existentialist philosopher, was largely quoted as an influence by the entire existentialist movement of the 1930's. He was also thought of as the Father of Existentialism by some, a title usually attributed to Martin Heidegger or Jean-Paul Sartre.
Kierkegaard predicted his posthumous fame, and foresaw that his work would become the subject of intense study and research. Being able to reverberate through the years up until the present times, his quotes talk about the life of the 21st-century individual, about uncategorized faith and the thirst to experience the ongoing. Kierkegaard's words are characterized by the need to invent a type of communication that would be outside of stereotypical identities, which is something that the modern man could learn a lot from.
---
The function of prayer is not to influence God, but rather to change the nature of the one who prays. Søren Kierkegaard
People demand freedom of speech as a compensation for the freedom of thought which they seldom use. Søren Kierkegaard
Life can only be understood backwards; but it must be lived forwards. Søren Kierkegaard
What labels me, negates me. Søren Kierkegaard
On the secretly blushing cheek is reflected the glow of the heart. Søren Kierkegaard
I am convinced that God is love, this thought has for me a primitive lyrical validity. When it is present to me, I am unspeakably blissful, when it is absent, I long for it more vehemently than does the lover for his object. Søren Kierkegaard
---
It is impossible to exist without passion. Søren Kierkegaard
There is nothing with which every man is so afraid as getting to know how enormously much he is capable of doing and becoming. Søren Kierkegaard
Happiness is the greatest hiding place for despair. Søren Kierkegaard
And this is one of the most crucial definitions for the whole of Christianity; that the opposite of sin is not virtue but faith. Søren Kierkegaard
---
Life is not a problem to be solved, but a reality to be experienced. Søren Kierkegaard
The most common form of despair is not being who you are. Søren Kierkegaard
Boredom is the root of all evil – the despairing refusal to be oneself. Søren Kierkegaard
Every mental act is composed of doubt and belief,
but it is belief that is the positive, it is belief
that sustains thought and holds the world together. Søren Kierkegaard
What is a poet? An unhappy person who conceals profound anguish in his heart but whose lips are so formed that as sighs and cries pass over them they sound like beautiful music. Søren Kierkegaard
For he who loves God without faith reflects on himself, while the person who loves God in faith reflects on God. Søren Kierkegaard
---
Anxiety is the dizziness of freedom. Søren Kierkegaard
People understand me so poorly that they don't even understand my complaint about them not understanding me. Søren Kierkegaard
The highest and most beautiful things in life are not to be heard about, nor read about, nor seen but, if one will, are to be lived. Søren Kierkegaard
The thing is to understand myself: the thing is to find a truth which is true for me, to find the idea for which I can live and die. That is what I now recognize as the most important thing. Søren Kierkegaard
Therefore do not deceive yourself! Of all deceivers fear most yourself! Søren Kierkegaard
---
To cheat oneself out of love is the most terrible deception; it is an eternal loss for which there is no reparation, either in time or in eternity. Søren Kierkegaard
If anyone on the verge of action should judge himself according to the outcome, he would never begin. Søren Kierkegaard
Many of us pursue pleasure with such breathless haste that we hurry past it. Søren Kierkegaard
It is very important in life to know when your cue comes. Søren Kierkegaard
---
There are two ways to be fooled. One is to believe what isn't true; the other is to refuse to believe what is true. Søren Kierkegaard
To dare is to lose one's footing momentarily. Not to dare is to lose oneself. Søren Kierkegaard
To venture causes anxiety, but not to venture is to lose one's self…. And to venture in the highest is precisely to be conscious of one's self. Søren Kierkegaard
Take away paradox from the thinker and you have a professor. Søren Kierkegaard
Nothing is as heady as the wine of possibility. Søren Kierkegaard
For love is exultant when it unites equals, but it is triumphant when it makes that which was unequal equal in love. Søren Kierkegaard
Thus our own age is essentially one of understanding, and on the average, perhaps, more knowledgeable than any former generation, but it is without passion. Every one knows a great deal, we all know which way we ought to go and all the different ways we can go, but nobody is willing to move. Søren Kierkegaard
Far from idleness being the root of all evil, it is rather the only true good. Søren Kierkegaard
---
Face the facts of being what you are, for that is what changes what you are. Søren Kierkegaard
The proud person always wants to do the right thing, the great thing. But because he wants to do it in his own strength, he is fighting not with man, but with God. Søren Kierkegaard
Don't you know that a midnight hour comes when everyone has to take off his mask? Do you think life always lets itself be trifled with? Do you think you can sneak off a little before midnight to escape this? Søren Kierkegaard
A 'no' does not hide anything, but a 'yes' very easily becomes a deception. Søren Kierkegaard
The only intelligent tactical response to life's horror is to laugh defiantly at it. Søren Kierkegaard
Life has its own hidden forces which you can only discover by living. Søren Kierkegaard
---
I see it all perfectly; there are two possible situations — one can either do this or that. My honest opinion and my friendly advice is this: do it or do not do it — you will regret both. Søren Kierkegaard
The most painful state of being is remembering the future, particularly the one you'll never have. Søren Kierkegaard
Love is the expression of the one who loves, not of the one who is loved. Those who think they can love only the people they prefer do not love at all. Love discovers truths about individuals that others cannot see. Søren Kierkegaard
---
I feel as if I were a piece in a game of chess, when my opponent says of it: That piece cannot be moved. Søren Kierkegaard
Listen to the cry of a woman in labor at the hour of giving birth — look at the dying man's struggle at his last extremity, and then tell me whether something that begins and ends thus could be intended for enjoyment. Søren Kierkegaard
It is the duty of the human understanding to understand that there are things which it cannot understand… Søren Kierkegaard
Leap of faith – yes, but only after reflection. Søren Kierkegaard
Faith is the highest passion in a human being. Many in every generation may not come that far, but none comes further. Søren Kierkegaard
---
---
If there were no eternal consciousness in a man, if at the bottom of everything there were only a wild ferment, a power that twisting in dark passions produced everything great or inconsequential; if an unfathomable, insatiable emptiness lay hid beneath everything, what would life be but despair? Søren Kierkegaard
…why bother remembering a past that cannot be made into a present? Søren Kierkegaard
Never cease loving a person, and never give up hope for him, for even the prodigal son who had fallen most low, could still be saved; the bitterest enemy and also he who was your friend could again be your friend; love that has grown cold can kindle. Søren Kierkegaard
---
In addition to my other numerous acquaintances, I have one more intimate confidant… My depression is the most faithful mistress I have known — no wonder, then, that I return the love. Søren Kierkegaard
I have only one friend, and that is echo. Why is it my friend? Because I love my sorrow, and echo does not take it away from me. I have only one confidant, and that is the silence of night. Why is it my confidant? Because it remains silent. Søren Kierkegaard
The task must be made difficult, for only the difficult inspires the noble-hearted. Søren Kierkegaard
---
My standpoint is armed neutrality. Søren Kierkegaard
Adversity draws men together and produces beauty and harmony in life's relationships, just as the cold of winter produces ice-flowers on the window-panes, which vanish with the warmth. Søren Kierkegaard
If you want to be loathsome to God, just run with the herd. Søren Kierkegaard
Now, with God's help, I shall become myself. Søren Kierkegaard
To have faith is precisely to lose one's mind so as to win God. Søren Kierkegaard
---
It belongs to the imperfection of everything human that man can only attain his desire by passing through its opposite. Søren Kierkegaard
Your own tactic is to train yourself in the art of becoming enigmatic to everybody. My young friend, suppose there was no one who troubld himself to guess your riddle–what joy, then, would you have in it? Søren Kierkegaard
What looks like politics, and imagines itself to be political, will one day unmask itself as a religious movement. Søren Kierkegaard
To be lost in spiritlessness is the most terrible thing of all. Søren Kierkegaard
---

You may also like:
Wise Words as Life Lessons | Inspirational Quotes for a Better World
Music Revolution | Famous and Other Quotes About Music
Rumi Quotes to Help You Enjoy Life
List of Famous Confucius Quotes
Click here for our best
birthday wishes
.
If you liked what you read, please share it. It really helps us a lot.