The words we sing: Song Lyrics to move & drive you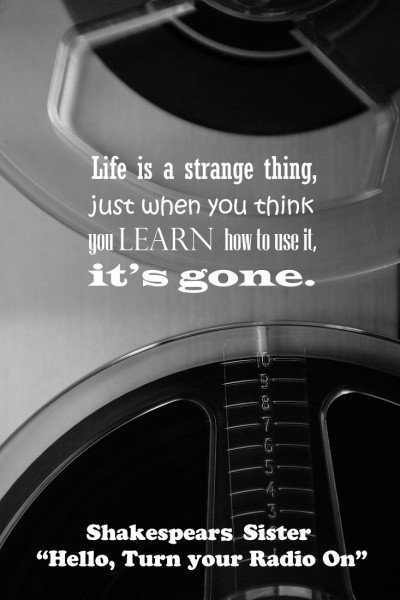 Lyrics are so much more than words in a row. What is amazing about rock and pop music is that they manage to shed light on a small detail of our lives and make us thing about it.
Whether it's a love song, a sad ballad or an uplifting vibe, there is a lot to make you ponder. Read & share if you feel there's something yours in there.
And since there's no one else around,
We let our hair grow long and forget all we used to know
Then our skin gets thicker from living out in the snow
Arcade Fire – "Neighborhood #1 (Tunnels)"
---
And you can run to the hillside
And you can close your eyes
But you're not gonna, not gonna deny
No you're not gonna, not gonna deny my love
Brandon Flowers – "Can't deny my love"
---
La, la, la, life is a strange thing
Just when you think you learned how to use it
It's gone
"Hello, turn your radio on" – Shakespears Sister
---
Yeah it's overwhelming, but what else can we do?
Get jobs in offices and wake up for the morning commute?
MGMT – "Time to pretend"
---
Precious little angel
Won't you spread your light on me
I was locked up in the darkness
Now you've come to set me free
Annie Lennox – "Precious"
---
Unemployed in summertime
Don't need money 'cause we're young
I'll just stay awake till the morning
With make up all over my face
Emiliana Torrini – "Unemployed in summertime"
---
Everywhere I'm looking now
I'm surrounded by your embrace
Baby, I can see your hal
You know you're my saving grace.
Beyonce – "Halo"
---
And we'll never be royals
It don't run in our blood
That kind of lux just ain't for us, we crave a different kind of buzz
Lorde – "Royals"
---
We belong to the other lands
We will never have it all
Jean-Michel Jarre & M83 – "Glory"
---
Tonight the sound is breaking like a wave
Wish it could always feel this way
And life will never be the same
Saint Etienne – "Tonight"
---
And you're singing the songs thinking this is the life
And you wake up in the morning and your head feels twice the size
Where you gonna go, where you gonna go, where you gonna sleep tonight?
Amy MacDonald – "This is the life"
---
Also read: Song Lyrics (I)
Click here for our best
birthday wishes
.
If you liked what you read, please share it. It really helps us a lot.