You Only Live Once | 20 Short Quotes about Life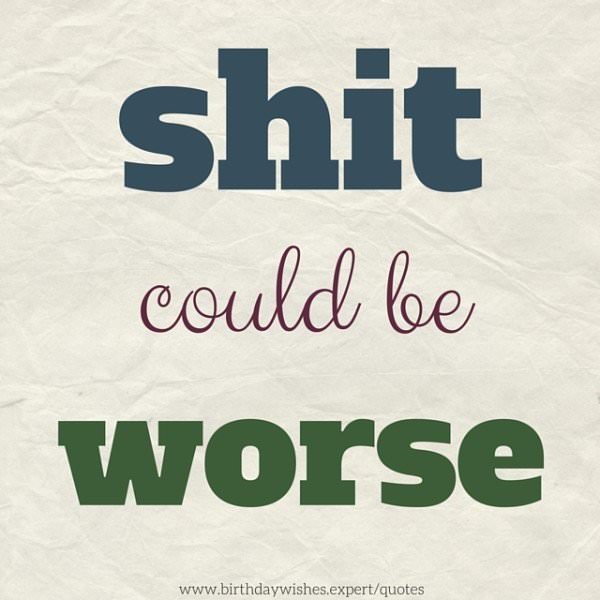 Apparently, this is the era of tweetable lines. Consumerism might have been incorporated in our lives as something almost indispensable, however when it comes to words, economy -in the sense of saving (money, time, etc.)- is always sought after. We constantly look for short quotes to tweet and share, a low number of characters forming a phrase that, ideally, could concentrate within itself all the wisdom we need at the moment.
We came up with this compilation of quotes suitable for posting on Twitter or any other social medium. Their words might say little, but they definitely mean a lot.
---
Initiative is something we don't always take for granted, but putting an effort on everyday jobs is. That's probably why pursuing your own goals and dreams is a must.
---
---
---
---
---
---
More Quotes to Enjoy:
Top 20 Quotes by the Most Brilliant Minds
21 Rumi Quotes To Help You Open Your Mind
---
---
---
---
---
---
---
---
---
---
---
---
---
---
Because of your smile, you make life more beautiful. Thich Nhat Hanh
There is only one happiness in this life, to love and be loved. George Sand
Only I can change my life. No one can do it for me. Carol Burnett
Life is 10% what happens to you and 90% how you react to it. Charles R. Swindoll
The greatest gift of life is friendship, and I have received it. Hubert H. Humphrey
Live life to the fullest, and focus on the positive. Matt Cameron
To succeed in life, you need three things: a wishbone, a backbone and a funny bone. Reba McEntire
Life is full of happiness and tears; be strong and have faith. Kareena Kapoor Khan
Do not take life too seriously. You will never get out of it alive. Elbert Hubbard
Be happy for this moment. This moment is your life. Omar Khayyam
Life consists not in holding good cards but in playing those you hold well. Josh Billings
Do not take life too seriously. You will never get out of it alive. Elbert Hubbard
The biggest adventure you can take is to live the life of your dreams. Oprah Winfrey
Life is like riding a bicycle. To keep your balance, you must keep moving. Albert Einstein
We live in a rainbow of chaos. Paul Cezanne
My life motto is 'Do my best, so that I can't blame myself for anything.' Magdalena Neuner
Education is not preparation for life; education is life itself. John Dewey
I think togetherness is a very important ingredient to family life. Barbara Bush
I'm lucky in having found the perfect partner to spend my life with. Sara Paretsky
This life is like a swimming pool. You dive into the water, but you can't see how deep it is. Dennis Rodman
Life is a journey that must be traveled no matter how bad the roads and accommodations. Oliver Goldsmith
Life is like a roller coaster, live it, be happy, enjoy life. Avril Lavigne
Choose a job you love, and you will never have to work a day in your life. Unknown
God gave us the gift of life; it is up to us to give ourselves the gift of living well. Voltaire
Music is love, love is music, music is life, and I love my life. Thank you and good night. A. J. McLean
Just as a candle cannot burn without fire, men cannot live without a spiritual life. Buddha
The bird is powered by its own life and by its motivation. A. P. J. Abdul Kalam
Life is really simple, but we insist on making it complicated. Confucius
I'm lucky in having found the perfect partner to spend my life with. Sara Paretsky
Let your life lightly dance on the edges of Time like dew on the tip of a leaf. Rabindranath Tagore
Good health and good sense are two of life's greatest blessings. Publilius Syrus
Into each life some rain must fall. Henry Wadsworth Longfellow
Life was always a matter of waiting for the right moment to act. Paulo Coelho
I believe that God put us in this jolly world to be happy and enjoy life. Robert Baden-Powell
Life began with waking up and loving my mother's face. George Eliot
Do what you need to do and enjoy life as it happens. John Scalzi
The more you praise and celebrate your life, the more there is in life to celebrate. Oprah Winfrey
Life is the art of drawing without an eraser. John W. Gardner
The purpose of art is washing the dust of daily life off our souls. Pablo Picasso
Luck is great, but most of life is hard work. Iain Duncan Smith
Life ain't always beautiful, but it's a beautiful ride. Gary Allan
You cannot have a positive life and a negative mind. Joyce Meyer
A man who has never made a woman angry is a failure in life. Christopher Morley
Simply enjoy life and the great pleasures that come with it. Karolina Kurkova
If you are not too long, I will wait here for you all my life. Oscar Wilde
For life and death are one, even as the river and the sea are one. Khalil Gibran
Life isn't about finding yourself. Life is about creating yourself. George Bernard Shaw
May you live all the days of your life. Jonathan Swift
Life is trying things to see if they work. Ray Bradbury
If you want to be happy, be. Leo Tolstoy
Those who dare to fail miserably can achieve greatly. John F. Kennedy
Get busy living or get busy dying. Stephen King
If you want to live a happy life, tie it to a goal, not to people or things. Albert Einstein
Live in the sunshine, swim the sea, drink the wild air. Ralph Waldo Emerson
If life were predictable it would cease to be life, and be without flavor. Eleanor Roosevelt
Life itself is the most wonderful fairy tale. Hans Christian Andersen
The big lesson in life, baby, is never be scared of anyone or anything. Frank Sinatra
Life would be tragic if it weren't funny. Stephen Hawking
Life is not a problem to be solved, but a reality to be experienced. Søren Kierkegaard
Be happy for this moment. This moment is your life. Omar Khayyam
Life is made of ever so many partings welded together. Charles Dickens
---
If you enjoyed this post, you will most probably like:
20 one-liners to state who you are
50 New Quotes in Images to Share
Henry David Thoreau Quotes to Live by.
Click here for our best
birthday wishes
.