Friendship Quotes that Prove the Essence of Loyal Connection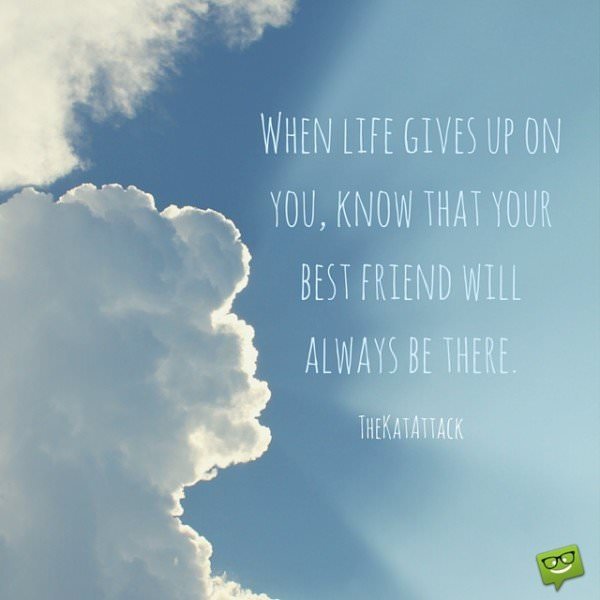 Friends hold a special place in our lives. They have seen us at our most successful and the deepest pits of despair, yet they remain. We all have best friends from childhood and college, those we meet through our children, and friends who have weaved their way to an important role in our lives without us even noticing. We are truly blessed because of and through all of these people. It's always an appropriate time to let them know how we feel.
Whether we feel the need to share ourselves or think that they could use a word from us, sharing our feelings with them can brighten everyone's days. Just think of getting a note from your friend. That same feeling could be shared from your end, as well. So, if it is their birthday, a holiday, or just any day of the week, go ahead and tell them how you feel. Give them a call, write them a letter, or send an email or text. All are appropriate and all will be greatly appreciated. Don't waste any more time, do it today!
---
The Best Friendship Quotes
Some people say best friends are hard to find. I say, best friends are all around. It is up to us to notice when they arrive and never let them go.
You are more than a friend; you are a blessing in my life for which I am thankful.
Friends may come and go, yet they are placed in our lives at a specific time for a very specific purpose. Let us always keep our eyes open and hearts ever grateful for this fabulous blessing that is friendship.
You mean the world to me. You are my confidante, my partner, my friend.
Here's to you, my dear friend, the most fabulous and caring woman I know!
People gain friendships in the most random of ways. Each day I thank the Lord for blessing me with you and your compassionate heart.
A dear friend who knows your innermost dreams and naughtiest secrets is the best kind of friend to have!
Thinking of the years of memories with you warms my heart and feeds my soul. Here's to more adventures and fun times to come!
Friends are like a favorite song. You can go days without hearing from them but when you do, you hop out of your seat and bam, party time!
You and I are going to be friends forever, so get ready for some fun and thrilling times!
Amazed as I already am by you, I have a feeling more awe is to come with you!
Before we met, skies were dull and days were slow. Now, with a friend like you, the sun has come out and excitement abounds!
Call me whenever you need a friend. It may be the day I need a friend, too.
Dearest friend, thank you for everything you are to me. Not only do you know my deepest self, but you also hold a very special place in my heart.
Everyone asks if we are sisters. I guess some friends are just blessed like that. Thank you for being my best friend.
Fear not, for not only I am your friend, I am also your protector.
Give me your weakest days and I show you the inner strength you cannot see. This is what true friends do.
Hand in hand, we walk together over the bumps and through the mazes in life. Friends are the truest blessing to keep us safe along the way.
I am honored, blessed, and humbled by having your friendship in my life. Without you, I do not know where I would be or what I would have become. It is because of you that I am the success I am today.
Just as I knew the day I met you, you have become an integral part in my life and family. Here's to dear friends and bright futures!
Keep dreaming, keep living. This is the motto from which true friends arise.
Love comes in many forms, but the steadiest is that of friendship. Thank you for the love you give to me.
Mother always told me I would find a friend like you, someone with whom I can have fun, tell secrets, and set goals. Praise the Lord that Mom was always right!
Never before have I appreciated a friend more than you. You mean so much to me and reflect all of the good qualities I want to achieve as well. Keep leading well and I will keep following in your footsteps.
Only friends know our true hearts. Only friends see deep within and look ahead at the same time. Friends are our confidants, coaches, and comforters. Thank you for being all for me.
Perfect friendship isn't designed. It is developed and worked upon each and every day. You are my perfect friend and for you I am extremely thankful
Quiet yourself and realize the power and blessing behind true friendship. It is from above and should never be taken for granted. Praise the heavens for this great gift!
Rise up and lead one another in friendship and prayer, for together you are more powerful than alone.
Roses are red. Violets are blue. There is no other friend truer than you.
Roses are red. Violets are blue. You are thankful for me and I am thankful for you.
Roses are red. Violets are blue. Let me thank the heavens for you, too!
Roses are red. Violets are blue. Once again, let us start our friendship anew.
Yesterday, I was alone. Today, I am blessed and gifted with your friendship. Thank you!
Wrap-up
What did you think of these unique sentiments? As you can see, you can use them individually or combine a few for the absolutely perfect statement! Some friends appreciate a quicker note, and others a longer and more serious remark. Some are more old-fashioned, preferring snail mail, while others want a quick text. Either way, think of your friend and choose away. Here's to you and your dear friends!
---
You may also like:
Friendship Quotes on Images that Will Remind you the Value of your Friends
The 20 Most Beautiful Friendship Quotes
Friends Forever: Birthday Wishes for your Best Friend
Famous Quotes on Images (Part 5)
UNIQUE GIFT IDEAS
If you're looking for great presents for all budgets, we have done the work for you.
Click here for the
best birthday gifts
for friends and loved ones.
If you liked what you read, please share it. It really helps us a lot.